Best Headphones for Kids
Choosing the best headphones for kids isn't always as straightforward as picking out a cheap pair of headphones.
Your children's hearing is extremely important, and you should start protecting them from a young age.
You want to avoid hearing damage and long-term concerns while their bodies are still developing.
Fortunately, headphone companies now make headphones exclusively for kids. Also, most of the top kids' headphones cater to the needs of both kids and their parents.
Portable media usage is on the rise, and more young people than ever feel comfortable with tablets and smartphones.
Buying your kids their own headphones seems like a good move to stop them from wearing adult headphones when using a smartphone or tablet.
They can relax by watching movies and TV shows or listening to music while you enjoy some peace and quiet.
After all, who hasn't used the tablet and headphones combo as a diversionary tactic on long flights or road trips.
In the sections below, we'll briefly discuss some of the best kid headphones categories, including best wireless earbuds for kids, best VR headsets for kids, best Bluetooth headsets for kids, best gaming headsets for kids, and so much more. Let's get started.
Best Beats Headphones for Kids
Beats headphones are one of the best options for kids in terms of sound quality, comfort, and safety.
Despite its adolescence, this brand has become one of the most recognizable in the world when it comes to making good headphones.
Apple has owned Beats for some years now, which has had a significant impact on the tech used inside.
With a large selection of headphones available in a variety of styles, including in-ear, on-ear, and over-ear, there's something for everyone, including kids.
It might be tricky to decide which pair of beats headphones is ideal for your kids. Fortunately, we have an in-depth review of the best Beats headphones for kids to help you out.
Best VR Headsets for Kids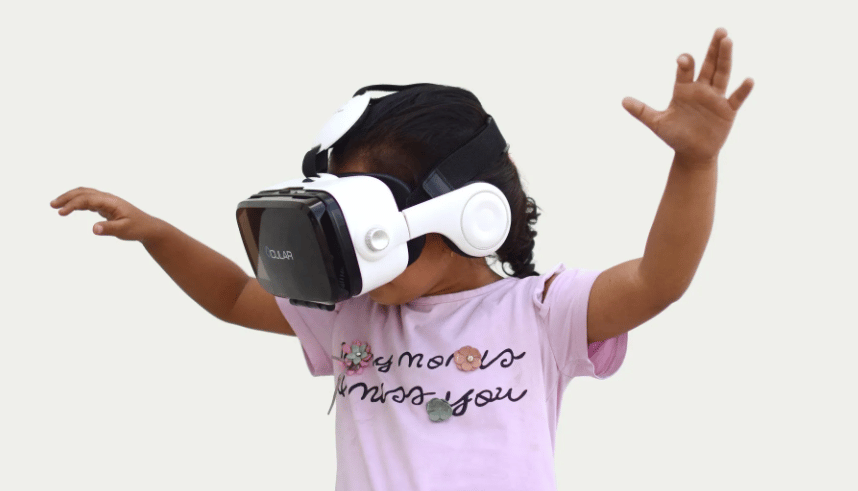 Virtual reality headsets have been ingrained in our daily lives and are here to stay.
Virtual reality (VR) is a software-developed simulated environment that allows users to explore and interact with the 3D (three-dimensional) world.
Children can explore an immersive and parallel universe with the best VR headsets for kids, making learning exciting and interesting.
All your kid needs to do is connect the VR headset to an app to play games, study or watch movies.
Make sure you review the content before allowing your kid to use the gadget, and restrict their use to several hours each day—moderation is crucial.
Click on this link to see our selection of the best VR headsets you can buy online to make things interesting for your kids.
Best Wireless Earbuds for Kids
It's critical to buy the best wireless earbuds for your kids, whether you want to get them earbuds for online classes or you just want to gift them something for their birthday.
Nonetheless, 'best wireless earbuds for kids' is a comprehensive term, and you should be aware of everything that goes into a decent pair of wireless earbuds.
Don't worry; you won't have to browse the web for this information.
In our in-depth review, we've covered everything you need to know about wireless earbuds for kids, including some of the best pairs available on the market.
Best Gaming Headset for Kids
Gaming headsets for kids are pretty similar to gaming headsets for adults. However, these gadgets are built specifically for children, taking into account elements such as aesthetics, comfort, and safety.
They are equipped with earbuds and a mic. The size of these devices is the most significant distinction. Compared to a standard gaming headset, kids' gaming headsets are small.
A gaming headset for kids makes gaming more enjoyable and engaging for kids.
Some of the features you should be on the lookout for in kids' gaming headsets include ergonomic design, mute buttons, RGB lighting, and volume controls.
While these features are not necessary for little children, they are beneficial to younger players. So go ahead and check out our review on the best gaming headsets for kids to learn more.
Best Bluetooth Headsets for Kids
Why should parents buy Bluetooth headphones for their kids? There are a couple of benefits: For starters no cables, so there is no tangling, making it simpler to wear.
The volume control on Bluetooth headphones is also more dependable.
Also, considering that the newer iPhones don't have headphone jacks, there's a significant probability that other companies will follow suit, demanding wired headphones to be used with an adaptor.
As a result, kids' Bluetooth headphones appear to be a more long-lasting solution.
There are a couple of top kids' Bluetooth headsets on the market right now. Check out our review to see our top picks for the best wireless headphones for kids.
Best Sony Headphones for Kids
Sony is one of the most reliable headphone brands out there.
So it comes as no surprise that Sony offers a wide range of wireless and wired headphones to make your kid's leisure time even more enjoyable.
Sony headphones are renowned for their balanced audio, comfort, durability, exceptional sound quality, and strong bass, allowing your kid to enjoy music in the house or on the go.
Sony's kids' headphones are specially built to provide studio-quality audio while limiting high volumes. Check out our best Sony headphones for kids review to learn more.
Best Kids Headphones with Microphone
Nowadays, if a pair of headphones for adults comes with a wire that does not include an inbuilt remote or microphone, it should be a professional model for use in the studio or with stereos and home theatres.
Simply put, most people connect their headphones to their phones or tablets and use them to initiate or receive phone calls on the go.
However, it's less clear if the lack of a microphone is a downside when it comes to kids' headphones.
Not every parent wants their kid's headphones to have a microphone built-in. Maybe you don't want to encourage your kids to use their headphones as gaming headsets.
But, if you're looking for kids' headphones with a mic, confirm that they have softer volume levels to protect your young one. Check out our review to learn more about our top picks.
Best Noise Cancelling Headphones for Kids with Autism
If you have a kid with ADHD (attention deficit hyperactivity disorder) or ASD (autism spectrum disorder), you might have observed that they have a hard time coping with loud noises.
Noise-canceling earmuffs or headphones can help your kid concentrate on the task at hand by efficiently blocking out distracting noises coming from the surrounding.
The tech in these headphones can entirely block interferences such as conversations. They can help reduce the impact of sudden or loud noises, which can be terrifying to a kid with autism.
Buying noise-canceling headphones for autistic children may give them relief. As a parent, you get the joy of discovering something that brings back a smile to your kid's face.
Proceed to our review of best Noise-cancelling headphones for kids with autism to see our top picks.
Best Headphones for Tweens
Today, you can't go anywhere without seeing a teenager wearing headphones and engaged on their phone.
Teenagers use their phones for everything, whether it's listening to music, talking to a buddy, or watching a movie, and they like to do it without outside noise interference.
Teens, unlike smaller children, do not require persuasion to wear headphones while unwinding with their favorite tech devices – a necessary element of any traveling kit these days.
Teenagers can use headphones to get much-needed personal space and freedom.
While it's crucial to keep an eye on your teen's smartphone use, getting them a decent pair of headphones could make you the parent of the year.
Check out our review on the best headphones for teens; it includes several brands that teens really love, plus budget options that rival name brands in terms of durability and design.
Best Headphones for Kindergarten Classroom
Any kindergarten teacher understands how difficult it is to find the perfect set of headphones for kids.
So many headphones are overly big, harm students' ears, have terrible sound quality, are overpriced, and so on!
Kindergartens allow children to participate in a variety of tutorials and activities, which necessitate the use of headphones for optimal learning.
Volume limiters are included in headphones for kindergarten classes to reduce the danger of hearing impairment in kids.
As a parent, you should always pick a headset that adheres to WHO criteria to protect your child's eardrums from excessive noise.
Fortunately, headphones have gotten safer and more inexpensive, thanks to advances in technology.
Check out our review, which lists the best and latest headphones for the kindergarten classroom now.
Best Headphones for Elementary Students
Thanks to the ubiquity of the internet, one of the new approaches to learning by some schools is online learning.
Parents must provide their kids with the right equipment for online learning work, and headphones are part of this equipment list.
Headphones allow kids to hear the teacher more clearly while also avoiding distractions from the surroundings.
However, headphones for elementary students require certain modifications to make them more appropriate for kids in this age group.
The kid's understanding of the lectures is enhanced by using these headphones. A pair of headphones makes hearing and grasping information much more straightforward during class.
With these headphones, kids learn quickly, concentrating less on friends and chitchat and more on studying. Head over to our best headphones for elementary students to learn more.
Best Noise Cancelling Headphones for Kids
Traveling with kids is an awesome experience since you're exposing your child to the marvels of the world.
However, no one needs to lecture you about the complications that might arise when traveling with them.
For instance, getting from one point to the other can be dramatic, especially if the surroundings are noisy.
Kids have sensitive ears, which can be easily damaged if exposed to loud noises. If not properly cared for, the fibers inside the ear canals can be easily destroyed.
A pair of high-quality noise-cancelling headphones can help to reduce noise-induced hearing loss.
A noise-cancelling headset can be useful for athletic events, parties, travel, and watching TV celebrating special occasions, among other things.
But there are a couple of things to consider when buying; check out our review to learn more.
Best Kids Headphones for School
When buying school headphones for children, there are several variables to consider. You'll need to be picky about everything from volume limiters to super-soft and comfy ear cushions.
You should always buy headphones for kids when you have the correct information. This is because you can never skimp on anything when it comes to kids.
You see, children's ears are more susceptible to hearing loss as a result of higher noises.
So If you're looking for kids' headphones for school, make sure to purchase headphones specifically designed for kids. Go ahead and check out our in-depth review to learn more.
Best Headphones for Toddlers
There are numerous reasons why you might want to invest in a good quality set of toddler headphones, whether you're still on the fence about giving your little one their own smartphone or not.
Unlike headphones designed for adults and older kids, toddler headphones have various unique characteristics that make them comfortable and suitable for younger users.
When purchasing headphones for toddlers, consider not only their size but also the volume they broadcast and the quality of their construction.
Toddler headphones come in handy mostly when traveling, so durability and the ability to leverage a headphone splitter – if necessary – are important features to consider.
As a result, two kids can share one smartphone or tablet.
Check out our review as we discuss these features in more detail and as we review the leading headphone brands designed particularly for your little ones.
Final Thought
All in all, pair of headphones is vital for most kids as they develop. This means that it's essential that you buy a headset that won't destroy the hearing capacity of your kid.
Also, you need to choose a product that will grant them comfort and joy as they listen to music or watch movies.
See Also