How to Connect Ring to Alexa – Getting Started
Over the last couple of years, Amazon's smart home division Ring has become a key player in home security. The company's range includes entire alarm systems, smart doorbells, thermostats, smart lighting, and even smoke and carbon detectors.
Ring is giving homeowners a new and precise way of selecting devices to use in a home security setup. For instance, Synching Alexa and a Ring doorbell enables you to issue verbal commands via your Amazon Echo devices.
Combining Ring devices with Amazon's virtual assistant Alexa enables you to boost your home security significantly. For instance, you can respond to a visitor and package delivery service men. However, to enjoy these features, both devices must be connected to the same Wi-Fi.
You need to download an app to enable these devices to connect with one another. The process is relatively straightforward, but there are a couple of steps involved.
The Setup Process
Launch the Amazon Alexa App on your device. You can get it on the Apple App Store for iPhone users and Google Play for Android users if you don't have the app.
On the home screen, you will see "More" on the right end corner of your screen
Then click on the three-line icon and then click on "Skills and Games."
On the next screen, click on search bar and search for "Ring."
Click on the Ring logo. Note that Ring should appear at the top right corner of your screen under the smart home group.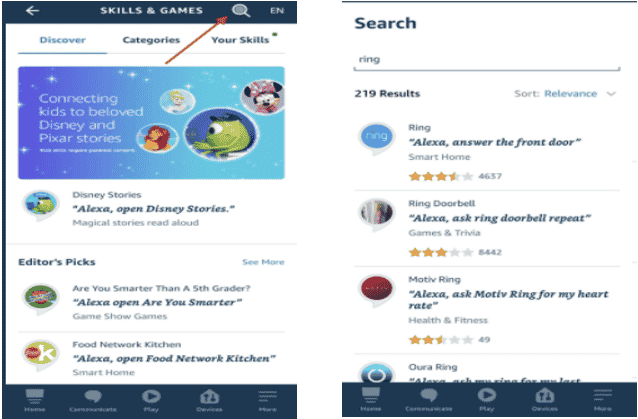 On the next screen, click on the "Enable to Use" button
You'll now be redirected to the in-app web browser to sign in to your Ring account. Enter your username and password to sign in.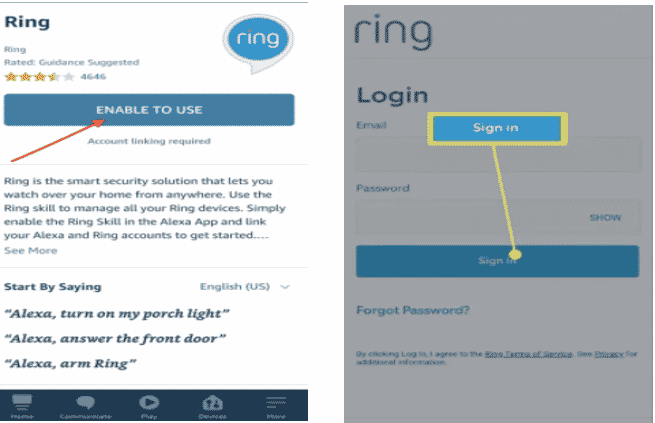 If you've already logged in to your Ring account, then click on "Enable Skill and Link Accounts."
Next, you'll be asked if you'd want to discover Ring devices around you. Click on "Discover Devices" to commence the search.
After a couple of minutes, your Ring doorbell should appear on the screen, and it will automatically connect.
If your Ring device fails to connect, check if it's on, and then you can find it by giving Alexa voice commands such as "Alexa, discover my devices."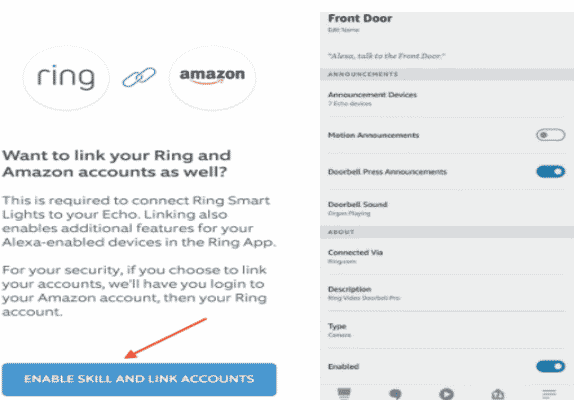 How Can You Trigger Chime On Your Ring Doorbell?
You can use Alexa smart speakers as Chime devices which will inform you when someone presses your Ring doorbell. To trigger this setting in the Amazon Alexa App:
Start by clicking on "Devices" at the bottom left corner of your screen.
Then click on "All Devices" and then choose the Ring device that's linked to Alexa.
Next, click on "Doorbell Press Announcements" to trigger this function. You can also change the chime in the doorbell sound menu.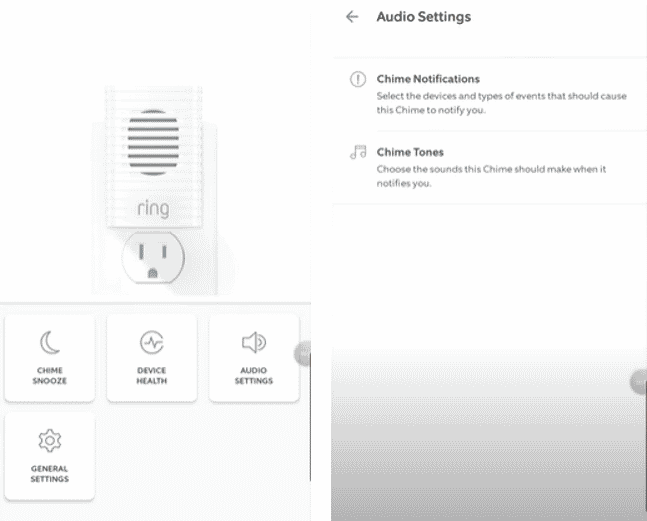 How Can You Answer a Doorbell Ring Using Alexa?
Alexa devices such as the Echo Show can automatically show live footage from any Ring Doorbell when prompted. You can cut down on the number of devices showing footage in an effort to reduce notifications.
Alexa will inform you when a visitor is at your door using the label you've given the specific doorbell. This lets you know the exact door the person is at if you have more than one. For instance, you can have labels such as "front door" and "back door."
Then from this point, you can just use Alexa to call out the label and interact with that specific doorbell. For instance, to access the live footage and open two-way communication with your guests, you can say "Alexa, talk to the front door" or "Alexa, answer the front door."
Of course, answering the door via the Ring Doorbell won't give your visitors access to your house. You'll have to do it normally by walking up to your door and opening it, or if you have a smart lock setup, you can open the door remotely.
Note that if you have more than one doorbell in your home, you'll only be able to communicate with them one at a time. Also, after speaking to your guests it's recommended that you switch off the communication by saying, "Alexa, stop."
If you're concerned about your guests listening in on what's happening inside the house, there's a way to see who's at your door without activating the microphone feature.
Use Alexa with Ring
Did you know if you have an Alexa device with a display and a 'Ring Protect' subscription, you can review footage recorded by your Ring doorbell? For instance, you can say, 'Alexa, show me the last footage on [device name].'
Did you also know that Ring and Alexa can hear you from up to 30 feet? Yes, when the conditions are favorable (WiFi), your setup can respond while you're quite far away.
Final Thought
To sum it all up, Ring devices coupled with Amazon's virtual assistant Alexa can help you to boost safety in and around your home. You can check out the Amazon Alexa portal or the Ring support website for more info.
See Also
How to connect Alexa to the internet
How to connect Ring Doorbell to Google Home