How to Set Up Google Home? – Overview
How to set up Google Home? Looking for a way to configure your Google Home? You have arrived at the correct location. This quick guide will assist you in configuring Google Home.
So, keep continuing to read to know more.
Google Home is a smart speaker that responds to voice commands, and the accompanying app functions as a remote control for smart home devices.
You can use the app to set up, manage, and control not only Google Home and similar devices. But also smart home products such as lights, cameras, and even your thermostat.
Here's what you should know.
How Google Home Works?
Google Home makes use of its well-known Google virtual voice assistance to make phone calls, play music, and search user queries, and so on.
This built-in voice recognition and response feature makes using Google Home simple.
Like many other voice assistant speakers, controls can expand to manage home automation devices and other tools.
When the Google Home device is turned on, it begins to listen to voice commands.
It is set up to respond to voice commands, so when the user says "Hey Google" or "OK Google," it activates Google Voice Assistance.
Interacting with Google Home can be done in two ways. The first is to customize the initial question, and the second is to issue a sequence command.
What Can a Google Home Smart Speaker Do?
Smart speakers are extremely useful gadgets. You can summon answers, activate services, and perform other tasks that you previously had to do on your own with just a few words (whether in person or by typing on a keyboard).
Some capabilities are built into the device, while others necessitate integration with third-party tools and services.
Default Capabilities of the Google Home
Play Music: If you feel alone, you can find and play a new song or even a whole playlist.
Set Reminders: Google Home also allows setting alerts with voice commands for your day-to-day task.
Send Messages: If your hand is busy with something, Google Home also enables you to send messages with voice.
Get Answer: Do you have a curious young mind in your home? Then Google Home will answer their entire question.
What does Google Home Require?
You will need a mobile device or tablet that runs iOS or Android.
You'll need the Google Home app, a Google account, and Wi-Fi to get started.
To Begin With
To begin using a Google Home, you will need a Google Home device and a mobile device (iOS or Android).
You also need the latest version of the Google Home app (iOS or Android), a Google Gmail account, and access to the internet via wireless. That's it.
If you don't already have a Google Gmail account, create one. Google will inquire about your name, birthday, phone number, email address, and location.
How to Set Up Google Home?
The Google Home smart speaker is essentially Google's response to Amazon's wildly popular Echo line. A Google Home device comes with Google Assistant, which is a bonus.
Google Assistant is a virtual assistant that responds to questions and assists you in completing tasks.
And it's no surprise that the number one name in web-based searches is known for being better at completing tasks than Siri and Alexa.
Steps include setting up Google Home.
Ensure that your Google Home device is plugged-in and turned on.
Connect your Smartphone to your Wi-Fi network.
Enable Bluetooth if you're using an iPhone.
To complete the setup, download the Google Home app on your Smartphone.
Go to the Google Home app and start it up.
To agree to the Terms of Service and Privacy Policy, click Accept.
Connect your Google Home device to the Google Home app by following the instructions.
When prompted, choose Play Test Sound to confirm the connection is working properly. To proceed, select I Heard a Sound.
Assign your new device to a room to make it easier to find.
Choose the wireless network to which you want to connect your Google Home device and enter your password.
When you get connected, click Continue.
Sign in with your current Google account.
To finish the setup, follow the onscreen prompts.
Are you having difficulties? Apply the "unplug it" rule. Google suggests unplugging your device for 10 seconds, then plugging it back in. That should suffice.
If you are still having problems, return to factory settings and press and hold the volume up and volume down buttons on the top of your Smart Display for 20 seconds; the setup process on your device should then be restarted.
How to Set Up Google Home Mini?
Start by launching the Home App on your smartphone.
Next, click on "Get started."
Your screen will indicate the app needs access to your device's location. Pick the option you want and click "Next."
At this point, you'll be taken back to the main screen. Click on the "Set up Google Home Mini" bubble above the shortcuts to proceed with the setup.
Then select the Home that you want to control. If it's your first time setting up a Google smart speaker, give your Home a name. Then click "Next."
Your screen will indicate "Google Home Mini found" click "Next" to proceed.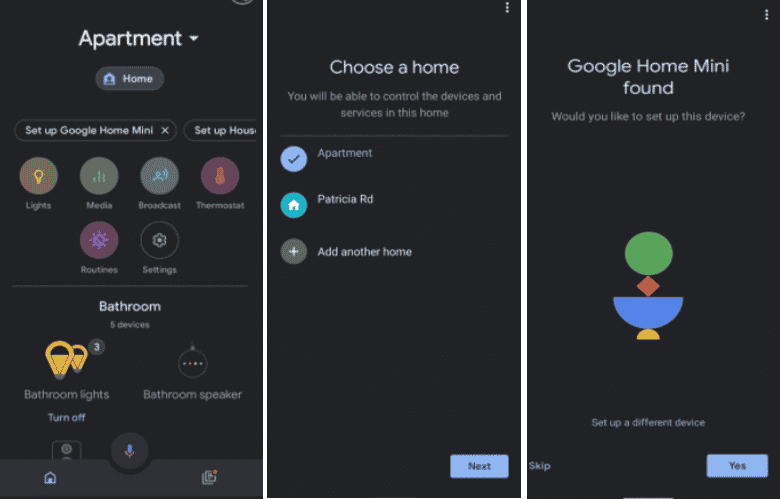 Your speaker will produce a chime. Click "Yes" if you've heard it.
The next screen will contain Google's legal terms. Click on "I Agree" to proceed.
Next, you'll be asked if you want to improve your Home Mini. Click "Yes" if you want to share stats and crash reports or "No" if you don't want to share anything.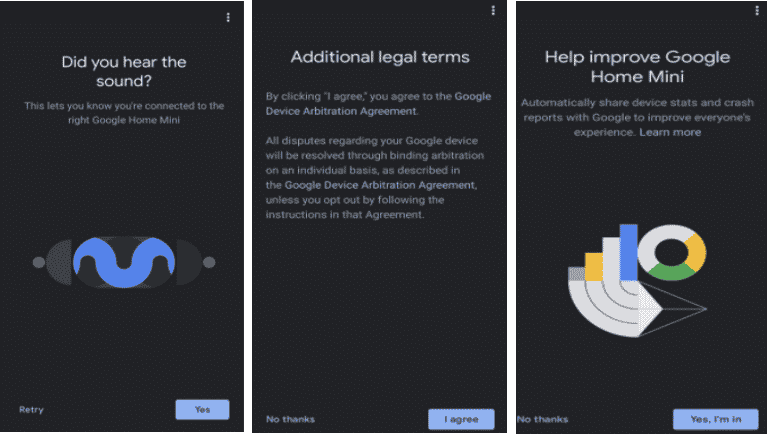 The next screen will prompt you to connect to Wi-Fi. If your Wi-Fi doesn't appear on the list, it could be you're using a 5GHz network while your Home Mini only supports 2.4GHz. To fix this, check on your router's settings and activate the 2.4GHz network.
Next, you'll enter your Wi-Fi password or if you've already given the app access to your Wi-Fi password, click on "OK" to proceed.
Choose the room in which you want to set up the Home Mini and click "Next."
The next screen will show the privacy and legal policies; click "Next."
At this point, you'll need to activate voice match on your Home Mini. Click "Next" to proceed or "No Thanks" if you don't want personalized responses.
Click on "I agree" to approve the voice match.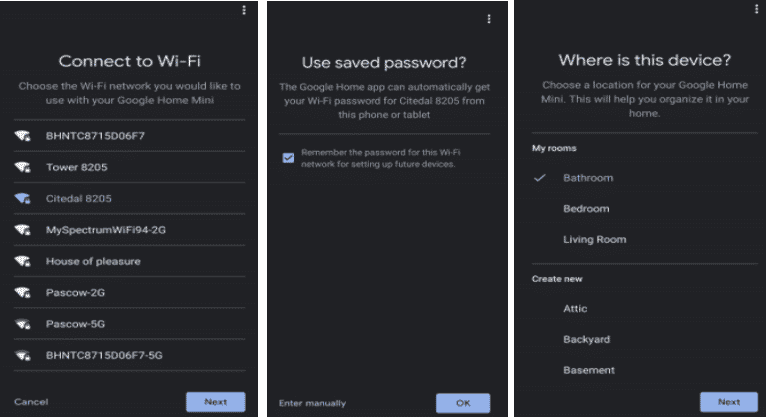 Say "Hey Google" and "OK Google" when prompted. If there's an existing voice stored on your smartphone, it will be downloaded to your Home Mini.
Next, click on "I Agree to get personalized results with your voice or "No Thanks" if you don't want personalized responses.
Then you'll be asked the "Default Music Service" you want to use on the Home Mini.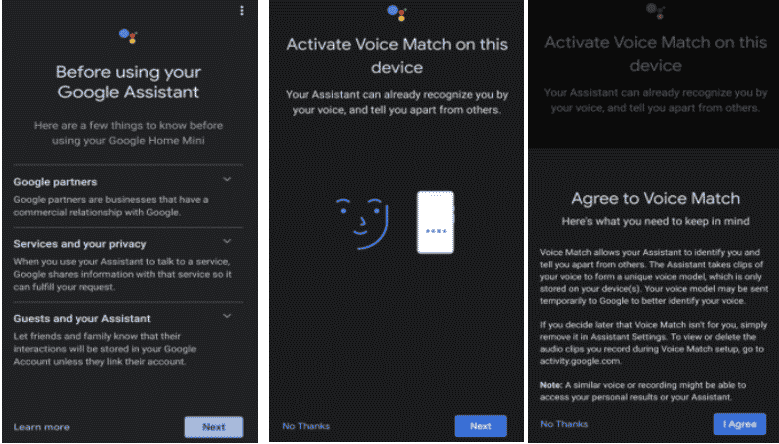 Next, you'll be prompted to link radio services. Click "Next" if you have SiriusXM or "Not Now" if you don't have a radio service.
At this point, you can add any video services you want to link to your Home Mini.
If you have "Sling TV," click on the plus (+) sign to add it and click "Next."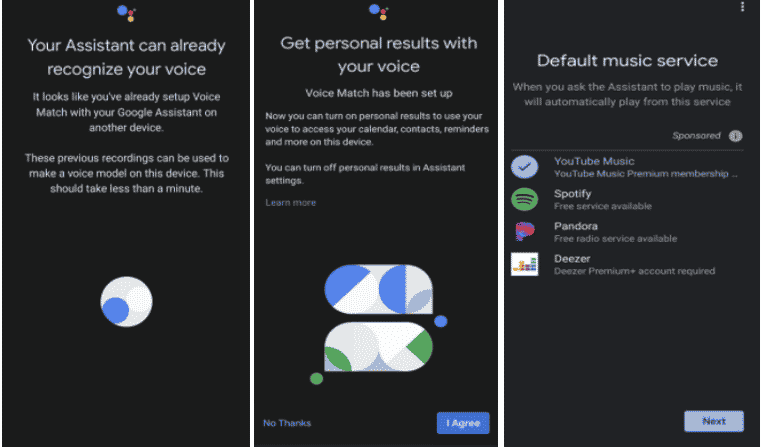 The next screen will prompt you to receive Google Duo calls on your Home Mini. Click "Continue" if you want your speaker to make calls or "Not Now" if you don't.
Next, click on "Sign Up" to get ad emails from Google or "No Thanks" if you don't.
Review your settings and click "Continue."
Complete the configuration by clicking on "Finish Setup."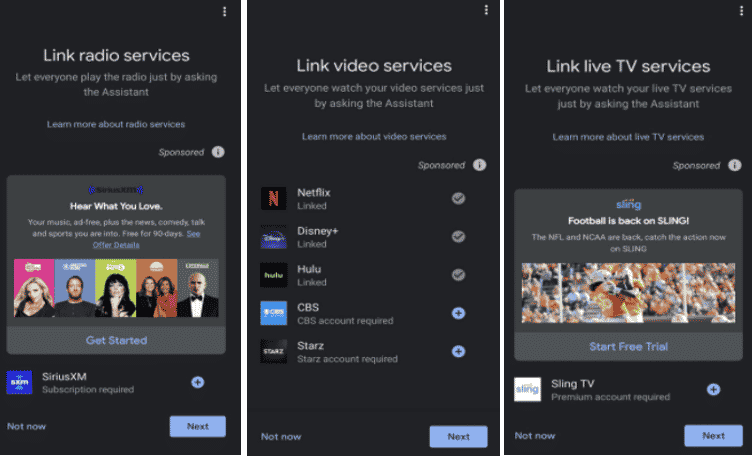 See Also
How to Connect Ring Doorbell to Google Home
Here is a big list of things Google Home Mini can do
How to Change Wifi on Google Home
How to Connect Google Home to Phone