How to Set Up Amazon Alexa – Getting Started
Amazon Alexa is a cloud-based software that acts as a voice-enabled virtual assistant. So, in a nutshell, you can command Alexa with your voice, and it will respond candidly, assuming the answer exists or implement a command assuming the request can be made.
Some people tend to think that Alexa-enabled devices are nothing but glorified clock radios. This is partly true because you can command Alexa to tell you the time and play internet radio and music on these devices.
But the limit to what you can do with Alexa is almost infinite. From operating smart lighting and smart door locks to smart security cameras and even some intelligent kitchen appliances, Alexa has become an integral part of day-to-day routines in some homes.
With thousands of skills, Alexa is getting smarter with each passing day, and it's capable of tracking our fitness, remotely controlling our smart appliances, playing games, and so much more. So let's look at several steps you should take when setting up an Alexa-enabled device.
The Steps for Setting Up Your Alexa-Enabled Device Include the:
Launch the Amazon Alexa App on your device. You can get it on the Apple App Store for iPhone users and Google Play for Android users if you don't have the app.
Next, sign in to your Amazon account. To sign in, enter your email address or your phone number and the passcode. If you don't have an Amazon account, click on "Create a New Amazon Account " and follow the subsequent instructions.
Then select your name from the list of users. If you can't see your name, click on "I'm someone else" and sign up as a new user.
4: Next, plug in your Alexa device to a power outlet.
5: In the Alexa App, click on "More." You will see this option on the bottom-right end of your screen.
6: Next, click on "Add a Device."
7: The app will show you the various types of devices that work with Alexa. But in this case, we are setting up an Echo device, so click on "Amazon Echo."
8: Then click on "Echo, Echo Dot, Echo Plus, and more." This option is under "Echo Smart Speakers."
9: Ensure the light ring on your device is showing orange light. The app will ask if your device is plugged into power and is in setup mode. Click on "Yes" if you've done this.
10: Next, select your device name from the list of "Available Devices."
11: On the next screen, select your Wi-Fi, enter your passcode and click on "Continue." If you're having an issue linking Alexa to Wi-Fi, ensure that your router is functional. Also, note that Amazon endorses setting up your Alexa device within 30 ft. of your router.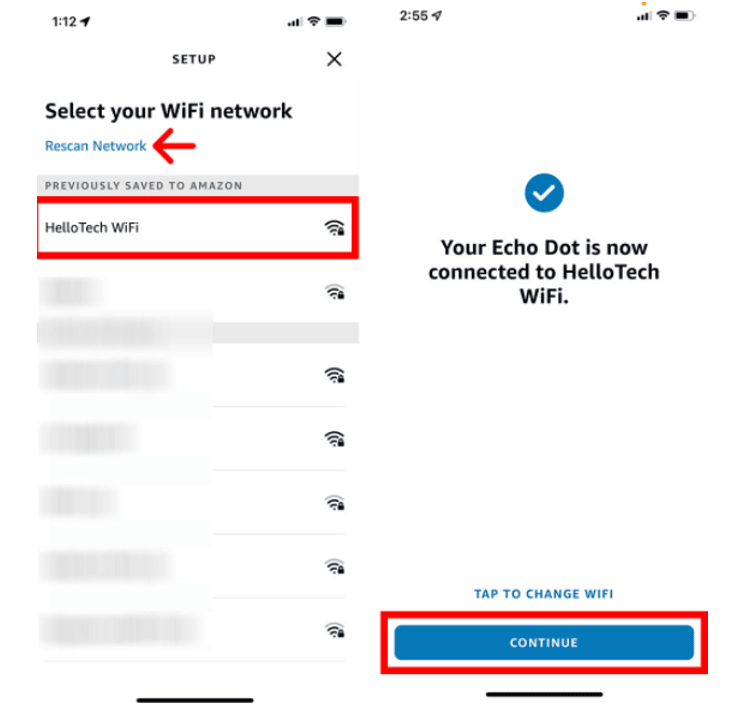 12: Next, select the room your Alexa device is situated in and click on "Continue."
13: Finally, enter your home address to allow Alexa to give you personalized results. After you're done setting up the device, Alexa will say, "Your Echo is ready."
How to Setup Location On Alexa-Enabled Device
Now that you've informed the Alexa App where your device is situated in the house, you can also enter your geographical location.
Of course, you can skip this process if you're worried about your privacy.
However, you should know that entering your geographical location enables Alexa to give you accurate weather and traffic results when you ask for them.
It's a pretty straightforward process, and the steps include:
If you have already saved your geographical location in the Amazon Account, for instance, when you were shopping on the Amazon platform, you can use this address. Just choose the location and click on "Continue."
If you haven't saved the location or you want to use a new one, proceed to click on "Enter a new address."
Decide on whether your location is a home or work address, or enter a personalized label for your device's location and then click on "Next."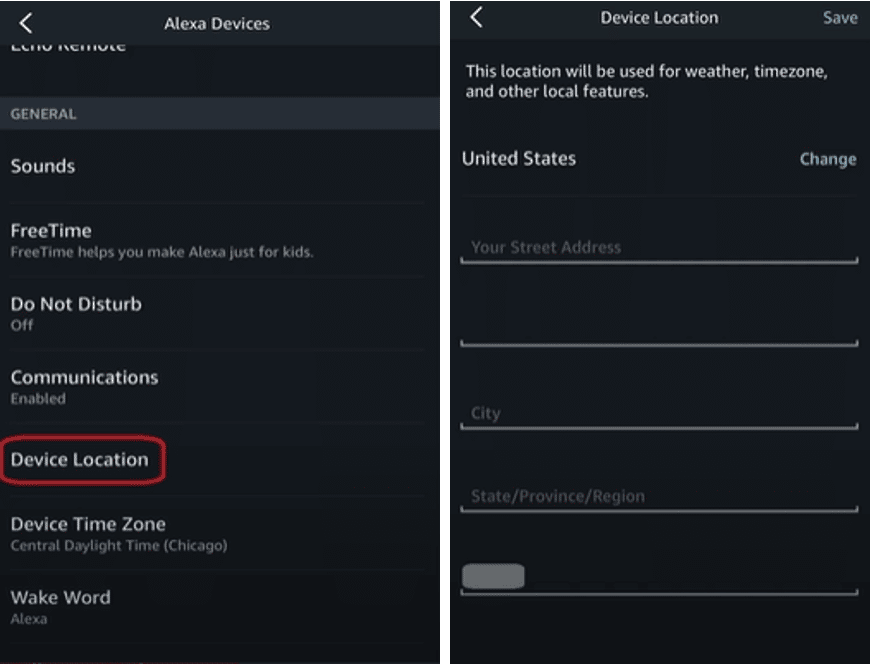 That completes the essential part of an Alexa device setup. Since you've already created a voice profile during the setup process in the Alexa App, you don't have to teach your Alexa device what you sound like.
Note: Once you've set up Amazon Alexa and given the app access to your location, you can stream music on your smart speaker. Keep in mind when you ask for a specific track, it will automatically play on Amazon Music. If you want to use Apple Music, Spotify or YouTube Music, you need to go to the settings and change the default music app.
Final Thought
All in all, now that you know how to set up your Alexa device, you can proceed to have some fun with Alexa. As it is, you can modify Alexa to respond with the jargon used in your country. In addition, Alexa can also be customized to respond to the voice of some celebrities.
See Also