How to Setup Google Nest WiFi?
A while back, the router market was dominated by established names like TP-Link, Netgear, Linksys, and Asus. Google wasn't in the conversation, and they didn't have a competitive gadget or an actual hardware segment for that matter.
Google now has the best-selling Wi-Fi router in the US thanks to the status of the Google Wi-Fi mesh system, which rolled out in 2016. Google Wi-Fi became even more popular than the Eero line of devices, which popularized mesh Wi-Fi.
Today, Google Wi-Fi has changed its name, and the lineup is commonly known as Google Nest. These compact mesh Wi-Fi units can fill up your home with a robust Wi-Fi signal.
Mesh Wi-Fi kits are meant to be expandable, and you can have a couple of them depending on the size of your home. This setup can handle multiple devices meaning you can use Wi-Fi in the kitchen, lounge, and elsewhere. First, let's look at the setup process of Google Nest Wi-Fi.
The Steps of Setting Up Google Nest Wi-Fi Include:
1. Place the Nest router and the access points where you want them to be. Note that you can use any of the Nest Wi-Fi routers in the kit as the main router.
2. Connect the Nest Wi-Fi router to your internet modem using a LAN cable.
3. Launch the Google Home App on your device. You can get it on the Apple App Store for iPhone users and Google Play for Android users if you don't have the app.
4. On the home screen, tap the plus sign (+) in the upper left corner.
5. Tap "Set Up Device" in your home.
6. Select "New Devices."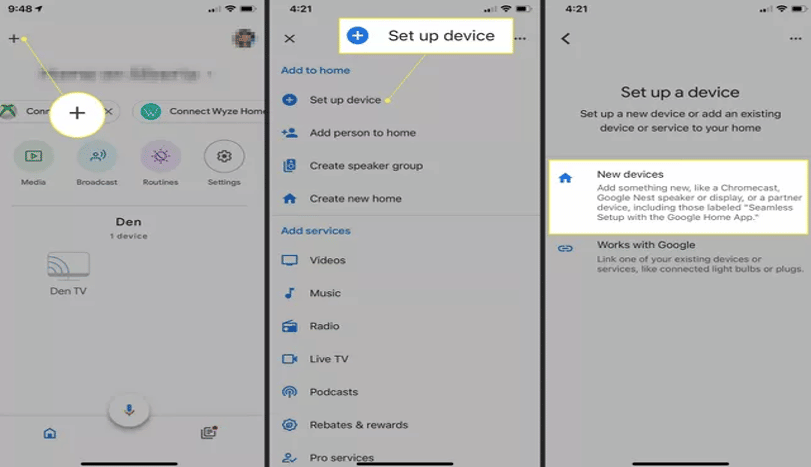 7. On the next screen, the app will ask you to select a home or create a new one if you're not on Google's ecosystem. Complete the entire process and tap "Next." This will be the "Home" for any access points you will be adding later. You may create multiple ecosystems if necessary.
8. At this point, the app will take a couple of minutes to search for devices. If your Nest Wi-Fi router appears on the screen, tap "Next."
9. Your smartphone camera will launch, and the Google Home App will ask you to scan the QR code on the backside of the Nest router.
10. Once you've scanned the QR code, a prompt should appear asking if you'd like to connect to the Nest Wi-Fi network; tap "Join."
11. Then, the App will confirm your router is connected and check if your internet is active.
NOTE:

The Google Home App provides very specific error messages when the setup cannot be successfully completed. For instance, if your LAN cable isn't properly plugged in, the app will prompt you to check its connection. I've installed Google Nest WiFi several times in the past, and I encountered a particular issue twice, up until today. I resolved the problem by contacting my internet service provider (ISP). In this scenario, even if you follow all the steps correctly, your modem may not allow Google Nest Wi-Fi to connect to the internet. Repeatedly resetting your modem or router will not resolve the issue. Instead, contact your ISP and request them to "Reprovision Your IP Address." Most ISPs provide dialing instructions, so you won't even need to speak to a representative for this process. Tap "Join" once more when you get your IP address reprovisioned.
12. You'll need to create a Wi-Fi name and add it, then tap "Next."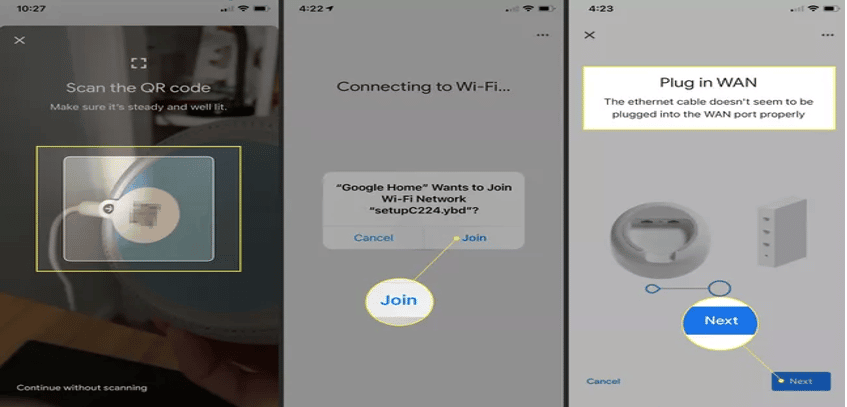 13. You'll also need to create a passcode to secure your Wi-Fi link, then tap "Next."
14. You'll be asked if you want to share your anonymous usage data. Tap "Yes" to opt-in or "No" to opt-out.
15. You'll also be asked if you want to use Nest Cloud Services. Using some services such as Family Wi-Fi or Guest Network is vital. Tap "Yes" to opt-in or "No" to opt-out.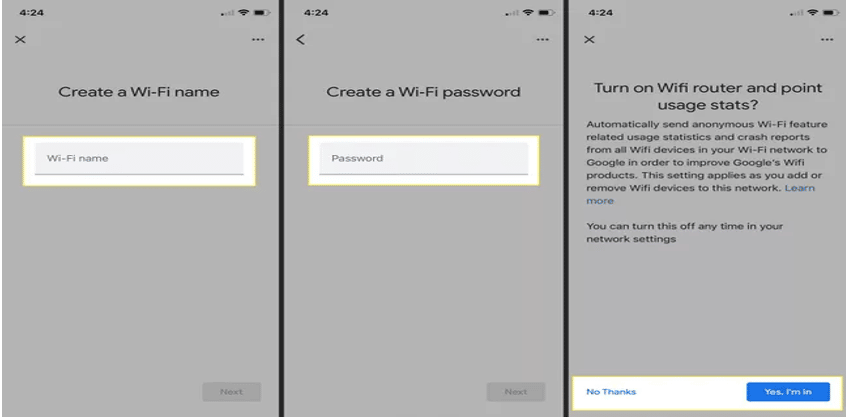 16. The Home App will ask where your router is situated. Pick a location and tap "Next."
17. At this point, the Home App will check for firmware updates, and if there are no new updates, it will create your Wi-Fi network.
18. Once again, you'll be asked to join a Wi-Fi network. This time, use the credentials you had set up earlier and tap "OK." The setup is now complete.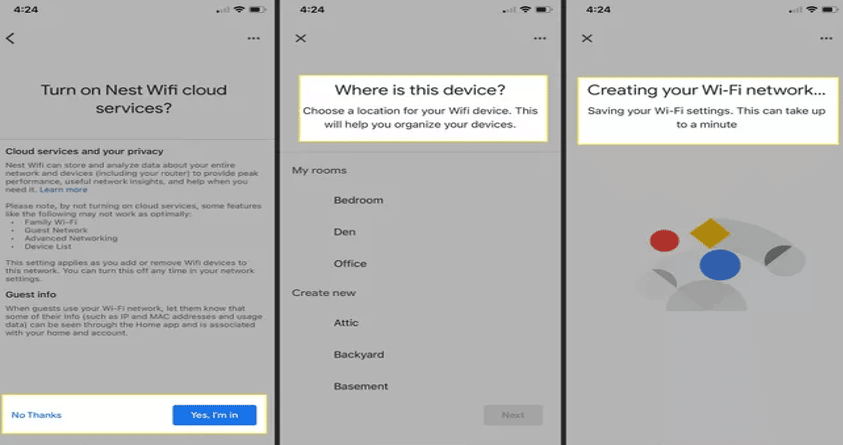 How Do You Set Up a Nest Wi-Fi Hub?
There's a good chance that you'd like to set up one or more Nest Wi-Fi access points alongside your Nest router. You can do this at the end of the Nest Wi-Fi router setup. Extra access points come in handy if you have a weak connection in certain parts of your home.
Setting up an access point is the same as setting up the Nest router, but the process is complete as soon as you scan the QR code and pick the access point's location. You won't need to enter your Wi-Fi username and password because the link is already active.
Note: Google Nest WiFi is a mesh system with points that come with built-in speakers, meaning you can use them for 'Hey Google' and 'OK Google' Google Assistant commands. Also, this system is available in various configurations such as '1+1' and '1 + 2.'
Final Thought
Setting up Google Nest Wi-Fi is a pretty straightforward process, primarily if you already use other Google devices. However, even if you're not on Google's ecosystem, the process is still relatively easy if you prudently follow the steps illustrated above.
See Also