Choosing the best tripod for Canon G7X is an impressive approach to perk up your vlogging journey. Now that the vloggers have started entertaining audiences in any way possible, the need for professional vlogging equipment has increased effectively.
Tripods are now used as vlogging stick to record the video in enhanced manner. It is one of the most efficient accessories vloggers add to their kit to record steady and clear shots.
Canon G7X is an amazing vlogging camera with impressive DSLR-like features and a flip screen that makes vlogging fun. From an amazing 1.0 type sensor to superior image processing, the Canon G7X Mark II and Canon G7X Mark III are now the people's favorite pocket-sized cameras.
Best Tripod for Canon G7X – The List
When it comes to choosing a tripod for your Canon G7X, things might get challenging as the market offers an extensive range from small to large tripods.
One should consider the requirement and technical aspects of the piece before making the purchase. So, to make thing clear, let's compile the list of the best tripod for Canon G7X, right here.
| Tripod | Minimum - Maximum Height | Maximum Weight Support | Item Weight | Connection | Check Price |
| --- | --- | --- | --- | --- | --- |
| MACTREM Professional Camera Tripod | 21-inch to 62-inch | 15 kilograms | 1.30 kilograms | ¼-inch screw, 3600 ball-head | Check Price |
| K&F Concept DSLR Tripod | 16.1-inch to 62-inch | 10 kilograms | 1.0 kilograms | ¼-inch screw, 3600 ball-head | Check Price |
| JOBY GorillaPod 500   | 6-inch | 0.30 kilograms | 0.09 kilograms | ¼-inch screw, 900 ball-head tilt | Check Price |
  MACTREM Professional Camera Tripod
Widely known as the professional camera tripod, this piece by MACTREM is the first choice for present vloggers. The tripod allows capturing 3600 landscapes, portraits, macro, and street photography. You enjoy wonderful results while getting closer shots of any object.
It has the adjustable height of 17.5-inch to 62.5-inch, which you can change as per the photography requirement. The tripod offers finest stability, as it stands maximum load of 15 kilograms easily.
Technical Features:
Stable load capacity of 15kgs (33lbs)
¼-inch screw fit for cameras, camcorders, projectors, and mobiles
Super-lightweight and portable design
Sturdy and quality aluminum material used
Adjustable height from 17.5-inch to 62.5-inch
3600 horizontal ball-head with angle adjustment system
Detachable monopod with stability hook and strong twist lock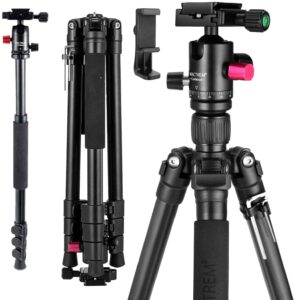 K&F Concept DSLR Tripod
K&F offers a brilliant tripod that competes with maximum modern vlogging tripods. If you are new to vlogging, this might be the masterpiece you should go for without a doubt. The tripod has many impressive technical traits that make it the best choice for various photography needs.
It is a lightweight and compact tripod made with aluminum material, which guarantee stability and reliability. The tripod comes with adjustable height that can be regulated from 16.1-inch to 62-inch according to the photography requirement.
Technical Features:
Stable load capacity of 10kgs (22lbs)
Professional camera tripod for Canon cameras
Lightweight and easy to carry (1kg)
1-inch large sphere ball head for premium stability
Metal button that guarantees durability and reliability
Compact design that makes it portable
Quality flip leg locks for better outdoor photography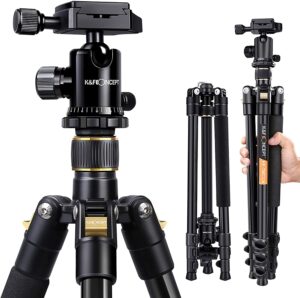 JOBY GorillaPod 500
For beginners, who are new to this vlogging world and looking for affordable tripod for their Canon G7X, the JOBY GorillaPod 500 is the right choice for you. This tripod is a beautiful and wonderful masterpiece by JOBY with flexible legs. To make any angle for getting the best shot, the flexible legs wrap around the object easily.
It comes with stainless steel ball-head for enhanced stability. The tripod also has 900 tilt to perfectly shoot portraits, landscapes, and other photography types. Also, it is one of the first choice for people who love taking selfies and sharing on social media platforms.
Technical Features:
Stable weight capacity up to 325 grams
Mini tripod for GoPros, mobiles, and compact cameras
6-inch maximum height to shoot amazing images and record videos
Lightweight and compact size that makes it easily portable
¼-inch screw for stable shooting in different angles
Perfect piece for landscapes, portraits, and selfies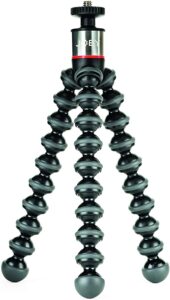 connect canon g7x mark ii to computer
canon g7x mark iii portrait photography