How to Block Texts on Android? – Getting Started
Text messages have transformed the way we communicate with one another. This is a technology that makes it easier and more enjoyable to communicate. However, while text messages are helpful in so many ways, they too have their downsides.
Sometimes you might get spam, unidentified creepy messages, or unwanted texts. IOS makes blocking such texts easy because you can do it in the phone settings. Unfortunately, Android doesn't function the same way; this is why we will look at how to do this.
Blocking texts prevents your phone from receiving messages from anonymous contacts. There are a couple of reasons why you can stop certain texts. Maybe you want to cut ties with a specific person, or you're just tired of getting spam texts.
When you block a message, it means you've blocked the number as well. There are 3rd party apps you can use to differentiate between what you want and don't want to block. This way, you can only block calls or texts and vice versa. That said; let's look at a couple of ways you can use to block texts on android smartphones.
How Can You Block All Texts On an Android Device?
So is there a way to block all texts on Android devices in general? Apparently not. You might be thinking about uninstalling the messaging app, but unfortunately, you can't do that.
The built-in messaging app on Android can't be disabled or uninstalled. However, there are several workaround solutions. For starters, you can disable message notifications. As long as you never open the app, you won't see the texts, and hence you won't be aware of them.
The step-by-step process of blocking text notification might vary slightly depending on the brand of your Android device, but most of the time, it goes something like this.
Launch the 'Messaging' app.
Next, click on the 'Settings' option in the main menu.
Then go to 'More Settings' and click on 'Push Messages.'
Toggle the switch next to the 'Push Messages' to turn them off.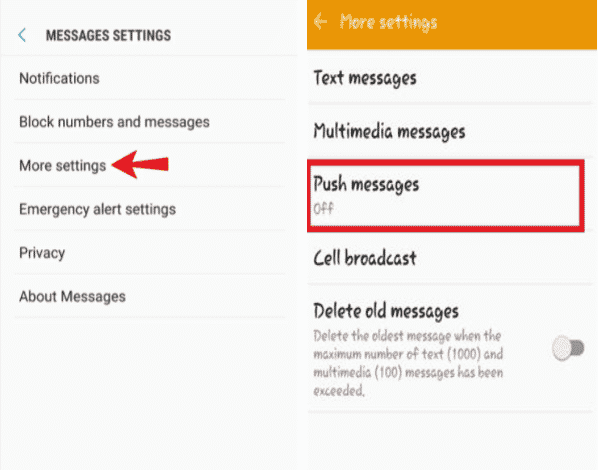 Again this won't block any contacts, but it will prevent you from seeing pop-ups from them. The second workaround is a bit more effective, and it entails blocking each contact individually.
How Can You Block A Specific Number From Texting You?
Presently blocking people is not uncommon. You can block someone on social media if you dislike their behavior, and the same applies to texts. If you keep receiving unwanted texts from a certain number, you can block the number. Here's how to do it
1stMethod
Open the 'Messaging' application on your phone and click on 'Settings.'
Next, click on 'Block numbers and Messages.'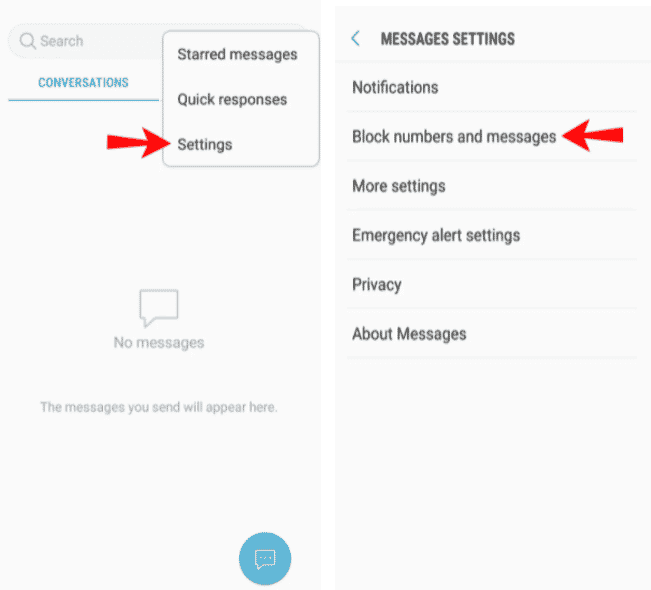 Then click on 'Block numbers' to enter the contacts you want to block entirely.
Next, click on the plus (+), and the contact will be added to the list of blocked contacts.
2nd Method
This approach is more convenient if you want to block a contact with whom you've previously interacted. To do this:
Open the texting application and click on the conversation of the contact.
Inside the conversation, click on the menu button in the upper right corner.
Click on 'Block Contact' from the rundown of options.
Note that both these methods will stop contacts from calling or texting. If they attempt to send a text, it will appear as not delivered on their end. If you've saved the contact you want to block but haven't texted them before, you can go to the contacts app and block them.
How Can You Block Texts from Unknown Email Addresses on Android?
Blocking a contact from messaging you is pretty straightforward, although uncomfortable. Once you've blocked a contact, they can't bother you anymore.
For a lot of people dealing with spam texts is substantially a bigger issue. However, when spam texts show up, a number appears with the text, and the issue is less complicated because you can block them directly.
Unfortunately, some spammers deploy email addresses rather than phone numbers, and you can't block them the same way. However, if the spam texts are a problem for you, you can download a 3rd party app that will fix the problem.
Fortunately, Android users have several options, and you can head to the Play Store and search for 'Spam Blocker,' and you will see several free options.
Note: Google also allows you to report specific users as scammers. Google will access the last ten messages between you and the said 'scammer' to understand the pattern of spam texts sent to you. Also, the messages you sent won't be shared with Google.
Final Thought
To sum it all up, blocking texts on Android devices takes various shapes and forms. This is because, unlike iPhones, you can't block one contact entirely such that they can't send texts or emails. As a result, you need to block them on specific apps such as messages, WhatsApp, etc.
See Also
How to Record Phone Calls on Android
How to Connect AirPods to Android