Smart Switch Backup
Although Google's services do an incredible job of keeping content in the cloud, it gets quite trickier to backup specific types of local data such as app data, game saves, and more.
In addition, it's not difficult to sign in to all your applications when you get a new smartphone. However, Samsung's Smart Switch makes setting up a new smartphone easy.
Basically, download the app to your PC or smartphone, then connect your smartphone, and after a while, you'll have all your files backed up in case you need to move your data to a new smartphone or restore the smartphone to an older state.
What is Smart Switch?
Smart Switch is basically a native Samsung app that can be used to download and install software updates for your smartphone, configure email synching with Ms. Outlook or backup, and restore content your files as you shift between smartphones.
The Samsung Smart Switch mobile app can also move contacts, messages, and photos to your new Galaxy smartphone from an iPad or iPhone.
Smart Switch can back up app data, contacts, photos, and any other local files on your smartphone. This makes shifting between Galaxy smartphones relatively easy; you can shift all your data to a new smartphone and pick up where you left on the old smartphone.
The desktop apps take some configuring, but it's a relatively easy process that takes a couple of minutes.
Installing Smart Switch on PC
In this review, we will show you how to install the Smart Switch app on a Mac OS, but it's relatively easy as well on Windows OS.
1. Start by opening the Smart Switch support web page.
2. Then click on the download link for Mac OS or Windows OS. It's a pretty straightforward download and installation process on Windows too.

3. Click on 'Download' to commence the download of the .dmg file.
4. You might need to configure the 'Security and Privacy settings in Mac OS in order to allow applications not from the App Store. If you haven't enabled these settings, enable them and restart your Mac to allow the changes to take effect.
5. Next, double-click on the Smart Switch file.
6. When the pop-ups come up, go through all disclaimers and then click on 'Continue.
7. Click on 'I Agee' when the box stating 'Agreement to Collect and Use Info' appears.
8. Next, follow the installation prompts.
9. Now launch the Smart Switch application and consent to the terms of use.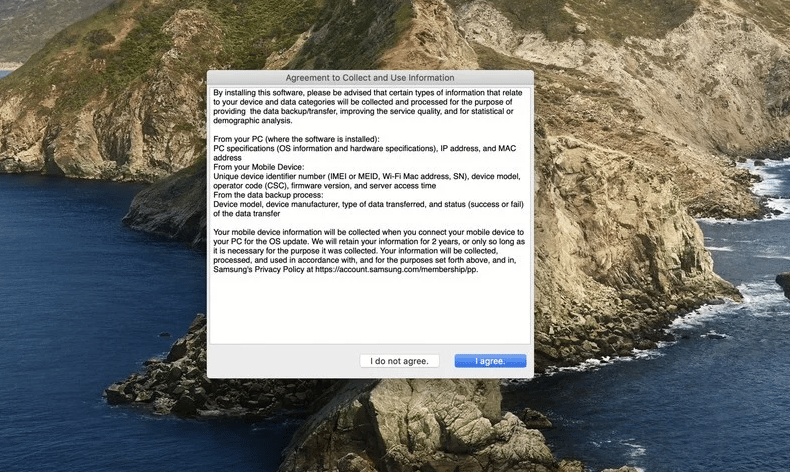 Installing Smart Switch on PC
Now that you've installed the Smart Switch app, you'll need to sync it to your phone.
1. So start by launching the app upon installation or use its desktop icon.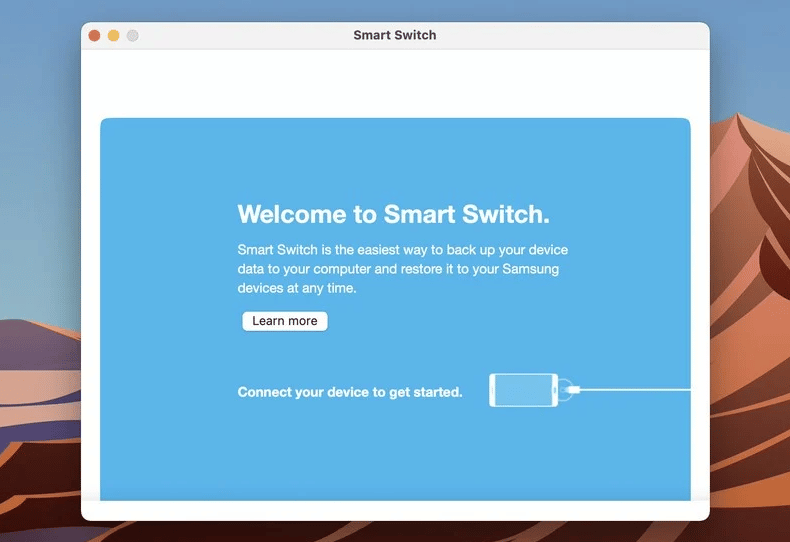 2. Connect your smartphone to your PC via a USB cable. The app should recognize when it's connected. You might be prompted to allow USB transfers on your phone.
3. Switch to your phone, unlock it, and swipe down to pull down the notification slide.
4. Click on the notification for 'Other USB Options.'
5. Then click on the 'Transfer Files' option.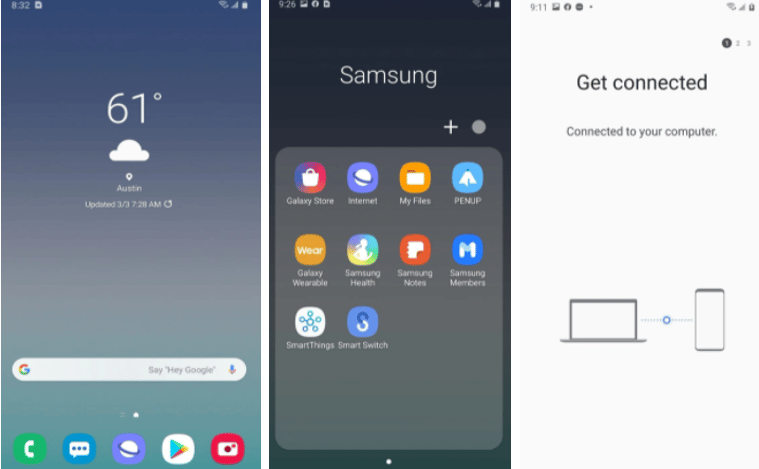 Once you switch back to your Mac computer, your smartphone should be linked to the Samsung Smart Switch Application.
Backing Up Phone to PC Using Smart Switch
Once you launch the Samsung Smart Switch app and your phone is connected, backing up your data is pretty much straightforward.
1. Start by launching the Smart Switch application on your PC.
2. Next, click on 'Backup.'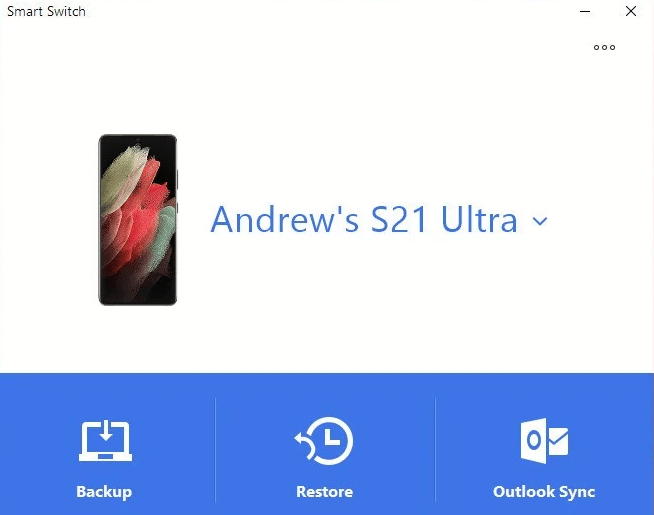 3. Then pick up your smartphone and allow the access permissions.
4. Once the backup is done, get a breakdown of all the data that's successfully backed up.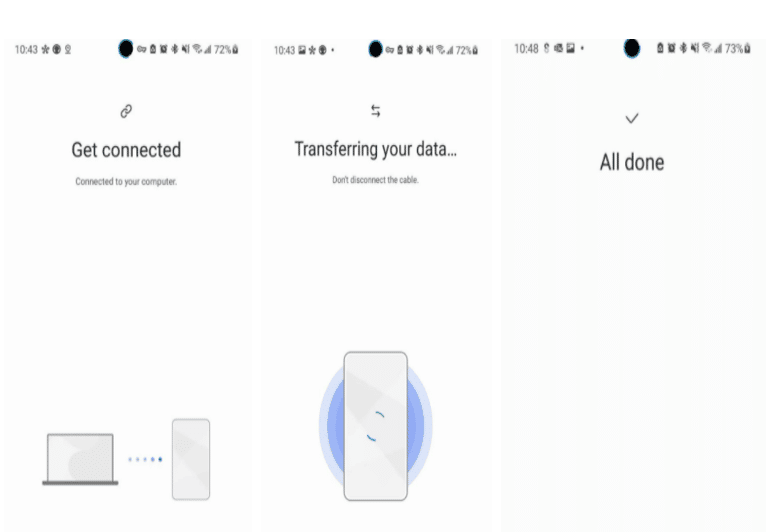 5. Finally, click on 'OK' to complete the backup.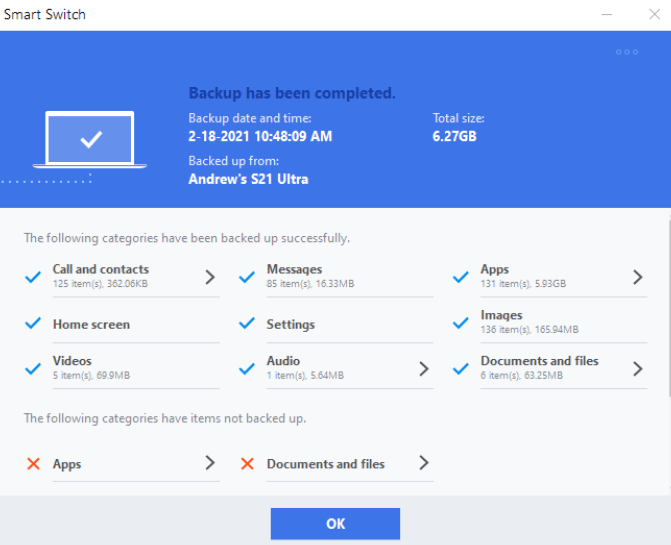 Restoring Previous Backups Using Smart Switch
If you need to upgrade to a new Galaxy device or something has happened that necessitates you to restore backed-up data, its super easy if you have a Smart Switch backup.
1. Start by launching the Smart Switch app on your PC.
2. Next, connect your smartphone to the PC via USB.
3. Next, click on 'Restore.'
4. Then choose 'A Different Backup' if you'd like to restore from an earlier backup.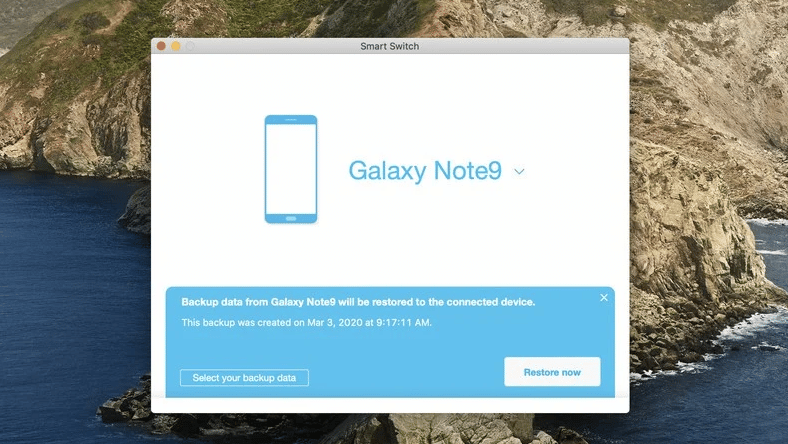 5. You will be prompted to consent to 'Access Permissions on your device.
6. Next, click on 'Allow' to proceed with the restoration process.
7. Once the restoration is done, you'll get a breakdown of the restored data.
8. Finally, click on 'OK to complete the restore.
Final Thought
Samsung's approach with Smart Switch has its advantages. Google doesn't back up everything, and you get a good feeling of control with a local backup.
So if you've been using Samsung devices for long and you're not looking elsewhere, a local backup will have you feeling secure.
See Also
Samsung Smart Switch for Windows 10
Best Android Phones Under $500
How to Record a Phone Call on Android