Connecting Multiple Bluetooth Speakers
Bluetooth speakers are now standard; however, back then, you needed an audio splitter when you wanted to get surround sound or share music with another person.
Currently, there are several ways you can connect several Bluetooth speakers to your device.
However, this mainly depends on your device (operating system) and the Bluetooth version on your smartphone or tablet.
For instance, Bluetooth 4.2 supports one device and has a range of up to 30 meters.
On the other hand, Bluetooth 5.0 boosts the connection range by offering up to 120 meters and even allows you to connect two devices simultaneously.
Some Bluetooth speakers, such as Anker and Bose, have their own smartphone apps that allow you to connect two or more Bluetooth speakers simultaneously.
So how do you connect multiple Bluetooth speakers to your device? In this review, we'll look at how to connect Bluetooth speakers to Android phones, iPhones, and a 3rd party application compatible with both operating systems.
1. 3rd Party App
Several apps connect multiple Bluetooth speakers, such as AmpMe, which is the most flexible because it's not tied down to one brand, unlike the Anker or Bose apps.
AmpMe can sync Bluetooth speakers and smartphones to stream music from various platforms, including the local media library, Sound Cloud, Spotify, and YouTube.
You can create or join parties on any of these platforms and pair them with an unlimited number of devices.
So start by downloading the AmpMe app. It's available on Play Store for Android smartphones and the App Store for iPhones.
Next, pair the app with either your Google or Facebook account and check if any of your contacts are on AmpMe to see if you can join parties.
If you wish to start your own party, click on the plus (+) sign
Choose a music streaming platform, for instance, Spotify, and click 'Connect.'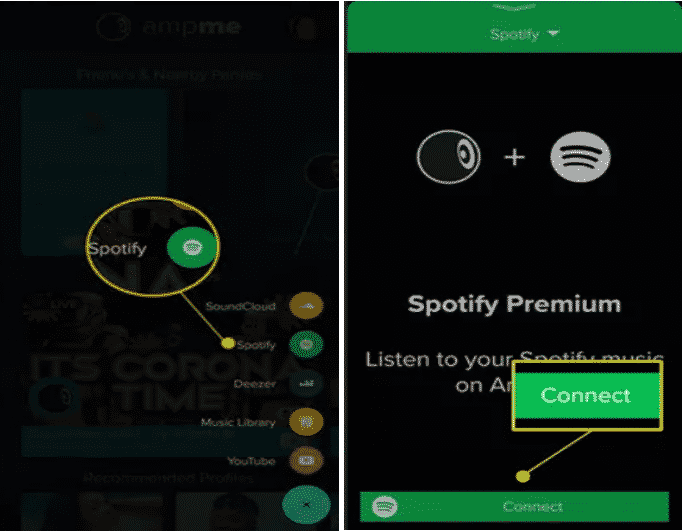 Next, click 'Connect' again.
Sign in to your account.
Finally, decide whether or not you want to create a playlist.
2. Android
If you have a Samsung Android phone, you can take advantage of Samsung's 'Dual Audio' feature, which is compatible with most Bluetooth speakers.
The good thing is you don't need Bluetooth 5 for this feature to work. But these steps only apply to Samsung smartphones running Android 8 or higher. Depending on the Android version, the setting may appear different. But overall, the setup process is as follows:
Open the Settings app, and click on 'Connections' followed by 'Bluetooth.'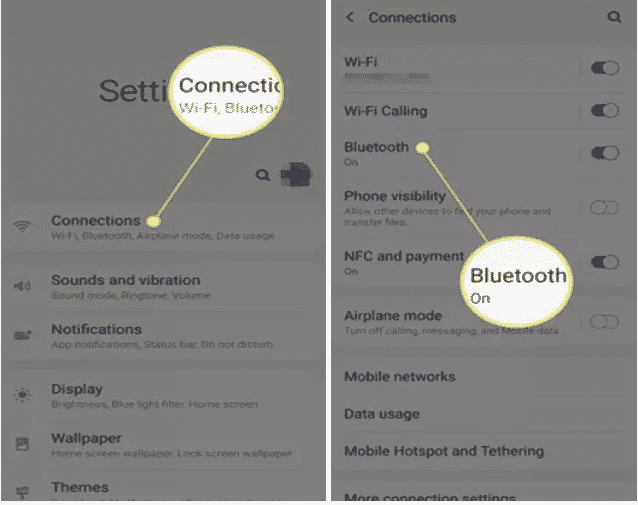 Next, click on 'Advanced.'
Then toggle the switch next to 'Dual Audio.'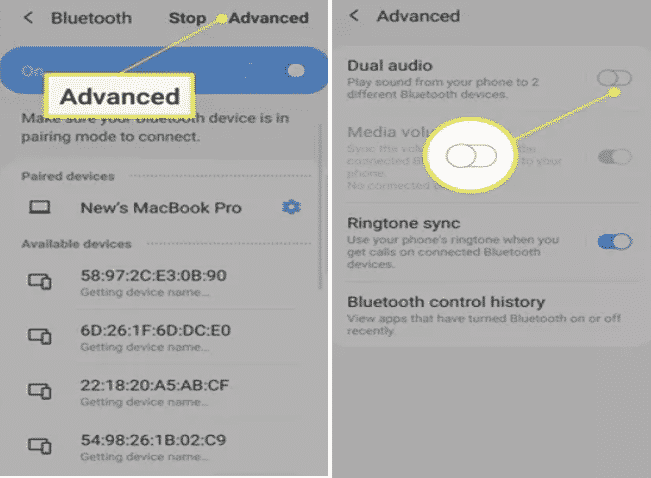 Now to use this feature, pair your phone to two Bluetooth speakers, and if you listen closely, you'll realize audio is playing from both speakers.
If you add a 3rd speaker, the first speaker you paired with will be removed.
Note that if you connect your Samsung smartphone with two Bluetooth headsets, only the first pair will manage to have music playback.
You might also encounter Bluetooth speakers, not in sync, so ensure the speakers are situated in different rooms.
3. iPhone
Apple has a similar feature to Samsung's Dual Audio known as 'HomePod Stereo Pair.' It only works with HomePod speakers, and you can pair them to an iPhone or MacBook.
To use this feature, your iPhone should be running at least iOS 11.4, and if you're using a MacBook to set up, it should be running macOS Mojave or later.
Also, the HomePod speakers should be running iOS 11.4 or later.
When you set up two HomePods in the same room, you have the option to use this feature. But either way, the speakers need to be in the same room for you to pair them.
Start by launching the Home app on your iPhone.
Then click on 'Settings.'
Next, click on 'Use as Stereo Pair.'
Then choose your second HomePod.
Now you'll see two HomePod icons in the app. Click on either HomePod to match it to the correct left or right channel.
Finally, click on 'Back' followed by 'Done.
Why Can't The iPhone Natively Connect to Two Bluetooth Speakers?
At the moment, the only dual or multiple Bluetooth speaker setup available on iPhones is the 'HomePod Stereo Pair.'
This means you can't connect to two Bluetooth speakers from other brands, and both play audio.
It's a bit frustrating for iPhone owners considering it's already been implemented by companies such as Samsung. But you can expect iPhone to roll out this feature in the near future.
Final Thought
To sum it all up, there are several ways to connect two or more Bluetooth speakers to your smartphone or tablet.
For most people, AmpMe is perhaps the best solution because it's the easiest and most compatible with speakers for virtually all brands.
See Also
How to Connect Bluetooth Headphones to Xbox
How to Connect Phone to TV Without USB
How to Connect Oculus Quest 2 to TV
How to Use Google Home Mini As Bluetooth Speaker Without Wifi