How to Connect Oculus Quest 2 to TV? Getting Started
Virtual reality does not have to be a solitary experience. You can share your VR exploits with an audience by learning how to cast a headset such as the Quest 2 on TV. Family members, friends, and anyone interested can watch you play a VR (virtual reality) game.
The Oculus Quest 2 has a stylish design, user-friendly controls, and powerful built-in audio, all at a reasonable price. Beat Saber, Golf+, and Resident Evil are just a few of the apps and games available on the Oculus Quest 2.
But if you feel a bit lonely when wearing a VR headset, you're not alone. Most people who use VR headsets want to share their gaming and fitness achievements.
Fortunately, there is a solution! The Quest 2 has a handy feature that lets you cast to smart TVs. You'll need a Chromecast gadget or a smart TV with Chromecast built-in.
Cast from Oculus Directly to TV
Switch on your headset and smart TV; pick the correct input if you're using a Chromecast device. In addition, the Chromecast or TV and the Oculus Quest 2 should be connected to the same WiFi network.
Press the Oculus button on the right-hand controller to access the home menu.
Point the controller to the 'Share' button and click on it.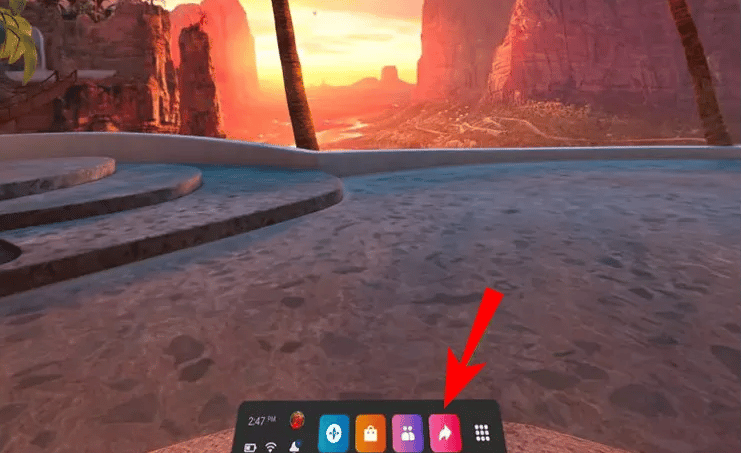 Next, click the 'Cast' button in the Sharing window.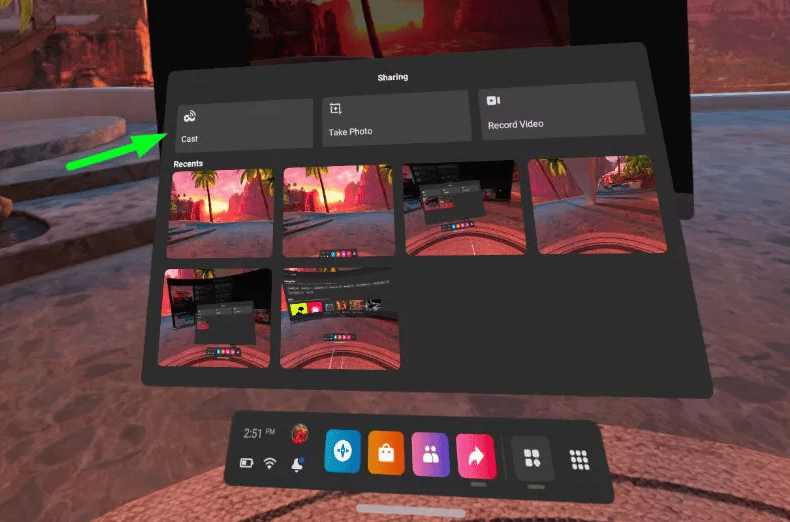 Select your Chromecast-enabled gadget in the 'Cast from This Headset' popup.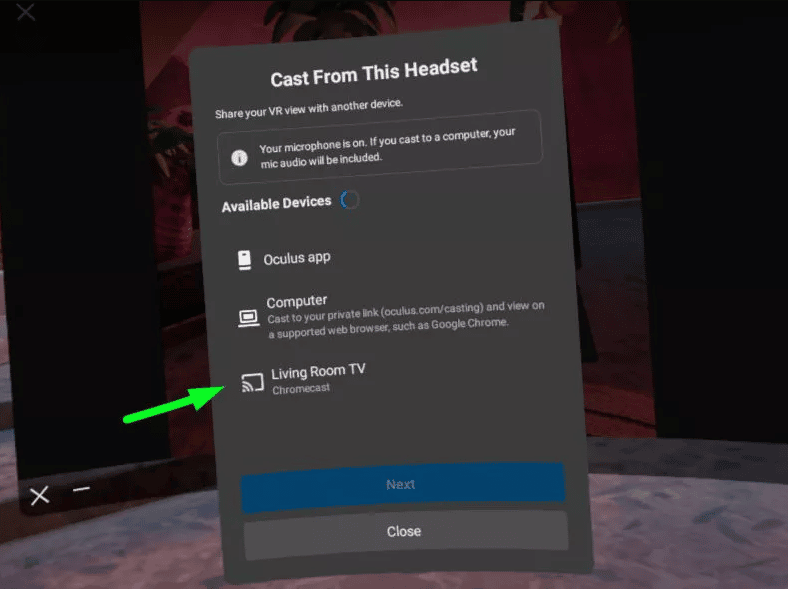 A confirmation text will appear, and now your TV should connect to the headset.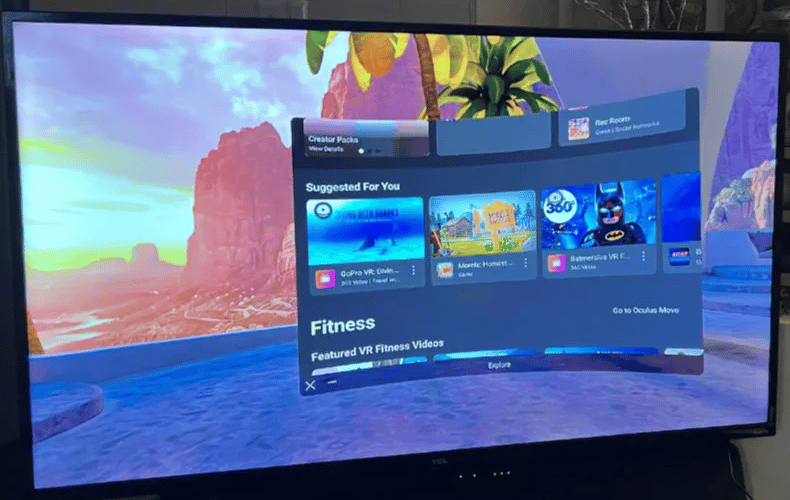 Cast Oculus to TV via The Oculus Smartphone App
Another nice feature of OculusQuest2 is that you don't need a Chromecast device to broadcast your sessions to your smart TV. You can also download the Oculus app on your smartphone:
Start by downloading the app on the App Store for iPhone and Google Play for Android.
Next, log in with your Oculus/Facebook (Meta) credentials.
Switch on the headset and TV. Ensure they're both connected to the same WiFi.
Next, open the Oculus application.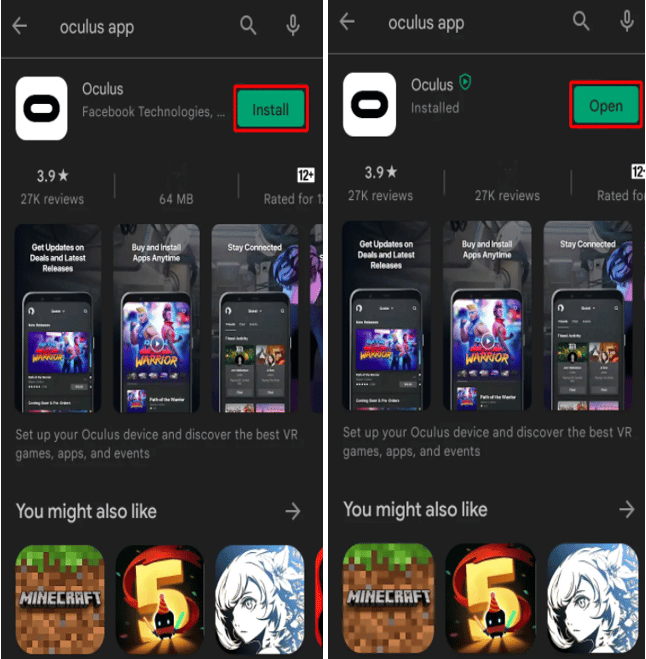 Press the 'Cast' button in the top-right corner of the screen.
Then click on the arrow next to 'This Phone.'
Select your TV from the "Cast to" tab in the lower part of the screen. If your TV doesn't show up immediately, go to 'Other Devices' and look for it.
Finally, click 'Start.' Your Oculus session will be displayed on your TV.
How to Stop Oculus from Casting
On your smartphone, go to the bottom of the app and click 'Stop' Casting. However, to stop casting within the Oculus Quest 2, you need to follow a couple more steps.
Start by heading back to the main menu.
Next, click 'Share.'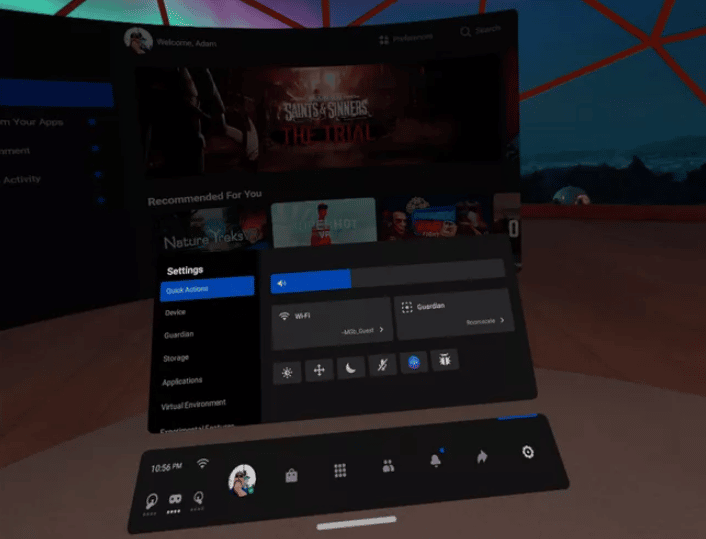 Then, click 'Cast.'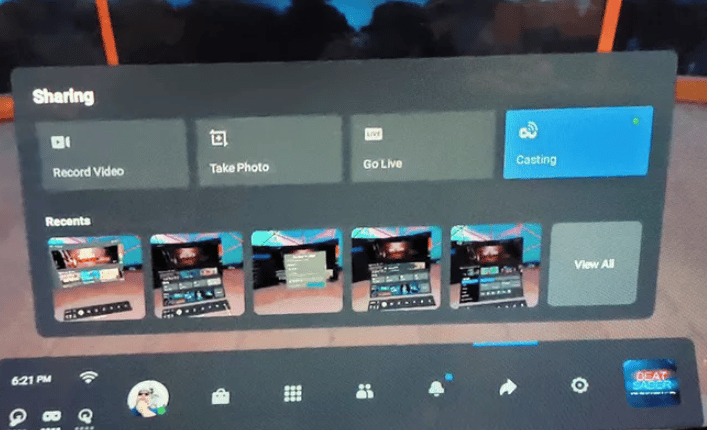 Finally, click 'Stop Casting.'
Troubleshooting Casting Problems
Disconnect and Reconnect to the WiFi
Extensive WiFi sessions can create network errors and cause problems with casting across your devices. Restarting your headset's WiFi session is a simple solution to solve the problem.
Ensure The Headset and TV are Connected to The Same WiFi
Casting issues are most commonly caused by devices not connected to the same WiFi network. If you encounter a casting issue, make sure your headset and smart TV are connected to the same WiFi network.
Power Cycle Your Router
The endpoint where you access WiFi in your house is your router. It's relatively common for routers to have connection problems, which result in casting errors. If you're having trouble connecting, try restarting your router to see if that fixes the problem.
Restart Headset and TV
A device restart usually resolves transient software issues as well as the issue at hand. Therefore, to restart your Oculus, press and hold the power button on the right side of the headset until the power off text appears. Then, reboot the device you're casting to; Chromecast or Smart TV in this case.
Reset Both the Headset and Chromecast Device
If you've come this far without finding a solution, it's high time you take things to the next level. So what do you need to do?
Delete and reinstall the Oculus App on your smartphone.
If you're using Chromecast, factory reset the device by pressing and holding the power button. For a Chromecast-ready TV, simply reset all the preferences in the settings.
Note: Perhaps the only downside of casting Oculus Quest 2 on TV is only one person can take part. You don't get true 3D by casting Oculus Quest 2 to TV, but it allows everyone in the lounge to be a part of the gaming experience.
Final Thought
As you can see, it's relatively easy to connect the Oculus Quest 2 VR headset to a Smart TV. We hope this review will help you establish this connection seamlessly and also be able to troubleshoot any problems that you might come across.
See Also