Best Outdoor Home Security Cameras of 2021
You want to have visibility around your house. Fair enough. Home security cameras are well equipped with proactive and smart security features to make home simple and surveillance stress-free.
However, for many years, sophisticated security systems including facial recognition, sirens, and cameras were reserved for wealthy homeowners and businesses.
Amazon has made such items more accessible and affordable. Investing in security cameras to ensure your household's safety is one of the best things you can do as a homeowner.
Let's cut to the chase and get in to the best home security cameras in 2021. Here we go!
Here's the top list of the best outdoor home security cameras of 2021: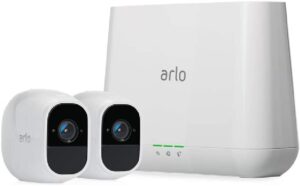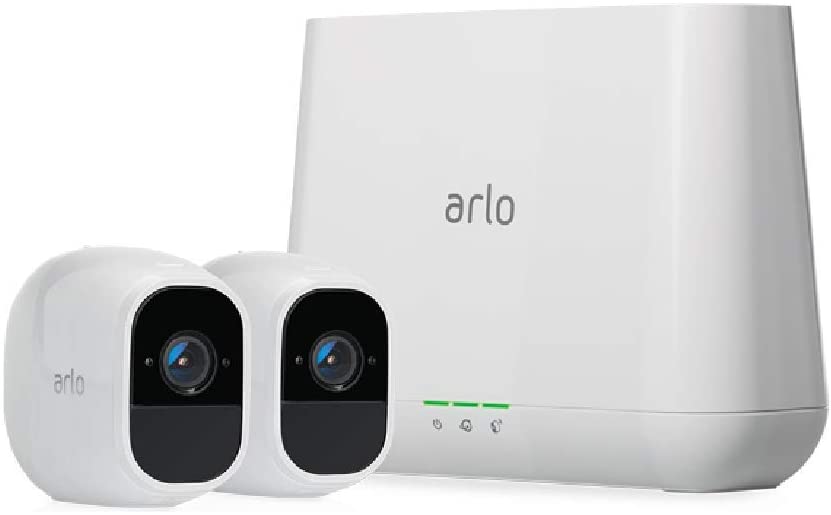 The Arlo Pro 2 home security camera excels at deterrence, ease of use and detection. It is known to have three power options.
The first power option is wireless for maximum ease of installation in your outdoor space. Solar panels help to combine the best of both worlds.
Sunny days are very vital to the functioning of the Arlo Pro 2 as it offers a 3-second look back. In other words, before the alarm is triggered, you can review what happened immediately.
Automatic night vision in low lighting conditions with its 1080p video quality. A robust, 100-decibel siren that triggers when a scenario is detected which allows you control siren on your phone through the app.
How well does night vision work on Arlo Pro 2?
With the use of typical infrared light to illuminate dark images is what enables night vision in the Arlo Pro 2 outdoor home security camera. This is fondly found in cameras technology back light that enables to see a field of view. The Arlo Pro 2 is a good one for night vision.
Pros: Wireless batteries 1080p full HD and night vision Free cloud storage Weatherproofing Connectivity with Fire TV, Google Assistant, Echo Show, and Alexa
Cons: Cloud subscription plans are pricey Requires LTE mobile plan Cloud subscription to receive extended smart notifications
2. Nest Cam – Outdoor Security Camera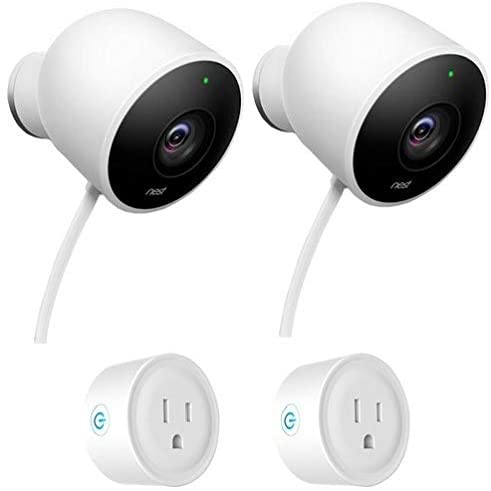 The brand Nest produced two outdoor security cameras, that is, the Nest Cam Outdoor and The Nest Cam Outdoor IQ.
The two outdoor cameras enable you to have oversight over your outdoor shine or space rain. Quite durable and waterproof plugs into A/C power providing long-lasting batteries.
It allows you to receive prompts alert on your smart devices when the surveillance camera detects a loud sound or motion. It is a forward-thinking smart home design with crisp image resolution.
Features seamlessly with the rest of the Nest home automation suite with a built-in Google Assistant. It has a large 130-degree field of view and 8x digital zoom feature.
How well does Nest Cam detects moton?
The Nest cam security outdoor camera works excellently in motion detection. Connecting the camera to an app helps it to send signal or alert to your smart phone.
Sensitive motion settings that sensors bugs and even rain. This technology works perfectly well on the Nest Cam Outdoor Camera.
Pros High resolution Person alerts Supersight tracking and zooming Built-in Google Assistant Up to 50 ft. night vision range.
Cons Expensive price point No pan-and-tilt capability Requires subscription to use facial recognition features.
Trust me, relying on your home electricity to charge your security cameras due to power outage can be demeaning.
The latest wireless outdoor security cameras from Blink is the Blink XT2 that runs on 2 standard AA Lithium batteries and totally wire-free.
It is an awesome camera for both indoor and outdoor use. The Lithium batteries enables it to last for more than two years even without replacement.
It features unit senses motion, motion detection and HD video that gives a great view with minimal distortion of your outdoor space.
Built-in temperature sensor that grants the ability to send alarms when a sensor is triggered.
Pros HD video and smart video control Live view and motion detection Temperature sensor Weatherproof Amazon Alexa voice control
Cons Blink doesn't offer smart home devices integration How much bandwith does Blink outdoor camera use? You should know that bandwidth affects the frame rate per second, resolution, and video compression. The more bandwidth, the greater the resolution of the camera. Hence, the greater the frame per second is on a device, the greater bandwidth you will require.
Zmodo 1080p Outdoor camera is one of the newer offerings in Zmodo's range of outdoor cameras. It features motion detection, 1080 HD video, remote viewing and night vision.
It is the best home surveillance camera to connect to Wi-Fi owning a 720p version. You can get 36 hours of free cloud storage with Zmodo.
It enables you to cut down on false alarms and allows you to set predetermined viewing areas. It can be placed anywhere in the outdoor space because of its weatherproof property.
Pros Weatherproof design Set-up using a simple QR code Two-way audio Motion alerts Night vision Remote access.
Cons Compulsory Android 4.0 or iOS 9.0 to use the apps Cloud storage plan needed to have extended clip storage, time-lapse clips and motion detection.
The YI Outdoor security camera is another wall-mounted, fairly visible unit camera.
It features a full 1080p resolution at a very affordable price. It records at 20 frames per second and has a 110-degree lens for creating crisp security images.
It has a programmable sensitivity and phone alerts with a viewing distance of up to 50 feet. It keeps footage securely stored on the cloud and offers anti-theft protection which ultimately helps to enhance footage safety.
Other features include special noise recognition, real-time activity alerts, and an optional hands-free intercom. The two speakers and microphone allows effective communication between guests and visitors.
Pros 1080p full HD Night vision Built-in speaker and microphone IP65 weatherproofing for outdoor use Varied anti-theft subscription.
Cons Some privacy concerns Hit-and-miss customer service.
Can YI outdoor security camera survive severe weather condition?
The waterproof property of the YI camera with IP65 rating makes it stand out among other cameras. What this rating mean is that, it gives the camera the ability to withstand temperatures that are extreme that ranges from -40 to 110 degree Celsius.
Conclusion Home security cameras are one-time investments that pay off down the line.
The question is, does the right cameras have all the whistles and bells, floodlights to facial recognition? Well, not necessarily, however, must possess the soli basics such as good image quality, durability, and reliability.
The main goal of all outdoor security cameras is to keep your household and your home secure. best affordable wifi security camera