How to Connect Ring to WiFi? – Overview
The Ring doorbell looks and feels like most other doorbells for the most part. However, it comes with an in-built Livestream camera that lets you see who's at the door from your smartphone even when you're away.
The Ring doorbell doesn't require to be connected to electricity; it's self-sufficient thanks to the rechargeable battery. What's more, you can connect some WiFi chimes to place around your house to ensure you hear the bell when it's rung.
Connecting the ring doorbell to WiFi is relatively easy. The installation process is easy as well. That said, let's look at how to connect the ring doorbell to WiFi.
The Setup Process
To connect the ring doorbell to WiFi, start by downloading the Ring app. You can download the app on Google Play for Android or iOS if you have an iPhone.
Once the app is installed, launch it and click 'Set up a Device.'
3. On the next page, create a Ring account if you don't have one. Enter your first and last names, then click on 'Continue. If you have a Ring account, click on 'Login.'
4. Still on creating an account, enter you're your email address and create a passcode for your Ring account. Once you're done, click on 'Continue.'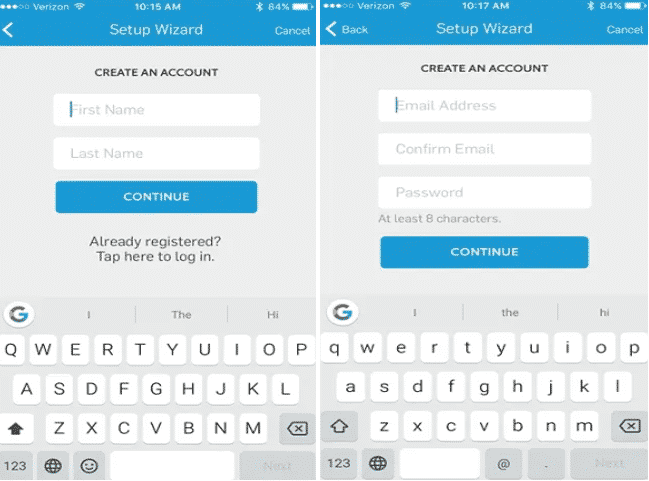 5. Now pick the Ring device you want to set up and connect to WiFi. We're connecting the Ring doorbell to WiFi for this review, so we'll click on 'Video Doorbell' on the list.
6. Next, assign a name to your Ring doorbell by choosing a pre-set one or click on 'Custom' to enter a bespoke name.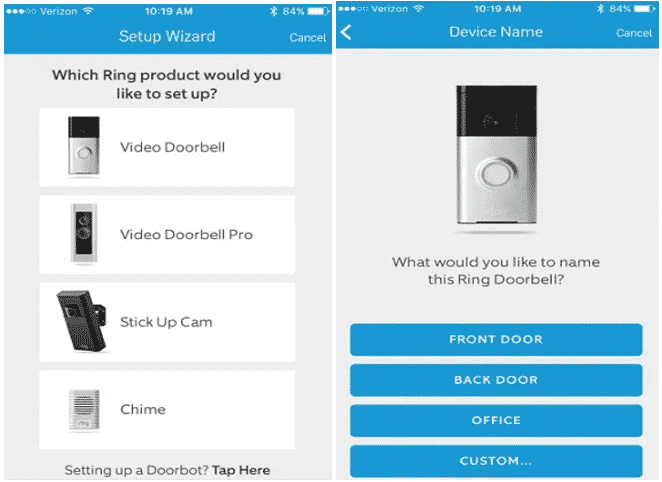 7. Use your smartphone to scan the QR code on the back of the Ring doorbell. The QR code is also in the quick start handbook that came with the doorbell. When a green box starts to hover around the QR code, you can proceed to the next step.
8. Note that if you're unable to scan the QR Code, click on 'Setup Without Scanning.'
9. Next, set your location by entering your address and clicking on 'Confirm.' Keep in mind that if you skip this step, some bell features won't function even when you connect to WiFi.
Some of these features include emergency service dispatch, light scheduling etc.
10. Then press the orange button on the rear side of the doorbell. This will activate the pairing mode on the doorbell. Now you'll see a rotating white light on the doorbell's front side.
11. After doing this, click on 'Continue.'
12. Now it's time to connect your doorbell to WiFi. If you have an iPhone, open the Settings app, click on 'WiFi' and finally click on the Ring WiFi network. For Android users, swipe down from the top of the screen, click on WiFi, and select the Ring WiFi network.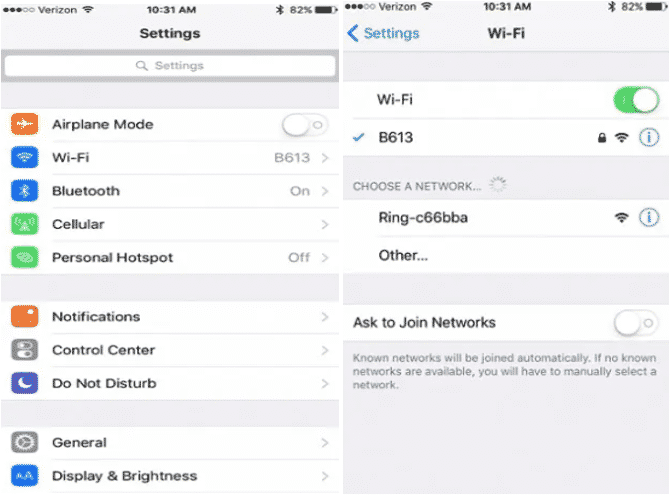 13. Ensure you connect your doorbell to WiFi close to where you'll install it. Now enter the password and click on 'connect' when prompted.
14. Once your smartphone has connected to the Ring WiFi network, head back to the Ring app, select your home's WiFi network from the list, and enter the passcode.
15. The doorbell should take a couple of minutes to connect to your WiFi network.
16. Once the doorbell has finished connecting to the internet, click on 'Continue.'
Keep in mind when the doorbell connects to WiFi, it might start updating its firmware. When the firmware starts downloading, you'll see a white light flickering on the front of the doorbell. Wait until the light stops flickering to proceed.
After the firmware update is complete, you can test your doorbell by pushing the front button. This will establish a test call.
Why Won't My Ring Connect to WiFi?
Low Battery
When your ring doorbell doesn't have enough juice, it stops functioning correctly. If the battery is low or the doorbell can't recharge itself, it will not connect to WiFi.
Poor WiFi Reception
Another reason why your ring doorbell might not connect to WiFi is poor WiFi reception. What's the solution? Start by checking the network status on your router.
Then disconnect the doorbell. After that, try to connect your smartphone to WiFi. If your smartphone is able to connect to WiFi and function seamlessly, you can reconnect your Ring doorbell and start using it.
Note: Your ring doorbell might refuse to connect to your WiFi because of a difference in network bands. If you're using 5Ghz WiFi, ring doorbell won't connect because it only uses 2.4Ghz. But you can check your router settings to activate the 2.4Ghz WiFi.
Final Thought
A ring doorbell is one of the best smart devices to help you get notifications about people approaching your door and either grant them entry or not. But to do this, you need to set the device up and connect it to WiFi, as illustrated above.
See Also
Does Ring Work With Google Home?