Top 8 Best Affordable WiFi Security Camera Reviews (Wireless Indoor and Outdoor)
Finding the Best Affordable WiFi Security Camera Requires Some Initial Research
You want to keep an eye on your home or office. The Wi-Fi and Wireless camera, which is also known as IP cameras, are often the solution to this problem. You can have fairly clear and durable visibility without breaking the bank. Prices vary and most wireless security cameras are priced right but don't let this get to you. Don't pay for the features you won't need.
Asking the right questions before buying a security camera.
For example; you may NOT need an outdoor wifi security camera with 4k resolution. High-resolution cameras are usually chosen for indoor security cameras.
If the primary purpose of installing an outdoor security camera is security and surveillance, then the night vision feature becomes mandatory.
The point of affordability is not simply buying a cheaper security camera but it's to make sure that 100% of your money goes into the features you will use.
This is why TechnoWifi editors worked on this list for you.
The Wi-Fi and wireless cameras are often easy to set up on one's tablet or PC and also allow you to stream video on your phone and the option to send an alert when motion or loud noises are detected.
Most of these Wi-Fi and Wireless cameras also provide automatic motion-activated recording and night vision features. They can all be connected to smart home hubs and other smart home devices such as smart lights and security systems.
Now let's look at the best affordable wifi and wireless cameras to help you decide.
1. iCamera Keep Pro
The camera Keep Pro is one of the innovative products of the iSmartAlarm. This Wi-Fi wireless camera is a full-featured home security camera.
The iCamera Keep Pro is an affordable camera device that is designed as a standalone device and can also be incorporated into an iSmartAlarm DIY Security System.
This state-of-the-art camera comes with some very unique features which include a motion and sound detection ability, lapse and event-triggered video recording, a powerful 1080p image sensor, a motion-tracking feature that allows the camera to follow a person around the room, and mechanical pan and tilt.
The Wireless camera also comes with free cloud storage, Supports for IFTTT integration, and an SD card slot that can be used for your local storage.
Other features that make the iCamera Keep Pro stand out from its competitors are the 1,920-by-1,080-pixel resolution and a 140-degree field of view. The camera also makes use of infrared LEDs to provide users with close to 33 feet of night vision.
Recommendations
In our opinion, the iCamera Keep Pro is one of the best cameras that can be used to keep an eye on the kids and pets when one is away due to its multiple cameras and person detection.
Past reviewers also noted that the camera is easy to connect and sends alerts quickly when the CO2 monitor goes off. We greatly recommend this product.
Pros
The iCamera Keep Pro makes use of the same mobile app for both Android and iOS devices.
Live stream by tapping on the image
Ability to zoom the pictures
The camera comes with an 802.11ac Wi-Fi radio that helps to connect to your home network either on the 2.4GHz or 5GHz band.
Ability to detect the sound of a CO or a smoke alarm
Motion tracking ability using the 350-degree panning mechanism.
Great image sensor and quality
The camera comes with a free cloud and SD local storage.
Cons
It is a bit expensive when compared to other wifi and wireless cameras
The camera pan and tilt are a bit slow.
2. D-Link Full HD WiFi Camera DCS-8300LH
When we talk about a camera that comes with a high resolution and visibility, then we are looking at the D-Link Full HD Wi-Fi Camera DCS-8300LH.
The new D-link Full HD Wi-Fi Camera DSC-8300LH comes with some unique features that are great for its price. This feature includes a sharp 1080p video ability, local and free cloud storage, and sound and motion detection capability.
Presently, the D-Link Full HD cameras now come with a newly designed mobile app.
This heavily discounted and affordable wifi security camera is designed to fully integrate with the Alexa and Google Assistant voice commands and supports. The IFTTT applets enable it to work with other smart home devices in the market.
D-Link Full HD Wi-Fi camera LED flashes out an orange color when the camera is being set up, green color when the camera is fully connected and red when the camera loses its connection.
Recommendations
From our review, the D-Link Full HD camera is seen as an excellent camera for sound and motion detection, which can be viewed on the web portal or mydlink app. The camera can also be cast live with Google Chromecast.
Pros
Design in a way that allows users to tilt the camera forward and backward
It can be mounted to a wall or a flat desktop
The camera comes with an AC power adapter and a 10-foot cord
D-Link gives users a free cloud storage plan
It comes with a microphone and speaker for a two-way audio
The camera comes with a pair of infrared LEDs that provides users with up to 16 feet of black-and-white night video
It gives out a sharp 1080p video
The camera supports Alexa and Google voice command
An IFTTT integration
Cons
It often has minor barrel distortion.
3. Canary Pro
When looking for an environmentally friendly wireless security camera, the Canary pro comes to mind. The Canary Pro is a sleek Wi-Fi and Wireless camera that comes with an environmental sensor fully integrated into it. This helps to monitor heat, air quality, and humidity.
The camera also comes with a loud siren that can scare off intruders, an intercom and a Geofencing feature that can automatically turn on its motion detection features when the users step out of the house or office.
It also comes with Alexa and Google Assistant functionality. Other functionalities that the camera comes with include a 142 degrees field of view, 16 feet night vision and free one-day video history.
Recommendations
The Canary All-in-One is ascribed as one of the best intelligent real-time people and motion alerts security cameras and also recommended for all your home health technology such as monitoring air quality in the home, the home temperature and also the home humidity. This helps you to understand how your home affects your health.
Pros
The Canary pro gives out a 1080p video that looks clear and crisp.
The camera mobile app is spontaneous
An excellent sound quality
Very affordable
The Camera comes with auto on/off features
Deafening siren
Cons
4. Wyze Cam
The Wyze Cam is a very affordable Wi-Fi-enabled camera. It comes with motion tracking features that track even the smallest movements. This wireless camera comes with an enhanced audio capability with a more powerful CMOS sensor. Wyze Cam V2 is seen as one of the most modest home security cameras in the market.
The Wyze Cam V2 comes with a matte white finishing rather than the glossy white finishing that it used to be. The camera is built in such a way that one can attach it to any metal surface or attach it to a non-metal surface using its adhesive strip.
Other features that are worth noting are the two-way audio that the microphone and speaker provide which is enhanced by its audio amplifier, A motion tagging feature, a 110-degree viewing angle with an 8x digital zoom, and a setup button that is used for pairing the camera with the app.
Recommendations
It is recommended because it notifies its users when an item or person is detected and filters out event videos. The users also have the option of updating the camera's firmware in other to enjoy additional features at no extra cost.
Pros
The V2 Camera comes with an improved CMOS sensor that gives out 1080p video at 15fps
The camera is small and inexpensive
It has a sharp 1080p video
The camera comes with free cloud storage and local storage
The camera comes with motion tracking and time-lapse recording
The Wyze Cam V2 makes use of the same intuitive mobile app for Android and iOS devices.
Cons
One shortcoming of the camera is that it does not support IFTTT or connect directly with other smart home devices
5. Amazon Cloud Cam
The Amazon Cloud Cam is one of its kind home security cameras. This camera is a moderately priced indoor Wi-Fi camera and comes with intelligent motion detection and sharp 1080p video clarity.
This Amazon camera is often seen as the better half of Amazon Alexa. It's one of the coolest cameras on the market and allows users to make use of some of the camera coolest features without any need for a subscription.
The camera is easy to install, and it allows its users to keep a tab on what is happening in their homes from any location via a mobile phone or tablet.
The Amazon Cloud Cam also comes with an integrated Alexa feature. Some version of this Cam comes with the Amazon Key in-home delivery service. This sleek camera also comes with a round white wall mount plate, a USB power adapter, a 10-foot USB power cable, mounting screws and a Quick Start Guide.
Other features that the camera comes with include a 120-degree field view, 802.11n Wi-Fi circuitry, and a speaker and microphone that enable two-way audio communication. The Amazon cloud cam also comes with eight infrared LEDs that provide up to 20 feet of black-and-white vision.
One shortcoming of this security camera is that it does not come with any button for manual recording or snapshots but works only via motion detection.
The gear icon that is seen in the upper right corner allows you to change the Cam settings by changing the Wi-Fi network and toggling camera power.
The icon also enables Home/Away Geofencing and configuration of the frequency of person notification and motion.
Recommendations
This Amazon camera is recommended as the better half of the Amazon Alexa. It's one of the coolest cameras in the market and allows users to make use of some of the camera coolest features without any need for a subscription.
Pros
This wifi security camera is moderately priced
It delivers a sharp 1080p video
Ability to work with Alexa
Comes with free storage that can support up to three cameras
Ability to view recorded motion-triggered video gotten from the last 24 hours
Cons
It lacks sound detection and alert capabilities even with the microphone
A need to subscribe when one wishes to create a motion detection zone or to download and share videos
Cloud Cam cannot interact with other third-party smart devices such as water sensors and smoke alarms
The Cloud Cam does not support IFTTT
6. TENVIS Security Camera
The TENVIS Security camera is a wireless camera that comes with a night vision ability that ranges up to 32 feet/10 meters and two-way audio. TENVIS HD IP Camera comes with a 720p high definition and can make up to 360o coverage.
It is designed with a 355o horizontal and 120o vertical rotation. This wifi security camera comes with a high-tech optic lens to give a sharper image.
Some features that this camera comes with includes the ability to support 11 infrared LED light in other not to disturb your baby, the option to add as many cameras as one desires on the App in other to monitor different location as a result of the ONVIF services.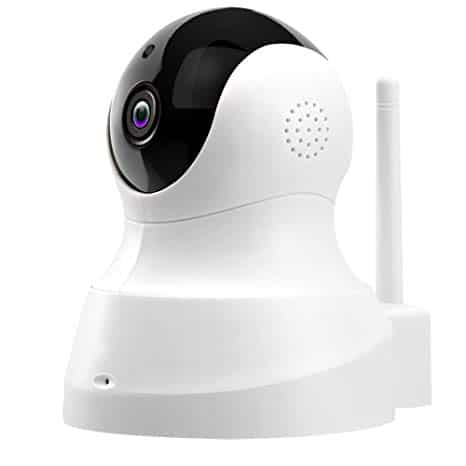 The TENVIS security camera also comes with instant alarm features for real-time communication. This helps to identify danger accurately as it is sent to the user's phone immediately. The camera also allows one to protect their privacy with its local storage. It also supports 802.11b/g/n 2. 4 GHz Wi-Fi band.
Recommendations
We recommend this camera because of its 3-second sensitive motion detection capability and the reliable and clear images in day and night views
Pros
Easy to setup
Clear, hi-res images
Cons
The disadvantage of this camera is that it requires a 2.4Ghz
7. Amcrest ProHD 1080P WiFi Camera 2MP (1920TVL)
The Amcrest Pro HD is a 2MP Wi-Fi camera. This Amcrest ProHD 1080p Wi-Fi video camera helps users to keep in touch with their home and kids anytime anywhere. The camera is easy to set up as you secure access to your camera's video stream.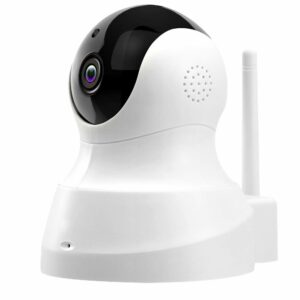 The Amcrest ProHD cloud also offers an optional cloud recording and 4 hours of free video storage that can be accessed from any Android device, iPad, and iPhone devices, Windows PC or Apple Mac. The Cam comes with a Blue Iris for Windows PC, TinyCam Monitor for Android and Live Cams Pro for iOS.
This wifi camera can upload to an FTP and ONVIF compliant and Network Video Recorder (NVR) (Not included).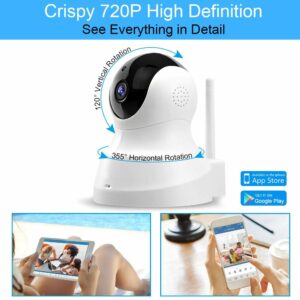 Some other features that come with this camera are the two-way communication feature, remote pan/tilt, night vision capability of up to 32ft, remote web access from a Smartphone or Tablet and Smart Motion Alert.
The Amcrest ProHD camera comes with enhanced digital zoom, advanced recording options, a 90o viewing angle, Sony Image Sensor, Ambarella Chipsets, snapshots and email alerts, a secure SSL/HTTPS connection and also wireless AES WPA2 encryption.
Recommendations
The Amcrest ProHD is assumed to be one of the smartest security wireless cameras in the market. It is reputed for its ability to receive footage and motion alert notifications.
Pros
The camera's night vision is stellar
The Amcrest ProHD 1080p Wi-Fi video camera can be an accessible while away from home
Portable and quiet
The Camera can be accessed via a laptop or a mobile device
It comes with a setting option that allows one to change the 1080p to a lower resolution in another to save space
The camera comes with a built-in mic and speaker
Enhanced sound and motion detections
It comes with micro SD for storing recorded images
Enhanced low light capability
Ability to work with Alexa via the AmcrestCloud
Users can observe recorded footage in ProHD
The Wi-Fi connection allows one to connect to multiple cameras
Cons
Time lag depending on the connection
The camera app does not automatically open up the camera feed
8. EZViz Mini O 1080p
The EZViz Mini O 1080p security camera is a reliable camera for both day and night coverage. The EXViz app allows the user to set a schedule for the turning on and off of the camera, setting motion sensitivity as well as zones.
This is one of the best affordable wifi security cameras in the market. This camera also comes with a microSD card slot in other to save one's video locally. The EZViz Mini O 1080p can be controlled using Alexa and Google Assistant.
The EZViz Mini O is a budget-friendly camera with a video resolution of 1080p, a night vision of 26 feet, 135 degrees of field of view, and IFTTT adaptability.
Recommendations
It is recommended for its flexible placement as a result of its magnetic base. Best for optimal view.
Pros
It comes at a very affordable price
It comes with an excellent audio
The EZVie camera captures good daylight videos
The camera comes with a flexible scheduling
Cons
The camera timeline view is difficult to navigate
The EZVie web portal can only work in Safari and Internet Explorer
The camera options are minimal except for one subscribe to a cloud plan
Before you pick your best affordable wifi security camera, I want to clarify a misconception. Unlike many vendor advertisements, cameras are for surveillance and not for protection. You can easily find the best affordable wifi security camera but you still have to lock your doors 🙂