Best Smart Bulbs for Alexa – Overview
Smart bulbs are incredibly crucial devices to have in a home. They serve a purpose much more prominent than simply illuminating your home; they also enhance the mood, set the tone, redecorate all spaces in your house, and so much more.
Some smart bulbs can even be directly linked to music streaming services such as Spotify and Apple Music, allowing you to turn your lounge into a nightclub of sorts.
Intelligent bulbs offer you a level of control and accessibility that traditional bulbs can't compete with.
Smart bulbs can be controlled using smart speakers such as the Echo Dot, which has Alexa.
The ecosystem of smart home devices and appliances that work with Amazon's voice assistant is vast, and one of the most widespread categories is smart lighting.
You can use your voice to control smart bulbs that work with Alexa or other voice assistants such as Siri and Google Assistant.
You can turn lights on and off, adjust the colors of smart multi-colored bulbs, adjust the brightness, and so much more.
There are so many smart bulbs out there that work with Alexa since it's one of the best virtual assistants.
So which smart bulbs are best for Alexa? Well, stick around, and we'll review a couple of them and let you know what they can do and their other features as well.
1. Wyze Smart Bulbs
If it's your first time buying smart bulbs and you want an easy-to-use and relatively affordable bulb, then consider the Wyze smart bulb. Wyze has made a name for itself as a company that makes quality, innovative, competitively priced devices.
Wyze smart bulbs work with Alexa as well as Google Assistant, and the bulbs are built well such that they won't die on you three months after purchase.
The bulbs are easy to install and set up; you simply need to screw them to a standing lamp or ceiling fixture, connect to Wi-Fi using the Wyze app and ask Alexa to discover new devices.
2. Ring PAR38 Smart LED Bulb
The ring is a reliable smart home brand renowned for its security cameras. However, Ring also designs a range of smart lights too including the PAR38 Smart LED Bulb. This bulb can get very and is rated at up to 800 lumens (60-watts).
Like many other bulbs, Ring smart bulbs work with Alexa; after all, they are from the same parent company; Amazon LLC.
But, you need to buy a Ring Bridge separately for the PAR38 to enjoy features such as turning lights on or off remotely, mobile notifications, schedules, etc.
3. Phillips Hue A211
When you think about intelligent lighting, chances are that the first name that pops into your head is Philips Hue. The Hue lineup was introduced about a decade ago, and it has maintained its status as the dominant brand in smart lighting.
Although Philips hue makes various kinds of smart lighting, the Philips Hue A211 is ideal for beginners and people who want something reliable and reasonably priced.
This bulb has 600 lumens, and you can adjust multiple shades of white and, of course, control Philips Hue using Alexa.
4. TP-Link Kasa Smart Wi-Fi LED Bulb
Smart bulbs don't get easier than the TP-Link Kasa Smart LED Bulb. You can simply attach this bulb to a socket, download the app, connect to Wi-Fi, and you're all set; no bridge needed.
Using TP-Link's Kasa app, you can control this bulb to turn it on or off, adjust the brightness, set schedules, create scenes, etc.
This bulb also gets quite bright, and it's rated at 800 lumens. You can also control it with Alexa and other voice assistants such as Cortana and Google Assistant.
5. LIFX 1100 Lumen Color Bulb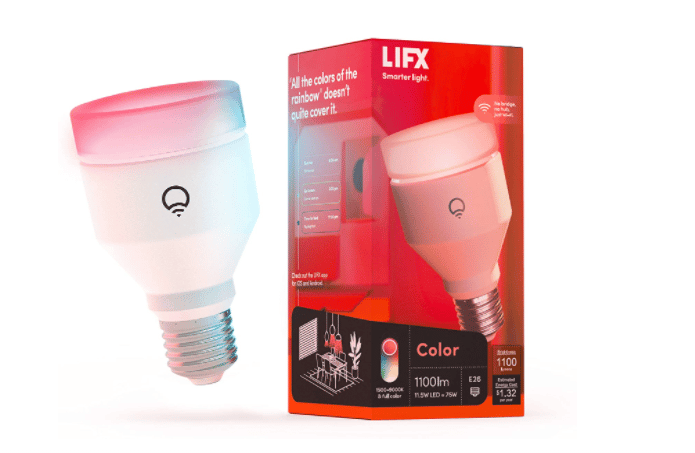 One of the top features of the LIFX 1100 Lumen Color Bulb is that you don't need a bridge to connect it to your Wi-Fi network. It connects directly using the LIFX app, so you can get going once you unbox in a couple of minutes.
This 1100-lumen bulb offers adjustable light in 16 million different colors allowing you to set the mood whether you're dancing the night away, reading a book, having a romantic dinner, etc.
Final Thought
All in all, you'll find plenty of smart bulbs that work with Amazon Alexa, but not all of them work seamlessly with Alexa's voice commands.
However, the smart bulbs illustrated above function seamlessly, whether with Alexa or any other voice assistant they support.
Our top pick is the Philips Hue; you can never go wrong with Philips when it comes to smart lighting.
See Also
Best Smart Home Security Systems
How to Setup Philips Hue Without Bridge
How to Connect Philips Hue to Google Home