Canon Cameras with a Flip Screen (DSLR)
Canon cameras with a flip screen are the top choice of photographers from all levels of experience. These articulated DSLR cameras are mostly used for vlogging, selfies, shooting videos from custom angles and documentaries. The advantage of not having to look through viewfinder provides more options to photographers making flip out screen cameras very easy to work with. The great performance which comes with brilliant quality videos are just added extra bonuses. Let's inspect some of the best Canon flip screen cameras and help you to choose the right model for your own use case.
Buying Considerations for Canon Cameras with a Flip Screen
Canon Cameras
Screen Type
Camera Type
Camera Interface
Connectivity
ISO Exposure
Price
Canon EOS Rebel T7i (800D)
Flip Screen
DSLR
Touchscreen
Wi-Fi, NFC, and Bluetooth
100 to 25600

Check Price

Canon EOS 6D Mark II
Flip Screen
DSLR
Touchscreen
WiFi, Bluetooth, GPS, and NFC
100 to 40000

Check Price

Canon EOS 90D
Flip Screen
DSLR
Touchscreen
WiFi and Bluetooth
100 to 25600

Check Price

Canon EOS 80D
Flip Screen
DSLR
Touchscreen
WiFi and NFC
100 to 16000

Check Price

Canon EOS T6 DSLR
Flip Screen
DSLR
Touchscreen
WiFi and NFC
100 to
6400

Check Price

Canon PowerShot G7 X Mark I
Flip Screen
Compact
Touchscreen
WiFi and NFC
100 to 12800

Check Price

Canon EOS M3 Mirrorless Camera
Flip Screen
DSLR
Touchscreen
WiFi and NFC
100 to 12800

Check Price

Canon EOS M50
Flip Screen
DSLR
Touchscreen
WiFi, Bluetooth, and NFC
100 to 25600

Check Price

Canon EOS 70D
Flip Screen
DSLR
Touchscreen
NA
12800

Check Price

Canon EOS R
Flip Screen
Mirrorless
Touchscreen
WiFi, Bluetooth, and NFC
100 to 40000

Check Price

Canon EOS Rebel T5i
Flip Screen
DSLR
Touchscreen
WiFi, NFC, and GPS
100 to 12800

Check Price

Canon EOS Rebel SL2
Flip Screen
DSLR
Touchscreen
WiFi and NFC
100 to
6400

Check Price

Canon EOS 250D
Flip Screen
DSLR
Touchscreen
WiFi and Bluetooth
100 to 25600

Check Price

Canon PowerShot G7X Mark III
Flip Screen
Compact
Touchscreen
Wi-Fi and Bluetooth
125 to
12800

Check Price
Which Canon Cameras Have a Flip Screen?
Features
Flip screen (can be fully rotated)
2 megapixels APS-C CMOS image sensor for highest image quality
DIGIC 7 image processor for high-speed performance
ISO range of 100-25600 for low-lights
Dual Pixel CMOS AF with phase-detection for fast & accurate performance
Optical viewfinder with 45-point all cross-type AF for accurate focusing
Built-in Wi-Fi, Bluetooth, and NFC to connect with smartphones and devices
Full HD video recording
Canon 800D or EOS Rebel T7i is an impressive camera with entry-level tech traits. This camera is a remarkable choice for photography beginners (see also DSLR cameras for beginners), enthusiasts, and YouTube vloggers. The engineering behind this Canon camera attracts both beginner and expert level photographers. The layered user experience will allow beginners instantly start using basic features and discover as they get better making T7i also a top choice for expert photographers. When it comes to cameras, pleasing both beginner and expert level photographers is a quite challenging thing to accomplish. This is why Canon T7i is still our top choice.
The camera encompasses incredible 24.2 megapixels CMOS (APS-C) sensor that delivers next-level image quality with incredible colors. With 100-25600 ISO maximum range, you are allowed to capture photos in darker conditions with extremely low lights.
Canon T7i flip screen camera also has a 45-point all cross-type AF system, DIGIC 7 image processor, Optical Viewfinder, and Dual Pixel CMOS AF with phase-detection to shoot the best scenes while traveling or making videos.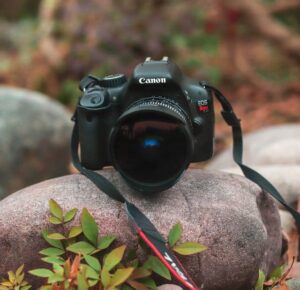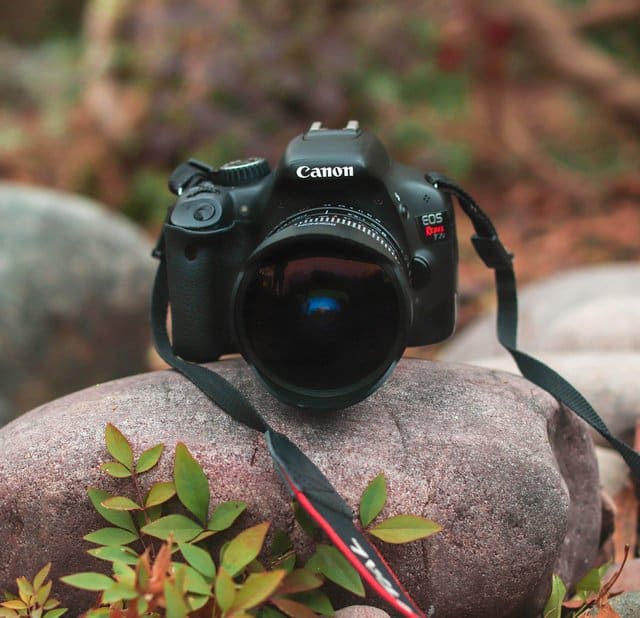 Features
Movable flip screen camera with touch screen controls (rotatable)
45 cross-type AF system for quick and accurate autofocus in low lights
2 megapixels CMOS sensor for high-resolution photos
Dual Pixel CMOS AF for amazing stills and videos
Intelligent viewfinder for sharp and clear photos
GPS, Bluetooth, NFC, and Wi-Fi for connections with smart devices
Canon EOS 6D Mark II is a professional grade camera with so many exciting features. With 26.2 megapixels CMOS sensor, this flip screen camera allows to capture high-resolution images. The ISO range of 100-40000 delivers impressive results even in low light conditions. Canon's 6D Mark II comes with movable flip out LCD having touch screen controls. The flips screen of this camera is fully rotatable.
Moreover, the Dual Pixel CMOS autofocus in this camera works best for stills and live videos. The cross-type AF for all 45-focus points helps in quick and accurate focus points in low lights. The camera also has GPS, Bluetooth, Wi-Fi, and NFC to connect with other smart devices wirelessly. The EOS 6D Mark II has DIGIC 7 image processor to get striking selfies in the result.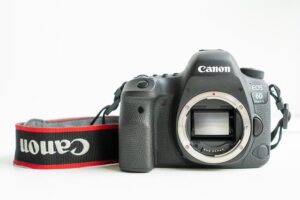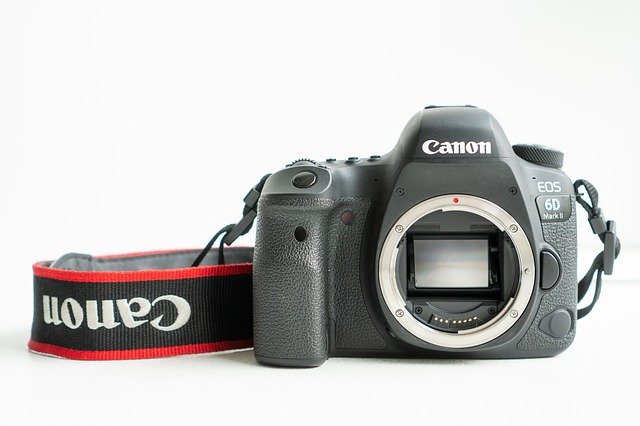 Features
Articulated screen (flip screen)
Fast continuous shooting with up to 10fps
Maximum ISO range of 25600 for brilliant low light images
45 cross-type AF system for quick and accurate autofocus in the dark
Wi-Fi and Bluetooth to connect with more devices and camera control
5 MP APS-C CMOS Sensor to capture gorgeous moments
iTR focus tracking
DIGIC 8 image processor for perfect image quality
Our top choice for Canon cameras with a flip screen is the Canon 90D for several reasons. 90D is made for the photography enthusiasts who demand the finest camera performance and superb image quality (32.5 megapixels). With the flip out screen it comes with, Canon EOS 90D camera is undeniably a camera for professionals.
This Canon DSLR camera with flip screen captures stunning 32.5 megapixels images, which makes it ideal for wildlife, landscape, and even portrait photography. Also, the APS-C CMOS sensor, 10fps, and advanced 45-cross type autofocusing system allow the user to capture amazing portraits and shoot 4K movies.
All these features combined make Canon flip screen EOS 90D a photographer's camera. It also has the ISO range of 25600 to capture stunning images even in low light conditions.
The intelligent optical viewfinder and DIGIC 8 image processor help you go more creative with your photography skills. EOS 90D has everything you want for vlogging from a DSLR camera.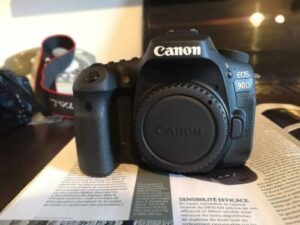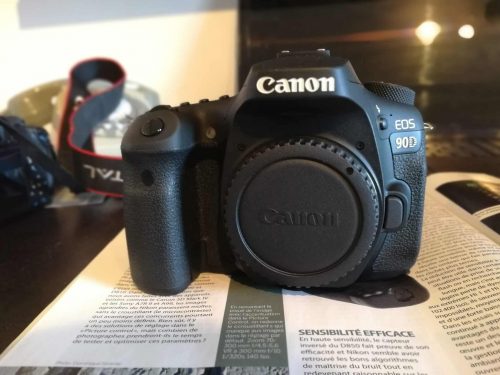 Features
HD 3" digital display screen, bit enabled
100-16000 ISO vary
10x digital zoom
Most shutter speed
Minimum distance and aperture
Advanced photograph sensing element technology
This camera comes with flip screen and wifi
CMOS Sensor for low light performance
Connectivity options: Wi-Fi and NFC
DIGIC 6 Image Processor
Canon EOS 80D Digital SLR is one in all the foremost fashionable releases from the whole Canon, and it's virtually everything that a vlogger would possibly want from a DSLR camera. 80D DSLR Camera with flip screen is expensive, but it comes with exceptional mix of cranky options. We're certain once you begin recording with it, you will be blown away.
The EOS 80D flip screen comes with advanced features including remote shooting, Wi-Fi, NFC, and DIGIC 6 image processor.
This Canon camera with flip screen DSLR also comes with dual pixel, CMOS auto focus, absolute focus, and a flip screen.
Moreover, shoot faster with the 24.2 megapixel, which has a built-in CMOS sensor to enhance low light performance.
With the 1080p video quality, you get high quality video to capture the best moments with sharp detailing.
The total 45 AF (Auto Focus) points provide you with the right focus and steady shots. However, the best feature is the built-in Wi-Fi technology including NFC (Near Field Communication).
A superb optical device with focus space choice
A handy option for Vlogger-friendly Shoot
Movements of the sights and objects may not be predictable when it comes to outdoor vlogging. So, the optical quality of a DSLR camera becomes more important when capturing the details. The optical sensitivity of Canon Eos 80D Digital SLR is way above the average when compared to other Canon DSLR cameras.
24.2 Megapixel with DIGIC vi Processor
The videos are shoot at a pointy twenty-four.2 megapixel CMOS sensing element combined with a DIGIC vi image processor offers you a extremist high resolution. Later on, video files are often transferred through Wifi. No matter you're shooting a indoor video, or during a day trip vlog, it's a requirement that the camera options don't go against you.
In case of Canon Eos 80D Digital SLR, the distended ISO, up to seven Federal Protective Service shooting speed, and a metering sensing element would create your job best ever. All you would like to try and do is to concentrate on the content ideas.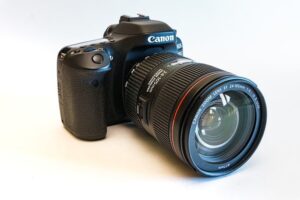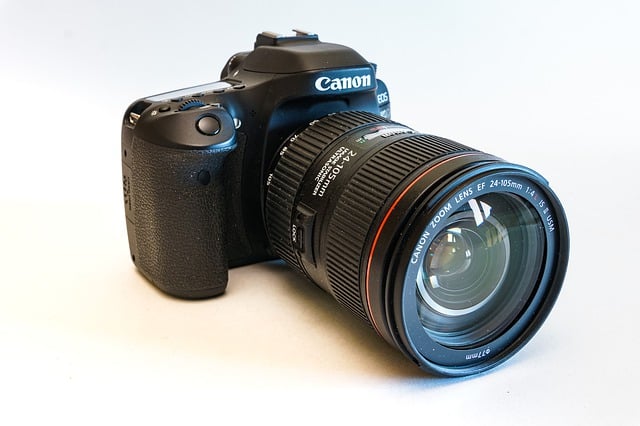 Features
The flip screen can be fully rotated
18-megapixel CMOS image sensor
ISO level from 100 to 6400
Wi-Fi and NFC for connectivity
The T6 comes with an impressive 18-megapixel Canon CMOS image sensor, combined with a high-performance DIGIC 4+ image processor for best image quality. It features a large 3-inch LCD monitor with 920,000 dots for ease of viewing. The ISO levels range from 100 to 6400, which makes it easier to shoot in low and bright light. Share your photos with smart devices, and social media via the in-built Wi-Fi and NFC. The high-quality optical viewfinder provides quick and correct focus by framing and capturing the subject with clarity.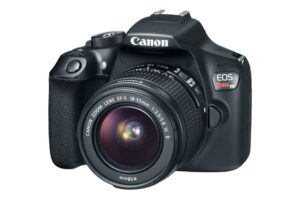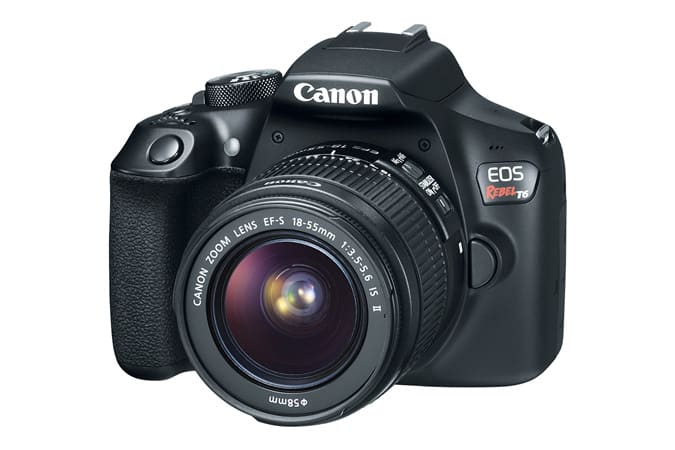 Features
MP4 format video with stereo sound output
Imposingly high resolution with auto-adjust distance
9-blade iris
A camera with flip screen and wifi
A hundred and eighty degree up and forty five degree down simple flip out screen
Extraordinarily property and sturdy
Long lasting battery life
Introduction to Canon PowerShot G7X Flip Screen DSLR
We think that G7X is the best Canon PowerShot camera with flip screen for number of reasons. The G7X PowerShot camera with a flip screen is the most popular one among all the other PowerShot cameras manufactured by Canon. The top of the list (also the best DSLR Camera with flip screen in PowerShot category) is that the mighty PowerShot G7 X Mark II. It's a 20.1 megapixel 3" touchscreen camera, that includes a nice battery life and glossy style. As so much as we're concern, a vlogger of those days, ought to love everything regarding this camera. At least, we did.
Let's realize all of the explanations of golf stroke this on the highest of our list-
Features and advantages of Canon flip screen DSLR camera
A great score in videography. We can't say that Canon did a major compromise in terms of capturing quality during this PowerShot G7 X Mark II. A 20.1 megapixel sensing element, combined with their New DIGIC seven image processor chip, captures each details of the sight. As a vlogger, this may be everything you'd like regarding, right?
High-resolution canon tilt flip screen camera
Flip out screens are important for vlogging cameras but what about the resolution? Context and original content come before the resolution on vlogging. However a high resolution(1.04 million dots) helps particularization of almost everything captured by Canon PowerShot; even within the lowest of sunshine.
Both Up and Down Flipping
As we're involved, flipping could be a must-to-have feature in your next vlog channel. You'll be glad to visualize the Canon PowerShot G7 X Mark II flipping a hundred and eighty degree up and forty five degree down with simple management.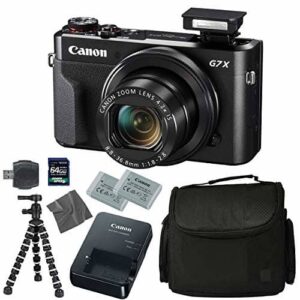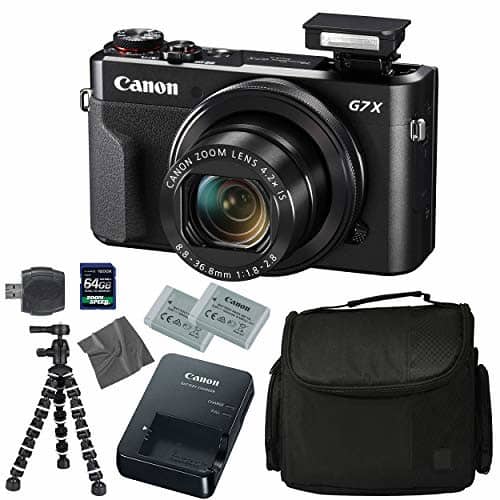 Introduction
Another DSLR Canon camera with flip screen, another nice camera for vlogging. excluding the flip screen itself, there are lots of alternative options that will make your life easier as a vlogger. The 24.2 megapixel sensing element, DIGIC vi image processor, manual management over the videography- are all this monumental whole can give.
Let's attach to the elaborated review-
Features and advantages
A in-built 18-55 Lens With the Package
18-55 Lens-canon-mirrorless-camera
IN shooting videos typically requires relatively distance shoots. A fairly good lens like 18-55mm, that comes with Canon Eos M3 Mirrorless Camera, would be the simplest companion for shooting videos.
Hybrid CMOS AF III for super sensitive focusing
Smart sensitivity in focusing is one of the most important criteria for vloggers. This SLR camera from Canon is powered by Hybrid CMOS AF III.
A Good property with Devices
As you're through with the shoot, you'd prefer to transfer it to devices to edit and transfer on-line. Usually, we've to urge to the computer and connect the contraption to that through cables.
With Canon Eos M3 Mirrorless Camera, you don't even need a computer to transfer your files. You can easily connect it with tablets, smartphones and many other Canon Connect stations through NFC and Wi-fi. This is one of the best Canon camera with flip screen.
Cons
Expensive that the options it offers
Not a recommended for for still-photo-shoot
Pros
Quick and intuitive management over the standard
A large array of operation on the tip
3" tilt digital display screen
Compatible to Eos
A in-built 18-55 primary lens
Sensitive finder
A full ton of alternative accessories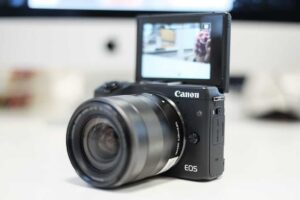 Features
1 megapixels APS-C CMOS sensor for high-resolution photos
10 fps fast continuous shooting for perfect images
DIGIC 8 powerful image processor
4K video recording for attention to detail
Wi-Fi, NFC, and Bluetooth for sharing pictures to other devices
Dual Pixel CMOS system for fast and accurate autofocus
Electronic viewfinder to get sharp and bright images
100% coverage with OLED viewfinder
The Canon EOS M50 is a versatile mirrorless camera with highly advanced features, including continuous shooting mode, quick autofocus, 4K video recording, and much more.
This Canon DSLR camera has an impressive 24.1 megapixels APS-C CMOS sensor for clear and sharp images. When it comes to vlogging, you shouldn't be hesitant about investing in Canon EOS M50 as it offers 4K UHD video quality. The 10fps allows continuous shooting to get that picture-perfect frame. Canon's EOS M50 has a powerful DIGIC 8 image processor for stunning image quality. With a 3.0-inch vari-angle touch screen offering 100% coverage, it is easy to capture the moment worth sharing.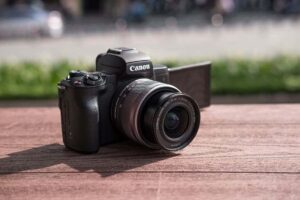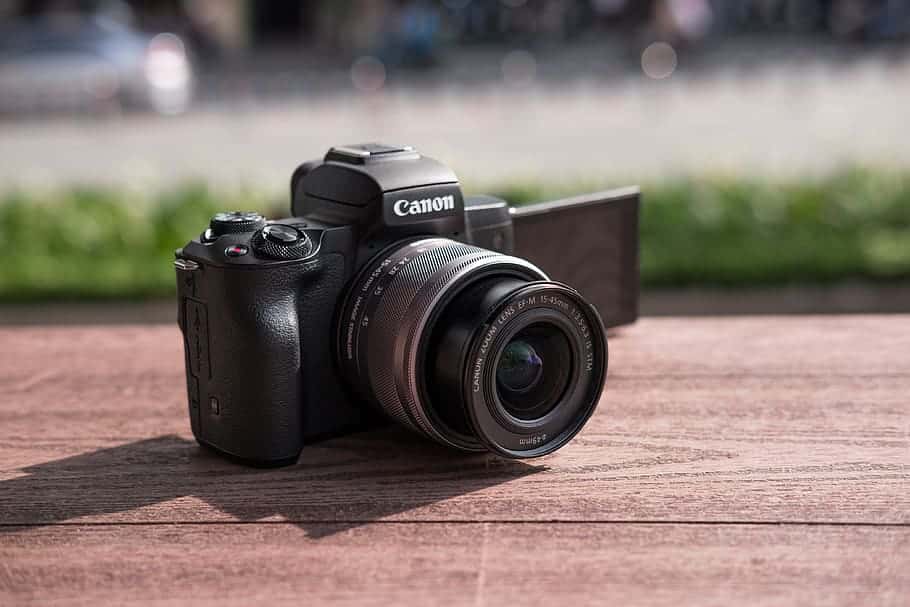 Features
Flip out screen
DIGIC 5+ Image Processor
EOS Remote Application
Shooting Mode with 7fps
Canon EOS 70D comes with a 3-inch flip out LCD screen, which lets you cover more, and check the captured shots on the big screen.
The features include a flip screen offering advanced features such as Digic 5+ Image Processor, Handheld Night Scene, Creative Filters, the Canon EOS Remote application, multiple exposure, and 14-bit A/D conversion (Analog to Digital Conversion). This DSLR Canon camera with flip screen and wifi comes with an impressive 20.2 megapixel camera sensor, which has its own image processor and low light performance to improve brightness and exposure.
Shoot high-quality 1080p videos, which are just perfect for the nightlife photography and adventure. The shooting mode with the flip screen provides a smooth 7.0 fps (frame per second).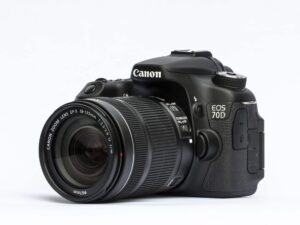 Features
30.3 megapixels
100 – 40000 ISO range
Dual Pixel CMOS AF
Hotshoe available with auto flash
Self-timer, silent, silent single and continuous shooting modes
EVF Viewfinder
World-class standard in photography is delivered by Canon with Canon EOS R. Canon has left no stone on turned while engineering this camera from performance, tech features and design standpoints. It's pricey for a reason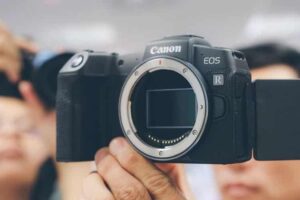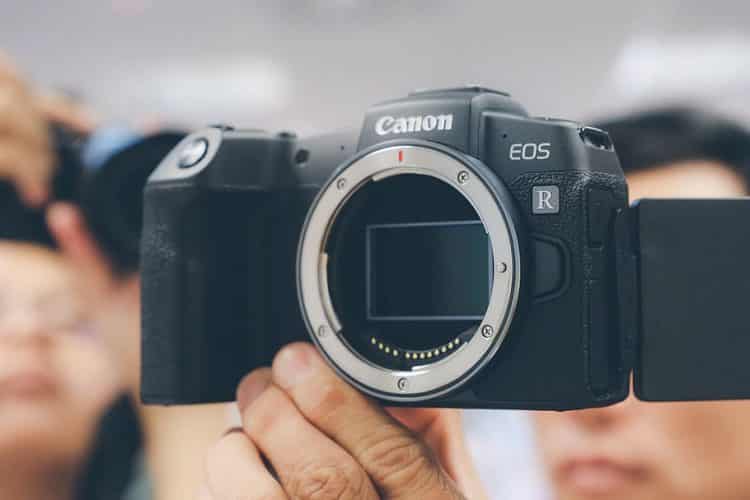 Features
Continuous shooting mode with 5fps for 1080p video capture
Connectivity options including GPS, Wi-Fi, and NFC
ISO range of 100 to 12800
The Rebel T5i might not be a professional-grade camera, but still has impressive features. This Canon DSLR camera comes with an impressive 18-megapixel CMOS sensor offering an ISO range of 100-12800. You can expand the ISO range to an impressive 25600, which will help you capture low light photos without any issues.
Capture full-HD videos in 1080p with 5fps on continuous shooting mode. Check out the captured shots on the 3-inch touch screen. The optical viewfinder with the Wi-Fi, NFC, and GPS makes it easier to network. You can also expand the memory via the Wi-Fi SDHC card (Secure Digital High Capacity card).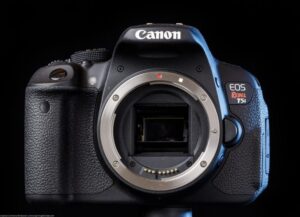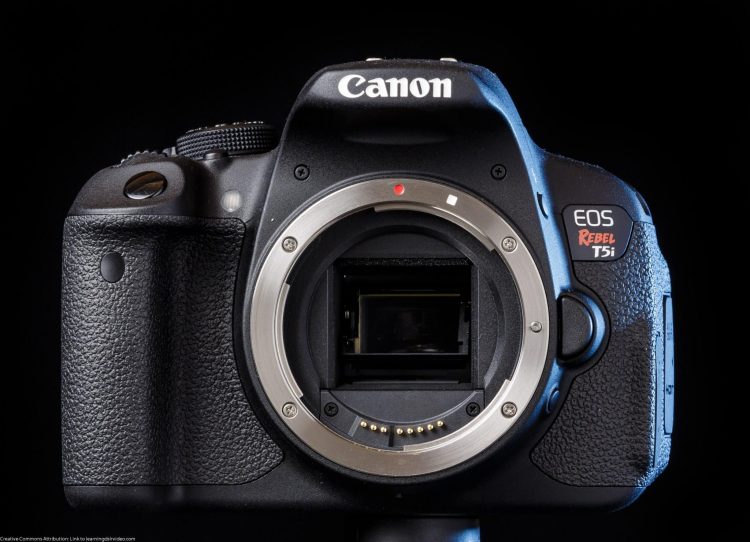 Features
3-inch LCD touchscreen
Connectivity with Wi-Fi and NFC
Powerful Li-ion battery providing 820 shots in one charge
The Canon EOS Rebel SL2 comes with an impressive 3-inch LCD touchscreen, which also lets you control the focus points, navigate menus with ease, and review the captured photo. This Canon flip screen camera also offers an in-built Wi-Fi and NFC for easy sharing of photos and videos. The powerful lithium-ion battery lets you capture 820 shots on a single charge. You can capture clear video in 1080p format at 60fps in MP4 format. Advanced features include Dual pixel CMOS AF and Movie Servo AF as focusing functions.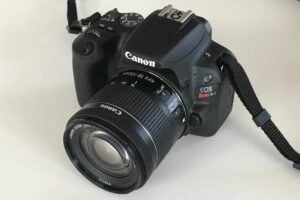 Features
1 megapixels APS-C CMOS sensor for high-resolution photos
3-inch movable screen for selfies and vlogging
Optical viewfinder to capture bright and sharp photos
DIGIC 8 image processor for perfect image quality
Wi-Fi and Bluetooth to connect wirelessly with smart devices
Guided UPI to learn and create different effects
Dual Pixel CMOS autofocus to get the best of Live view
100-25600 maximum ISO range for low light conditions
Canon's EOS 250D is the lightest DSLR camera with flip screen. The camera has a 24.1 megapixels sensor with an optical viewfinder for sharp and high-resolution images. This flip screen camera comes with advanced features to make vlogging fun and exciting. The 3.0-inch vari-angle screen lets you shoot videos and take selfies from different angles. The camera also has a DIGIC 8 image processor, optical viewfinder, and dual pixel CMOS AF system to capture stunning photos. Canon EOS 250D also has Wi-Fi and Bluetooth for wireless linking with smart devices.
With the 4K UHD (Ultra HD) video quality, the EOS 250D allows you to capture videos with sharp detailing. Moreover, the Guided User Interface in this camera creates different effects. The 250D is undoubtedly a strong all-rounder when it comes to Canon flip screen cameras.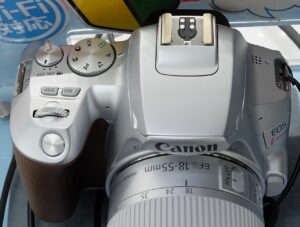 Features
1 megapixels 1.0-inch type CMOS sensor
4K movie recording
Full HD movie recording at 120fps
24mm 4.2x zoom to get an amazing clarity
LCD tilting monitor ideal for vlogging
Wi-Fi and Bluetooth connectivity
USB charging and 3.5mm mic input
Canon PowerShot is the people's favorite pocket-sized flip screen camera. From professional vloggers to photography enthusiasts, everybody is a fond of Canon PowerShot G7X Mark III.
See also
Best PowerShot cameras with flip screen
With its amazing technical traits, including 1.0-type sensor, 20.1 megapixels range, and 4K video recording, the camera is the first choice for vloggers, bloggers, and anyone who loves taking photographs. This masterpiece by Canon delivers super image and video quality no matter what be the light condition. It comes with a tiltable LCD screen to help you make the most of your creative skills, making photography entertaining and exciting.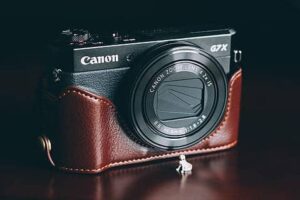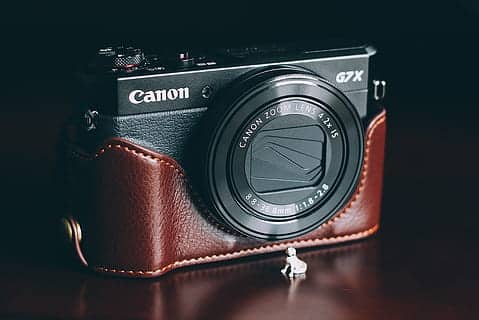 Best Canon EOS DSLR Cameras With Flip Screen are specifically for Vlogging:
Did you ever take that selfie where everyone except you were in the photograph? Maybe you blamed the focus or the wrong framing of the picture? Canon DSLR Cameras released some major upgrades including a flip out screen that one can rotate towards them to frame the shot. There is a lot more to uncover about these beauties that let you capture the best moments without any noise or other issues.
Canon camera with flip screen for vlogging
Things to Consider When Buying Canon Camera with Flip Screen
Canon camera with flip screen is always a hot topic in the photography industry. But, when it comes to buying one, you need to consider a lot of factors first, such as the sensors, lenses, size, controls, and the price.
To make your purchase worth, considering all these factors are enough, right? Wrong! There is a lot more you need to put into the list when buying a canon flip screen camera. What's that? Let's find out!
Canon Flip Screen DSLR Camera FAQ
Genuinely, Canon camera with flip screen is the hottest selling photography gear. From YouTube vloggers to travel enthusiasts, everybody is fond of these supreme engineering masterpieces. When searching for flip out
Q. What to look for in Canon Camera Image Sensors?
A. When you think of quality and tech-rich camera, you are definitely picturing Canon DSLR. These cameras are the ultimate example of eminence and masterwork to capture those picturesque scenes. The image sensors in these cameras play a significant role in capturing the actual light from the object. An image sensor detects and conveys details of an object to make the resulting image. When buying a Canon camera, the first thing you need to consider is the image sensor. Well, Canon DSLR cameras operate on CMOS (Complementary Metal Oxide Semiconductor) sensors, which deliver large pixel images with high pixel count. However, some point and shoot Canon cameras still have CCD (Charged Coupling Devices) sensors.
Q. How to choose the Canon Camera Lenses?
A. Canon DSLR cameras allow you to change lenses as per the requirement. There are interchangeable lenses available for every Canon camera out there (for most). Also, most of the lenses are easily compatible with several camera models, which is the biggest hit behind these hottest selling gears. Before buying the flip screen Canon camera, make sure you identify the compatible lenses with it.
Q. What is the Megapixels Range?
A. Well, you have heard this term more than a million times. Megapixels or MP – just like in 20MP or 25MP camera – is the resolution power of the camera. Despite camera sensors are an important factor for image quality, megapixels also play a little part in it. So, in simple words, you can go for a higher megapixel range to improve the quality of captured images. The megapixels in the cameras represent the size of the resulting photo. Higher megapixels might not enhance the image quality to maximum, but these surely make a camera great.
Q. What about the ISO?
A. ISO control in the Canon camera with flip screen cameras lets you adjust the lights of an image. With this feature, you can easily brighten or darken any image. Simply put, increased ISO range means brighter images. But, this should be adjusted only when you have expert knowledge. The ISO in Canon camera also helps you capture clear images in darker situations with extremely low lights. So, make sure you purchase the Canon camera with fine ISO settings and range.
Many of the Canon cameras have 100-12800 ISO range, which you can adjust according to the lights. Also, higher ISO means noisy results (in terms of colors) and super grainy photos. When making the deal, make sure to look at the ISO settings at least once, just to give a try.
Q. Are there Manual Controls Available?
A. Manual mode or manual controls let the user adjust camera settings according to the situation by own. In automatic settings, all the adjustments are made automatically, which many photography enthusiasts might not appreciate. Most of the cameras these days have minimal manual controls, making a choice difficult.
In auto mode, the Canon flip screen DSLR will auto adjust the aperture, shutter speed, and ISO range for you. This is totally opposite in manual mode; you adjust everything according to your needs. Also, there are semi-automatic, automatic, and manual modes, which you can change accordingly.
Q. What's in the Price?
A. This might be the foremost factor to consider when buying a Canon DSLR camera. Frankly speaking, Canon cameras with the flip screen are expensive, and you might need to prepare a budget to make the right purchase. If you want to play safe and go with a cheap Canon flip screen camera you may want to try used ones on Amazon.
The latest Canon DSLR cameras with flip screen are the finest options with exceptional tech-traits. So, preparing a budget beforehand would help you make the right choice.     
For a wide range of features, you might have to increase your budget a bit. And, if you are a beginner, go for an economically priced Canon camera with basic tech features. Deciding which cameras with a flip screen is the best isn't that easy if you are beginner. If you are sure about your photography excitement is permanent you may want to get a flip screen camera with fairly advanced features. You really don't want to invest on a camera that you'd get master at in a few months and then suddenly end up feeling your skillset is limited with your camera's subpar functionality.
Conclusion
The type of photography you are interested in is also critical when choosing a tilted screen camera. For instance street and landscape photographers often face with unexpected weather conditions. Protective gears can protect your camera against heavy rain and snow only up to a certain point. In contrast, a portrait photographer may want to invest more on functionality than sturdiness of a camera.
We approached overall attributes when we examine the flip screen cameras in this article. Choose which one is best for you wisely based on what's best for your own use case.
See also Cameras with Flip Screen from all major brands