Best Cameras for Kids
Best cameras for kids let them see the world differently and show you what it looks like from their standpoint.
Giving your child a camera can be a great way to encourage their creativity and provide a unique perspective on family vacations, holidays, and memories.
Several cameras on the market are specifically built for children. However, there are also first-level cameras intended for everybody but make a lot of sense for younger audiences too.
For most people, functionality is likely to be the most important consideration, and thus in this guide, you'll find a variety of models that are ideal for your children.
Then there's the issue of durability; after all, most kids are clumsy.
Therefore, you want to make sure that a camera can hack the trial and tribunal of having a little human as its owner.
As a result, this post highlights several good options, including a tough camera and an analog option that can help them learn to take photos manually.
Best Cameras for Kids – Choose the Right One NOW!
The most crucial factor to consider is how frequently your youngster will use a camera.
If it's just a fleeting craze or something they will use for holidays, it's better to go for one of the less expensive types.
However, if you believe they will take this more seriously, investing in something that will last them longer would probably save you money in the long run.
So, here's the list of the best camera options to consider for your kids:
| Camera | Camera Type | Maximum Resolution | ISO Exposure | Connectivity | Weight |
| --- | --- | --- | --- | --- | --- |
| Canon EOS Rebel SL3 DSLR Camera | DSLR | 24.1 megapixels | 100-25600 | Bluetooth, Wi-Fi | 1360 grams |
| Canon EOS REBEL SLR Camera | DSLR | 24.1 megapixels | 100-25600 | Bluetooth, Wi-Fi | 984 grams |
| Panasonic LUMIX G85 4K Digital Camera | DSLR | 16 megapixels | 100-25600 | Wi-Fi | 505 grams |
| OLYMPUS Tough TG-6 Waterproof Camera | Compact | 12 megapixels | 100-12800 | Wi-Fi | 254 grams |
| Fujifilm FinePix XP140 | Compact | 16 megapixels | 100-12800 | Bluetooth | 272 grams |
| GoPro HERO7 | Compact | 12 megapixels | - | Bluetooth | 119 grams |
| Sony (DSCW800) Digital Camera | Compact | 20.1 megapixels | 100-3200 | - | 127 grams |
| Polaroid Originals OneStep+ | I-type Instant Camera | - | - | Bluetooth | 490 grams |
| Fujifilm Instax Mini 70 | Instant Camera | - | - | - | 226 grams |
| Cocac Waterproof Camera | Compact | 8 megapixels | - | - | 32 grams |
1. Canon EOS Rebel SL3 DSLR Camera
The Canon EOS Rebel SL3 (also recognized as the EOS 250D) is its most recent addition to its ultra-compact DSLR camera line.
It supports a 24MP APS-C sensor with Dual Pixel focusing that is accurate and simple.
The Canon EOS Rebel SL3 DSLR is a wonderful alternative for a bit older youngsters as their first DSLR, and you can get it for under $850 without a basic kit lens.
The Guide Mode on the Rebel DSLR is wonderful for learning how all of the different functions work, making it the ideal learning tool for your youngster.
The REBEL is a versatile alternative that can be used right out of the box to create spectacular photos.
Key Features
4K at 5fps Video Capturing
1MP APS-C CMOS Sensor
1,070 Shot Battery Life
Optical viewfinder
Fully Rear Touchscreen
Excellent 'Guide' Mode for Beginners
Wi-Fi with Bluetooth Connectivity
2. Canon EOS REBEL SLR Camera
The Canon EOS REBEL SLR Camera is the company's most recent model perfect for older kids. This SLR camera is small and light, making it easy to transport and use while traveling.
Even with the EF-S 18-55mm lens kit, image quality is superb. The device poses in-camera image stabilization, 4K video, a fordable touch screen with Vari-angle Touch Screen LCD and several capturing modes.
You can record videos at the speed of up to 5 fps, and 9 AF points are selectable. Moreover, the camera also contains a built-in pop-up flash, and Wi-Fi, and Bluetooth connectivity.
The Optical Viewfinder of the EOS REBEL is extremely sharp and responsive.
The Dual Pixel CMOS AF is another wonderful feature of this camera. This will enable kids to do quick, accurate autofocus, allowing you to capture the scene as it unfolds.
Key Features
4K Video Recording
1 Megapixel CMOS (APS-C) Sensor
1630 Shots Battery Life
Auto and Manual Focus
Optical (Pentamirror) View Finder
Auto, 100 to 25600 ISO Sensitivity
3. Panasonic LUMIX G85 4K Digital Camera
Teens will have a blast learning about photography or sharpening their talents with the Panasonic LUMIX G85 camera.
In a relatively tiny and light size, the camera has a lot to offer.
For videography, it has a current 60mm Power O.I.S. lens, a 16-megapixel big sensor, 30fps continuous shooting, and a microphone input.
The LUMIX G85 also has built-in Wi-Fi and HDMI connectivity, making it an ideal camera for new photographers.
The camera's sensor operates admirably, and image quality is about what you would expect from a Panasonic DSLM camera at this price point.
It performs admirably in a variety of lighting conditions and circumstances.
Key Features
4K QFHD Video Recording
16 Megapixel Micro Four Thirds Sensor
320 Shot Battery Life
5- Axis Dual Image Stabilization
Integrated Eye Level OLED
3 Inch LCD Display
4. OLYMPUS Tough TG-6 Waterproof Camera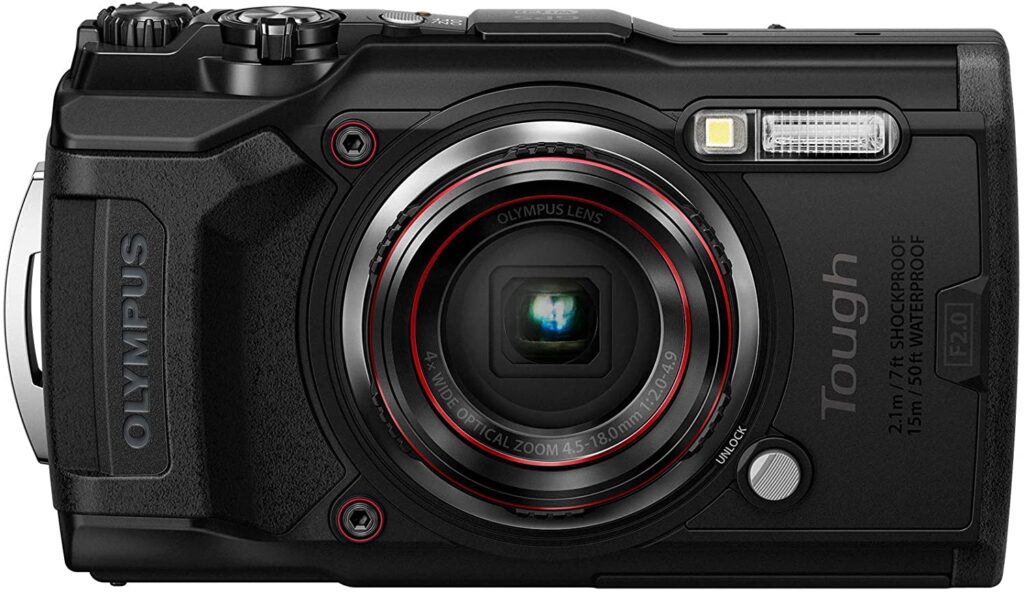 The Olympus Tough TG-6, with its black color, looks great even when it's just sitting on your beach towel – and it makes it easy to discover when you crash it in the dirt or in a puddle of water, where it can survive down to 15m / 50ft!
If your youngsters like the Spiderman style, it's also available in sleek red color.
The camera is waterproof and can withstand falls of up to 2.1m / 7ft, as well as being crushed by objects weighing up to 100kg / 220lbs (it's also freezeproof to -10°C / 14°F in case it's put in the fridge or freezer by mistake).
It's a rather advanced camera with a lot of features and capabilities (including amazing macro and microscope modes), as well as a crisp 4K video for capturing adventures and a great zoom range of 25-100mm.
Key Features
4K with 120 fps Video Recording
0 High-Resolution Lens
8x Maximum Zoom
50 to 110 Minutes Battery Backup (Depending on Usage)
5 Under Water Recording Modes
4 Macro Shooting Modes
Waterproof, dustproof, shockproof, crushproof, freezeproof
5. Fujifilm FinePix XP140
Tough cameras are ideal for children since they can withstand harsh usage. They don't mind being thrown in a pond, thrown against a wall, or covered in mushy peas, among other things.
Take, for example, the Fujifilm FinePix XP140, which is also less expensive than other rugged cameras on the market.
It is waterproof to a depth of 25 meters, shockproof to 1.8 meters, freezeproof, and dustproof. This makes it perfect to use at the beach or any other type of vacation.
It also takes decent photos, so it is a fantastic pick for a somewhat older child who is developing an interest in photography.
The camera boasts 4K at 15p high-end video recording, which is not worth bothering with, but most kids do not seem to mind.
Key Features
4K at 15p Video Recording
9 (Wide) – F4.9 (Telephoto) Lens
Intelligent zoom of 2x (up to approx. 10x, with 5x optical zoom)
Battery Life in terms of frames- 240 frames (Auto Mode)
Dustproof Rating – IP6X
Waterproof Rating – IPX8 (up to 25.0m, within 120min.)
Anti-shock from 1.80m Fall
6. GoPro HERO7
For less than $300, GoPro's entry-level camera is a cheap and cheerful option for youngsters. GoPro Hero 7 provides a durable and waterproof action camera.
The touchscreen operation will certainly appeal to children since its basic settings make it simple to capture brief videos and photos without exerting too much effort.
It shoots in Full HD rather than 4K, but it's incredibly well-equipped for the price, making it something the whole family could want to borrow.
In addition, kids will surely be going to like its voice control feature. The camera can be operated by giving voices commands to take a photo or to record a video.
Overall, it's an excellent first-time little camera for blending into your child's life (and their pocket).
Key Features
4K60 / 1080p240 Video Recording
12MP Photo Camera
8x Slo-Mo Zoom
146 Minutes Battery Life
Waterproof to 33ft (10m)
Rugged Design
HyperSmooth Video Stabilization
Face, Scene+ Smile Detection
7. Sony (DSCW800) Digital Camera
For those looking for a tiny, versatile camera, a point-and-shoot camera is an excellent choice.
A dedicated camera, such as the Sony (DSCW800), is a better and more adaptable solution than a smartphone with all of its distractions.
What you get is a little camera with a lot of useful capabilities. The highly stabilized 5x Optical Zoom is its main selling feature.
When shooting wide, images may be a little fuzzy around the edges, but it's still a step forward over the zoom lenses available on today's finest smartphones.
A 20.1MP Super HAD CCD sensor and 720p video capture are among the other features. The picture effect can also be used to add a new type of expression to images.
This is a rare feature on such a little camera, and it may pique interest in more serious cameras in the future.
Key Features
720p Video Recording
1 MP HAD CCD Photo Sensor
5X Optical Zoom
100min Battery Life
SteadyShot image stabilization
Simplify camera menu
8. Polaroid Originals OneStep+
These Polaroid cameras are a development of the original Polaroid One-Step line from the 1970s. It may be used with both i-Type and 600 films.
It has a built-in feature that allows it to make double exposures. In one photograph, you can acquire two frames. This improves the camera's artistic capabilities.
The autofocus technology on this device uses two fixed focus zones, 0.55m-1.3m, and 0.6m-infinity. It allows you to quickly find focus and produce sharp photographs.
Selfies are simple to take using a self-timer.
You don't need to find ways to steady the camera because it is stable when placed around. Its built-in rechargeable battery and USB charging cable eliminate the need for additional batteries.
Similar to any instant camera using this device is fun.
Key Features
Polaroid Originals i-Type, Polaroid 600f/14 to 64
F/14 to 64 Aperture
Fixed Focus
60 Days Battery Life
Exposure Mode – Automatic, Manual
9. Fujifilm Instax Mini 70
This Fujifilm camera has the look and feel of an old Polaroid camera, and it's perfect for older kids and teens. There isn't any kind of digital sensor. Instead, you shoot on self-developing paper.
After a few moments, the paper is ejected and self-develops in front of your eyes.
Photo prints of Instax Mini 11 are of a business card's size and are a little smaller in real life. This will free up some space on one side for putting a note or caption.
The sensitivity of Instax Mini film is 800 ISO, and it comes in both color and black-and-white cartridges.
The camera is simple to operate. The shutter speed is set at 1/2 to 1/250 sec. According to the lighting circumstances, the automatic exposure function optimizes the shutter speed and flash output.
Key Features
Produces Credit Card-Sized Prints
Fujinon 60mm f/12.7 Lens
Optical Viewfinder with Target Spot
Accepts INSTAX Mini Instant Film
10. Cocac Waterproof Camera
Cocac waterproof camera is a great gift for kids aged 3 to 12. This easy-to-use device boasts a 21mp camera with 1080p HD video recording. Furthermore, you will find a large 2.8″ 720*320 TFT LCD, a flashlight, and 8x digital zoom.
The camera also allows you to capture video and photos in 4 different modes: photo, video, record, audio, and playback mode.
Battery life is enough to ensure taking photos or videos of approx 2-3 hours. The photos and videos are saved on SD cards.
As it is a waterproof device, it is submersible up to 10 feet in depth.
This makes it excellent for beaching, snorkeling, swimming, diving, surfing, tumbling over the waves, and other outdoor water sports during vacations.
Key Features
1080p HD Camera
8 megapixels camera
8x Digital Zoom
1050 mah Battery
Waterproof to 10feet
Multi-Snap taking 6 Pictures Continuously
Best DSLR Cameras for Beginners
Canon Cameras with a Flip Screen