Best Camera for Online Teaching
The best camera for online classes can help teachers and students with remote teaching or in a hybrid setup.
A dedicated camera for online teaching may produce a well-understood experience for everyone involved.
Although you may already have a camera on your laptop or smartphone, those tiny pinhole cameras cannot compete with a dedicated webcam regarding visual clarity.
A larger camera has a larger lens, allowing more light to reach the sensor and producing a sharper image.
Tilting, panning, and zooming capabilities are available on some cameras, allowing you to frame your video exactly.
You may also post these to the whiteboard to give other students or guardians in the room a good view of the entire class.
Many resolution quality possibilities range from 720p to 1080p and up to 4K.
While the lower end can be sufficient, high-resolution quality can aid if you want to scale the video, for example, to display it on a huge screen.
Best Camera for Online Classes – Check Out the List!
Here we go!
Camera
Video Capture Resolution
Connectivity
Viewing Angle
Compatibility
Built in Microphone
Weight
Logitech C930e
1080p Full HD
USB 2.0
(USB 3.0 ready)
90-degree
Desktop, Laptop, Mac
Yes
158 grams
NexiGo N680
1080p Full HD
USB
80-degree
Desktop, Laptop, Mac
Yes (Dual Microphone)
198 grams
NexiGo N660
1080p Full HD
USB 2.0
110-degree
Desktop, Laptop, Mac
Yes (Dual Microphone)
139 grams
Zealinno 1080P
1080p Full HD
USB 2.0
120-degree
Desktop, Laptop, Mac
Yes (Dual Microphone)
158 grams
Frieet C40
2K Full HD (2048x1080p)
USB 2.0
90-degree
TV, Desktop, Laptop, Mac
Yes (Dual Microphone)
99 grams
Qtniue A4
1080p Full HD
USB 2.0
95-degree
TV, Desktop, Laptop, Mac
Yes (Dual Microphone)
229 grams
1. Logitech C930e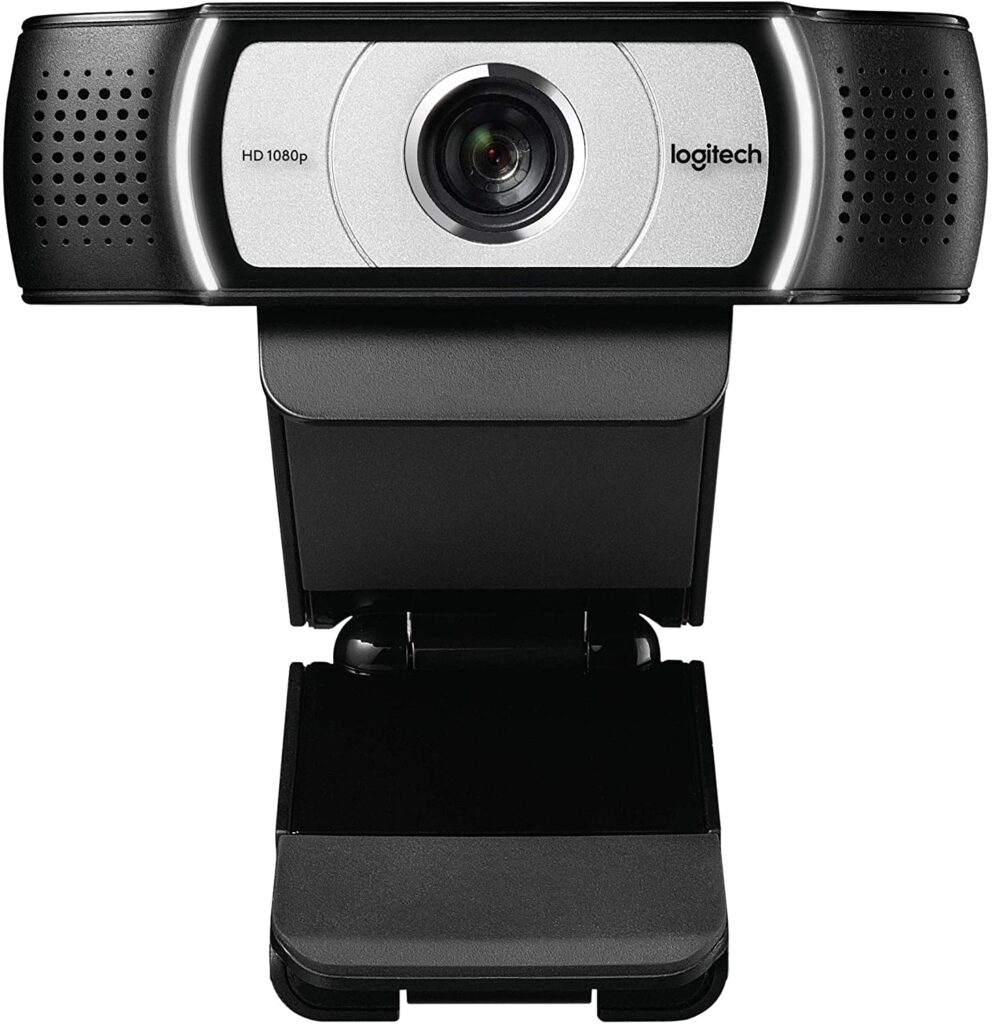 Logitech C930e
The Logitech C930e is the pinnacle of webcam technology, and its price reflects that.
However, it is perfectly justified as it has a lot of features. It is primarily capable of 1080p resolution video quality with UVC H.264 Encoding.
It may seem overkill until you consider that it can be used with a 4x zoom, which makes it ideal for experimentation, map analysis, and board work.
The camera features a 90-degree expanded view, pan, tilt, and digital zoom.
It makes it ideal for whiteboard presentations and product demonstrations. Furthermore, its UVC encoding frees up system bandwidth and produces a smoother video stream.
This webcam is simple to set up and is compatible with Windows, Mac, and Chromebooks. You can use this camera with Microsoft Teams, Skype, and Zoom.
Key Features
1080p Full HD Resolution
30 Frame per Second
4x Digital Zoom
UVC H.264 Encoding
95-degree Wide Viewing Angle
Noise Cancelling Microphone
2. NexiGo N680
The NexiGo N680 webcam has a 1080p FHD resolution and a refresh rate of 30 frames per second. It also features built-in technologies that change color and brightness.
Consequently, it helps to ensure you appear best even in dim or dark environments.
Moreover, the camera is simple to set up right out of the box; no additional drivers or software is needed. You only have to plug your webcam into a USB port on your computer or laptop, and it will install.
The N680 has a fast and responsive autofocus system that helps keep your main subject in sharp focus.
It also gives a wide field of vision that allows students and teachers to see more of each other—an ideal camera for online teaching and learning.
The adjustable mounting clip lets the camera rotate or tilt up and down. This helps you to capture from any angle.
Its built-in noise-canceling dual stereo microphones record clear sounds. As a result, nothing will divert your student's attention away from what you're trying to convey.
Key Features
1080p Full HD Resolution
30 Frame per Second
90-degree Wide View
Noise-Cancelling Technology
USB 2.0 Support
3. NexiGo N660
Thanks to its sensors, the NexiGo N60 Webcam produces extraordinarily sharp and clear video at resolutions of 1920 x 1080 at 30 frames per second.
On the other hand, it's 3.6mm glass lens produces a sharp image at fixed distances. Additionally, the lens is tuned for a range of 19.6 inches to 13 feet, making it perfect for indoor use.
There are no additional drivers or software needed. Simply plug the USB drive into your computer and you're ready!
When utilizing Zoom, Skype, FaceTime, Teams, and other video conferencing programs. The NexiGo Webcam Software enables you to adjust the webcam's available settings.
It includes exposure duration, contrast, saturation, white balance, and more. The software for the webcam is compatible with Windows 7/8/10 and MacOS.
While using your camera, you can open the privacy cover that covers the lens to enclose the screen. This provides security and peace of mind to anyone, from students and teachers to businesses.
The cover protects the camera lens from dirt to ensure your video is clear.
Key Features
1080P Resolution
30 Frame per Second
110-degree Wide View
6mm Glass Lens
Noise-Cancelling Technology
USB 2.0 Support
4. Zealinno 1080P
Next on our list of the best cameras for online classes is Zealinno. It is the best remote learning webcam for teachers and students, thanks to a high-quality 1080p resolution sensor.
The sensor is built into a minimally designed and easy-to-mount camera. It accomplishes all of this while being affordably priced.
The Zealinno produces 1080p quality video at a super-fast 30 frames per second refresh rate for living streaming.
That makes for a smooth quality feed, ideal for teaching with movement while working on a whiteboard or taking a class through a live experiment.
A valuable feature for both teachers and students is its wide-angle lens and large sensors.
As the name suggests, this helps people shoot wide frames in low-lighting surroundings – ideal when in virtual class at home.
Key Features
1080p Full HD Resolution
30 Frames per Second
120-degree Wide Angle
360-degree Rotation Design
Dual Stereo Microphones with Noise Reducing
USB 2.0 Support
5. Frieet C40
The Frieet C40 has superb image quality and performance for a low price when you consider all the features. It gets you a 2048x1080p resolution recording quality with the usual 1080p streaming top-end limit.
By eliminating unwanted noises, it is possible to capture clear audio at a distance of up to 6 feet.
It offers a superior pure voice even in a noisy environment – a perfect tool for online meetings, conferencing, teaching, learning, etc.
Its sensor of 1/3″ 2MP keeps the image quality high, while the wideband mic provides crystal clear audio.
You don't have to be concerned about exposure or illumination. It is due to the Frieet CMOS sensor, which takes care of that dynamically.
Key Features
2K (2048x1080p) Resolution
30 Frames per Second
90-degree Wide Viewing Angle
18 Feet Voice Capturing
Dual Noise Reduction Microphone
USB 2.0 Support
6. Qtniue A4
The Qtniue A4 is another high-end camera for online classes. It delivers excellent visuals and high-definition video at 30 frames per second, with full HD 1080p resolution.
It's an excellent web camera for computers, making phone calls, streaming, conferencing, and recording.
In addition, this Webcam has an omnidirectional microphone that filters out background noise and captures your voice clearly and naturally.
This camera is ideal for online education, blogging, conferencing, live streaming, video calling, and social gaming. Even in a noisy area, it delivers a fantastic video experience.
The camera is simple to set up and requires no additional software or drivers. Simply plug the web camera into a USB port and play.
You can use this camera with any of the following operating systems: Mac and Chrome OS, Android V5.0, Windows 7/8/10/XP/2000 or higher.
The webcam has a Privacy Cover that protects your privacy and security and any activities you perform when the cover is closed.
This Webcam is stable to display thanks to universal clips that are simple to set up. Moreover, you can mount this camera on any device, including laptops, computers, LCD screens, and television.
Key Features
1080p Full HD Resolution
30 Frame per Second
95-degree Wide Viewing Angle
Built-in Two Noise Reduction Microphone
USB 2.0 Support
See Also
Best Laptop for Online Classes
Best laptops for college students