A portable router is a type of wireless internet router that can connect your gadgets to the internet. It can use the internet from a public WiFi, Local Area Network Connection (LAN), or SIM card.
A portable router can offer a secure and established internet connection. You can connect multiple devices, like your phones, tablets, laptops, and computers, to a single connection.
It builds a hotspot using data from a source. Users can have access to the Internet after connecting their devices to this hotspot.
What is a Portable Router?
A portable Wi-Fi router is created to be easy to operate and maintain. It is portable, easy to store, and easy to carry. You can also keep it in your pocket or backpack. This way, you can get internet access whenever and wherever you want.
Portable Wi-Fi routers come in a wide variety of sizes and designs. Some of them resemble tiny handheld modems, while others come in the form of credit cards.
What Are the Basic Features of a Portable Router?
Here are some general characteristics of a portable router:
1. Available in different types
There are different types of portable routers available on the market. Usually, they connect with the Local Area Network Connection. However, you can connect them to a 3G or 4G broadband connection through your telecom provider.
2. Battery and network
A built-in battery is a common feature of good portable routers. If you use your SIM card to build the hotspot, a portable router can operate wirelessly. Advanced portable routers can connect to hotspots and share that connection with other devices.
3. Compact
Most portable routers are compact and only a few inches in size. You can carry them around in your pocket and get an instant internet connection anywhere.
4. Connect multiple devices
These kinds of gadgets are a great option for anyone who needs to utilize many devices at once, but only has access to a single connection.
How to Use a Portable Router?
There are multiple ways you can use a portable router –
Using a LAN connection
You can use a portable router if you have an Ethernet or LAN connection and want to connect multiple devices to the internet.
First, you can connect the wire to the allocated port of your Wi-Fi router. Next, you must go to the device settings and turn on the WiFi. You can now proceed by connecting to the router's established network.
Using a cellular network
If your portable Wi-Fi router has a SIM card slot, you can connect it to a cellular network. You may use this method to use your 3G or 4G Internet network without a second connection.
You need to put your SIM card into the allotted tray of the router and switch on the router. You can connect the router to a power outlet if it is not fully charged. Now you can connect your devices and enjoy the internet connection.
Using public WiFi
If you have an advanced router, you can connect it to any public WiFi and enjoy a stable and secure connection.
You must enter the correct password to connect your router to the WiFi. Next, you have to open the settings on your device. There you can find the option to connect the router to your WiFi.
Top 5 Portable Routers in 2023
Here is a list of the top five portable routers
We may earn an affiliate commission when you purchase through links on our site.
1. TP-Link TL-WR902AC AC750 Travel Router
One of the quickest travel routers available on the market is the TL-WR902AC from TP-Link, which is especially amazing given its size and cost. It is a 2.64 x 2.91 x 0.9 inches device that is only 8 ounces.
It is simple to carry around in your pocket or backpack, so you can be ready to set up WiFi whenever you want, anywhere. The Wi-Fi performance of the TL-dual-band WR902AC is remarkable.
In addition to being a range extender, this device can serve as an access point to create a wireless network.
Pros
It is very affordable
Works as a WiFi extender
Its compact size makes it travel friendly
Cons
The included cables in this device are short
2. Netgear Nighthawk MR1100 Mobile Hotspot 4G LTE Router
The Netgear Nighthawk MR1100 travel router can easily manage your entire family or project team with support for up to 20 simultaneous devices. This router can also function as a 4G LTE mobile hotspot.
Even if there are no Wi-Fi or Ethernet connections nearby, you can connect to its Wi-Fi network and access the internet.
It is the first mobile hotspot to enable Gigabit LTE, 4X4 MIMO, and four-band Carrier Aggregation. Therefore, it can deliver internet speeds that compete with your home broadband connection.
Pros
Long-lasting battery
It is an excellent option for frequent internet users
It can support up to twenty devices at once
Cons
It is expensive
It can overheat at times
3. TP-Link TL-WR802N N300 Wireless Portable Nano Travel Router
The TL-WR802N from TP-Link is an older single-band router that distinguishes itself by providing a good range in its compact design.
The single-band N300 provides enough speed for uninterrupted 4K Netflix streaming and nonstop Zoom video chats on multiple applications.
When traveling, the TL-WR802N is intended for use by one or two people. It offers 300 Mbps 802.11n speed, which is faster than the internet connection at most hotels and conference centers.
Pros
Very affordable
It is easy to set up
Fast Wi-Fi performance on a single band
Cons
It does not have a USB port
When linked to several devices, the internet speed is not the fastest
4. GL.iNet GL-AR750S-Ext Gigabit Travel Router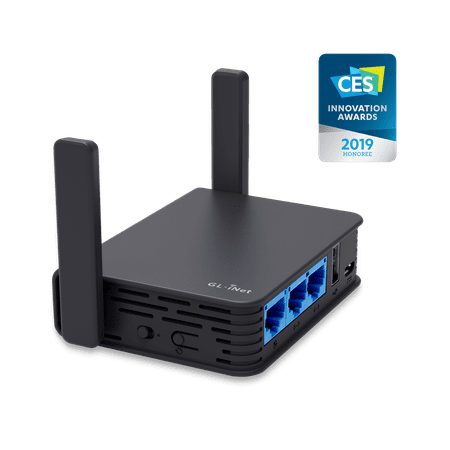 The GL-AR750S portable router from GL.iNet is surprisingly powerful, flexible, and very easy to use. You receive a basic dual-band Wi-Fi router with at least three Gigabit Ethernet ports right out of the box, allowing you to connect wired devices.
Moreover, the router has an integrated USB 2.0 connector and a microSD card slot for adding up to 128 GB of storage to use as a portable file server or connecting external storage devices.
Pros
It offers excellent VPN support
It has multiple connectivity options
It offers fast download speeds
Cons
Unreliable in a certain configuration
It can be complicated to set up
5. GL.iNet Mudi GL-E750 Portable 4G LTE Router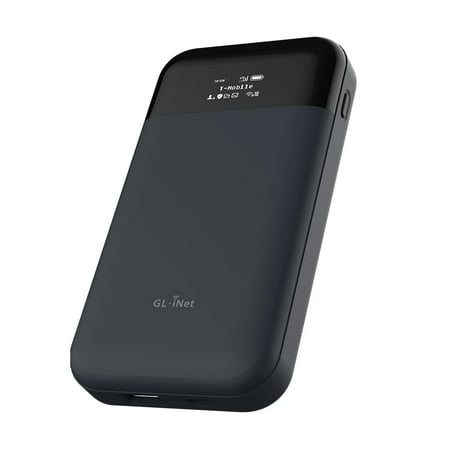 This router assures that you may always have safe and private access to the internet with WireGuard encryption. It also offers support for numerous Open Source VPN protocols and even Tor anonymous network routing.
It can also be used as a Wi-Fi access point, supporting dual-band 2.4 GHz and 5 GHz with a combined throughput of 733 Mbps.
It has a built-in battery that can operate for up to eight hours and USB and microSD card ports for syncing files with other devices.
Pros
It offers an excellent VPN support
Open sources
It works like a 4G LTE mobile hotspot
Cons
It can be a bit costly
It does not have an external antenna
Conclusion
Portable routers can be helpful when you need dependable internet connectivity outside your home with good speed and coverage. There are different types of portable routers available in the market. You can always choose your router based on your budget and your requirements.
See Also