Best Docking Stations for Chromebook
The below list of best docking stations for Chromebook can help you get an extended display for your multitasking efforts at home or office. Besides providing an extended display, you will further get an uninterrupted connection and seamless output during the process.
| Best docking stations for Chromebook | Item Dimensions | Total USB ports | Hardware Interface | Wattage | Check Price |
| --- | --- | --- | --- | --- | --- |
| Plugable Universal Laptop Docking Station | 7.87 x 3.54 x 1.18 inches | 11 | USB 3.0 Type C | 60 | Check Price |
| Totu docking station | 4.7 x 4.7 x 2.2 inches | 2 | USB, Ethernet, HDMI, 3.5mm Audio, Thunderbolt, USB 2.0 | 60 | Check Price |
| Omars docking station | 7.8 x 2.7 x 0.9 inches | 4 | USB | 70 | Check Price |
| Yxwin docking station | 2.48 x 4.46 x 0.59 inches | 3 | VGA, USB, Ethernet, HDMI, USB 3.0, USB 2.0, USB 1.1 | 100 | Check Price |
| Targus USB-C Hub for Laptop Docking Station, Universal Quad HD Docking Station (DOCK520USZ) | 1.69 x 3.46 x 8.15 inches | 4 | USB, Ethernet, USB 3.0, Thunderbolt | 15 | Check Price |
| StarTech.com USB-C & USB-A Dock - Hybrid Universal Triple Monitor Laptop Docking Station | 9.2 x 3.3 x 1.5 inches | 7 | USB 3.1 Type C | 85 | Check Price |
| Kensington SD4780P USB-C and Thunderbolt 3 Docking Station | 9.37 x 5.91 x 3.54 inches | 3 | USB | 100 | Check Price |
| HP USB-C Dock G4 - Docking Station | 7.8 x 2.7 x 0.9 inches | 4 | USB | 20 | Check Price |
| Cable Matters Triple Monitor USB C Dock | 9.84 x 3.19 x 1.3 inches | 5 | USB, Ethernet, HDMI, 3.5mm Audio, Thunderbolt, USB 3.0 | 60 | Check Price |
| HP 1MK33AA#ABA USB-C Universal Docking Station for Chromebook | 7.9 x 2.8 x 1.1 inches | 4 | USB | 77 | Check Price |
Recommended list of 10 best docking stations for Chromebook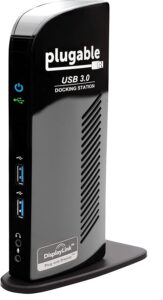 This Chromebook docking station can be used for flexible expandability with a single USB 3.0 connection from the host PC to the dock. It comes with dual video output. Overall, the wide gigabit Ethernet with 3.5 mm headphone and microphone jack provides a built-in HDMI and DVI port. It also supports up to 1920 * 1200 resolution.
This docking station for Chromebook is good for almost all multitasking activities, except gaming. Not supporting Displayport connections and HDCP may be its only downside. The year warranty offered by the manufacturer also includes limited parts and labor coverage.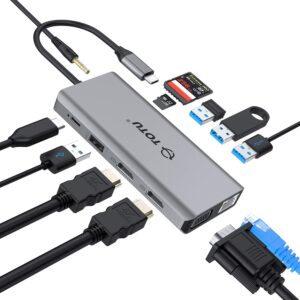 This is a 13 1 USB C Chromebook docking station that will be helping you save disk space while also expanding the device connectivity. You will get that triple display for Mac OS and Windows when you have this supportive unit with your HDMI compatible screen. It comes supportive of the resolution up to 4k.
You will get the HDMI ports with resolution displayed at 2560 x 1440. VGA port is supportive of the resolution 1920 X 1080. The 100W power display type of docking station is good enough for your multitasking efforts as it is well equipped with the newest generation super-smart chip.
This ensures the prevention of overload, overvoltage, short circuit, and other issues and further makes this device stand out. You will get super speed transmission with access to the internet instantly. When you have this unit, you will get the support of the USB 3.0 ports.
It is supportive of the transmission speed rates up to 5 Gbps. It also offers extensive compatibility with full support to the new Chrome OS.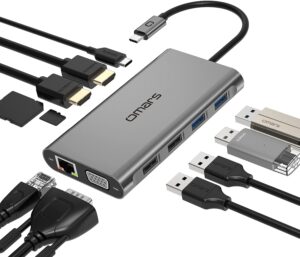 It is portable, powerful and brings along compatibility to multiple screens at the same time. You will get the maximum support of connectivity with this well built and advanced chip technology-based device. It comes with low power consumption interfaces.
The quicker heat dissipation with the higher data transfer efficiency gives a whole different concept of the USB C Dock. This Chromebook laptop docking station comes with HDMI and VGA port support that can start mirroring for expanding the Macbook Pro. It is supportive of the mirror and non-mirror mode.
Mirror mode support ensures that you will be getting the option for extending up to 3 external monitors simultaneously. This is a USB type C type of docking station with a high-speed charging facility that allows a charge to even the type-c devices.
The two USB 3.0 ports along with the 5gbps support make it stand out. You will get the certification and guarantee for protecting the accessories against the short circuit with the docking station.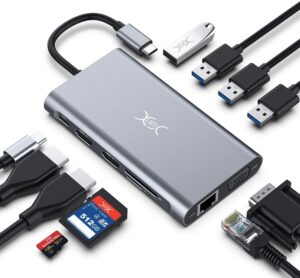 This USB C hub type of docking station is good and supportive of the displays' medium mode and extent mode. Compared to many other docking stations in the market, this is a lightweight model that comes efficiently and compatible with business travelers.
You will get USB C supportive HDMI port and VGA ports. It will give you the expansion of the 3 monitors. This Chromebook docking station can allow the setup to start working faster. The availability of the HDMI port for displaying 1 to 4k resolution ensures supporting most of the devices.
You will get advanced networking along with the power delivery charging with this 1000mbps gigabit Ethernet port. It has the capability of 100 MBPS or 10 MBPS plan support. The LED indicator is capable of providing the power display to indicate status. It is compatible with USB 2.0 and USB 1.1.2.

If you prefer quality over price, this docking station for Chromebook comes as just the right deal for you. The unit supports four HD (1920 x 1080 P60) displays or two 2K (2560 x 1440 P50) displays via 4 HDMI ports.
Besides, it comes as Thunderbolt 3 compatible so you can actually add on your favorite gadgets and devices without much fuss. Speaking of the ports, the unit brings along 1 USB-C 3. 0 port with power (15W non-pd) and 1 Gigabit Ethernet port.
Additionally, it sports a 1 3.5mm combo Audio in/out to facilitate uninterrupted connection for mics, speakers, and earphones.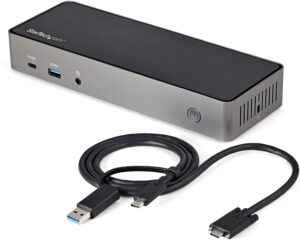 Startech. Com is quite famous for delivering high-end docking stations for Chromebooks that further comes big on features and performance. Speaking of this unit, you can easily facilitate a flexible display setup with its capability to support dual or triple monitor setup (up to 3x 4K 60Hz).
Besides, you can use other combinations as well like a 3x DisplayPort 1.4 & 3x HDMI 2.0 w/ HDR ports. Discussing the availability of ports, the unit brings upon a 4x USB-A (1x 10Gbps), 2x USB-C (1x 10Gbps), including 2x BC 1.2 fast charge always-on front ports.
You must note that while using this dock, the USB-C Gen 1 & USB-A laptops will only be supporting downstream port speeds up to USB 5Gbps. Still, given its support and compatibility with a range of devices and accessories, the unit comes as a sure shot winner.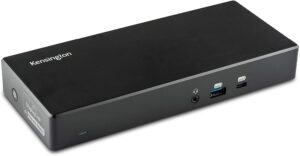 Are you looking for a USB-C docking station with dual 4K display support for your Chromebooks? If yes, then this one is the name to go for. The docking station works with USB-C, USB-A, and Thunderbolt 3 laptops (at USB-C speeds) so you never need to compromise on its speed and performance.
The Unit also sports Two USB Gen-2 fast charging ports (one USB-A 5V 2.4A and one USB-C 5V 3A), four USB A 3.1 ports 5V .9A. Besides, you will find a 3.5mm headphone/speaker/microphone combo jack to support seamless connectivity.
What else, the makers have included a 1M USB-C cable that will help you to connect your favorite Chromebook without any issues.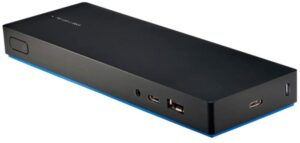 There are some users that prefer to go for trusted brands, regardless of price. If you belong to the list, this amazing docking station for Chromebook from HP is worth going for. Apart from providing you with seamless connectivity and performance, this unit helps you to charge your device(5V to 20V) in no time.
You will simply fall in love with its advanced network manageability with PXE Boot, wake on LAN, and Mac address pass-through support, even when the device is on the sleep, hibernate or off mode. It's a driver-free dock that comes without an internal Flash memory.
Moreover, the provided lock slot allows you to lock down your unit with the available choice of locks. If you need more reasons to vouch for this docking station, the makers are offering a one-year limited warranty.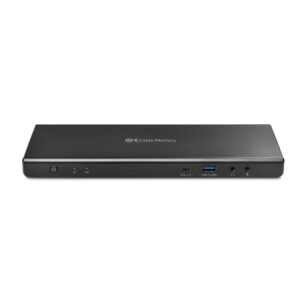 This Triple 4K display USB-C docking station allows you to extend your workspace to up to three 4K displays. Besides, it will offer you multiple USB ports, audio ports, and Gigabit Ethernet to facilitate connection with your favorite devices and accessories.
Moreover, its inbuilt USBC hub expands the capability of a single USB-C port for video, audio, data, Internet, and charging. Connect up to 3 displays to the USB Type C dock while charging them at the same time.
Speaking of its resolution support on the USB C hub adapter, you can include two 4K @60Hz displays and one 4K @30Hz display, or one 5K @60Hz display and one 4K @30Hz display. The users have the Flexible port selection on the USB type c hub that further sports options between two DisplayPort or two HDMI displays, or one of each.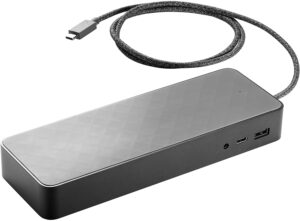 Here we have another highly performing docking station from the house of HP on our list. Just like its previous counterpart; this unit also brings forward some high-end specifications and features to enhance your multitasking efforts.
Its Universal compatibility will help you to connect a range of gadgets and devices, and not just your Chromebook. Besides, enterprise-class network manageability will help you to streamline its performance in the right manner possible.
Weighing just 0.77 pounds, the docking station comes with a one-year limited warranty from the manufacturer's end.
Bottom-line for list of best docking stations for Chromebook
Using these best docking stations for Chromebook can help transition a laptop from a single device to a complete desk setup. Whether you are at your home or workplace, a firsthand experience of these devices will make you fall in love with them.
How to connect 2 monitors to Chromebook