Teckin Smart Plug Setup – Overview
If you're a smart home enthusiast, you likely realize the value of smart plugs.
They are the ultimate devices for turning non-smart devices into smart ones, allowing you to enjoy unregulated access and control over virtually any home appliance.
One of the most flexible smart plugs out there is the Teckin Smart Plug. In this Teckin Smart Plug review, we're going to find out everything about setting up this useful device.
Teckin Smart Plugs come in three primary designs, the most common ones being square and round.
These plugs differ in both looks and features; the square plugs are rated at 16 amps with a confirmed max load power of 2200W.
On the other hand, round plugs have a 10 amp rating and a declared maximum load power of 2300W.
Finally, the 3rd design is the Teckin Mini, also called the Teckin Smart Plug Mini Wi-Fi; it has a sleek design that allows you to stack two plugs on one power outlet.
Linking a Teckin Smart Plug to a compatible app over the internet is an easy process.
However, sometimes you might run into issues if you're not conversant with the setup process.
In this review, we will look at the connection process and some of the things the plug can do.
Do You Need a Hub to Set Up the Teckin Smart Plug?
Apart from its compact size, another impressive feature of the Teckin smart Plug is that it doesn't need a bridge or hub.
Lots of other smart devices require you to invest in other components to connect them to the internet.
Being hub-free gives the Teckin smart plug direct control and doesn't require anything else. It easily connects to your Wi-Fi and gets control of devices linked to it.
All you need to do is download the Smart Life app for Android or iOS to get it up and running. Let's look at how you do this in the setup section of our review.
The Setup Process
1. When you unbox the plug, you will see a manual with a QR code written on it for you to scan and install the app. Otherwise, you can head to Google Play or iOS on your smartphone, search for Smartlife App by Tuya Inc., and download it manually.
2. Next, connect the Teckin smart plug to a power outlet and connect a lamp to the plug.
3. Open the Smartlife App and push the plus (+) button in the top right corner.
5. Next, click on 'Electrical Outlet.'
6. Then unplug the Teckin Smart plug from the power outlet, plug it back and hold the power button for a couple of seconds to reset it.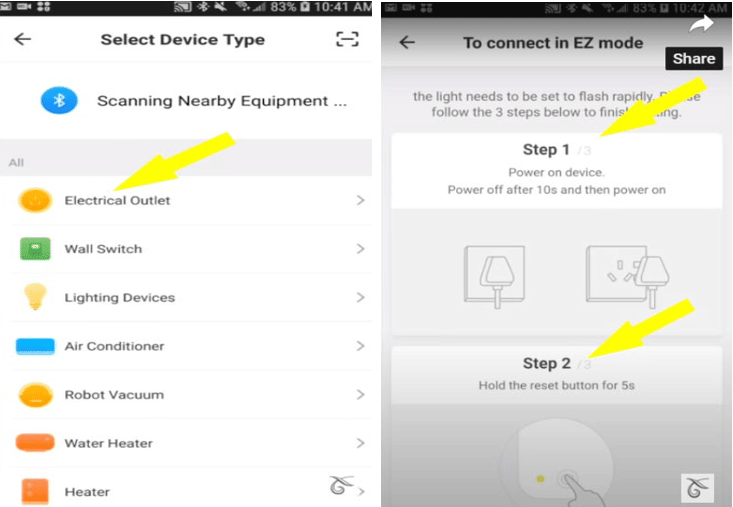 7. To ascertain that the reset was successful, the button will blink rapidly. Click on 'Confirm Indicator Rapidly Blink.'
8. Now, the app will ask for your Wi-Fi password to connect to your home network.
8. Enter your password, click on 'Confirm' and give it a couple of seconds to connect.
9. Finally, click on 'Done' to complete the setup process.
What can you do with A Teckin Smart Plug Once You've Set It Up?
Control It Remotely
This is an impressive feature of the Teckin Smart Plug because it allows you to access it when you're at home or when you're far away.
Think about how convenient this is; it can allow you to turn on lamps connected to the plug remotely as a security measure when you're not at home.
Create Scenes
To create scenes, head to the app and click on the smart tab to create scenes for controlling multiple devices simultaneously.
You'll be grouping your appliances.
For instance, you can create a scene and name it 'Evening,' which will automatically have the lamp and heater switch on when evening comes.
Monitor Energy Usage
When using the Teckin Smart Plug, you can check the app to see how much energy is being consumed by appliances connected to it.
However, this feature is only available on Teckin square plugs, and when you visit the statistics page, you can see your energy usage.
What's more, you can also check the history of your energy usage. This is especially useful for keeping track of the amount of energy used by specific appliances.
Set Timers
You can set a timer on your Teckin Smart Plug using the countdown timer feature. To access this feature, head to the Smart Life app and set a timer.
This will automatically turn off connected appliances when the timer runs out.
Final Thought
To sum it all up, the Teckin Smart Plug is a handy device to have in your home, and the setup process is relatively straightforward, as illustrated above.
All you need to do is make sure you follow all steps carefully, and your plug should be up and running in no time.
See Also
How to Connect Smart Switch to Wifi
How to Connect Smart Plug to Alexa