Kasa Smart Plug Setup
The Kasa smart plug is a fairly common option for those looking to turn fans and lamps from their smartphones, especially since it's often on sale. Here's how you can set it up.
If you've looked for a smart plug-in in the recent past and just wanted the most affordable option from a trustworthy brand, it's likely the Kasa Smart Plug is what you want.
You can get one for around $20 when it's on sale on Amazon, but how do you set it up? No need to panic. We'll cover that as well as what you can do with it once you set it up.
Set-Up Process
Start by downloading the Kasa app for your Android or iOS smartphone. This is the official companion application for Kasa smart home devices.
After installing the app, open it and click on 'Create Account' in the bottom left corner.
Enter your email address, create a password and click on 'Create Account.'
You'll need to confirm your email address to continue. Open your email inbox and pick the email you received and then click the confirmation link it contains. Once it's done, you can return to the Kasa app and then click the 'Continue' button.
Next, you can pick whether or not you want to allow the app to get your location. This will enable you to set a timetable for the smart plug based on sunrise and sunset. But, of course, if you don't need to do that, then there's no reason to share your location.
You'll then be taken to the app's main screen. To set up your Kasa smart plug, click on the plus (+) button in the upper right corner of the screen.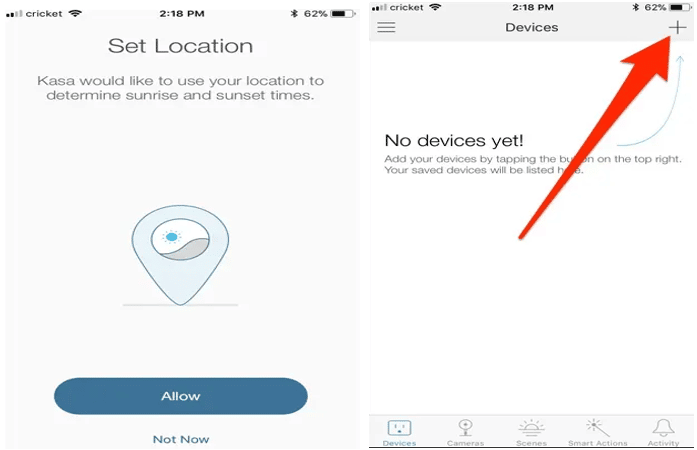 Scroll through the list and pick the device you're setting up.
Next, plug the Kasa smart plug into a power outlet and allow for it to boot up; it should take a couple of seconds. The Wi-Fi logo illuminates and then flashes orange and green. When you see this, click on the 'Press' button in the app twice.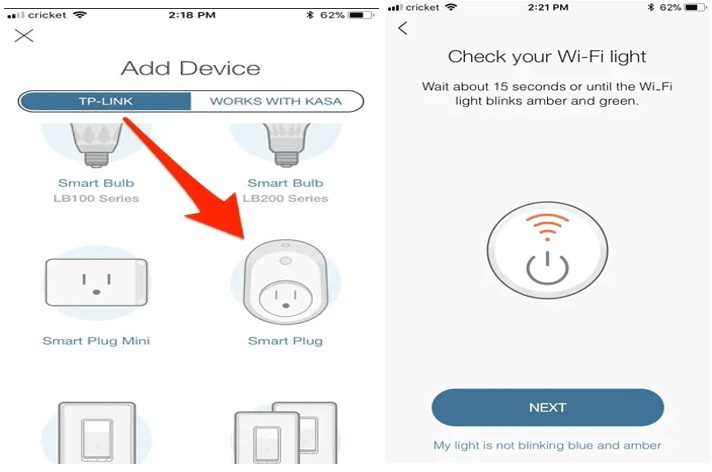 You need to access the Wi-Fi settings on your phone and connect your phone to the Wi-Fi beamed by the smart plug. Once that's done, you can head back to the app.
Next, name the smart plug and then click on 'Next.'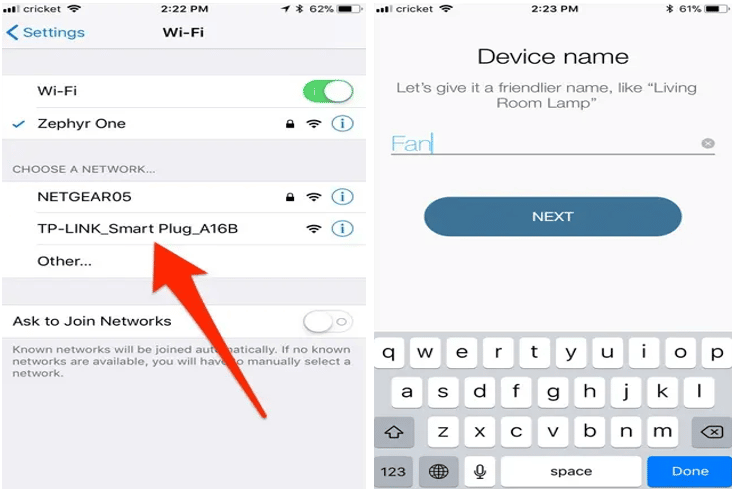 Select an icon to identify the app; this really isn't a crucial step, but it's kinda fun. You can even pick a photo from your camera roll. Pick an icon and click on the 'Next button.
Next, the smart plug should join your home Wi-Fi network. Enter your password and then press the 'Next button. If you want to use a different network than the one the smart plug pulls up first, click on 'I'd like to use a different network.'
Next, click on 'Update Now.'
When the update is done, click on 'Done.'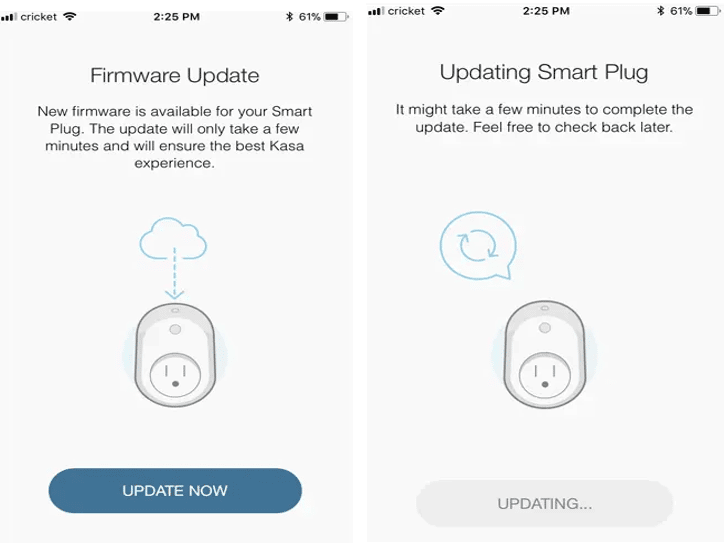 Click on 'Done' once again.
The smart plug will appear on the app's main screen, and you can click on the power button on the app to switch it on and off.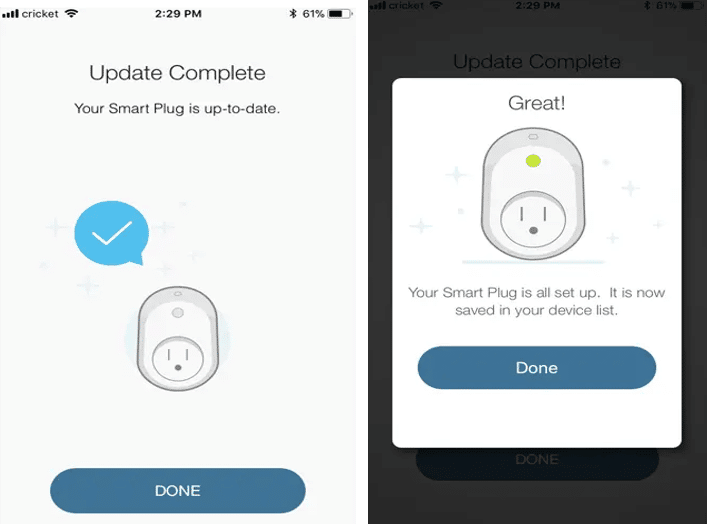 Clicking on the smart plug opens more info about its usage
Click on the 'Total Runtime' brings up more info about how long the smart plug has been on, along with 7-day and 30-day averages and total.
What Features Do You Get When You Link The Smart Plug With The Kasa App?
One of the top features of the Kasa Smart Plug is its companion Kasa Smart which has a clean and clear overview of the connected devices in your home.
TP-Link has scheduled the Kasa Smart Plug, so you can have the plug come alive at certain times of the day. If you have other Kasa devices in your home, you can build scenes here too.
There are three scenes in the app, Good Morning, Good Night, and Movie Night.
Some Kasa smart plugs allow you to see the energy you're consuming, which is handy, especially if you have many appliances and tech running in your home.
The Kasa Mini doesn't give you such breakdowns; you get 30-day and 7-day averages so that you can pinpoint any dramatic shifts in energy usage over time.
Final Thought
To sum it all up, the Kasa Smart Plug can dramatically improve your life, but you can run into issues if you don't set it up the right way.
So ensure you follow all steps carefully, and your Kasa smart plug will be up and running in no time.
See Also
How to Connect Smart Switch to Wifi
How to Connect Smart Plug to Alexa