Recording a Phone Call on Android
There may be times when you'd like to record a phone call, such as when you're on an important work call with a colleague. Recording calls makes it easier to recall all the details later. Android phones don't have the native ability to record phone calls, but a couple of apps on Google Play can do the job. Note that not all of them will deliver impressive results.
It's crucial to note that both U.S. federal and state governments have guidelines in place that prohibit recording calls. So always ensure that you have consent before recording. Once you have consent from the other person to record the call, then you can follow our guide and learn how to do this and see which applications are worth your time.
There are many apps on Google Play that allow you to record calls. However, most of them won't work on devices running Android 9 or higher; you can download and install these applications, but the recordings will be silent.
The apps that work best don't record the call on your phone. Instead, they create a three-way link; the app, the person you're calling, and you. When you hang up, the call is saved by the app, and you can download it on your phone.
Recording Phone Calls on Android Using Google Voice
Most Android devices have the Google Voice app as standard, making it simple to record calls using a Google Voice Account. What's more, the Voice app allows you to record calls for free. Well, at least some calls because the Voice app only allows you to record incoming calls.
If you don't have an account, head to the Google Voice web page and follow the instructions. Once you've set up an account, you just need to enable recording, which is easy. To record calls using the Voice App follow these steps:
Open the Google Voice web page on any browser.
Next, click on the 'Settings' icon in the top-right corner of your screen.
Then click on 'Calls' on the menu that's on the left side of your screen.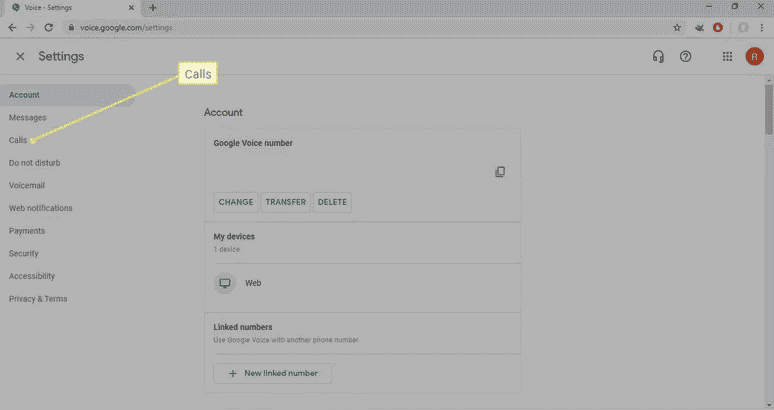 Scroll down and toggle the switch next to 'Incoming Call Options.'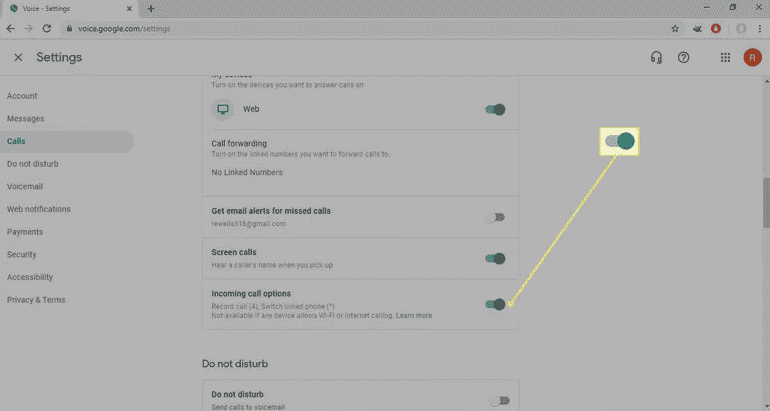 Now when someone calls your number, press 4 to send a notice that will alert everyone on the line that you're recording the call. To stop the recording hang up or press 4 again.
The Google Voice App stores captured calls online. Therefore if you'd like to listen to recorded calls, go to 'Incoming Calls' on the app or webpage.
Recording Calls with a 3rd Party App on Android
Numerous apps in Google play are designed to help you record calls; however, some of them work better than the rest. We've reviewed a couple of them to see how they function, but there is something to keep in mind before we look at our recommendations.
Most of these applications depend on your phone's microphone to record incoming and outgoing calls, which means calls not recorded on the speakerphone will be a bit quiet.
ACR – Call Recorder
ACR is a reliable call recording app that's on Google Play. This app has a free and premium version; the latter costs 4 dollars because it doesn't have those annoying ads.
ACR is pretty much straightforward, and the interface looks nice. It automatically records and saves phone calls based on the number and lists them in an organized way. What's more, the formats of the recordings can range from M4A, MP3, and WAV.
ACR also deletes old recordings automatically, but if you don't want that, you can mark specific recordings as important. Best of all, if you don't want to record phone calls from a certain number, you can exclude them from the recording list.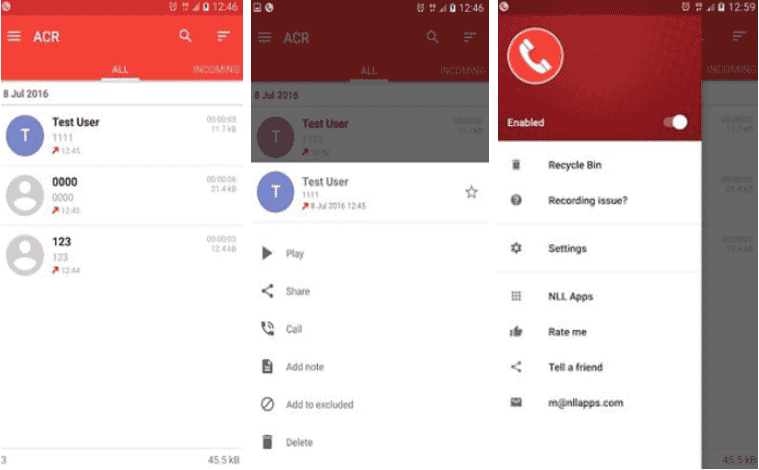 Automatic Call Recorder Pro
Automatic Call Recorder Pro is perhaps the best call recording app on Google Play because of how intuitive its user interface is. Fortunately, this app isn't all about looks; it also functions impressively. This app comprises a host of customizable settings that allow you to adjust the quality of audio as well as configuring the app to record everything automatically.
Another cool feature of this app is 'shake to record,' which does exactly what you're thinking. So if you want to capture a call, you simply shake your phone. In addition, you can save recordings to various cloud platforms such as Dropbox and Google Drive.
Note: Apart from applications you can record calls on Android using physical Bluetooth recorders such as the RecorderGear. Your Android smartphone will send phone calls to the recorder and as you converse it will record everything.
Final Thought
At the end of the day, look for a method of recording calls on Android that coincides with the level of quality you are seeking from recordings. In addition, you should look for a method that coincides with the amount of money you're willing to spend.
Samsung Smart Switch for Windows 10
Can You Use Airpods on Android
How to Connect Airpods to Windows 10