How to Connect AirPods to Windows 10? – Getting Started
AirPods are designed to connect seamlessly to iPhones and other Apple devices. However, you can also connect them to a Windows PC. Windows 10 has added enhanced support for AirPods, and Windows 11 will likely continue the same trend.
Windows has supported AirPods connectivity for a while now, but this change to enhanced support means that audio quality should improve. Windows 10 is currently using AAC (Advanced Audio Codec) over Bluetooth, the same standard used by AirPods.
This means that the AirPods will sound even better when connected to a Windows PC. You see, AAC can offer high-quality audio using smaller small file sizes. This is an excellent option for all music streaming fans who have Windows PCs.
So, if you have a Windows PC and a pair of AirPods, knowing how to connect these earbuds to Windows will come in handy soon. Here is our step-by-step manual on how to connect AirPods to a Windows 10 PC.
The Process of Connecting Airpods to Windows 10 Is as Follows:
1. Ensure the AirPods are inside the charging case and then close the case. The AirPods should have at least a 20% charge for this connection to work seamlessly.
2. Next, wait for a few seconds and open the charging case. Keep the case open until you're done connecting your AirPods to your PC.
3. Press and hold the button on the back of the charging case until the LED light starts flashing. In older AirPods, the LED is inside the case; for newer AirPods, it's at the front.
4. Next, open the Windows start menu. The button is at the bottom-left corner of your screen.
5. Then, click on settings. The settings icon is shaped like a gear.
6. On the settings home screen, click on 'Devices.' If you can't see this option, try expanding the window by clicking the box on the top-right corner of your screen.
7. Next, click on 'Bluetooth & Other Devices.'
8. Then click on 'Add Bluetooth or Other Devices.' This option is next to the plus sign at the top of the window. Ensure the slider under Bluetooth is on; otherwise, you won't be able to connect AirPods to your PC.
9. Next, select Bluetooth. A list of open devices will appear on your screen.
10. Click on your AirPods from the list. Allow the AirPods to pair with Windows, and afterward, you should see a text informing you that the connection was successful.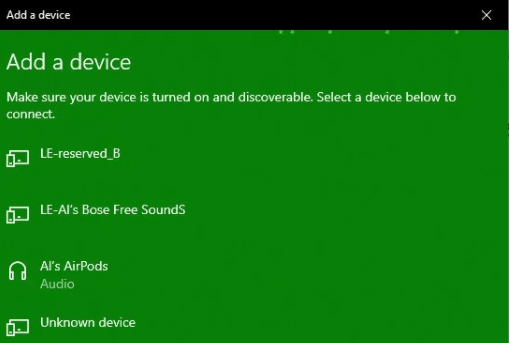 11. Finally, click 'Done' to exit the setup. Now, you can remove your AirPods from the charging case and use them to listen to music on your Windows PC.
Why Can't I Hear Sound from Airpods After Connecting to Windows 10?
Once you've connected your AirPods to Windows, the audio output should be automatically switched to AirPods. But this isn't always the case and if you find that your PC speakers are playing audio, here is a quick fix.
1. Right-click on the speaker icon in the taskbar in the bottom-right corner of your screen.
2. Next, click on 'Open Sound Settings.'
3. In the settings menu, click on the dropdown under output.
4. Finally, select your AirPods from the list.
If the audio output still doesn't switch, try closing and then reopening your audio source. Unfortunately, some apps on Windows won't update the audio output until you reboot them. Sure, it's an inconvenience, but at least there is a quick fix.
My Airpods Keep On Disconnecting from Windows 10. What's the Issue?
Bluetooth connectivity is very convenient, but it has its flaws, and this means that your AirPods might disconnect from time to time.
To reconnect your AirPods to Windows, put them back into the charging case, close it and wait for a couple of seconds. When you take them out, they should reconnect to your PC automatically. If that doesn't help, you might need to reconnect via the settings menu.
If you find that your AirPods keep on disconnecting regularly, it might be because of the devices you've connected to your PC. If you've connected several active devices, such as a keyboard, mouse, and AirPods, it's likely that the Bluetooth component is overwhelmed and can't offer a stable connection to many devices simultaneously.
Note: If you run into challenges when attempting to connect AirPods to Windows 10, hold down the pairing button on the back side of the AirPods charging case prior to selecting the AirPods on the list of available Bluetooth devices on your PC.
Final Thought
Now that you know how to link AirPods to Windows 10, reconnecting them won't be as hard as the initial connection. You'll need to ensure that Bluetooth is active on your PC and that no devices are connected; then, open your AirPods case, and they will connect automatically.
See Also
How to Pair AirPods to MacBook
How to Connect AirPods to Chromebook
How to Set Up Google Home Mini