How to Update MacBook Pro – Before You Start
In a couple of ways, MacBooks are built for handiness; they have backlit keyboards, a wide variety of shortcuts to speed up your workflow, and an assortment of ways to take and save screenshots.
However, like all devices, they also need to be updated from time to time. And although updates can be aggravating and time-intensive, they are also incredibly important.
Outdated MacBooks are more vulnerable to bugs, crashes, and even viruses. What's more, if you leave updates pending for too long, your applications might stop functioning altogether.
Apple released macOS Monterey in October this year; this is the latest version of this famous OS. So if you have a MacBook, now might be a good time to update it. That said, let's look at how to update a Mac and measures to take if it won't download and install updates.
Before Updating Your MacBook Pro
Prior to updating your MacBook Pro, you should back up the files inside in case it crashes. You also need to confirm that the macOS version you want to download and install on your MacBook Pro is compatible with it.
You can view the list of compatible devices for each macOS version on Apple's support page. Once you're done backing up your MacBook, disconnect any HDDs or peripherals.
The Update Process
There are two main ways to update a MacBook, and the method you use will depend on the macOS version your MacBook is currently running.
Also, note that depending on how massive the macOS version is, how fast your internet is and how fast your MacBook is, updates can take anywhere between a couple of minutes to several hours to download and install
How to Update a MacBook Pro Running macOS Mojave or Later
Click on the Apple logo in the upper-left corner of your screen.
Next, click on 'System Preferences.' If a macOS update is available, you will see a notification in the drop-down menu that appears on your screen.
Click on 'Software Update.' This is the option with a gear icon. If a macOS update is available, you'll see a red badge in the top-right corner of the gear icon.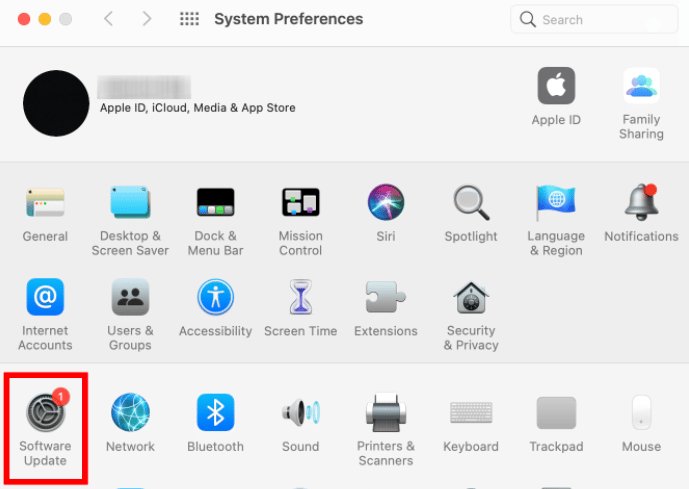 Allow your MacBook to check for available updates; it might take a while for the progress wheel to stop turning as your MacBook searches for updates.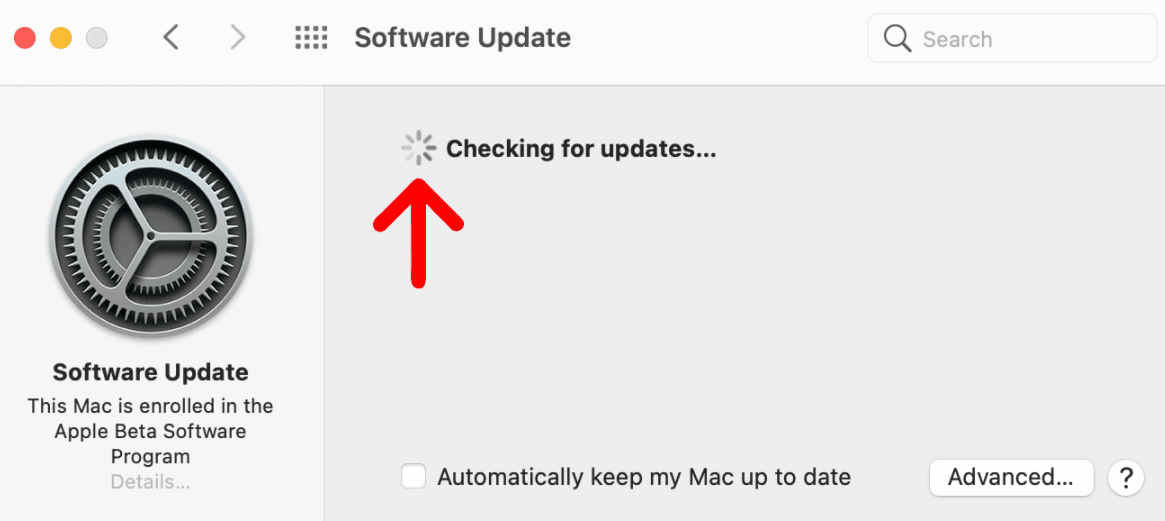 Next, click on 'Update Now.' You will see a countdown clock with the projected time it will take to download the update. However, this countdown clock is usually not very accurate, and it could take a long time, depending on your internet speed.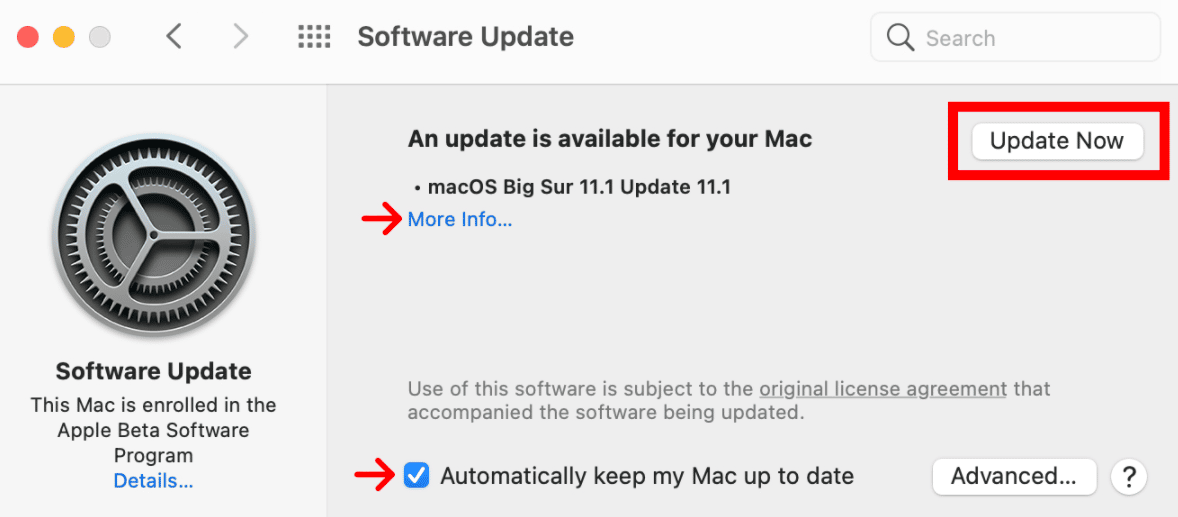 Finally, click on 'Restart Now.'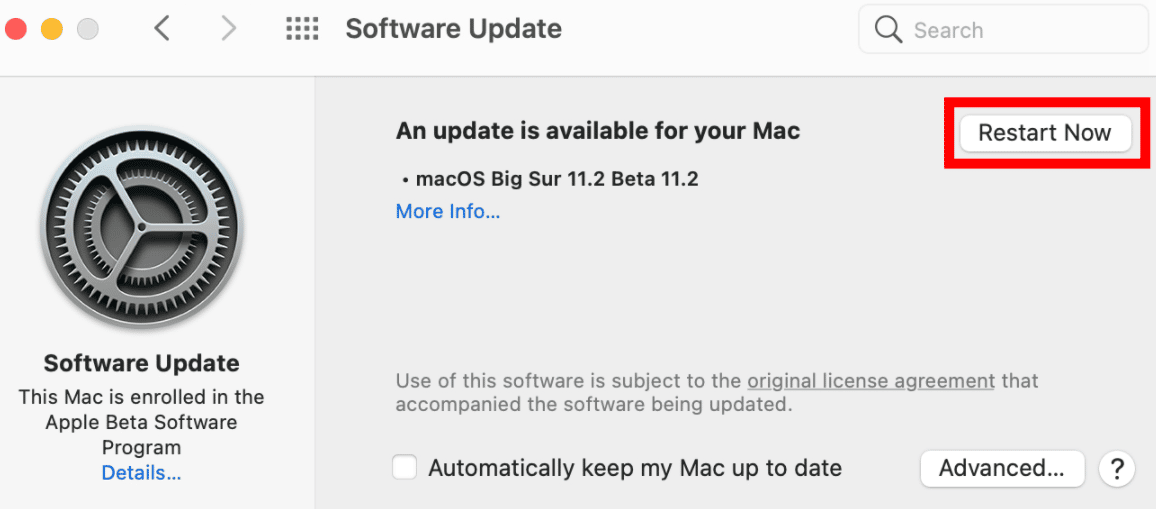 How to Update a MacBook Running macOS High Sierra or Earlier
Apple released macOS High Sierra in the last quarter of 2017. So if you haven't updated your MacBook since then, be sure to update it as soon as possible to keep your MacBook safe.
Click on the Apple logo in the upper-left corner of your screen.
Next, click on 'App Store.'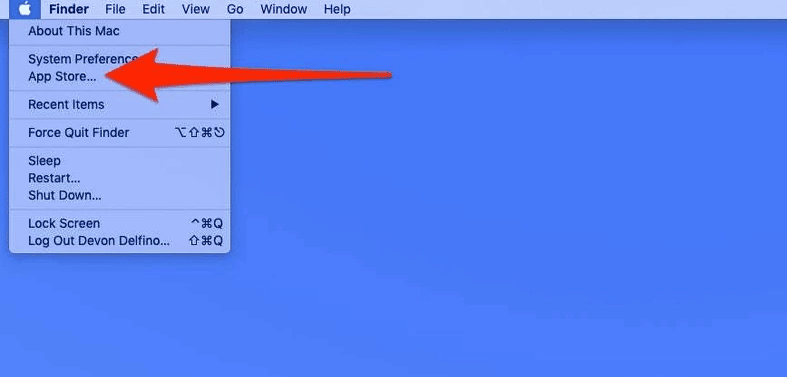 Click on 'Updates' in the left sidebar of the App Store.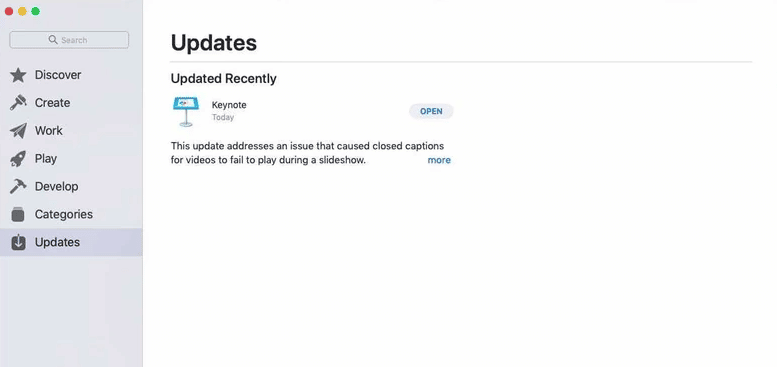 Note that any MacBook released in 2012 or later should be able to update to macOS Catalina. However, if your MacBook is so old that it can do that, it might be time to get a new one.
What to Do If Your MacBook Pro Won't Update
Check the RAM
To check the amount of ram you have on your MacBook
Click on the Apple logo in the upper-left corner of your screen.
Next, click on 'About This Mac.'
In the 'Overview; tab, you'll see the 'RAM' capacity next to 'Memory.'
Check the Available Storage Space
To see the available storage space on your MacBook:
Click on the Apple logo in the upper-left corner of your screen.
Next, click on 'About This Mac.'
Click on the 'Storage' tab at the top of the window. This will show you the amount of storage space available on your MacBook Pro just above the bar graph.
For instance, to install macOS Big Sur, you need to have at least 36GB of available storage space. If you don't have adequate storage space on your Mac, click on the 'Manage' button to find applications and files you can delete.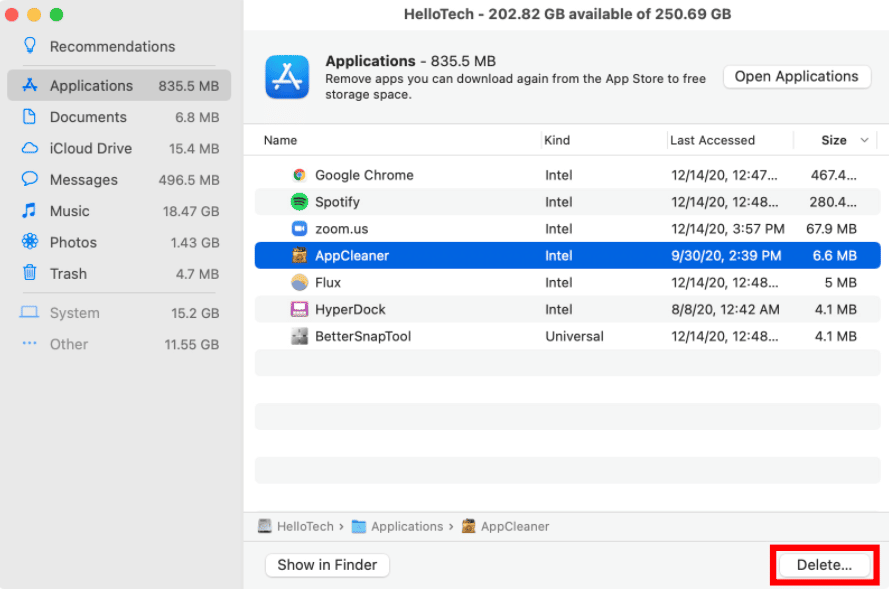 Note: Even after these troubleshooting steps, your MacBook Pro might still not install updates. But you can try repairing your storage drive with 'Disk Utility,' and if all else fails, you need to reinstall the operating system using 'Recovery Mode.'
Final Thought
In the future, your MacBook Pro might prompt you to accept updates, after which your Mac will start. However, you will be notified beforehand if a reboot is required. If all else fails, you can reinstall macOS via recovery mode and try downloading updates once again.
Which is Better MacBook Pro or Air
How to Copy Paste on MacBook Air