How to Connect HomePod to WiFi? – Before You Start
The HomePod is Apple's response to Amazon's Echo speaker range. It's a dedicated speaker that works with Siri to provide you access to Apple Music and HomeKit smart home devices.
To be more specific, the HomePod is a premium sound system integrated into a 7-inch tall framework. It boasts a custom audio design that produces high-quality sound across the whole room, even if it's been placed in a corner.
If you set up your HomePod Mini with an iPad, iPhone, or iPod touch connected to your WiFi network, the relevant settings will be sent to the HomePod Mini immediately.
When that happens, your HomePod will automatically connect to your WiFi network. Ensure you link your iPhone to the correct WiFi network before proceeding. Let's look at how to set up a HomePod and connect it to WiFi.
The Setup Process
Connect your HomePod to a power outlet. Wait for a chime and a swirling white light on the top of your HomePod to appear.
Next, place your unlocked iPad, iPhone or iPod next to the HomePod. Make sure your iOS device is Bluetooth-enabled and that you have a stable WiFi connection.
When 'Set Up' appears on your device's screen, tap it.
Keep in mind that if the 'Set Up' page does not appear on your screen, you might have to set up your HomePod manually.
Next, pick the room where the HomePod is situated and click 'Continue.'
Click 'Enable Personal Requests' if you want Siri to access your texts, reminders, and notes anytime your iOS device is linked to the same WiFi, or click 'Not Now' if you don't want Siri to have access for privacy concerns. You can change this option later on.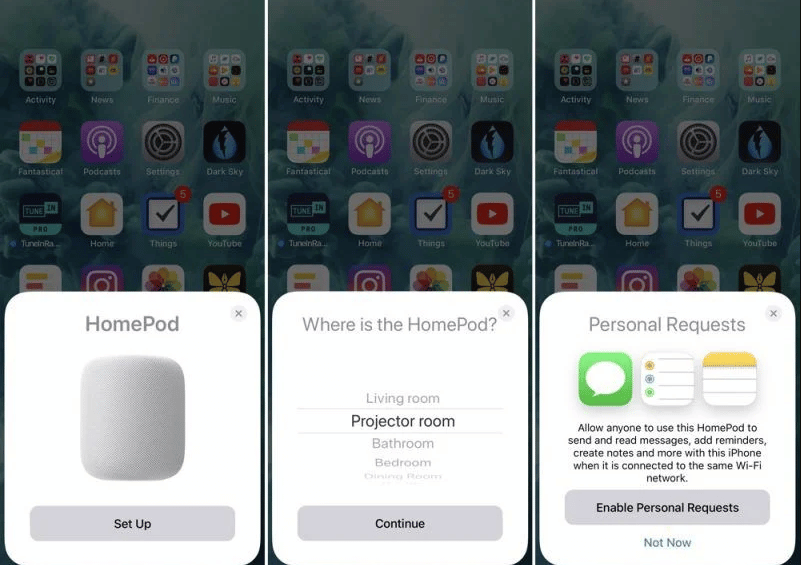 If you clicked 'Enable Personal Requests' in the previous step, a prompt will appear asking if you want to "Use This Device" while sharing your location. You can either click 'Agree' or click 'Don't Enable' to switch off the Personal Requests feature.
On the 'Siri on HomePod' card, click 'Continue' to proceed.
Click 'Agree' to accept Apple's terms and conditions.
Next, click 'Transfer Settings' to utilize WiFi, iCloud, and any other settings on your device to set up your HomePod. Later on, you can modify them in the Apple Home app.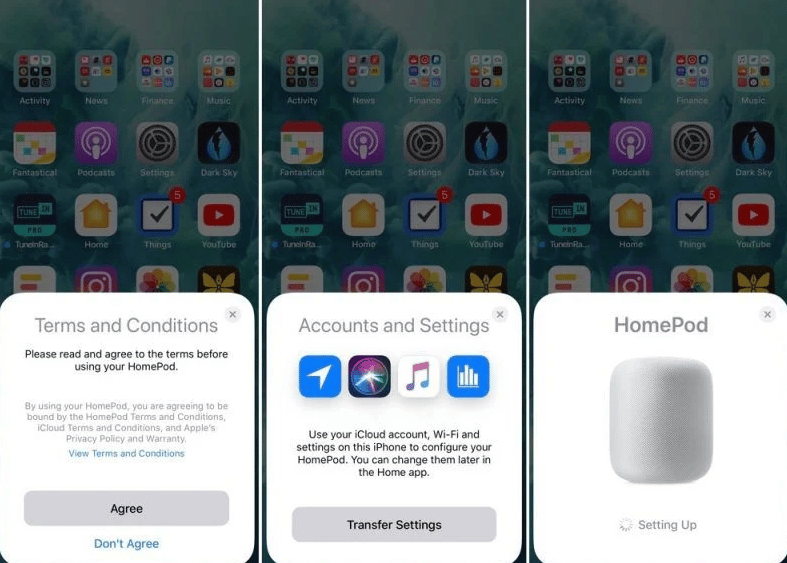 Then, in the round frame on your display, center the top of your HomePod. A circle will appear on your smartphone's screen; position the top of your HomePod in the center of the circle until you hear a chime.
Note if you can't use the camera, click 'Manually Enter Passcode.' Siri will voice a four-digit code, which you may enter using the keypad.
As your HomePod is being configured, you'll need to be patient because this process might take a couple of minutes.
Once you've completed the configuration, click 'Done.' You will know your HomePod is connected to WiFi when Siri greets you. Once Siri speaks, you can reply by speaking without using your iPad or iPhone.
How to Change WiFi on HomePod
To change the WiFi network used by HomePod, you'll need to use the in-built Home app on your iPad or iPhone. So how does this work?
Launch the Home app on your iPad or iPhone.

Next, when you locate your device in the 'Homes' or 'Rooms' section, you'll see an exclamation mark next to it, indicating there is a problem with the WiFi network configuration. You'll need to long-press on your HomePod to access settings.
Now at the top, you'll find a full explanation of why you're having problems with your WiFi network. Scroll down the menu to see more options.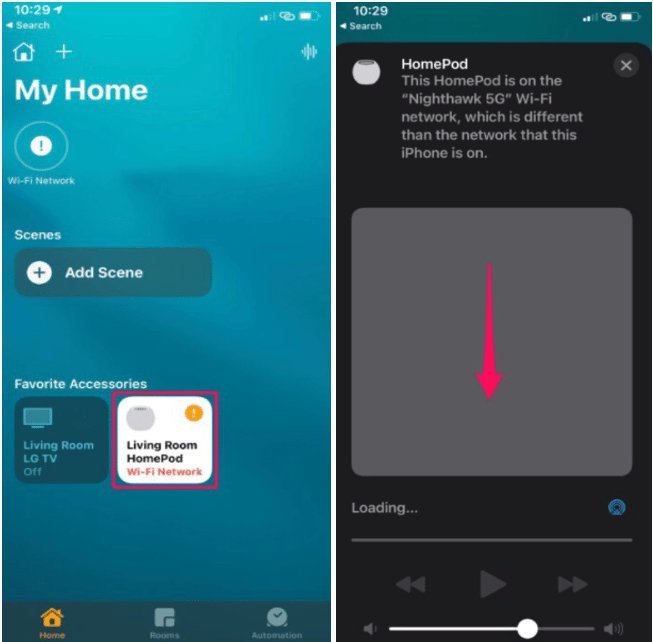 Your iPhone will now display a text indicating that it is linked to a different WiFi network. A yellow text hyperlink will appear below this notice, allowing you to change your HomePod's network. The name of the WiFi to which your iPhone is now connected will be displayed. Click on 'Move the HomePod to' from the drop-down menu.
Wait for a couple of seconds for the HomePod to update its network settings. Everything in the music playback area will load correctly after it is done.
That's it; you've successfully changed your HomePod's WiFi network.
Note: If you experience problems when connecting HomePod to WiFi, maybe your speaker and iPhone are on different networks so ensure they are on the same WiFi network. If you still can't connect your HomePod to WiFi, you need to reset it.
Final Thought
To sum it all up is relatively easy to connect the HomePod to WiFi. Within a couple of minutes, you'll be issuing commands using Siri and enjoying music playback. In addition, you'll really be impressed by the quality of the surround sound from this relatively small smart speaker.
Best Google Assistant Speakers