How to Connect Chromecast to WiFi?
Chromecast is one of Google's most renowned smart devices. It gives you a seamless way to stream media from the device to any screen or TV with an HDMI cable.
Chromecast receives data over WiFi from the connected smartphone or PC to stream content from media applications and display photos and video.
If you're streaming a YouTube clip on your PC or phone and want to show it to your family. You can do so by pressing the cast button, and the clip will play on your TV via the Chromecast.
Note that your Chromecast and smartphone should be connected to the same WiFi.
You can also stream specific compatible services directly to the Chromecast device without them appearing on your TV screen.
So how do you connect a Chromecast device to WiFi? Read on to see the step-by-step configuration process.
The Setup Process
Start by launching the Google Home app on your phone. If you don't have the app download it on the Play Store for Android and the App Store for iPhone.
Next, click on the plus (+) sign in the upper-left corner of your device's screen.
Then click on 'Set up device.'
Next, click on 'Set up new devices.'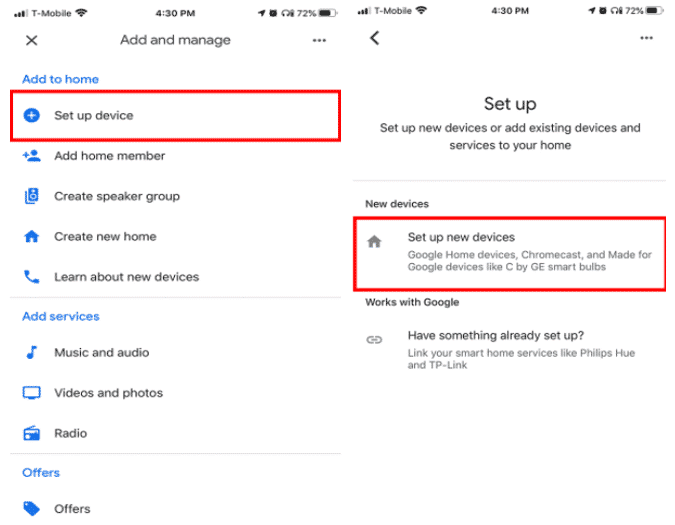 Now pick or create a 'home' and click 'Next.'
Wait for the app to find your Chromecast and click 'Next.'
Next, the app will connect to your Chromecast.
Then click 'Yes' if you can see a code on your TV or 'No' if you can't.
Follow the subsequent instructions until you see a page on your screen indicating 'Connect to WiFi.' Here is where you'll decide the WiFi network you want to connect your Chromecast to. When prompted, enter the network's password.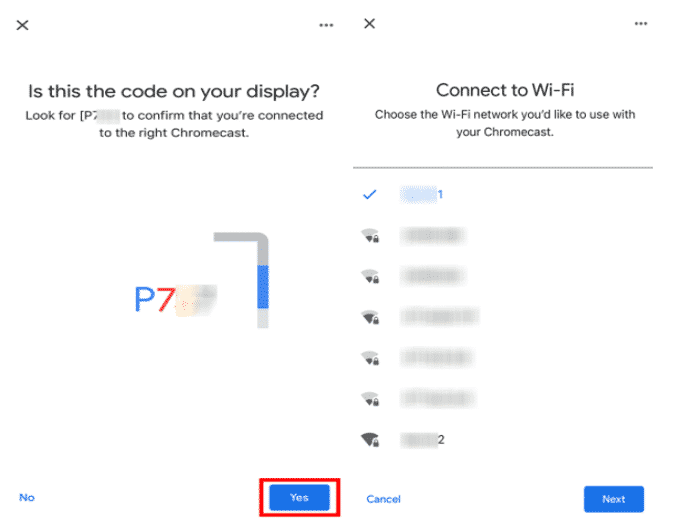 Your device will take some time to connect to your WiFi.
Next, you should see a screen that says 'Linking your Chromecast.'
Click 'Continue' or click the 'X' sign in the upper left corner to start using the device.
How to Connect Chromecast to Another WiFi Network
To connect your Chromecast to another WiFi network, you'll use the Google Home App. Before you start, ensure your smartphone is connected to the same WiFi network as your Chromecast; otherwise, you'll need to reset the Chromecast to connect to another network manually.
Start by switching on your TV and connecting to the Chromecast. You can tell if the device is switched on if you see the light on the side.
Launch the Google Home app.
Choose your device from the list of devices on the home screen. The device will have the name you gave it during setup. It could be something like 'Living Room.'
Next, tap the gear icon in the upper-right corner of your screen.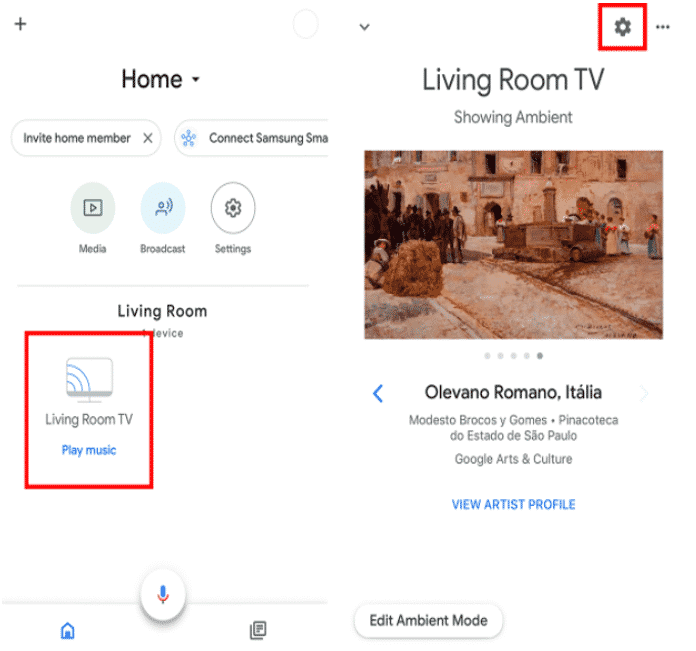 Then click on 'WiFi.'
Next, click on 'Forget this Network.'
Once you've disconnected the previous WiFi network, you can connect to another network by setting up your Chromecast. How, you might ask? It's simple; just refer to the Chromecast WiFi setup process illustrated above.
Keep in mind that sometimes when you connect your Chromecast to a new WiFi network, the connection might not be successful.
In such an instance, you'll have to manually reset the Chromecast using the button on the side and then set it up again and connect to the network you want.
Troubleshooting Connection Problems
Chromecast Doesn't Appear as A Device Option
If your Chromecast doesn't appear as an option when trying to cast, you might not have set it up correctly. So try disconnecting it from your TV and reconnecting after several seconds.
This will allow you to reboot the device, enabling it to reconnect to your WiFi network. You can also try restarting your smartphone or tablet.
There is a Massive Lag Between Your Chromecast Device and Smartphone
If you encounter lags with info heading to your Chromecast device from your smartphone, there might be a connection problem.
You can start by checking your WiFi router to see if other connected devices are experiencing issues.
Also, ensure that your Chromecast appears as a permitted device on the router's configuration interface. If there is a priority of devices, ensure you set your Chromecast and smartphone or tablet as 'high priority' devices.
Final Thought
As you can see, you can connect your Chromecast device to the internet in several steps.
Not only that, you can connect it to another WiFi network, and if you experience any connection issues, just reset the device and start all over again.
See Also
How to Connect Google Home to Wifi