How to Connect Airpods to iPhone? – Overview
While numerous earbuds can pair with your iPhone, Apple's AirPods have quickly become the ideal option because they don't have wires, are extremely easy to configure, and have perhaps the best-in-class sound quality.
'How to pair AirPods to an iPhone' is a usual question among people who have iPhones and just got their new Apple earbuds but have no idea how to set them up. Thanks to Bluetooth connectivity connecting AirPods to your iPhone is painless and seamless.
In this step-by-step discussion, we'll walk you through the steps of pairing AirPods to your iPhone so you can listen to your favorite podcasts, tracks, and so much more.
The Connection Process
Ensure that Bluetooth on your iPhone is activated. You can do this by going to 'Settings' then 'Bluetooth' and toggle the switch next to 'Bluetooth,' which will turn green.
Next, the AirPods should be inside the case and have enough juice. Now that your iPhone is in discoverable mode let's see how you pair it with your AirPods.
Depending on the AirPods model you have bought, do one of the following:
AirPods (2nd and 3rd generation) or AirPods Pro: If you've bought AirPods or AirPods Pro, open the case and place it close to your iPhone. If you can't see the pairing info, press and hold the button on the case for a couple of seconds.
AirPods Max: Place the AirPods close to your phone after removing the ear cups from their case. If the pairing info doesn't appear, click on the 'Noise Control' switch on the right earcup and place the AirPods Max close to your iPhone.
When the pairing info pop-up appears on your screen, click on 'Connect.'
You can skip the subsequent pairing tips and Siri pop-ups if you want.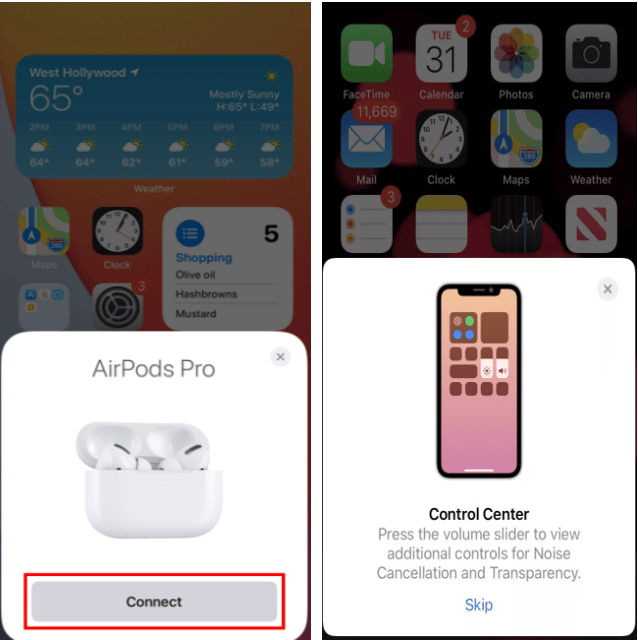 You'll receive the last pop-up indicating the battery status of your AirPods' informing you that they're now connected to your iPhone.
Now head to 'Settings' and click on 'Bluetooth.'
Lastly, click on 'My Devices' to see your AirPods.
Finally, click the icon to pair them to your iPhone.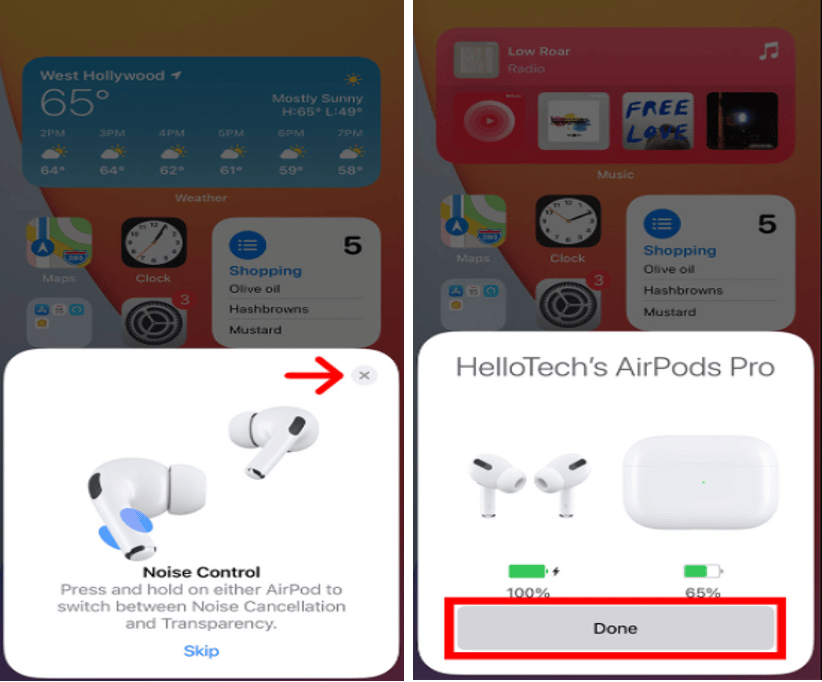 Connecting Somebody Else's Airpods to your iPhone
Can your AirPods to two different iPhones? Yes, you can. It's as easy as opening the AirPods' charging case close to the new iPhone and following the instructions that appear on your screen to complete the setup.
Now let's look at how to connect your AirPods to somebody else's iPhone. That said, let's look at the connection process in detail. Keep in mind that the connection process requires consent from both parties for this to work.
Start by unlocking the new iPhone you want to connect your AirPods too.
Now a prompt saying 'Not Your AirPods should appear on your screen
Next, click on 'Connect.'
Follow the subsequent on-screen prompts.
Then press and hold the setup switch on the back of the AirPods' charging case. Keep holding the setup switch on the charging case as the AirPods pair to your phone.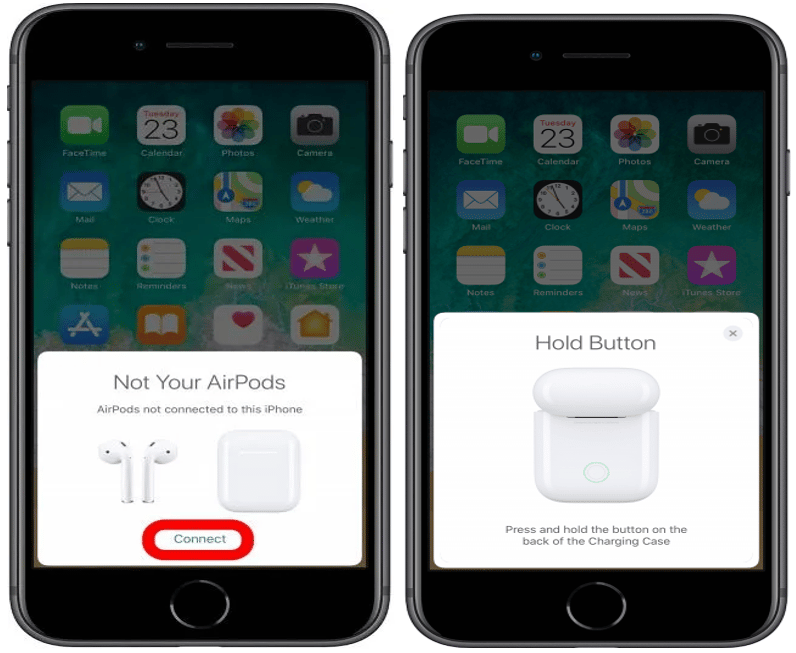 Choose whether you want your Apple earbuds to broadcast 'Calls and Notifications.'
When the AirPods are done pairing to your iPhone, click on 'Done.'
Now you can listen to tracks and anything else on various iPhones.
Troubleshooting Connection Problems
Switch your iPhone on and off
When you switch off your iPhone, the OS (operating system) shuts down all the small background processes running on your iPhone.
Then, when you switch it on, all those small background processes start afresh. Sometimes this can be enough to fix a software issue that's keeping your new AirPods from pairing with your iPhone.
Switch on Bluetooth on your iPhone.
Switching on Bluetooth on your iPhone puts it in discoverable mode, and as a result, it can pair with Bluetooth gadgets such as earbuds, computers, speakers, etc.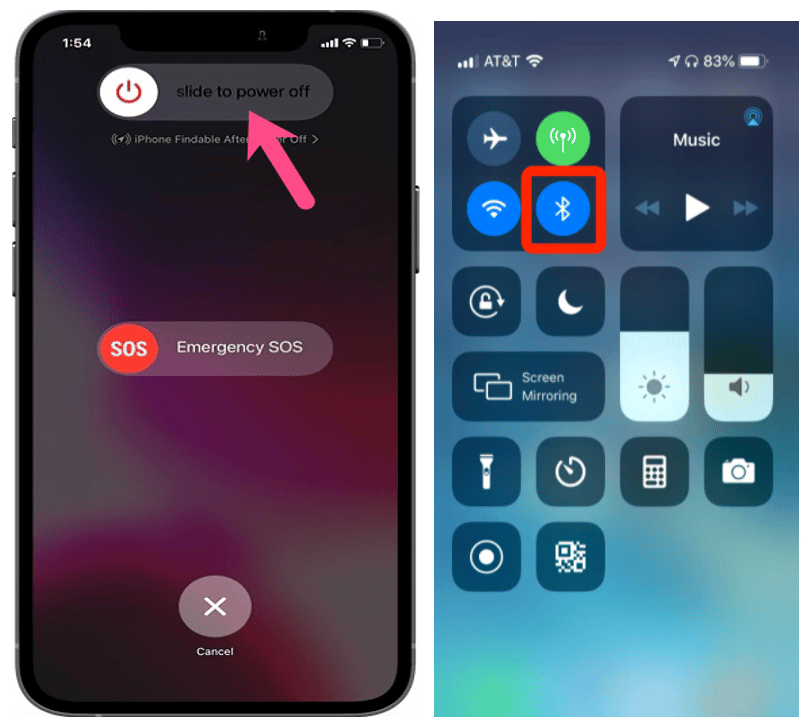 Update iOS
Apple rolls out new iOS software upgrades to kill bugs, enhance efficiency and introduce new features. So updating iOS can fix Bluetooth connectivity-related issues.
Apple updates new software to improve efficiency, fix bugs, and introduce new features. Updating iOS can fix problems with your iPhone's software.
Ensure Your Airpods Are in Range
If your AirPods aren't in range as you attempt to connect them to your iPhone, the connection won't be successful. AirPods use Bluetooth, which only functions when both devices are within a specific range of each other.
Note: If you've tried various troubleshooting steps and your AirPods won't connect to your iPhone, consider resetting them. Unfortunately, this will disconnect them from all other previously paired devices. Open Bluetooth, find your AirPods and click on 'Forget Device.'
Final Thought
As you can see, it's relatively easy to connect AirPods to an iPhone. What's more, you can also connect two pairs of AirPods to one iPhone, and they'll function seamlessly. So now you can go ahead and connect themes and stream your music and podcasts.
See Also
How to Connect AirPods to MacBook
Can You Use Airpods with Android
How to Connect AirPods to Windows 10
How to Connect AirPods to Chromebook