How to Pair AirPods to MacBook – Getting Started
If you are an Apple fanatic, you most likely use your AirPods or AirPods Pro with your iPhone or iPad for everyday tasks such as receiving calls. However, you could also be using your AirPods for music during your morning run or commute.

This is because it's very easy to pair AirPods with an iPhone. But what most people don't know is that they can also pair Airpods to their MacBook with relative ease. With your MacBook, you can switch between Transparency modes and Noise Cancellation.

You can also use your MacBook to check the remaining charge on your AirPods and even change settings. If you have an iPhone and you've already paired it to AirPods, then connecting them to your MacBook will be seamless.

AirPods are ready to use on MacBooks, provided that your iPhone and MacBook share the same Apple ID.So let's look at some of the ways you can use to pair AirPods to your MacBook.

How do you Pair Airpods to Your MacBook If You Don't Use Them On an iPhone?

Put the AirPods in the charging case and close it. You need to keep the Airpods in the charging case for a couple of seconds. Ensure your AirPods have enough charge before you attempt to pair them to any device.
Next, click on the Apple logo in the top-left corner of your screen.
Then click on 'System Preferences.'

How to Pair AirPods to MacBook
How to Pair AirPods to MacBook
Next click on 'Bluetooth.'

How to Pair AirPods to MacBook
Open the charging case and place it close to your MacBook.
Press and hold the knob on the back of the charging case until the LED light starts flashing. In older AirPods, the LED is inside the case; for newer AirPods, it's at the front.

How to Pair AirPods to MacBook
Finally, click on 'Connect' when your AirPods appear on the list of Bluetooth devices. If your AirPods don't appear on the list, ensure that Bluetooth on your MacBook is on.

How to Pair AirPods to MacBook
Once you've successfully paired the AirPods to your MacBook, you can click on 'Options' next to the Airpods' name to change some of the settings. In the menu bar, you can click the box next to 'Show Bluetooth' to quickly access your Airpods' settings at any time.
If you decide to 'Show Bluetooth in Menu Bar,' you can view the remaining charge on your AirPods as well as switch between modes.

How to Pair AirPods to MacBook
How do you Pair Airpods to Your MacBook If You Use Them On an iPhone?
If your MacBook uses the same Apple ID as your iPhone, you can connect your AirPods directly to your MacBook. To do this:
Start by opening the charging case like you do when pairing your AirPods to an iPhone.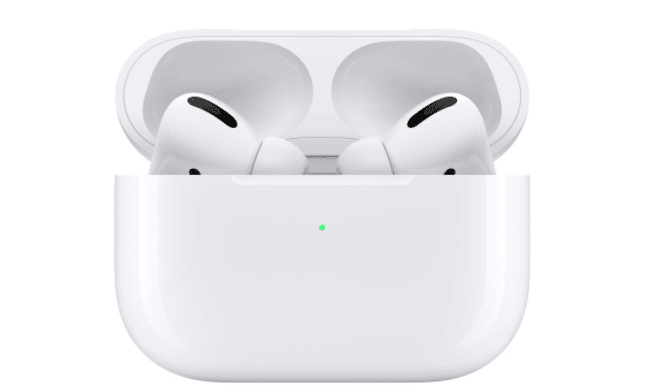 Next, click on the volume switch in the top-right corner of your MacBook's screen.
Click on 'Output Device' and then select your AirPods.

How to Pair AirPods to MacBook
If this process doesn't successfully connect your AirPods to your MacBook, there are several settings you need to enable. You can do this through the 'System Preferences.'
Why won't Airpods Pair with My MacBook?
If you've followed the steps illustrated above and still your AirPods won't pair with your MacBook, try some of these steps to fix the issue.
Check for Updates On Your Mac
AirPods can only pair to a MacBook that's running the most recent version of Mac OS. The most recent version of Mac OS is 'Monterrey.' So if you haven't updated your MacBook to 'Monterrey,' it might be why your AirPods won't connect.
To check the Mac OS version on your MacBook, click on the Apple logo in the top-left corner of your screen and then click on 'This Mac.' A pop-up will appear, showing you the Mac OS version on your MacBook. If you need to update your MacBook, click on 'Software Update.'
Disconnect Airpods and Connect Them All Over Again
If you've updated the firmware on your MacBook or AirPods, it could affect the pairing process. To fix the issue, forget Airpods as a device on your MacBook and repeat the entire setup. This will refresh everything, and you can make a new and clean pairing to your MacBook.
Turn Bluetooth On and Off
You can also attempt turning Bluetooth on and off in your MacBook. To do this, click on the Bluetooth menu in the top right corner of your screen, then press 'Turn Off Bluetooth.' Next, wait for a moment, then press 'Turn on Bluetooth.'
Note: You can control common AirPod features using the 'Options' tab in the Bluetooth window. For instance, you can change what a double tap of each AirPod controls, whether you want to use the mic on the AirPods, switch noise cancelling on and off etc.
Final Thought
Once you've paired your Airpods with your MacBook successfully, you can start listening to your favorite tracks, podcast, or stream your favorite movies and TV shows. If you run into problems when pairing, consider some of the solutions illustrated above.
How to connect AirPods to Chromebook?
External Display for Macbook Pro