Canon EOS M5 Review
Best mirrorless camera by Canon till date
With the introduction of EOS M5, Canon has just took a step ahead while offering a mirror-less model which is all expected to give a big competition to its entry-level DSLRs along with other interchangeable-lens competitors. The camera is loaded with all the specs and the features which are more than enough to surpass the rivals like EOS Rebel T6s/760D, almost at same price. It seems like an implicit acknowledgement that even when the entry level DSLRs are still on demand, with a price range less than $600, Canon is still adamant to make it into the next price tier.
The package will involve the body and kit with the EF-M 15-45mm f3.5-6.3 IS STM lens. Hey! It's on Amazon
Pros 
24 MP amazing resolution
Swift autofocus
8.2fps continuous shooting
Tilted touch screen LCD
Built in flash
Sharp EVF
Compatibility to all Canon accessories
WIFI enabled
Cons
Video quality limited to only 1080p
No weather sealing
Autofocus falters in dim light
Our verdict on Canon m5 wifi
The Canon EOS M5 DSLR cane certainly be considered as the best mirrorless camera made by Canon till date but it still makes you feel the absence of certain features which are available in other cameras at same price range, like the Sony A6300 (best priced at amazon.com). The Sony A6300, gives it a stern competitor with a  faster continuous shooting with a stylish autofocus system, ability to shoot 4K video, much better battery life, a solid body along with a support to larger set of lenses without needing an adapter. Still the Canon EOS M5 scores a victory over the Sony's A6300 camera with its hybrid optical stabilization system, with the latter sticking to its optical-only system for that camera.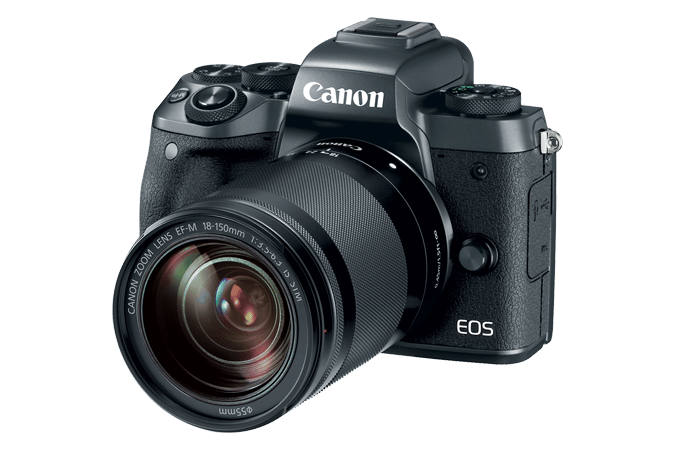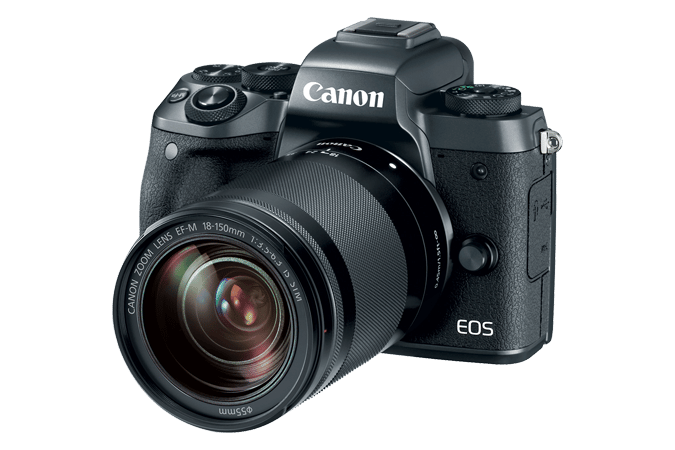 Design and controls of Canon m5 Wifi
Canon EOS M5 Sensor
Quite often, Canon has gone through several complaints about its previous mirror less models (like the M3) in regards to their lethargic performance. Canon has brought in the Dual Pixel CMOS into the M5, similar to 80D, which is largely expected to deliver a faster autofocus speed and tracking performance than the existing hybrid CMOS in the M3 and T6s/760D. The Camera also comes loaded with M5's competitive continuous-shooting rating, 7 fps which is further facilitated by autofocus and auto exposure features. Moreover, Canon has claimed that its image quality is surely on par with the 80D. The sensor of Canon m5 is 22.30mm width and 14.90mm height.
Canon EOS M5 Design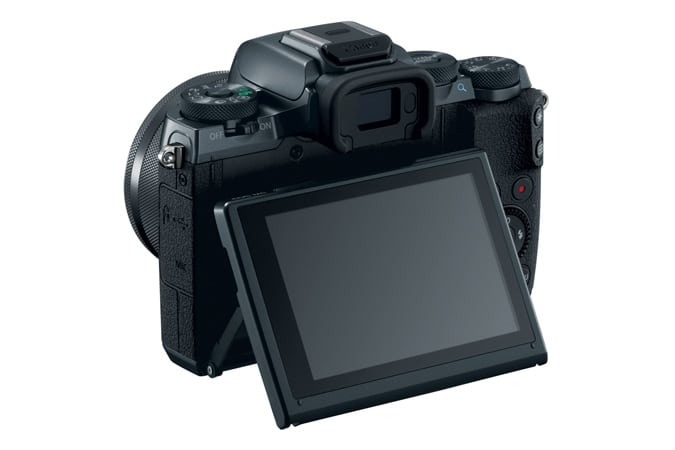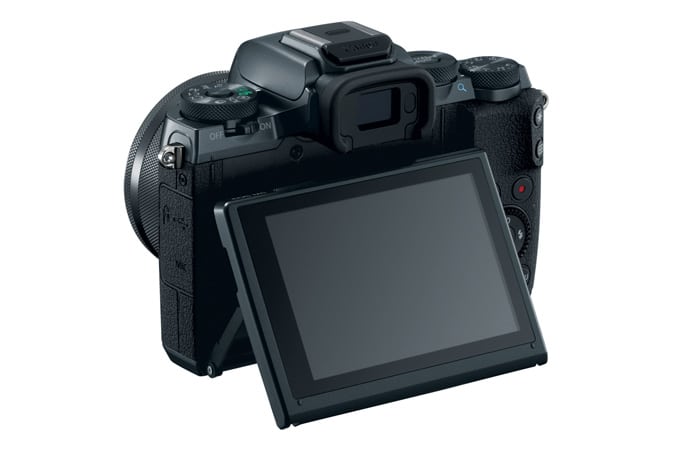 Even though Canon EOS M5 isn't a DSLR, its design and appearance would certainly give you the feel of a perfect DSLR at hand. It is also the first mirrorless camera by Canon which comes with an in built electronic viewfinder and real grip. Moreover, the touch screen display can tilt down easily to let you take all those selfies with much ease.
Canon EOS M5 Review – Features 
Canon has simply followed the Olympus' traditional and unique capability of utilizing the back LCD as a touch pad once you start using the viewfinder to select autofocus areas. It has further followed the Nikon's strategy to incorporate a Bluetooth in order to maintain a continuous low-energy connection between the camera and your phone, which eventually will wake the Wi-Fi for faster remote shooting and file transfers process.
Sensor: 24.2 Megapixel (APS-C)
ISO Range: 100-25600
Focus: Dual pixel CMOS AF
Continuous shooting: 7.0 fps
Processor: DIGIC 7 
Canon EOS M5 Review for Image stabilization
Whilst introducing the Canon EOS M5, Canon has joined the league of the entire mirror- less manufacturers which are offering hybrid (optical plus sensor shift) stabilization feature with a 5 axis compensation.
Canon EOS M5 Review for Autofocus
If we have to talk about one of the biggest highlights of Canon EOS M5, it has to be its latest image sensor which perfectly supports the Canon's Dual Pixel CMOS AF technology, as compared to the outdated Hybrid CMOS AF III system. The cutting edge Dual Pixel CMOS AF facilitates a swift and smooth phase- detection autofocus around 80% of the total image area. Also, it's been stated by Canon that the M5 will deliver the fastest autofocus performance by any EOS M- series camera till date. The system comes with a working range of EV -1 TO 18. There's also an in-built LED autofocus assist lamp to support all the shots in low light.
Canon EOS M5 Review for Viewfinder
The Electronic Viewfinder is the latest addition in the Canon EOS M5 wifi and all the earlier models in the M series were only supported by a clumsy electronic Viewfinder accessory. The viewfinder in the M5 is inbuilt and based around a 0.39-inch OLED panel with an approx resolution of 2,360,000 dots. The feature allows the user with a depth –of-field preview function, along with three on-demand grid overlays to assists with the accurate framing.
Canon EOS M5 Review for Performance 
We can surely say that Canon EOS M5 wifi delivers on the performance part and came up with some significant improvements as compared to the previous offerings from Canon in the M series. Canon has further rated the startup time of Canon EOS M5 as one second and quoted it as 66 % faster than its predecessors. Moreover, the difference is quite visible in burst shooting performance. While the M3 was limited to 4.2 frames per second ( with focus and exposure locked for the first frame), Canon EOS M5 is capable of delivering 7 frames per second per capture with autofocus enabled between the frames. Additionally, the numbers surges up to 9 frames per second when you lock the autofocus and auto exposure for the first frame.
Canon EOS M5 Review for Video Capture 
Even though the Canon EOS M5 lacks the 4k capture, it can shot high definition movies at up to 60 frames per second with 1920×1080 pixel resolution. Quite interestingly, the camera has come up with a new combination IS mode for movie capture which includes the latest lens based optical stabilization along with five –axis  digital image stabilization. Surprisingly, even if your lens is not capable of optical stabilization, the EOS M5 can still be able to tackle the shakes with its five-axis digital stabilization.
Related Resources: