Canon EOS 70D Review
The latest masterpiece from Canon 
The Canon EOS 70D is surely the first DSLR that has arrived with an on-chip phase detect autofocus system that is not dependent solely on the contrast detection feature in order to ensure focus. This further enables this masterpiece to offer fast and smooth autofocus whilst recording the videos, even though it falters a bit in the dim lighting. Canon DSLR EOS 70D with flip screen is a perfect fit for all the canon shooters who want to go beyond its contemporary look, without going to a full frame. Even though it delivers quite well in the video aspect, unlike canon flip screen cameras it falls a bit short with the Nikon D7100, which has been largely deemed as the most perfect DSLR in the mid price range.
Pros
Smooth video autofocus
Lucid touch-screen LCD. 
Cutting edge pentaprism optical viewfinder
Quick focus 
 7fps nonstop drive shooting
Tons of physical controls
 Availability of vertical grip add-on
Flash sync speed of  1/250-second
 Integrated Wi-Fi
Cons 
Live view autofocus falters in dim lighting 
Only a single SD card slot
No built in GPS
Absence of PC sync socket
1080p video confined to only 30fps
Inability to record video with enabled WIFI
Canon EOS 70D Review
The Canon EOS 70D flip screen comes as the only traditional DSLR which offers the smoothest live view autofocus, even though it fails a bit to lock that focus in low light.
Design and controls of Canon 70D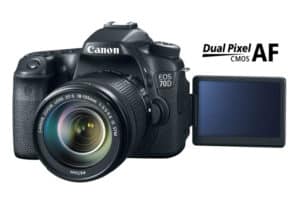 The Canon EOS 70D is quite bigger in size and it measures 4.1 by 5.5 by 3.1 inches and weighs around 1.7 pounds. Even though the big size may be a constraint for few, all the extra physical controls and a bigger, heavier pentaprism viewfinder efficiently compensate for the same. The Pentaprism viewfinder can be taken as an upgraded version of the pentamirror which was been present in the Rebel T5i( Best price only at Amazon).Its quite a robust piece of glass along with a reflex mirror which diverts the light captured by the lens directly to your eye.
Although it won't be offering you full frame coverage, Canon asserts that it will deliver almost 98 percent of the image captured by the lens, with a bit of information absent on the edges. Well that is something where its rivals Nikon D7100( best priced only at Amazon) and Pentax K-5 II ( best priced only at Amazon) performs better as both deliver 100 percent of the coming frame to your eye.
Right how you expect it from a traditional DSLR, you will find Canon EOS 70D loaded with lots of controls. At the edge of the lens mount, you will find a preview button to control the depth of the field. On the other side, you will see a mode dial control on the left of the eyepiece right at the top plate .It will come as locked so you have to turn it on while depressing the center button. Right below that dial, you will find the power switch. There's also a monochrome information LCD located to the right of the finder along with buttons ahead to control the autofocus mode, ISO, drive mode and metering pattern. You will also find a small button in front of that which will enable you to control and adjust the shutter and the active focus points.
Functions of Canon 70D
Rear camera and focus points of Canon 70D
The rear front of the camera is quite basic with all the info buttons and a menu, along with a toggle switch which will allow you to change between the still and video capture, coming with an inbuilt button to toggle the live view. Right behind the information display, you will find the AF-ON button to activate the focus, a lock button for exposure, along with a button to let you select form any of the 19 focus points of the Canon EOS 70D. Even though Canon EOS 70D doesn't offer as many focus points as the D7100, all of its focus points are briefly cross typed.
Shutter Speed and ISO of Canon 70D
The image below was taken with Canon EOS 70d with 1/320 shutter speed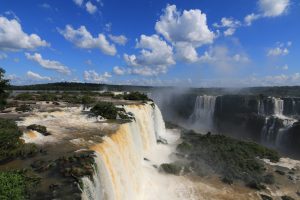 You will also be getting a rear control dial along with a center set button; in most of the modes, the given dial will allow you with a direct access to exposure compensation adjustment control. Moreover, he Q button, which is one of the most common features in a Canon SLRs, directly activates a touch-sensitive menu right on the rear LCD. It further offers smooth and fast control over the shutter speed, aperture, ISO, flash compensation, exposure compensation, picture style, focus mode, white balance, drive mode, metering pattern, image quality, and all the other image optimization settings. You may find them identical to the usual on-camera controls, but accommodating all of them at one place creates a certain magic to hands.
1040k-dot resolution
The rear LCD comes along with a vari-angle design where the hinged display will allow it to swing out to the side of the camera. Moreover, it can be tilted as well in order to let you see it with the camera over your head, at your waist, or placed upfront. The 3-inch display is touch sensitive and comes perfectly loaded with an amazing 1040k-dot resolution. Even though its strong competitor Sony Alpha 77( best priced at Amazon) also comes along with a hinged display, there's no touch screen available with the whole hinged display mechanism being a bit different. 
Just like the full-frame 6D (Best Priced at Amazon), the Canon EOS 70D also incorporates  Wi-Fi but it still lags behind the 6D due to the absence of GPS. Right like the other Canon cameras , you can easily  transfer all the photos to your smart phone or tablet with the free EOS Remote app. Moreover, you can also print the shot to a Canon Wi-Fi printer, beam it to the other canon camera, view the shot on a HDTV via DLNA, or upload it right away to web. In order to upload it to the web, you need to connect the camera to your desktop or laptop and then configure the type of Web service you would like to access via Canon Image Gateway service. The EOS Remote app offered by canon also goes good with a remote control. You will see a live view feed on your smart phone or laptop's screen and that way, you can easily control and adjust the focus point,  exposure compensation, whilst also firing the shutter. Still the absence of a full manual control is a bit annoying. Moreover, you can't record a video whilst the Wi-Fi is on and that too is one of the biggest downsides of Canon EOS 70D.
Related Resources:
how much is a canon camera ae 1 value