Best Docking Station for HP Laptop
A docking station can help you to connect devices and peripherals to your laptop or monitor in one go. Choosing one of the best laptop docking stations for HP will help increase the efficiency and performance of your setup.
These HP docking stations for laptops work as the port replicator or the docking ports, allowing connections to the monitor cables, mouse, keyboard, and other peripherals into the docking station itself.
That said, let's take a look at the recommended list of the best docking stations for HP laptops that have been carefully handpicked by our team of expert reviewers.
Recommended list of 6 best laptop docking stations for HP
Docking station
Type
Ports
Weight
HP USB-C Dock G55TW10AA
HP USB-C dock G5
1 x powered USB 3.0, 1 x USB-C (power port), USB-C 1 x Audio 1 x Super speed USB 3.0 1 x network 2 x Display/ video - DisplayPort 1 x Display/ video - HDMI
1.5 pounds
HP USB-C Dock G5 5TW10UT
HP USB-C Dock G5
1x USB Type-C (front); 1x USB 3.0 (side, charging SS); 3x USB 3.0 (back, charging); 2x DisplayPort; 1x HDMI 2.0; 1x headphone/microphone combo
1.5 pounds
HP D9Y32AA docking station 65W adapter 
HP 2013 D9Y32AA
4X USB 3.0 Ports, Display Port 1.2, VGA Port
2.99 pounds
HP UltraSlim Dock D9Y32AA
HP 2013 D9Y32AA#ABA
4x USB 3.0 ports, 2x DisplayPort, 1x VGA port,1x LAN/Ethernet port, 1 x Line in, 1 x Line out
1.67
Pounds
HP Genuine Elite USB-C
Genuine Elite USB-C
Ethernet, HDMI, DisplayPort, USB-C, and four USB ports. 1 x DisplayPort 1 x HDMI 1 x Ethernet 1 x USB-C type 4 x USB 3.0 Ports 1 x Audio Port 1 x DC-IN Blue tip 19.5V - 3.33A (65Watt)
0.66 pounds
HP Thunderbolt Dock 120W
Thunderbolt G2
(1) Thunderbolt port, (1) USB-C DisplayPort data and power out port (15 W), (2) DisplayPort ports, (1) VGA port, (2) USB 3.0 ports, (1) RJ45/Ethernet port, (1) AC adapter connector
3.7 pounds
When you buy through links on technowifi.com, we may earn a commission at no cost to you. We evaluate products independently. Commissions do not affect our evaluations.
1. HP USB-C Dock G55TW10AA
The HP USB dock G5 makes it to the top of our list. The HP USB G5 is a docking station that works with 100-watt power. It is perfect for the Elite X2, Elite Book X360 G6, and other units.
Besides all the other major features, you also get the convenience of working with a single cable from the USB C ports that allows effortless connection to the devices, displays, and the wired network.
This is the docking station that finds compatibility with notebooks from brands like Apple, HP, Lenovo, Dell, and others.
2. HP USB-C Dock G5 5TW10UT
This is a dock that serves both HP and non-HP laptops. Moreover, the single-cable solution now allows the effortless connection to accessories and around three displays to the dock.
All you have to do is to make a connection to the notebook with the help of the USB C cable to provide access to the devices and charge the PC.
So, you can easily manage the commercial HP fleet when you have a remotely manageable solution. Also, it comes with a USB type C and USB 3.0 charging ports.
3. HP D9Y32AA Docking Station 65W Adapter
This is an exclusively designed docking station that is fit for ultra-slim HP Elite Book notebooks and allows the effortless expansion of the display device connectivity and a network throughout the day with the simple one-click slide inside feature.
You'll get 4 USB 3.0 ports offering high-speed connectivity to the USB devices. Besides, there are other ports like USB 3.0 for the reduction of the data transmission time.
4. HP UltraSlim Dock D9Y32AA
The docking station serves the purpose of quick and easy expansion of the display device, connectivity, and network for the development of a customized setup.
It works with a simple one-click installation and the slide-inside dock works with most ultra-slim HP Elite Book, Notebook, and PCs.
The docking station is perfect in terms of the four units of USB 3.0 ports. Overall, it shows enough compatibility with all units it is made to build a connection with.
5. HP Genuine Elite USB-C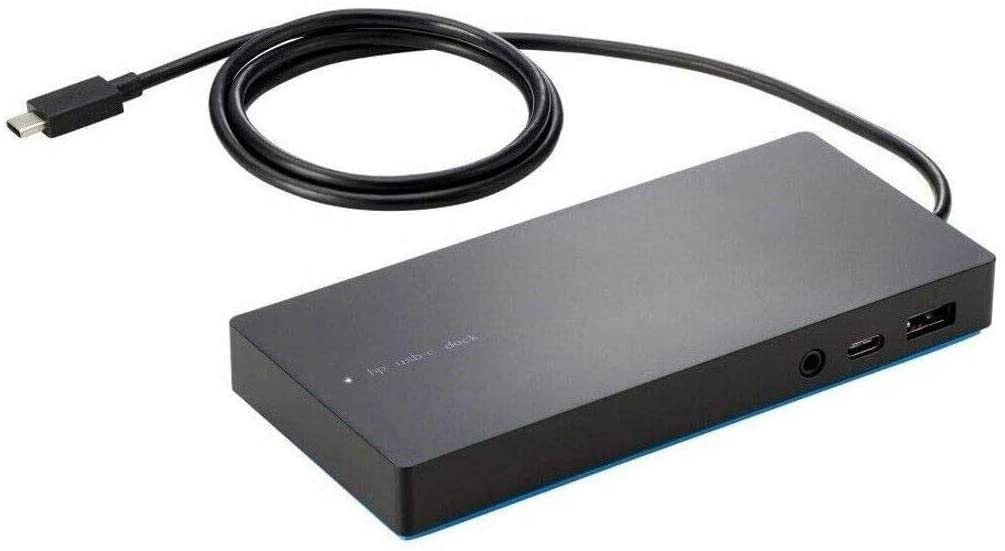 The docking station is specially designed for the acceleration of productivity. This is an ultra-portable laptop docking station that gives the full range of connectivity to the desktop and other accessories.
You can boost your productivity with the ability to develop an effortless connection to multiple displays, external hard drives, the internet, and other USB devices.
The all-new HP docking station is perfectly developed with multiple ports like the HDMI, USB C, display port, and 4 USB ports.
6. HP Thunderbolt Dock 120W
This dock works well with a range of notebooks and laptops with the host interface of the type USB C. The total number of available ports on this model is 5.
Like all of its sister models in the same segment, it also offers some effortless connectivity to several devices and peripherals.
Also, you can manage your workspace and network connectivity without any lags. This dock delivers USB-C™ device connectivity and optional integrated audio that further makes it worth the investment.
The bottom line for the 6 best laptop docking stations HP
We just took you through the handpicked list of the 6 best laptop docking stations for HP that will serve you with great efficiency and performance.
Besides uninterrupted connectivity to your favorite devices and accessories, these HP docking stations will also help you to enhance your overall productivity.
Multiple monitors are used for several different purposes. Make sure to keep your focus on your specific use case before making a purchasing decision.
See Also
Best Lenovo Laptop Docking Station