How to Connect Apple Watch to iPhone? – Overview
If you've just gotten an Apple Watch, the first thing you probably will do is take it out of the box and try it out immediately. However, there are a couple of steps to go through before your Apple Watch is up and running.
This is why we've put together this helpful tutorial to help you set up your Apple Watch for the first time. It's relatively straightforward, but there are a couple of things worth knowing and watching out for, all of which we'll explain below.
Regardless of the Apple watch you own, whether it's the latest one, Apple Watch 7, the relatively affordable Apple Watch SE, or any other model, we will discuss how to set them up. This is because the process is fairly similar for all these models.
Keep in mind, you'll need an iPhone to configure your Apple Watch, and it should be running the latest iOS version. So if you haven't updated your iPhone, now is the time.
The Pairing Process
Once you've confirmed that your Apple Watch is compatible with your iPhone, ensure Bluetooth is on, and your iPhone is connected to a cellular network or Wi-Fi.
Ensure you have the Apple Watch App on your iPhone; if not, get it from the App Store.
Next, Switch on your Apple Watch. To do this, press and hold the switch on the right side of the watch until a white Apple logo appears on your watch. This Apple logo with a black background may remain on your screen for a couple of minutes.
Then pick your 'Language and Region.'
Next, place the watch close to your iPhone. Wait until you see 'Use your iPhone to set up this Apple Watch' on your iPhone's screen.
Click on 'Continue' and then click on 'Start Pairing' on the watch. If you can't see this popup on your iPhone, launch the Apple Watch app and click on 'Start Pairing.'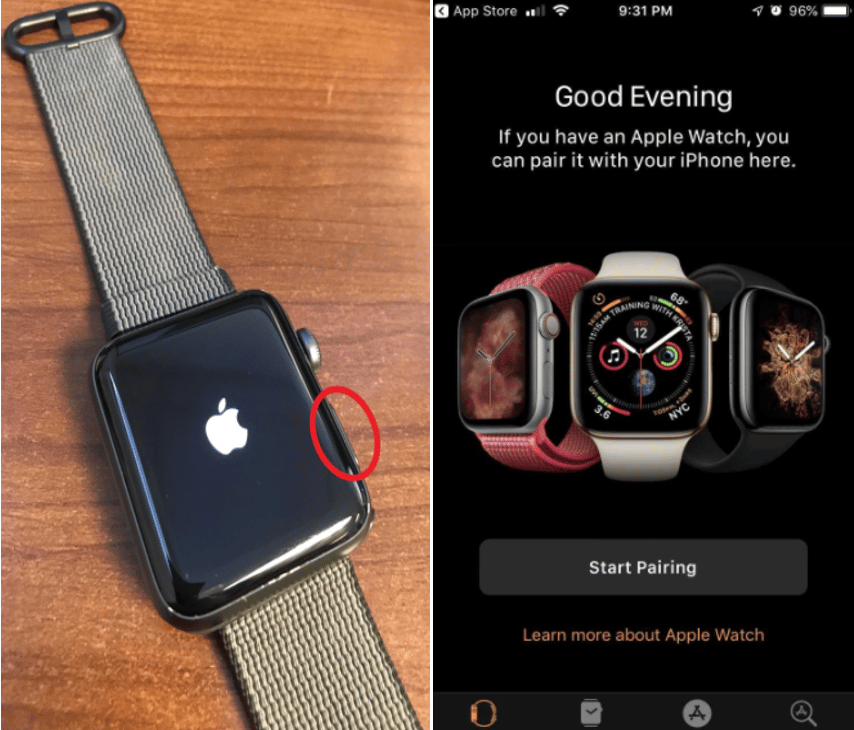 A cartoon-like image will appear on the watch. Point your phone camera at the watch and focus the lens on the cartoon-like image on the Apple Watch screen.
Next, you'll receive a notification telling you that your Apple Watch has been connected. At this point, you might be asked to update your watch's firmware; do so.
Otherwise, a tab will appear on your screen asking whether you'd like to reinstate the watch from a backup or 'Set up as New Apple Watch.'
If it's your first time setting up an Apple Watch, click on 'Set up as New Apple Watch.' But if there was a previous backup, you can decide to load it onto the watch.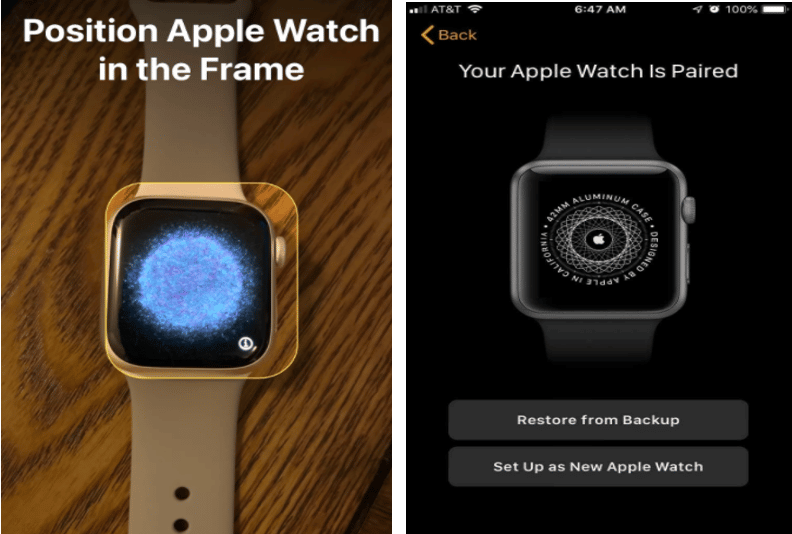 Decide which wrist you want to wear the watch on. If you pick right, you'll need to choose which side you want the Digital Crown (the watch's control wheel) to be on.
Study the terms and conditions and click on 'Agree' if you agree to proceed.
Log into your iCloud Account. You might be automatically signed in; otherwise, key in your iCloud login credentials on your iPhone.
Now you'll be able to decide which settings to activate and which iPhone settings you'd like to share with your Apple Watch. This comprises admission to 'Find My' and Siri, route tracking, and sharing watch analytics with Apple.
If you don't have the 'Find My' app configured on your iPhone, you'll need to switch on the Activation lock. This locks your watch so that anyone else can't reset it.
Now you'll be asked to form a password. You can pick a 4-character or an 8-character password. Enter the password twice on the watch. You can skip this step, but if you want Apple Pay set up on your watch, you'll need to create a password.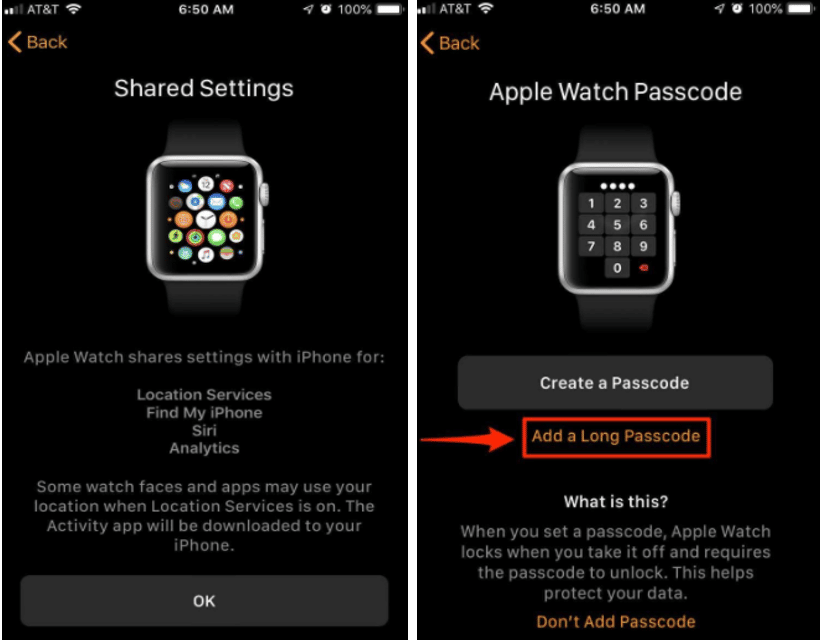 The application will take you through setting up more functions such as Apple Pay, Emergency SOS, and Heart Health.
You also need to set it up if you have a mobile plan.
Now choose which application to include in your watch. You can decide to include all Apple Watch-ready applications on your iPhone. Also, you can skip this step and manually pick apps from the Apple Watch app once you've finished the pairing process.
Allow the Apple Watch to sync. Depending on how much info you're sharing, it might take some sometime. Keep your gadgets close. Once the sync is done, you will hear a chime.
Note: If the Apple Watch isn't pairing to your iPhone, it might be paired to another iPhone or 'Activation Lock' is enabled. To unpair open the iOS watch app, click on 'My Watches' and then click on 'Unpair.' If it has an activation lock, you most likely bought it from someone else, so you need to call them to remove the activation lock.
Final Thought
As you can see, when it comes to pairing an Apple Watch with an iPhone, there are a couple of steps you need to follow for the process to be a success. Hopefully, this discussion has made the process easy for you; enjoy your Apple Watch.
External Microphone for iPhone
Screen Mirroring iPhone to Projector
How to Set Timer on iPhone Camera
How to Use iPhone as a Hotspot