Clearing the Cache on iPhone
Before looking at how to clear the cache on your iPhone, let's first discuss what cache actually is. The cache is the temporary storage of app or website data on a device from the last time an app or website was launched to help the app or website launch faster the next time it's opened.
As good as iOS is, it still accumulates cache memory from applications and browser tabs. Cache memory includes cookies, images, and text and is intended to help speed up applications and websites next time you want to use them.
But, cache can slow down your phone, making it hang and unusable in some instances. Not only should you clear the cache from your iPhone to improve speed, but you should also do it to free up memory to install more apps and save more files.
Fortunately, Apple makes it easy to clear application and browser data from your iPhone. In this review, we'll discuss how to clear cache from applications and browsers to help give you that much-needed speed boost. Let's go!
Clear Application Cache
To clear cache memory from applications you've downloaded on your iPhone, you'll need to offload these applications. What is offloading an application? It's the process of freeing up the storage an application occupies on a device without deleting user data.
Note that when you offload an application, you can't use it. You'll need to tap on its icon in the main menu to reinstall it. To reinstall an application, your smartphone should be connected to a working WiFi network or have cell data. The process of clearing the app cache is as follows:
1. Open the settings application on your iPhone
2. Next, tap on 'General.'
3. Then tap on 'iPhone Storage.'
4. The page takes some time to load a list of all installed applications. When the apps appear, you can choose the app whose data you want to clear and tap 'Offload App.'
5. Now a pop-up will appear on your screen warning that the application will be deleted, but its data will be retained. Tap on 'Offload App' again. Note you also have the option to permanently delete an application if you're no longer using it.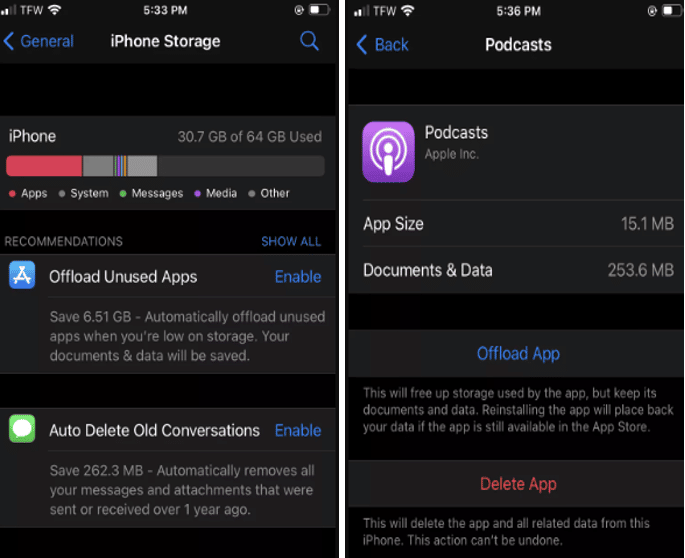 Clear Browser Cache
Safari
Clearing the cache memory on the iPhone's inbuilt browser; Safari means that all data, images, and passwords from sites you've opened on the browser will be deleted. The process of wiping cache memory on Safari is as follows:
1. Open the settings application on your iPhone.
2. Next, tap on 'Safari.'
3. Then scroll down until you see 'Clear History and Website Data.'
4. A pop-up will appear on your screen, warning you that when you wipe cache memory, you will delete your browser history. Tap on 'Clear History and Data' to proceed.
5. On the other hand, you can clear only the cache memory and keep your browser history on cookies. To do this, tap on the 'Advanced' option at the bottom of your screen. Then tap on 'Web Data' and lastly, 'Remove Website Data.'
Google Chrome
For 3rd party browsers like Google Chrome, you can't delete the cache via your iPhone's settings app. You need to open the app and delete the cache from there. To delete cache on Chrome:
1. Open Chrome.
2. Click on the triple-dot menu at the top of the app.
3. Next, click on 'Settings.'
4. Then, click on 'Privacy.'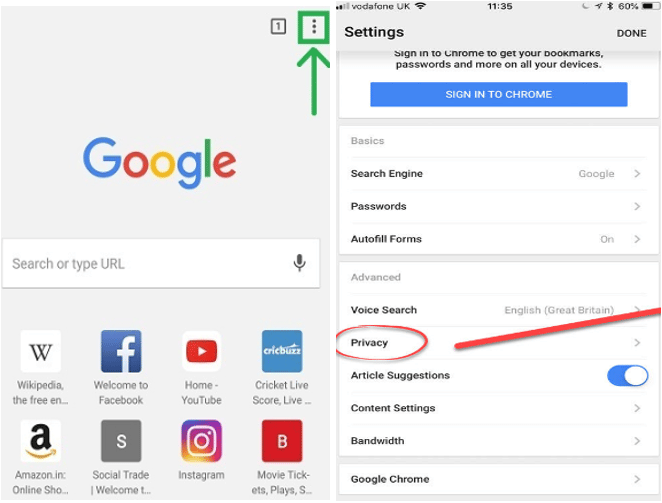 5. Finally, click on 'Clear Browsing Data.'
What Should You Do If You Can't Clear an App's or Browser's Cache?
1. If you can't see an option to clear cache within the app or in your iPhone's settings, you should permanently delete the app and if you need the app, reinstall it. To do this:
2. Open settings and enter 'iPhone Storage' in the search bar.
3. Click on 'iPhone Storage,' and now you should see a list of all installed apps. iOS lists applications beginning with the ones that take up the most memory.
4. Scroll down until you find the app whose cache you were unsuccessful in wiping. Check 'Documents and Data' to see how much memory apps are consuming on your iPhone.
5. Click on the app, and scroll down until you see 'Delete App.' When you delete the app, you'll delete everything. You can reinstall the app without your user data.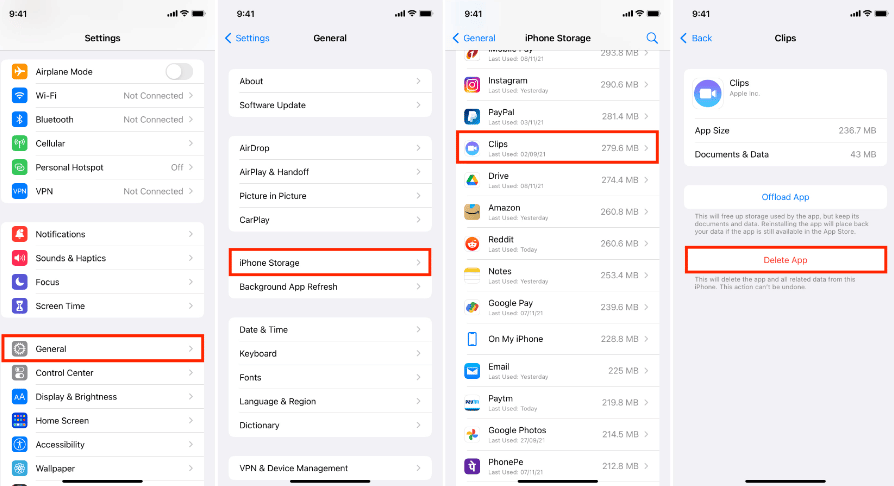 In conclusion, that is how you clear the cache on an iPhone. Keep in mind that there is no single solution to clear all cache from an iPhone because these devices carry various types of cache memory. As a result, you can only clear the cache on one app and move to the next.
See Also
How to Connect Beats to iPhone?
How to Connect Printer to iPhone?