How to Connect Beats to iPhone? – Overview
Unboxing your first pair of Beats headphones is an invigorating moment. However, prior to enjoying the impressive sound quality of these masterpieces, you might find that pairing them to devices such as iPhones might not be as easy as you think.
Here is where it gets even more complicated, each Beats model has its own unique configuration process. As a result, it can be provoking and time-consuming when you have to look for manuals to set up your new pair of wireless beats headphones.
Of course, you wouldn't want to risk damaging your Beats by winging it. Fortunately, we've come up with an easy step-by-step review to help you pair Beats with iPhone.
Activate Beats Pairing Mode
Since 2013 when Apple acquired Beats, up to 8 models of Beats headphones have been developed, with each model having its own unique set of pairing instructions.
If it's your first time using wireless Beats headphones, they should automatically go to pairing mode once you switch them on. If not, you need to manually activate the pairing mode depending on the model you own.
You can use the headphones' quick start guide to activate pairing mode, especially if you don't know where the power button is. However, below are instructions for active pairing mode on various wireless Beats headphone models.
Beats Flex: Press and hold the power switch until the notification light flickers.
Powerbeats: Press and hold the switch on the left earcup until the light flickers.
Powerbeats Pro: Place the earbuds in the charging case, leave the case open, and press and hold the power switch inside the case until the notification light outside flickers.
Solo Pro: Press and hold the 'pairing mode' switch on the left earbud.
Solo3 Wireless: Press and hold the power switch until the Fuel Gauge's light flickers.
Studio3 Wireless: Use the same steps as the Solo3 Wireless.
Steps to Connect Beats to iPhone
Once you've successfully activated the pairing mode on your beats headphones, connecting them to your iPhone is relatively easy. It should only take you a couple of seconds to do this.
iPhones can automatically link to previously linked devices if they're close by. Therefore, ensure no devices in proximity can interrupt the setup procedure.
Step 1. Turn on your headphones by pressing and holding the power switch.
Step 2. Next, open your iPhone's 'Settings' app and click on 'Bluetooth.'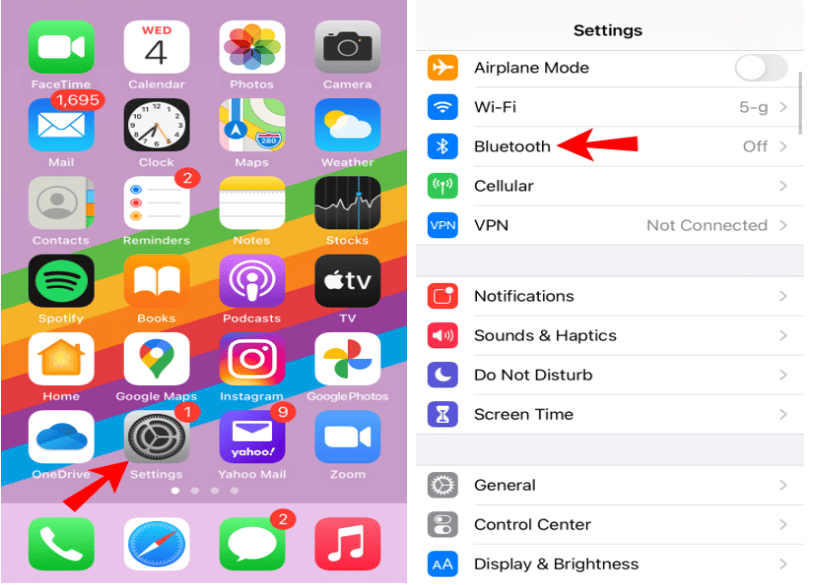 Step 3. Under the 'My Devices' list, you should see your Beats headphones.
Step 4. Click on that option on the list to pair both devices.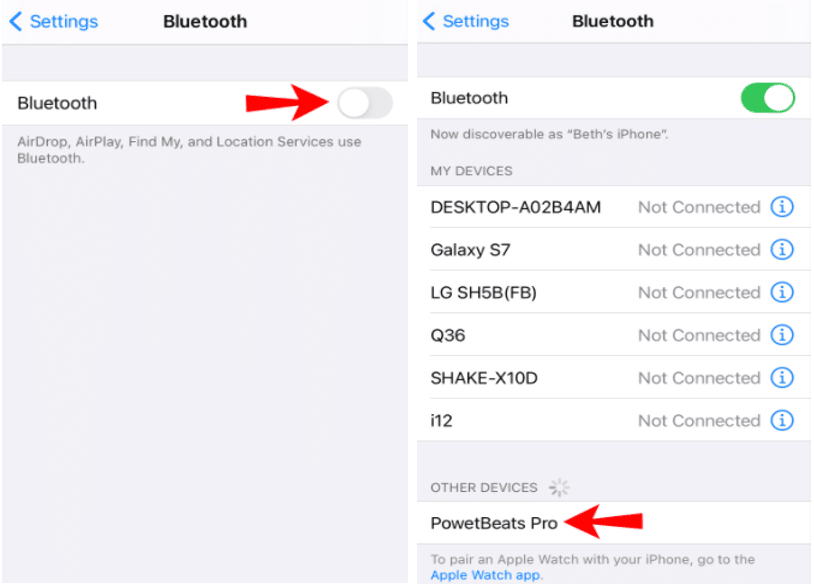 Step 5. Once you have paired your Beats headphones to your iPhone, you'll see the 'Connected' notification on the right side of your screen.
Step 6. This means you can start using your Beats with apps such as Apple Music.
You can also switch on Bluetooth quickly on your iPhone by swiping up from the bottom for iPhone 8, 8 Plus, and below and swiping down from the top on the right side for iPhone X and later. Then click on the Bluetooth icon to switch on Bluetooth.
Troubleshooting Connection Problems
Still unable to pair your Beats wireless headphones to your iPhone? There are several factors to keep in mind when it comes to connection problems, such as battery life and settings.
However, some of them may not be so obvious, so try the following suggestions prior to concluding that your new pair of Beats Wireless headphones are defective.
Ensure the Headphones Have Adequate Charge
You might run into poor connections due to a lack of power. Ensure your Beats earbuds have been charged for about 20 minutes prior to pairing them to your iPhone.
Power Cycle your Headphones and iPhone.
Power Cycling is the act of switching off electrical gadgets via the main switch and switching them back on again. While underestimated, it's confirmed to be an efficient tactic in solving connectivity problems. Just switch off your Beats and iPhone and turn them on again.
Reset Your Beats Wireless Headphones
Factory reset is a sure way to eliminate most if not all, technical glitches. However, you'll lose any saved data and need to manually re-pair your Beats headphones.
Check for Settings Issues
It's not unusual to come across issues with the device you are connecting to. Since iPhones are complex devices using various hardware components and software, you can imagine there are several areas where issues may come from.
Note: Sometimes, your Beats headphones might not connect to your iPhone due to the distance between both devices. So move your iPhone closer to your Beats headphones to establish a connection unless you have the Solo 3 wireless with a range of about 300 feet.
Final Thought
Beats headphones are more convenient when you pair them to iPhone because you can take them anywhere. Once you've connected beats headphones to iPhone you can proceed to stream your favorite music or podcasts.
See Also
How to Screen mirror iPhone to TV
How to Connect AirPods to Chromebook