Dual Monitor Webcam Setup
A dual monitor setup comprises your laptop or desktop screen and an additional screen to promote productivity. So what if you want to use a webcam for this setup? It's possible.
It's possible to use your laptop webcam, but an external webcam is better for this setup. Why? Because this setup is typically used for Microsoft Teams or Zoom meetings, and you don't want to keep looking down or on the side to look at your laptop webcam.
An external webcam will come in handy, but you shouldn't mount it on top of your laptop. You should get a tripod and place it between your monitors. Why is this setup better? Because it's very easy to slightly look left or right to see the content on either screen.
As a matter of fact, if it's a Zoom meeting and you're the host, the attendees might not notice that you're looking at screens on either side. That said, this review will discuss dual monitor webcam setup for Zoom meetings. Let's go!
External Webcam Setup
Connect Your Webcam to Your PC
Start by connecting your external webcam to your PC, not your external monitor. Ensure that you connect it to a working USB port. You can disconnect and connect it to another USB port if you don't hear any sound from your PC when you plug it in.
Install External Webcam Software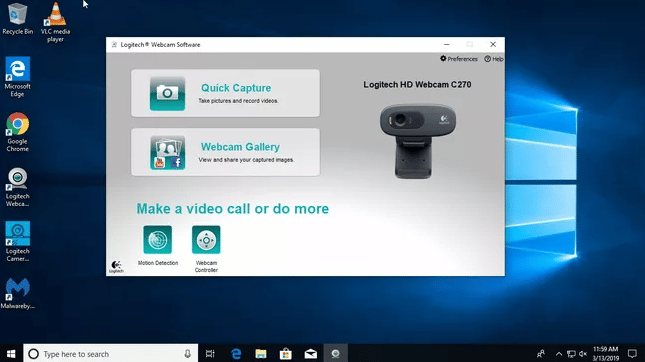 If you have bought an external webcam, you'll find a disk inside its box containing the webcam's drivers. If you bought a used webcam, you could download the webcam's drivers from the manufacturer's website.
Click on the driver and follow the installation instructions and when you're done, open the Windows Camera app to test your webcam.
Update External Webcam Drivers
Sometimes drivers will be corrupted when installed on your PC. To fix the problem, you should update them. For webcam drivers, search for 'Device Manager' in windows. Then click on 'Imaging Devices,' right-click on your webcam, and press 'Update Drivers Software.' Windows should automatically search for the driver and install updates.
Now you should be able to use the webcam with zoom alongside productivity apps like PowerPoint. Let's look at how you should go about this process.
Zoom Setup
Although Zoom has published an article on its website on how to go about a dual monitor with a webcam setup, the process can be complex because some apps might not work as you want them to by default, so you'll have to make a couple of adjustments.
Let's first see what a typical dual-screen setup looks like. As you can see in the image below, the Zoom client is on the right, while your main display is on the left.

To set up Zoom dual monitor with webcam:
Open the Zoom desktop app to set up dual monitors with a webcam.
Next, click on the gear icon you'll see on the home tab.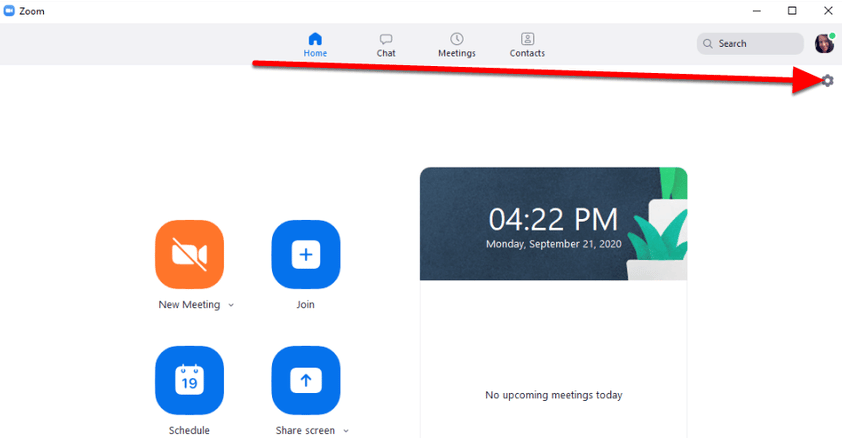 If you don't see the gear icon, click on your profile photo and click 'Settings.'
Next, click on 'General.'
Check the box next to 'Use Dual Monitors.' That's it. As long as you use the Zoom app, you can use a dual monitor setup with a webcam for all your future Zoom meetings.
Finally, restart Zoom to confirm the setting you've changed. Keep in mind that when you check the box next to 'Use Dual Monitors,' the change won't be effected until you restart the app. When you close the app, it doesn't permanently shut down; you can still find it in the icon tray in the bottom right corner of your screen.
To fully shut down Zoom, right-click on its icon and select 'Exit.'
When you join or commence a meeting, your main monitor will contain your Zoom meeting's controls, and the second display will show a feed from the meeting's attendees.
When you start sharing your screen, your meeting's controls and feed from the meeting's attendees will be on one monitor, and the other will have content you want to share, maybe from PowerPoint.
Note that Zoom automatically activates the 'Enter full screen when starting or joining a meeting' setting. You can uncheck this option under 'Use Dual Monitors'; however, your dual monitor setup with a webcam will work better if this option is activated.
In conclusion, that is how you typically add a webcam to a dual monitor setup and use it effectively. If you have trouble adding a second monitor to your PC in the first place, check out our dual monitor setup review to learn more.
See Also
HDMI Splitter for Dual Monitors