Amazon Smart Plug Unresponsive – Now What?
Smart plugs are among the easiest and most affordable means to add smart home functionality to your home. They are also among the most flexible devices, allowing you to transform non-smart appliances into smart ones by managing power flow.
Smart plugs are a great way to access low-cost smart lighting by connecting lamps. Moreover, they can give you peace of mind when you're unsure if you have turned off appliances such as a coffee maker or iron.
Unfortunately, smart plugs experience glitches due to loss of internet connectivity, misfired signals, or many potential reasons, making it difficult for your smart speakers to discover the smart plug.
So whether you run into problems setting up your Amazon smart plug or it isn't giving you the control you want, use these steps to correct its unresponsiveness.
Update the Smart Plug
Before doing anything else, ensure your Amazon Alexa app and the Smart Plug are up-to-date. By default, the Alexa app informs you to update the application once a fresh update is available on Android or iOS.
The Amazon smart plug, on the other hand, automatically updates its firmware over Wi-Fi. However, you can manually update it if it's not updated automatically. To do this
Disconnect the smart plug from the power outlet for about 15 – 20 seconds.
Next, plug the smart plug back into the power outlet.
Now, you have successfully updated your Amazon Smart Plug's firmware.
Avoid Issues When Setting Up the Smart Plug
The Amazon Smart Plug doesn't have a complex setup process. However, sometimes, you might unknowingly make errors during the setup process, causing the plug to be unresponsive.
To set up your Amazon Smart Plug correctly
Launch the Alexa App.
Next, tap on 'Devices.'
Then tap the plus (+) icon in the upper right corner of your screen.
If the smart plug popup appears on your screen, tap 'Continue.'
Then tap on 'Next.'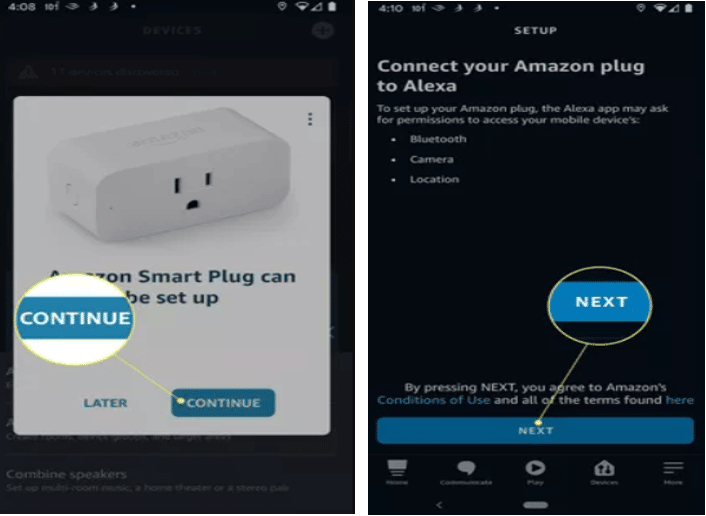 At this point, tab 'Scan Barcode.' If the barcode is not there or scratched, tap 'Don't Have a Barcode' and follow the on-screen prompts.
Use your smartphone's camera to scan the barcode on the smart plug. Note that you will need to disconnect the smart plug to see the barcode because it's underneath.
Now, you have successfully configured your Amazon Smart Plug.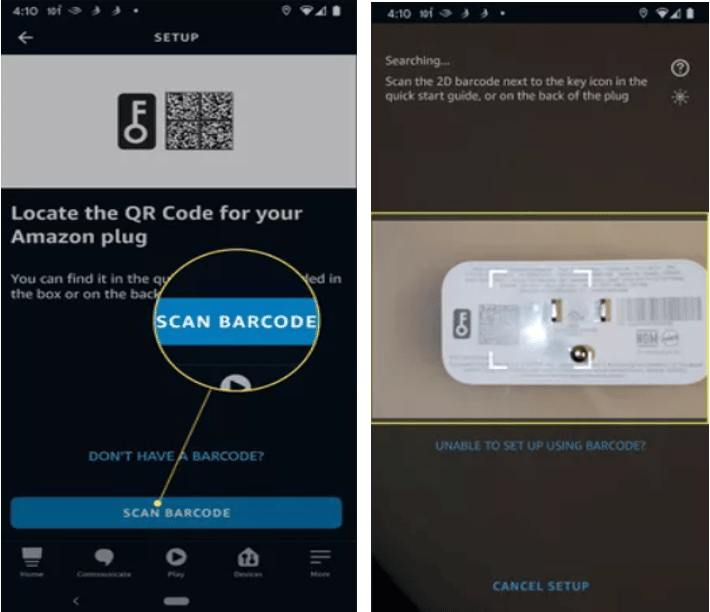 As you set up your Amazon Smart Plug, ensure your phone is within 30 feet of the smart plug. Also, ensure that it's not on power-saving mode to avoid issues during setup.
Check the Smart Plug's Power Outlet
If the power to the socket on which your Amazon Smart Plug is connected is controlled by a switch, ensure it's turned on if the smart plug has become unresponsive.
However, if a switch doesn't control the flow of current to the socket, check the socket itself to see if it's functioning properly or not by connecting a lamp to it.
If the lamp is working, then the socket is okay, and if the lamp isn't working, it means your socket isn't functioning properly. Therefore, check the current flow to the socket on which you've connected your Amazon Smart Plug to see if it's responsive.
Reset Your Router
If the socket you've connected to your Amazon Smart plug is okay, it might be that your Wi-Fi router is the issue, hence why the smart plug is unresponsive. Therefore, by resetting the router, you can easily fix the issue.
This will sort out any communication or technical issues that could affect the normal functioning of the Amazon Smart Plug. To reset the Wi-Fi router, press the reset button on the side or back for a couple of seconds.
How to Reset Amazon Smart Plug?
Finally, if all else fails, try resetting the smart plug itself. This will remove your smart plug from the Alexa app, and it can also remove any technical glitches that might be affecting your plug.
Once you've done this, head back to the Alexa app and reconnect your device to see if the smart plug is functioning correctly or not. To reset the Amazon Smart Plug:
Press and hold the button on the smart plug for about 12 – 15 seconds.
At this point, the LED notification light on the smart plug will start to flicker. This means that you have reset your Amazon Smart Plug successfully.
Note: After you reset your Amazon smart plug, it won't connect to your WiFi; hence it will be unresponsive. This means that you need to set it up as if it were a new plug. When setting it up ensure you're close to your router to prevent connection problems.
Final Thought
All in all, the Amazon smart plug can become unresponsive due to a couple of reasons, such as bugs, communication, and technical issues, etc. However, when you follow the tips illustrated above, you can have your Amazon smart plug up and running once again.
See Also
How to Connect Alexa to iPhone
How to Connect Smart Plug to Alexa