How to Connect Smart Plug to Wi-Fi? – Before You Start
When you get a new smart plug, the initial step to get it functioning is connecting it to your home Wi-Fi network. This process varies from one smart plug brand to the other, but generally, they follow the same basic steps.
When you get the smart plug, it comes with a feature to connect to your home Wi-Fi network, but it won't connect until you give it access to your network name and password.
However, it transmits a Wi-Fi hotspot to connect your smartphone to the smart plug, providing your phone with those details.
This review is geared toward standalone smart plugs that connect to Wi-Fi networks directly. What's more, if your smart plug came with a bridge, the same setup steps will apply to the hub instead of the smart plug.
The Setup Process
To begin the setup process, you'll need to download the Kasa app on your Android or iOS smartphone. This is TP-Link's companion app for its smart home device lineup.
After installing the app, launch it and click on 'Create Account.'
Enter your email address, create a passcode and then click on 'Create Account.'
You'll need to confirm your email address to proceed. Open your email inbox, click on the email you've gotten, and then click on the verification link. Once you're done, you can go back to the Kasa app and click on the 'Continue' button.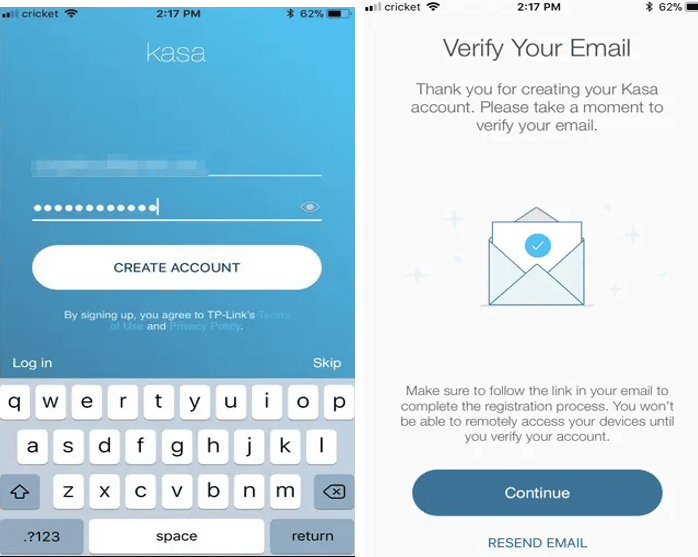 Next, decide whether or not you want to give the app access to your location. This will allow you to set a schedule for the plug based on sunrise and sunset if you don't want to set schedules no need to give the app access to your location.
Now you'll be taken to the app's main screen. To set up the smart plug, click on the plus (+) sign in the upper-right corner of your screen.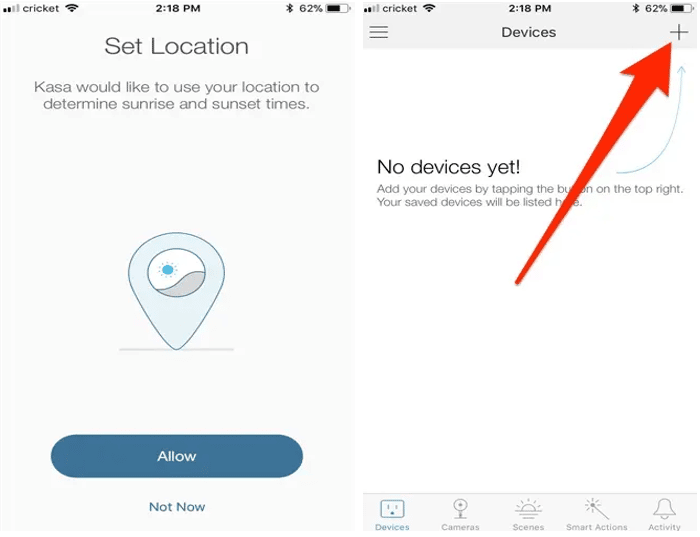 Scroll down the list and select the device you want to set up.
Next, connect your smart plug to a power outlet and allow it to boot up; this should only take a couple of seconds. The Wi-Fi icon should have an orange light and then flash between orange and green. When you see this, click on the 'Next' button twice.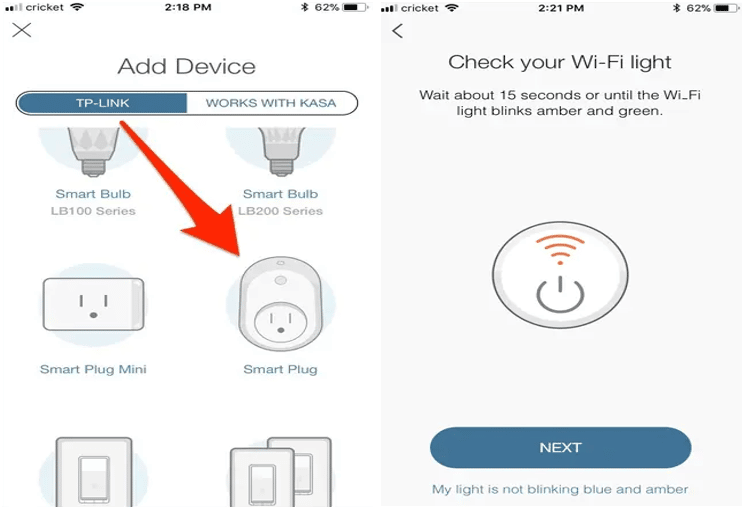 Now you need to access the Wi-Fi settings on your phone and connect your phone to the Wi-Fi network being broadcasted by the smart plug.
Once you've done connected to the plug's Wi-Fi network, you can head back to the Kasa app and name the smart plug. Enter any name you want and then click on 'Next.'
Choose the icon you want to give your smart plug; this is not important, but it's kinda fun. You can even pick a photo from your camera roll for a certain reminder of the device you're controlling. Select the icon you want and press the 'Next button.
Connect the smart plug to your Wi-Fi. To do this, enter your network's passcode and click on 'Next.' If you want to join a different network than the one the app pulls up first, click on 'I'd like to use a different network' at the bottom of your screen.
After connecting to your Wi-Fi, the smart plug must get the latest firmware version from TP-Link's website. Click on the 'Update' button to do this.
Give it a couple of minutes to download and install the updates. During this period, you might note the smart plug turning on and off automatically.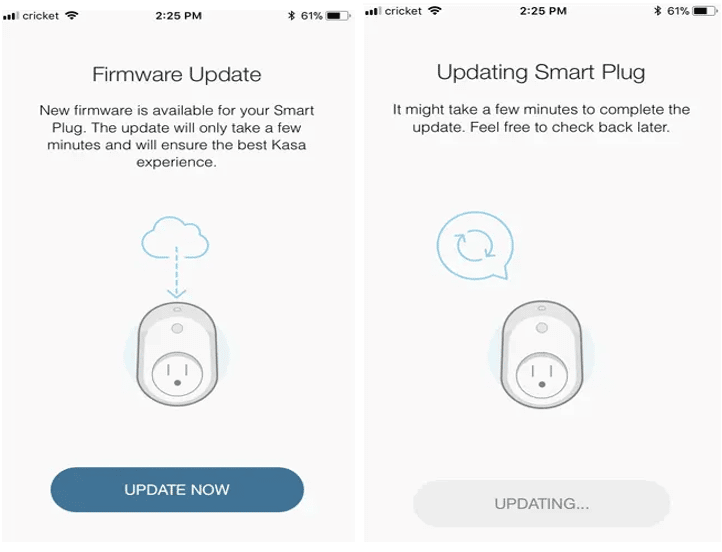 When the update is done, click on 'Done.'
Then click on 'Done' again.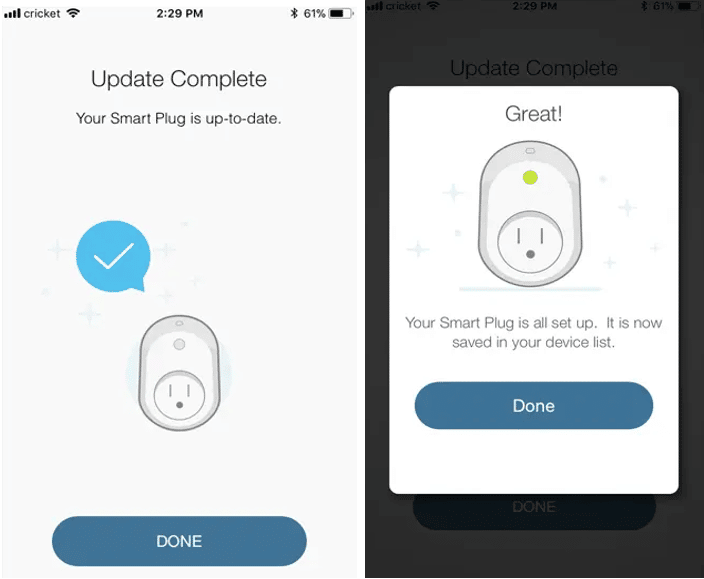 At this point, your smart plug should appear on the app's main screen, and you can click on the power button on the right of the device's icon to switch it on and off.
Clicking on the smart plug's icon reveals more info about its usage.
Clicking on 'Total Runtime' brings up more info about how long the plug has been on alongside 7-day and 30-day totals and averages.
The Kasa Smart Plug provides runtime info, which is pretty much what every other smart plug offers. Unfortunately, this info isn't as detailed as what you get from other smart plugs. However, it's better than nothing, and this app is user-friendly.
Note: When connecting your smart plug to WiFi, you might run into connection issues. To fix connection problems, ensure your WiFi is working, ensure you're setting up your plug close to your router and finally ensure you don't have too many devices connected to WiFi.
Final Thought
To sum it all up, connecting a smart plug to Wi-Fi is relatively easy if you follow the steps illustrated above. However, note that most smart plugs use a 2.4 GHz Wi-Fi band, so if you connect them to a 5 GHz Wi-Fi band, most likely, they won't function.
See Also
Amazon Smart Plug Unresponsive
How to Connect Smart Plug to Alexa
Best Smart Plug for Google Home