Best Smart Thermostats
Smart thermostats connect your home's air conditioning and heating to the internet so that you can control them even when you're away.
With a smart thermostat, there is no more wasting energy because you forgot to turn down the heat as you were going to work.
Smart thermostats come in two different models, namely those that enable you to turn cooling and warming systems on or off remotely and those that enable you to adjust the temperature in specific rooms.
You can also find some intelligent thermostats that do both.
When you have a smart thermostat, you can use your smartphone to adjust the temperature in your home.
In addition, you can use a voice assistant such as Amazon Alexa, Apple Siri, or Google Assistant if you have a smart speaker or a smart display.
Smart thermostats can also integrate with other smart home devices and enable you to automate your home; for instance, switching on smart lights at the same time the thermostat begins to raise the temperature by a couple of degrees.
There are many smart thermostats in the market from brands such as Ecobee, Honeywell, and Nest. Unfortunately, this can make you feel a bit overwhelmed when trying to determine which is the best smart thermostat for you.
Fortunately, we have reviewed numerous smart thermostats and narrowed down the list to several of them. Read on to find out more.
What Should You Consider When Getting a Smart Thermostat?
C-Wire Requirement
A majority of the smart thermostats you'll find need more power than a set of batteries can offer. However, they don't need so much power that you have to plug them directly into a power outlet. Instead, they depend on the low-voltage power from your HVAC system.
Most intelligent thermostats need a dedicated C-Wire for power, while others can draw electricity from other sources such as R-Wire. However, the latter is known to cause problems with several HVAC units, including permanent damage.
If you pull out your old thermostat and find there is no C-Wire attached to it, check inside the wall and see if there is a cable that hasn't been connected.
If you don't find a C-Wire, get a technician to install one for you. Most manufacturers recommend using the C-wire.
Geofencing
This function uses your smartphone's GPS and the dedicated thermostat app to create a virtual perimeter fence around your home. When you exit the perimeter, it's assumed that you no longer need to heat or cool your house.
When you enter the perimeter as you come home, maybe from work, your HVAC system will start running so that your house will have optimum temperatures by the time you walk in.
Motion and Proximity Sensors
Geofencing is perfect as long as every household member has a smartphone. Motion and proximity sensors are the alternatives to determining if your home has occupants and, therefore in need of temperature regulation.
Some smart thermostats can use your home security system's motion sensors as well as the door and window sensors. In addition, the proximity sensors on the thermostat can cause the screen on the thermostat to turn on when you pass by.
This feature comes in handy mainly at night because it can act as a pathway light to ensure you or your kids don't trip due to darkness.
Smart-Home Integration
All smart thermostats have dedicated apps so that you can control them using your phone or tablet. However, the best ones can be combined with other smart home devices.
For instance, you could use a voice assistant such as Alexa or Google Assistant to adjust the temperature.
You can also link your thermostat to your smoke detector so that the fan turns off when there is a fire, thereby preventing the spread of smoke throughout the house.
Other control options to consider include Apple HomeKit compatibility, IFTTT (If This Then That), Stringify compatibility, smart-vent connectivity, etc.
User Interface
Gone are the days when a thermostat's UI (user interface) comprised numbers on the central unit. The more buttons a thermostat has, the more difficult it can be to use.
The last thing you want is to have a thermostat you don't know how to control, yet your home is very warm or very cold.
The best smart thermostats can share important info very quickly and even adapt to your mannerisms, making it easy for you to control them.
The Best Smart Thermostats are as Follows:
We may earn an affiliate commission when you purchase through links on our site.
1. Ecobee Smart Thermostat
The Ecobee Smart Thermostat features smart sensors that automatically detect when anyone is inside a specific room and turn on heating or cooling.
It can tell when you exit the house and learn your routine to make recommendations about your schedule.
With the new software update, this thermostat will adjust temperatures depending on demand and current energy prices.
This can enable you to save up to 23% on energy costs when the thermostat automatically turns down heating or cooling when prices are higher than usual.
Unlike other thermostats on this list, the Ecobee has Amazon Alexa built-in so that you can adjust temperatures using verbal commands even if you don't own an Echo display or speaker.
You can also use it to control other smart devices, make calls, check the weather, etc.
Besides Alexa, Ecobee also works with Apple HomeKit, Google Assistant, IFTTT, Microsoft Cortana, and Samsung SmartThings. You can control it from anywhere using your phone.
2. Nest Learning Thermostat
The 3rd-generation Nest Learning Thermostat is perhaps the smartest thermostat on this list. It's intuitive and will learn what temperatures you want at specific times of the day.
Moreover, after one week of use, it will program itself so that you won't need to go through the nerve-wracking process of setting schedules on the thermostat itself or the accompanying app.
This smart thermostat will also learn your routines and automatically switch to 'Echo Temperature when you leave for work in the morning or retire to bed at night.
It also factors outside conditions and how they affect temperatures in your home and will give recommendations to help you save on energy bills.
The Nest was the first brand to get the Energy Star from the EPA (Environment Protection Agency), so you can be sure that their devices will save you money.
In addition, Google researched the energy bills for users in over two-thirds of the U.S. and found that the average user saved at least $130 per year. This means this device will pay for itself in less than two years.
You can control the Nest Learning Thermostat using your PC, smartphone, or tablet. You can also use Google Assistant, Alexa, or IFTTT.
Unfortunately, this thermostat doesn't come with temperature sensors, but you can buy them separately for cheap. Overall, I am happy with the battery life of the Nest Learning thermostat as I charge it only twice a year. The battery life may vary depending on how often you engage the device directly.
3. Honeywell Home T9 Pro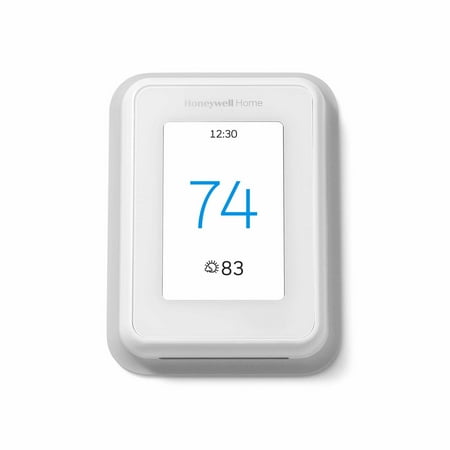 If you have a huge house with lots of rooms, then the Honeywell Home Pro is perhaps the best smart thermostat for you. This thermostat has a room sensor that lets you set different temperatures for different rooms in your house.
You can also activate 'Auto Mode.' The thermostat will detect which room has occupants and adjust the temperatures accordingly.
Honeywell allows you to add up to 20 extra room sensors to this thermostat and place them in any room that gets too warm or too cold. This means you won't need to change the temperature when you go to another room.
You can set up Geofencing or program it with a weekly schedule. What's more, this thermostat can learn your heating and cooling routines and adapt accordingly.
You'll also get reminders when there are sudden temperatures outside or when you need to change the filter.
This thermostat is attuned with most HVAC systems, and it consumes very little power such that it doesn't need a C-Wire.
Also, it works with Alexa, Google Assistant, IFTTT, and Microsoft Cortana. You can adjust temperatures from anywhere in the world with the dedicated app.
4. Hive Heating and Cooling Smart Thermostat
If you want a smart thermostat that will be the basis of your smart home network, then the Hive Heating Active might be the perfect fit.
This thermostat is the result of cooperation from Hive and a Swiss designer called Yves Behar.
Yves has also worked on PayPal's brand identity and the August smart lock. This means you'll be proud to have this unit on your wall.
When it comes to the ecosystem, Hive has a wide variety of intelligent lights, smart plugs, and smart security cameras, all of which can be adjusted using the Hive app.
It's worth noting that this intelligent thermostat doesn't support Apple HomeKit, so if you already have other Apple smart home appliances, maybe try something else.
5. Emerson Sensi Touch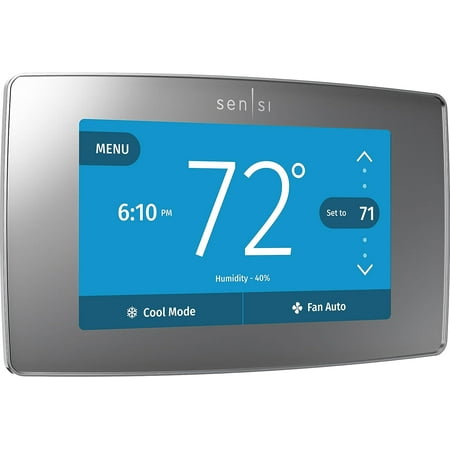 The Emerson Sensi Touch is one of the top smart thermostats for people on a budget. This inexpensive smart thermostat features Geofencing, smart alerts, and even an Energy Star certification from the EPA.
This means that it will automatically regulate the temperatures inside your house, depending on whether you're home or not.
The Energy Star certification means that this thermostat will enable you to save up to a quarter of your heating and cooling costs.
You can control the Emerson Sensi Touch and check on your energy consumption using its app. In addition, the app will send you alerts when the thermostat notices extreme temperatures and humidity levels inside your house.
The Emerson Sensi Touch is very discreet, so you won't have to paint your walls when you buy it. Most people can install this thermostat on their own in less than 20 minutes. It works with most HVAC units, but you need a C-wire for heating and cooling.
It's compatible with platforms such as Alexa, Apple HomeKit, Google Assistant, and Samsung SmartThings.
6. Bosch Smart Wi-Fi Thermostat
The Bosch Smart Wi-Fi Thermostat has all the features you'd expect to get from a smart thermostat. You can install it by yourself, assuming that your HVAC system has a C-Wire.
It's quite flexible, and it can control most HVAC units, including those powered by electricity, gas, and petrol.
It can also control systems with two heating and cooling stages, four heating and two cooling stages, and any one-wire home humidifier or dehumidifier.
It has a dedicated mobile app that you can download on your Android or iOS smartphone.
You can also issue voice commands to this intelligent thermostat using Amazon Alexa. Unfortunately, there is no support for Apple Siri, Google Assistant, Microsoft Cortana, etc.
7. Wyze Thermostat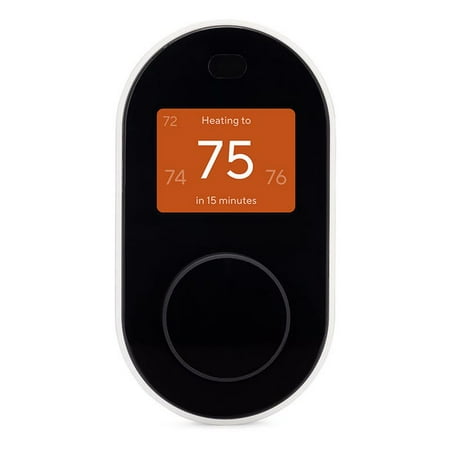 If you're looking for simplicity in a thermostat, look no further than the Wyze Thermostat.
It's one of the newer thermostats on the market, but it still packs some premium and intuitive features and maintains most of the automated tasks you expect from a smart thermostat.
This smart thermostat has an in-built motion detector that can tell when you're at home and when you leave the house. This enables the thermostat to adjust temperatures accordingly.
In addition, the Wyze Thermostat will track your entries and exits and make suggestions via the accompanying Wyze app to help you save on energy bills.
You can use the Wyze app pretty much anywhere, but you also get a touch dial on the Wyze Thermostat, which also lets you make heating and cooling adjustments in your home.
8. Google Nest Thermostat
The Google Nest Thermostat is the budget thermostat model of the Nest lineup, not to be mistaken for the Nest Learning Thermostat. It's about $100 cheaper than the lineup's leading model, and it doesn't look quite as flashy.
However, it still has a touchscreen panel rather than the outdated spin-and-press panel. It's a very attractive device that retains Google Nest's iconic round aesthetic.
The Nest Thermostat relies on the Home app now that the Nest app is gone.
This thermostat can learn your schedules and even has a sensor to determine if you're near it. However, it's not compatible with other sensors like the Nest Learning Thermostat.
Final Thought
All in all, smart thermostats allow you to regulate the temperature in your home using various techniques.
In addition, they also allow you to set schedules and provide a report charting for your energy use.
The best smart thermostat on this list is perhaps the Ecobee Smart Thermostat because it works with most voice assistants, has a dedicated app and has plenty more features.
See Also
How to Setup Google Home Mini 2nd Generation
Best Smart Bulbs for Google Home
Best Smart Home Security Systems