Best Lenovo Laptops
Best Lenovo LaptopsAccording to data from the IDC (International Data Corporation), Lenovo is currently the largest PC maker in the world.
While other companies such as Apple, Asus, Dell and HP make some great devices, it comes as no surprise that Lenovo is at the top.
What's more, the best Lenovo laptops consistently rank near the top in most PC rankings.
As a matter of fact, Lenovo's ThinkBook Plus Gen 3 won the best innovation award of all laptops that debuted at the CES (Consumer Electronics Show) 2022.
Still not sure which Lenovo Laptop to buy?
Worry no more; this review will cover the best Lenovo laptops, such as the best Lenovo laptops for gaming, best Lenovo Chromebooks, best Lenovo laptops with 32GB RAM, best Lenovo laptops under $1000 etc.
We'll also look at some of the best Lenovo accessories, such as docking stations and even how to connect Lenovo laptops to monitors. Let's go.
Best Lenovo Chromebooks
Google started making Chromebooks as a budget alternative to macOS and Windows OS PCs, but they have become versatile machines over time.
Today you can find Chromebooks at various price points and from virtually all the leading PC brands, including the largest one, Lenovo.
Lenovo Chromebooks are scattered far and wide across several form factors and purposes.
Lenovo has super affordable Chromebooks and some premium options. In fact, Lenovo has added Chrome OS machines to most of its different PC lineups.
This means you can get a Lenovo Chromebook similar to your favorite Lenovo Windows OS laptops.
If you're on a budget, you'll find that some of Lenovo's Chromebook offerings are better computing machines than their Windows OS counterparts.
But, keep in mind that a Chromebook will suit you best if you work primarily from a browser such as Chrome.
When buying a Chromebook, there are some important things to keep in mind, such as display size, weight and form factor, depending on your usage and travel needs.
If you're using the machine for media consumption, a 2-in-1 Flex or Yoga Series Laptop will do the trick.
Lenovo offers Chromebooks with a range of processors such as low-power ARM-based chips and powerful x86 AMD and Intel chips.
Lenovo's Chromebook offerings with ARM-based chips are budget-friendly because the components are also cheap.
The ones with AMD or Intel chips are priced a bit higher, but they will give you the best bang for your buck with awesome battery life and performance.
Now that we've seen that Lenovo has plenty of Chromebook options, you might be unsure which would be the best option for you.
Worry not; you can proceed to our review titled the best Lenovo Chromebooks to see the best options.
Also, consider checking out the Lenovo Chromebook Duet review to see what is perhaps Lenovo's best Chromebook offering.
Best Lenovo Laptops for Gaming
Nowadays, PC gaming has become very popular. A 2023 study showed that 43% of adults played games on their PCs hence the popularity of machines that can handle intensive graphics.
The worldwide gaming laptop market in 2022 was valued at $11.608 billion.
Laptop games are getting more intense graphics, so getting the right gaming laptop to handle these intensive titles is very important.
It's the first step in ensuring that you have the best experience if you love gaming on a PC.
When people search or think about the best gaming laptops, they consider Acer's Predator lineup, ASUS' ROG (republic of Gamers) lineup, Dell's Alienware lineup, HP's Omen lineup, and MSI gaming laptops, to name but a few.
While Lenovo might not be a brand that you think of when it comes to Laptop gaming, it's one of the largest makers of cheap, mid-range and high-end gaming PCs.
Lenovo's gaming PCs even outdo the competition because of their attractive prices across the board.
So whether you're looking for a high-end gaming laptop or a decent one under $1000, you can bet that Lenovo has something for you.
Fortunately, we have compiled a review of the best Lenovo laptops for gaming. Feel free to check it out to learn more.
Best Lenovo Laptop for Students
As you prepare for college, you will undoubtedly realize that you need to upgrade your Laptop from what you were using in your high school years; that's assuming you didn't have a good one.
It's even better to get one that will last for your entire college duration.
So why not consider Lenovo? It's famous for making some of the most iconic notebooks. Their ThinkPad lineup might appeal to you, although it's designed for business people.
But even though Lenovo takes pride in offering business solutions, they also care about students and design laptops that might suit their varying needs.
When you embark on a journey to search for the best Lenovo laptop for students, consider how often you use the machine. Regardless of the course, you'll need to take notes.
So it's important that the Laptop has an ergonomic keyboard and software necessary for effectively taking notes and completing assignments with relative ease.
The basic entry-level Lenovo laptops are available for a measly $300.
Still, for a couple of hundred bucks more, you can get a top-notch notebook with better battery life, an SSD (solid-state drive) which is faster than HDD and overall better performance.
With the current supply chain hiccups, you might think it's hard to get your hands on a powerful, budget-friendly laptop for school.
Fortunately, Lenovo has PCs with various chipsets, such as AMD and Intel, so you don't miss out.
The only Lenovo student laptops you might have to wait for are those outfitted with 11th Gen Intel Core chips that promise to give you a much-needed boost if you're gaming or multitasking.
That said, check out our review titled best Lenovo laptop for students to learn more.
Best Lenovo Laptops under $1000
The range between $500 and $1,000 probably has the largest selection of laptops, such as business and multimedia PCs of different sizes, compact and mobile subnotebooks and the renowned convertible PCs, otherwise known as 2-in-1 laptops.
One of the brands that excel in this category is Lenovo; their sub $1000 laptops come in all shapes and sizes to cater to a wide variety of users.
Most of their machines have enough power for what different users need every day.
They can handle everything thrown at them, from relatively heavy multitasking comprising study and work-related apps to gaming, photo and video editing, etc.
Depending on who you are and your needs, there are some features you could be willing to compromise; others, not so much.
For instance, a mid-range CPU should work for you if you need a sub $1,000 Lenovo laptop for casual web browsing and productivity apps.
However, if you're constantly on the move and you use your PC outdoors, you can't compromise on features such as good battery life or variable screen brightness.
That said, there are plenty of brilliant sub-$1000 Lenovo laptops out there, from business laptops to convertible 2-in-1 laptops.
For more details on sub-$1000 Lenovo laptops, check out our review on the best Lenovo laptops under $1000 to learn more.
Best Lenovo Laptop with 32GB RAM
The best Laptops with 32GB RAM range from durable business notebooks and gaming PCs with high-end specifications to ultra-thin and light notebooks.
Not everyone needs 32GB RAM, but if you're focusing on apps for design or editing, 32GB RAM will make a whole lot of difference.
This is especially the case when working with massive files as well as modern gaming titles that eat up RAM with no remorse.
Lenovo is one of the brands that excel in making high-end PCs, for instance, those equipped with 32GB RAM. Lenovo has something for every user, from the brilliant ThinkPad notebooks and budget-friendly IdeaPad laptops to the sleek Yoga lineup of notebooks.
Even if you want a 2-in-1 detachable PC or a flexible and foldable PC, Lenovo has you covered. Still not sure which 32GB RAM Lenovo laptop to get.
Check out our review of the best Lenovo Laptop with 32GB RAM to learn more about the features of these laptops.
Best Lenovo Laptop Docking Station
Also known as universal port replicators, PC docking stations are effective hardware devices that allow portable PCs to effortlessly establish connections with other devices.
Docking stations have become very significant because they allow users to transform their notebooks into desktop computers.
You can even get the docking setup permanently installed at home or in the office.
Laptops and Tablet hybrids such as the ThinkPad X1 Yoga from Lenovo are impressive productivity machines, but a docking station can allow you to blow up the contents of their screens on larger monitors.
A docking station will also add more ports for your peripherals to help increase your productivity significantly.
This is especially handy when you have an ultra-thin laptop with maybe two Thunderbolt ports and one full-sized USB port.
There are tons of docking stations in the market ideal for your Lenovo machine, and all offer the basics such as audio jacks, Ethernet and USB ports.
However, some are better based on the number of USB ports, display ports available and whether or not they can charge your PC.
We've gone out of our way to provide you with a host of options if you're looking for a docking station for your Lenovo laptop.
These docks have various ports, so you can be certain that functionality won't be an issue.
So go ahead and check out our reviews on the Best Lenovo Laptop Docking Stations and Laptop Docking Station for Lenovo to see the docking station options available.
How Do I Connect Two Monitors to My Lenovo Laptop?
A multiple monitor setup is a brilliant way to improve productivity and achieve results without too much work. Laptop manufacturers such as Lenovo have made it easy to connect multiple monitors to laptops by availing various ports.
How to Connect 3 Monitors to a Lenovo Laptop Docking Station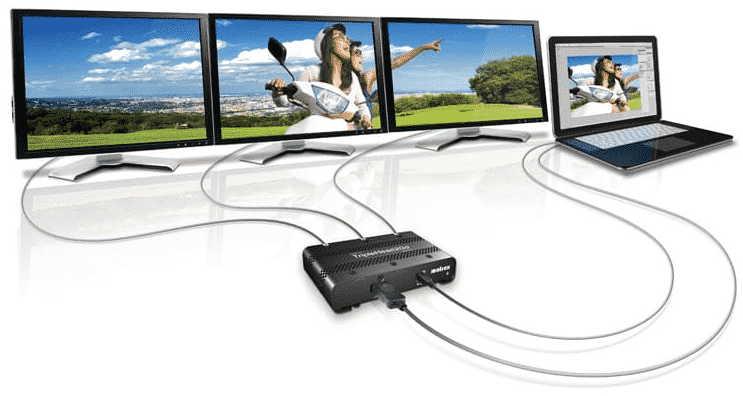 It's possible to connect three monitors to your Lenovo Laptop. However, you can't connect them directly to your Laptop.
You need a device that has multiple DisplayPorts, HDMIs or VGA ports. This is where a docking station comes in handy.
You can connect three monitors to your Lenovo laptop from a single port with a docking station.
How to Connect Lenovo Laptop to A Monitor?
Whether you're employed or a student, you'll be more efficient when multitasking.
Apart from optimizing your office or school work, an external monitor setup can help you better play games, stream movies and TV shows, and surf the web.
There are several ways of connecting a laptop to a monitor. One of the best methods to do this is using an HDMI cable. In fact, HDMI (high-definition multimedia interface) is one of the most common audio-visual standards used today.
HDMI can deliver HD audio and video signals over one cable. What's more, all the latest Lenovo laptops have at least one HDMI port.
So all you need to establish a connection between your Laptop and monitor is an HDMI cable.
Once you have an HDMI cable, connect one end to your Laptop and the other end to your monitor.
However, before you buy an HDMI cable, check the display input of your external display because instead of an HDMI, it might have a DisplayPort or VGA port.
You can learn more about connecting a Lenovo laptop to a monitor by checking out the review on How to Connect Lenovo Laptop to Monitor.
You can also check out our review on How Do I Connect My Lenovo Laptop to a Monitor Using HDMI?
Final Thought
To sum it all up, Lenovo is one of the largest PC makers and for a good reason. As you can see, they have laptops for various people, at various price points and with varying features.
So next time you want a Laptop for any purpose, consider Lenovo.
See Also
Best Laptops for College Students