How to Enable Canon T7 Flash on Canon EOS Rebel T7?
Just like its predecessor T5i Canon flip screen DSLR camera, Canon t7i also somewhat struggles in the low light images without flash. The inbuilt Canon T7 flash saves the day even on scenes that are way too dark. The features and functionality of Canon t7 flash will depend on the exposure mode you are using. For beginners, properly adjusting the flash on dark scenes are one of the biggest challenge.
How Canon t7 flash range depends on ISO setting and lens focal length
Camera's sensitivity to light depends on how you have set the ISO of the camera. With lowest ISO set to 100, the Canon t7 flash range will vary from 3 to 5.8 feet involving focal length of 18mm which is considered the widest for 18mm to 55mm kit lens. When choosing a large focal length of 55mm, the flash range will become short at which it will extend from a maximum of 3 feet to 5 feet. If an image is far away, high ISO speed should be set to illuminate it. You can also use the alternative of auxiliary flash that offers better light compared to built-in flash (Hey! It's on Amazon).

Never get too close to an object while using canon t7 flash
If you move close to the focused object placed in the dark, it may not be adequately highlighted. Here, a test shot will help modify the required shooting distance to capture picture-perfect.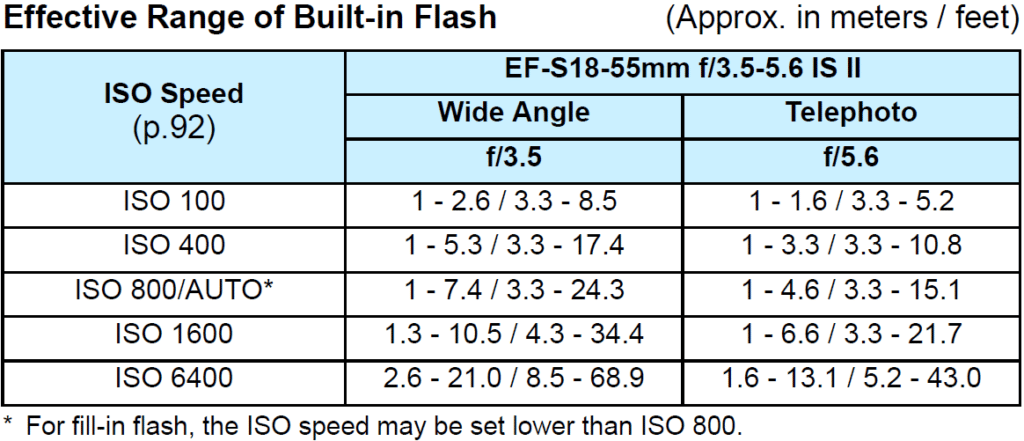 Look for shadows when using canon t7 flash
Shadow of lens or lens hood is common for casting shadows when shooting in low light or using a flash.In this case, it is better to use a long lens that can prevent the casting of unwanted shadows resulting from flashlight of lens.
Recycling of flashlight
When the flashlight is recycling, it shows busy signal on the viewfinder of camera. It needs few moments before it is ready to be used again. This busy alert may also show up when you are using Live View mode.
How to use Canon t7 flash function with bright backgrounds?
To achieve perfect image capture using flash with bright backgrounds, you should know the right usage of shutter speed. This determines for how long the shutter will remain open and meanwhile allowing the light to hit the object sensor and expose it in the right manner.
Use slow shutter speed allowing the camera to get enough time to soak up required light. As a result of this, the subject will require less flash power to illuminate itself. In this case, lower the shutter speed, better the image gets illuminated even when shooting with brighter backgrounds.
When using Canon EOS Rebel T7, you can opt for the slow shutter speed option. However, to alter shutter speed, you have to set the dial mode to shutter priority or change it to manual exposure mode.
Now, rotate the main dial to adjust the shutter speed and try to keep it as slow as 30 seconds for better image results.
You can use a maximum of 1/200 shutter speed when using the built-in flash. The limitation comes as the camera has to adjust with the flash that comes as soon as the shutter opens. The wrong shutter speed can result in two problems. Firstly, at 1/200 speed, a moving picture may seem to be blurry. Secondly, in the case of bright light, to prevent problems of overexposure of the picture, fast shutter speed is suitable.
How to Enable and Disable Flash on Canon T7
Using Canon t7 flash and controlling its firing should be used properly for right exposure on the object.
Auto, portrait, close-up and night portrait
If less light is focused on the object, and the camera thinks that there is need for extra light, it will raise and use its built-in flash system for better coverage. Other than this, the flash system will remain closed with capturing image.
Details of food mode
The flash system gets disabled by default and it is recommended not to use flash system in food mode as it may mean extra light exposure of the object. It can result in distracting shadows or it can reflect the plate or other surfaces without capturing the food properly. To use the flash function properly, you have to make adjustments using Quick Control screen. With flash function enabled, if you half press the shutter button, the built-in flash will pop-up.
How creative auto mode works?
There are three flash modes under this and these are mentioned below.
Auto flash – Based on the lighting conditions, the camera decides whether the flash system is required or not.
On mode – If you switch on this mode, the flash system will firelight even if the image does not call for extra light. But fill flash is a technique using which you can brighten up people' face even in bright surroundings.
Off mode –In this mode, even if the flash rises, it will not fire flash.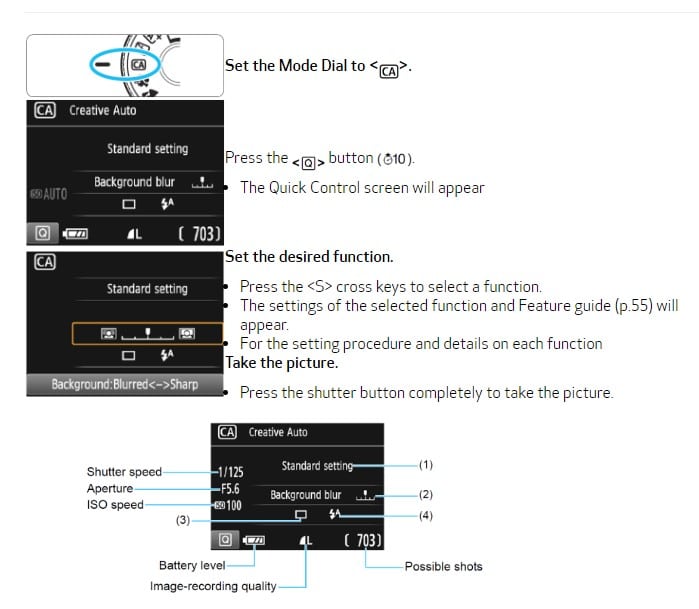 Therefore, to check flash mode, you can press Q button that will activate the flash modes. You can access these modes via Quick Control Screen. Here, you can turn the main dial to choose between the flash modes.
For using the built-in flash system, you have to press flash button that is located on the top of the camera towards the right side. To be precise, it is between the mode dial and main dial button. If you push the button, the flash will pop-up and it will fire extra light on your next shot. If you do not want, press down the flash unit.
Red-eye reduction flash
Red-eye reduction is caused flashlight bounces back from the middle of the focused subject, and it hits back directly to the camera's lens. This commonly occurs on human images and in case of animals, the color changes to yellow, green or white.In case of red-eye problem, try to use red-eye reduction flash functionality. If you half-press the shutter button, the red-eye reduction lamp lights up that is located in front of the camera.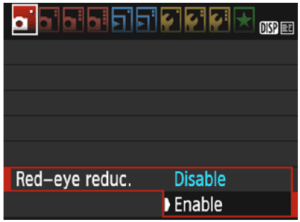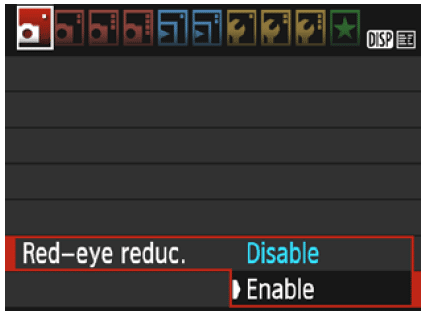 Reduction flash functionality: If you half-press the shutter button, the red-eye reduction lamp lights up (located in front of the camera). Optionally Under the 
tab, and then select [Red-eye reduction], then press 
. Select [Enable], then press 
Canon EOS Rebel T7 / 2000D is largely been considered as a perfect DSLR for everyone who has just stepped into the world of photography or vlogging.
how to transfer photos from canon to iphone