How to adjust Canon EOS R portrait settings for portrait photography?
The Canon EOS R first arrived in 2018. It has a familiar 30.3 Megapixel CMOS sensor without an optical low pass filter.
The device is paired with a new powerful DIGIC 8 image processor which gives you a native ISO range of 100-40,0000, and continuous shooting at up to 8 fps.
The Canon EOS R flip camera has Dual Pixel AF like the current Canon DSLRs but it is overthrowing the existing models with 5,655 selectable AF points and boasting 100% horizontal and close to 90% vertical coverage.
The Canon company has given this camera a weather-sealed magnesium alloy shell.
Moreover, the users will be getting a 0.5-inch OLED electronic viewfinder with 3.69 million dots, an impressive 0.76x magnification, and a great 23mm eyepoint. EOS R can record 4K(UHD) at 30 frames per second.
Portrait photographs captured with Canon EOS R
How to shoot outstanding portrait photos with Canon EOS R?
STEP 1. Using Wide Aperture
When taking portrait shots, it is better to set a wide aperture (f/2.8-f/5.6) to get a shallow depth of field, making the background behind your subject nicely blur and giving them quite a standout.
Also, you can use special portrait lenses that will give you, even more, wider apertures ( around f/1.4 – f/2.8)to blur the background even further.
STEP 2. Higher ISO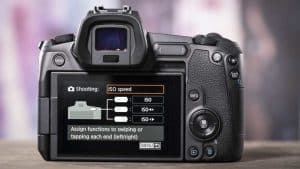 People blink and continuously change facial expressions as they are photographed and there is nothing worse than a photo where somebody is grinning instead of smiling or half blinking.
To avoid these kinds of problems and prevent motion blur from appearing in your captured photos, you'll need a fast shutter speed.
This will help you to avoid camera shakes and ensure sharp shots. So, in Aperture priority mode go for wide aperture and to increase shutter speed increase ISO (around 100 ISO to 400 ISO). Sometimes in low light conditions (indoors or outside maybe), you may need to increase your ISO to 1,600, 3,2000, or even 6,400.
Your captured picture might get a little grainy but it is better than a useless photo.
STEP 3. Pick a perfect background for your subject
To take a nice portrait shot, the background is just as important as the subject. A distracting background will take away the importance of the subject from the viewers. While taking portrait shots, use a neutral and uncluttered background so the audience won't get distracted as much.
However, it does not mean to obligatorily use a plain background, for example, a musician in front of her guitar, or a fisherman in front of his boat. You can use an interesting wall or a fence to add a pop of color or texture. It is all up to your decision.
STEP 4. Focus on the eyes of the subject
The portrait photographs look better when the eyes of the subject are sharply focused. It creates a powerful engaging photo and improves the eye contact between the subject and the audience.
So make sure to set your focus points carefully when capturing portraits especially with a shallow depth of field.
To do that, go to the viewfinder of your camera and select the central AF point using AF, then position the central focus point directly over the subject's eyes, and further half-press the camera's shutter button to lock focus if needed.
Now, move your camera a bit to recompose your shot and press the shutter button to capture the error-free shot.
The Canon EOS R is one of the ideal cameras to capture some great portrait shots.
Best canon lens for portrait photography
Canon eos r wedding photography settings