Canon EOS R Viewfinder Settings
The Canon EOS R is the smallest, lightweight, full-frame EOS camera, that measures around 5.2 x 3.4 x 2.8 inches and weighs somewhere close to 1.07 pounds, without the lens.
It is a full-frame DSLR with a 30.3 Megapixel sensor providing impressive detail, superb ISO performance, and Dual Pixel CMOS AF. Alongside the new RF lenses and DIGIC 8 image processor, Canon EOS R offers a premium shooting experience to take your storytelling to another level.
Photography with Canon EOS R viewfinder settings
How to shoot photographs using Canon EOS R viewfinder settings
Step 1. Flexibility with Auto Exposure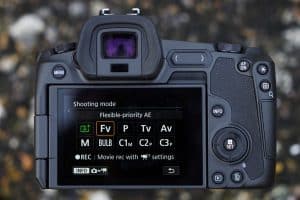 In Canon EOS R, there is a new Fv (Flexible-priority AE mode) that photographers consider to be an extremely useful and efficient function to mix and match auto and manual exposure settings.
In Flexible-priority AE mode exposure mode, when you capture a photo using the Canon EOS R viewfinder settings, the camera sets the aperture, shutter speed, and ISO on its own.
You can toggle between the options and can switch any of those parameters to manual without taking your eye away from the viewfinder.
Step 2. Image styling and advanced filters
The Canon EOS R shoots images with gratifying, natural-looking colors, irrespective of your subject of photography.
We recommend you to use the Auto Picture Style for most test shots, and it will work fine under most conditions.
Additionally, there are plenty of other options to take stunning photographs, including Standard, Portrait mode, Landscape mode, Fine Detail, Neutral filter, Faithful, and Monochrome.
You can also create three of your custom image styles. This camera lets you preset and customize style parameters such as sharpness, vibrancy, saturation, and color tone.
If you want to fine-tune your images in-camera after capturing them, you can use the Creative Assist feature to correct saturation or apply tones such as sepia, blue, etc. to your RAW images and save them as JPEGs.
Step 3. Using the AutoFocus (AF)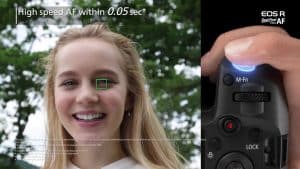 The Canon EOS R sensor facilitates an advanced Dual Pixel CMOS AF system that selects 5655 unique points for quick and accurate focus.
This focusing system is sensitive, has a good range, and its minimum value is EV -6 for working in impressively dark conditions.
The AF system, along with the Canon EOS R viewfinder settings, is a perfect match to record UHD 4K video.
The autofocus is also rounded out by Movie Digital IS to minimize camera shake, an inbuilt Canon Log gamma for a higher dynamic range, and 4K 10-bit 4:2:2 output over HDMI for superior color control.
Step 4. Choice of lens
The Canon EOS R comes with a pair of lenses, but you can buy the ones you need separately. It comes with an all-rounder 24-105mm F4 L IS USM lens, which is excellent for portraits as well as landscapes.
Using the Canon EOS R viewfinder settings, the 24-105mm lens can capture precise, sharp, and well-detailed images when you take a landscape or a portrait shot.
Lots of subtle details are visible in the photos that are shot using this lens. Coupled with the full-frame sensor, this lens offers a good focal range, essential for shooting portraits.
At 24mm, you can get a wide-angle view that is beneficial to shoot iconic landscapes.
On the other hand, if you need a little more zoom, you can use the telephoto reach to a maximum of 105mm.
The EOS R is teamed with a redeveloped lens mount and a renewed full-frame image sensor for a novel and sophisticated multimedia camera system.