How to Add Z-Wave Device to Ring? – Before You Start
The Ring Alarm has quickly become one of the top home security systems thanks to its great potential for expansion, low monthly costs, and robust hardware.
One of its most significant benefits is Z- Wave, a low-power mesh wireless networking technology available in millions of smart home devices and gadgets.
As a result, adding a Z-Wave device to Ring is relatively easy, but before you spend cash buying devices, you need to understand what's possible with 3rd party sensors and what isn't.
What's Possible with 3rd Party Z-Wave Devices?
Before you rush to get yourself 3rd party Z-Wave devices such as sensors, you need to understand that Ring doesn't trust them as much as it trusts its own branded sensors.
A 3rd + party Z-Wave sensor cannot trigger your Ring Alarm when the system is armed. This means that if you're outside your house and someone opens your door, Ring won't alert your neighbour if you have enabled this function.
Also, it cannot sound a local alarm or notify the 3rd party alarm-checking center. But does this make sense? Actually, it does because Ring doesn't want to be on the hook for poorly designed and malfunctioning sensors.
You most likely also don't want to deal with them constantly, and your local police certainly don't want to be dispatched to residences due to false alarms.
Fortunately, Ring is adding 3rd party Z-Wave devices to its approved list, but it looks like it's started on a bad note. At the moment, the only 3rd party Z-wave device that can trigger the Ring alarm is the First Alert Z-Wave smoke and carbon monoxide detector.
Adding The Z-Wave Device
Adding a Z-Wave device to your Ring alarm is similar to adding one of Amazon's Ring sensors.
Launch the Ring app on your Android or iOS smartphone.
Click the plus (+) sign to 'Set up a Device' on the app home screen.
Next, click on 'Security Devices.'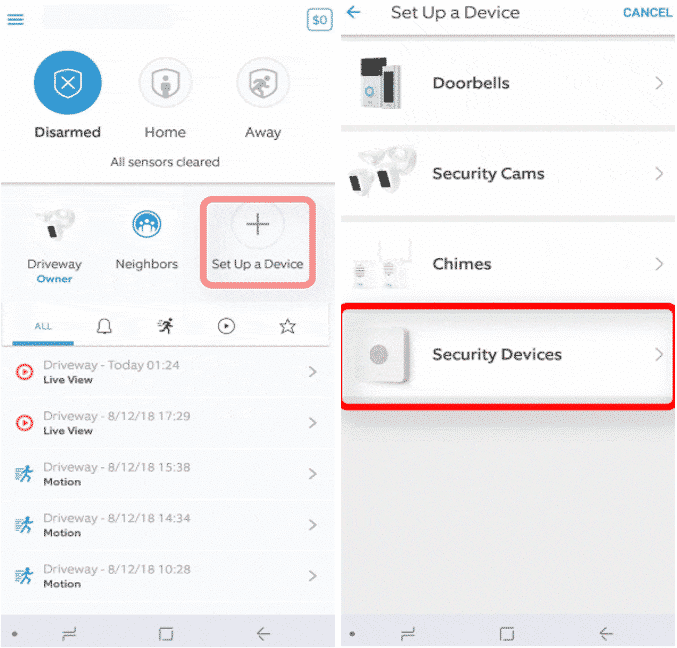 4. Then choose the type of device. For our case, the Z-Wave device we are adding is a sensor, so we scroll down and click 'Sensors.'
5. The next page comprises Ring's own sensors, so to add a 3rd party Z-Wave device, click on 'Add Manually' at the bottom of the page.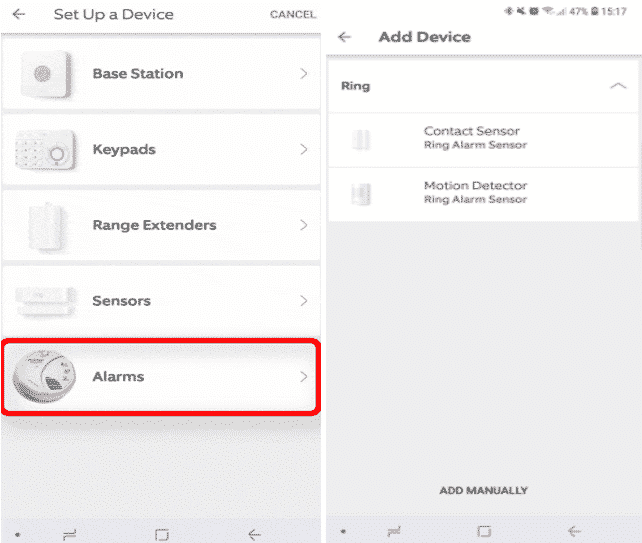 6. On the next page, you'll realize that Z-Wave is the only option.
7. Next, you'll be redirected to the Z-Wave pairing menu. Ensure you carefully follow the on-screen instructions for the Z-Wave device you're pairing.
In this instance, we're adding a 'General Electric door hinge sensor.'
8. After you're done, you can finish by going to the devices menu under the three-line 'hamburger' menu and ensure your newly paired device has been listed.
From here, the sensor's status should change when you open the door and close it. That's basically it; your Z-Wave device has been added to Ring.
Troubleshooting Connection Problems
Batteries
The first thing you need to check if your Ring sensors keep going offline is the batteries. Batteries go bad quickly when exposed to severe weather conditions, physically damaged, or when your device has an old battery.
So the best thing you can do is to swap out the old batteries for newer ones if quick fixes don't seem to be giving you the desired results.
Check the Z-Wave Device's Distance from The Ring Alarm Base Station
Ensure the device is in the Ring Alarm Base Station's range. The Ring Alarm and your Z-Wave device stay connected via Z-Wave technology.
Unfortunately, Z-Wave has a limited range, just like old-fashioned radio frequencies and WiFi. There is only so much that the Z-Wave signal can do in terms of how far it can be broadcasted.
One of the reasons for the limitation is the small battery inside the device. This means that it can be out of range, making it go offline. As a result, your home is exposed to threats if the sensors aren't working.
Factory Reset Everything
If all else fails, you can factory reset everything, the Ring app, the Ring Alarm Base station, and your Z-Wave device. This move should help to get everything back online.
All these devices run on basic programs, and just like your PC, smartphone, or tablet, they can run into bugs and glitches along the way.
The good news is that it's really easy to fix bugs in Ring technology. Typically, the fix is factory resetting devices and reconnecting them to your smart home ecosystem.
Note: Before you buy a 3rd party Z-Wave sensor for ring, you should know that Ring doesn't fully support them. Why? Because Ring doesn't want to be blamed for faulty sensors that keep triggering your alarm when nothing is wrong.
Final Thought
As you can see, it's relatively easy to add Z-Wave devices to Ring because the process is similar to adding Ring's own devices. But keep in mind that Ring's list of fully compatible devices is small, so you should consider that before buying devices to add to the system.
See Also
How to Connect LED Lights to Phone
How to Connect Homepod to Wifi