The Best Ps4 Games for Kids
While searching for PS4 games for kids, there's plenty of thought that needs to be put through in the process.
Kids can be picky and they can quickly get tired of video games. You have to pick games that are challenging enough, adventurous and also designed to promote kids' cognitive development at the same time.
So even if you are looking forward to a Lego set, old-school, music, artistic, or action game, this list of PS4 games for kids will guide you to make the right choice.
If you want to be specific on the age group, check out the best PS4 games for kids by age group.
| Game Name | Game Type | Suitable for kids (AGE) |
| --- | --- | --- |
| Rayman Legends | 3D Battle Game for Families | 7+ |
| Lego Worlds | LEGO block building | Everyone 10+ |
| Crash Bandicoot N. Sane Trilogy | Action and Adventure | Everyone 10+ |
| Little Big Planet 3 | Creativity and Fun | Everyone 10+ |
| Lego Marvel Heroes 2 | Arcade-style Gaming | Everyone 10+ |
| Hasbro Family Fun Pack | Family Board Game | 12+ |
| Knack | Action and Adventure | Everyone 10+ |
| Guitar Hero Live | Music Video Game | Teen Adolescents |
| Hohokum | Action and Adventure | Everyone 10+ |
| Angry Birds Star Wars | Action and Adventure | Everyone 10+ |
| Skylanders: Superchargers | Creativity and Fun | Everyone 10+ |
The Best Play Station 4 [PS4] Games for Kids
Rayman legends
Lego worlds
Crash Bandicoot N. Sane Trilogy
Little Big Planet 3
Lego Marvel Heroes 2
Hasbro Family Fun Pack
Knack
Hohokum
Guitar Hero Live
Best PS4 Games for Kids
1. Best game PS4 Game for families: Rayman Legends
If you are looking for the best PS4 games for kids or the entire family, you have to look for one that can excite your kids as much as the 65-year-olds in the house.
This is where Ubisoft's lively, funny and creative Rayman legends perfectly suit the whole family.
This is the fifth edition in the famous Rayman series, which follows the path of old-school platformers like Super Mario Bros, with some unmatched lively energy at the same time.
You can collect different items and characters during the game and they can be deemed re-playable to discover the new elements of the gaming experience.
Moreover, "Rayman Legends" comes along with some vibrant colors and unique level design, which acts as icing on the cake.
You have to play this game to match up with the musical levels where your movements are rightly timed to match up with the covers of hit songs like "Black Betty" and "Eye of the Tiger".
"Rayman Legends" is the Pixar of the PS4 and serves the best entertainment value to kids of all ages.
2. Best PS4 Lego game: Lego Worlds
LEGO Worlds allows your child the best opportunities to explore the various galaxies made of LEGOS.
It offers an open-world environment game that facilitates your child players to control and change the visited planets by bringing the various Lego blocks and models into existence.
Just like Minecraft, LEGO Worlds allows the creation any shape or model, with one brick at a time.
All the creatures and the objects made with the Legos come to their mind whilst interacting with the players. All the players can discover the world they have built with Legos while riding in helicopters, dragons, gorillas, and even motorbikes.
3. Best Comeback Game: Crash Bandicoot N. Sane Trilogy
This game comes as the perfect option for all the old-school PlayStation players and this latest version of Crash Bandicoot includes some of the most advanced graphics and animations.
It's a perfect combination of three games in one, which include the latest versions of Crash Bandicoot, Crash Bandicoot 2, and Crash Bandicoot warped games.
This game offers loads of gameplay with more than 100 levels and two playable characters.
You will find time trials, various modes, and leadership boards to ascertain your position in the competition. It rightly suits all the kids who would like to have a taste of the old-school bandicoot adventures.
4. Best Game for Creative Kids: Little Big Planet 3
This is one of the most popular PS4 games for kids, which is highly recognized and rewarded for its creative content and innovative gameplay.
Little Big Planet 3 starts with video footage of the kids from the actual world who start seeing the various stickers, costumes, characters, and collectibles within the world around them.
The game is customizable during its amazing platformer adventure and the players can design their levels by using various stickers and characters.
5. Best Arcade-style: Lego Marvel Heroes 2
Most of the console-compatible Lego games rightly suit people of all ages and Lego has kept bringing better and more entertaining developments in the same context.
Marvel Heroes 2 is a step ahead in the same direction, full of old-style strategic game plays combined with a nostalgic franchisee.
You will be playing as a Guardian of the Galaxy, Black Panther, Spiderman, Thor, Hulk, Dr. Strange, Captain Marvel, and certain other characters from the Marvel World franchisee.
You will play through all the exciting adventures of time-traveling expeditions into the world of chronopolis, where you can play as a Hero or the Villain.
You would also be visiting various places like Egypt, the Old West, and NYC of the future, and if you are someone who is a Marvel fan, this one's specially made for you.
6. Best Nostalgia Game: Hasbro Family Fun Pack
Looking for a fun family game for PS4? The Hasbro family fun pack will be the right PS4 game if you want to bring back those old memories of family games night.
This would surely make your kids switch away from their television routine and pay attention to all the fun-filled, long-running Hasbro series.
The latest PS4 version includes Scrabble, Trivial Pursuit, Risk, and Monopoly.
All of the games are available in their virtual versions and if you want to get a physical version of The Monopoly, you have to track the money and the pieces in the process.
7. Best action game: Knack
Knack is one of the most famous action games on the PS4, which allows the players to take control of a Robot named Knack, created to neutralize the threat loomed over the peaceful land by the Goblin.
The game grabbed attention for its family-friendly aesthetics along with its co-op option.
From larger-than-life characters to scary adventures, it will attract most kids just heading into the higher-level games for adults.
8. Best Music game: Guitar Hero Live
Guitar Hero Live is a music video game where the main aim is to play the guitar whilst using a guitar controller to match the fret patterns displayed on the screen in time with the music.
It's kind of a reboot of the "Guitar Hero" Franchisee and the players can use the guitar controller and its added features to match the notes displayed on the scrolling screen of feed patterns.
Notes may be held or sustained for some moments and this is the time when the players can alter their held's note pitch to change the overall effect.
9. Best Downloadable Game: Hohokum
If you wish to drop several USD on a game that you will digitally transfer and feel snug holding your youngster's play while not violent and with a high degree of creativity, Sony-exclusive Hohokum is the go-to.
What is it? It's onerous to explain. You manage a kite, sort of, because it moves through colorful backgrounds. No shooting, fighting, or aggression dominates most games, even family ones.
It's additional, just like the landmark Flower or Journey, games that provide exploration and demand that the gamer brings the maximum amount to that because of the developer.
There are not any objectives. There are no thanks to winning. We want additional games that challenge what we tend to expect once we have a controller in our hands like Hohokum.
10. Best Import: Angry Birds Star Wars
There are a dozen or so games that your kids have probably played on their phone or tablet that have been imported to the PS4.
The best of the bunch is the world-famous Angry Birds Star Wars, which includes much better graphics than the iOS version and there's something inherently cool about hearing that John Williams score through something bigger than a phone speaker.
The game isn't that much different than what your kids have already played on their iPhones, but sometimes it's just neat to revisit something familiar with the high-powered capabilities of the PS4 behind it.
11. Best Interactive Game: Skylanders: Superchargers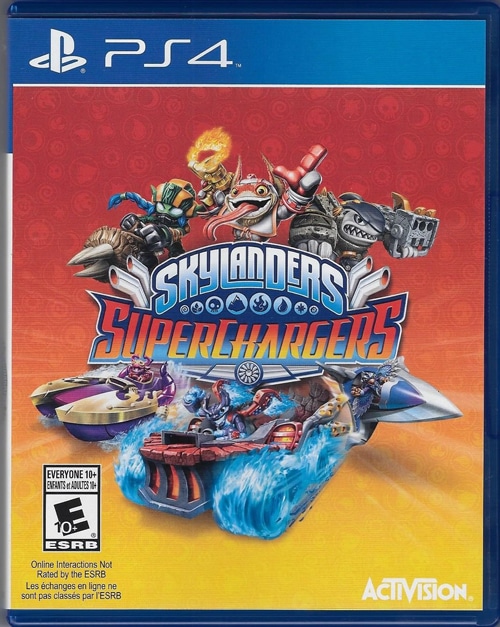 For interactive experiences for your youngsters, you can't do higher than the Skylanders franchise.
Therefore, the Superchargers takes the journey world of Skylanders and adds vehicles to the combo, letting customization and assortment of cars, air vehicles, and water vehicles.
It additionally permits gamers to use Skylanders from previous games within the journey.
See Also
Best Wireless Earbuds for Kids