Triple Monitor Setup
A triple monitor setup is easy to configure, and just a few connections and settings tweaks are required.
A triple monitor configuration helps workflow management by making it simple to transition between multiple tasks.
As a result, buying three extra monitors for your PC will help you stay organized and productive.
For instance, if you're the kind of person who loves to run many programs on their computer, having all of them open on one screen can quickly clutter it.
But when you have three displays, you can open emails on one display, surf the web on the second, and maybe open your socials on the third.
Therefore, regardless of your work, a triple-monitor setup will help streamline your workflow.
If you want a quick and easy setup, the Thunderbolt 3 is one of the most used docking stations for triple monitor setup.
That said, let's look at how to implement a triple monitor setup.
Check If Your Computer's Hardware Supports a Triple Monitor Setup
To begin, make sure that your computer's hardware supports a triple monitor setup. As a result, you'll need to look up the name of your GPU on the web.
You'll need to look up the name of your GPU on the web. Open Google and enter the name of your GPU (graphics card) followed by 'multi-display.'
If it's compatible, you'll see reviews of your graphics card supporting a triple monitor setup.
Check for The Display Ports On Your PC
On the back of most desktop GPUs are at least two video-out ports, allowing you to connect multiple displays.
On the other hand, most laptops feature a DisplayPort, HDMI, or USB-C connector. If your PC doesn't have enough ports for a triple monitor setup, you can use a:
External Docking Station
An external docking station is a one-stop destination for simultaneously connecting multiple monitors.
It comes with a single USB cable that connects to your pc, after which you can connect all three monitors to the docking station's available ports.
It's a simple configuration that doesn't need too many cables. However, keep in mind that docking stations don't come cheap.
A docking station for connecting 3 monitors costs around $165.
When you buy through links on technowifi.com, we may earn a commission at no cost to you. We evaluate products independently. Commissions do not affect our evaluations.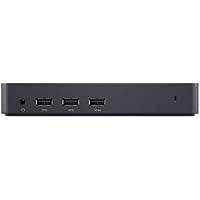 Dell USB 3.0 Ultra HD/4K Triple Display Docking Station (D3100) Black
as of June 8, 2023 10:49 am
Dell USB 3.0 Ultra HD/4K Triple Display Docking Station (D3100) Black
USB Adapter
You can get a USB adapter if you don't want to spend 150 bucks on a docking station. This adapter is usually connected to a PC via USB and monitors via multiple HDMI ports.
Unfortunately, this is not the best solution if you are a gamer or do anything graphics-intensive, such as photo or video editing. Why is this? Because USB adapters don't have dedicated power ports meaning, the experience isn't good enough.
Triple Monitor Setup Process
Now that you've checked the ports on your desktop or laptop and displays, it's time to establish the connection. To do this
1. Begin by connecting one end of your cable, such as HDMI, to the screen and the other end to the computer. If you're using an adapter, connect the USB cable to your PC and then connect the HDMI cables to the available ports.
2. Next, connect all three displays to power.
3. Now, switch on your PC and click the Windows OS Start button.
4. Next, click on the Settings icon. This is the gear-shaped icon situated on the lower-left side of the Windows OS 'Start' menu. This will launch the 'Settings' menu.
5. Now click System on the 'Settings' menu home screen.
6. Then click on Display on the next screen.
7. Next, scroll down to Multiple Displays and click on it.
8. A drop-down menu should appear. Click on Extend these displays to use the three monitors as an extension of your PC's display.
9. Next, scroll to the Display tab to rearrange your screens. If all displays are correctly configured, you'll see three boxes at the top with numbers 1, 2, 3 and 4. If you can't see the three boxes click on the Detect button.
10. Now click Identify to see the monitor represented by each box. Drag the boxes however you like to rearrange them and match your physical setup.
This is a crucial step because it ensures that the PC cursor moves well across all displays.
11. Next, click 'Apply' to effect the adjustments you've just made.
12. Finally, click 'Keep Changes' when you see this prompt. Doing so will make the settings you've made permanent. If you click 'Extend these displays,' you should see your computer's main screen split evenly across the three monitors.
Final Thought
To sum it up, you can connect external monitors to your computer regardless of the OS.
However, you may encounter one or two problems during the configuration process, but if you carefully follow the steps above, your triple monitor setup should work seamlessly.
See Also
How to connect 2 monitors to a laptop?
Best laptops for college students