How to Use DSLR as Webcam – Overview
If you're working from home, you might need to join a couple of video conference calls, or perhaps you've been using video chat apps to keep in touch with family. Either way, you might have noticed that the camera on your laptop is blurry and has unflattering viewing angles.
There are a couple of ways to address this issue; you could get a dedicated external webcam or repurpose an old smartphone and use it as a webcam if you have one lying around. Either of these options could be slightly better than your PC's camera. However, if you want to step up your video calling, you can use your DSLR cameras as a webcam.
A DSLR webcam will give you the best-looking video compared to anyone in your group chat. Depending on your camera or PC, this can be as easy as installing webcam software and connecting your DSLR to your PC using a USB cable.
There are apps such as SparkoCam that allow you to connect your DSLR to a computer over a standard USB cable and use it as a webcam. In addition, there are software-only solutions for cameras such as Canon, Nikon, Olympus, Sony, etc.
This review will show you how to use a DSLR as a webcam using dedicated software, using a capture card, or using 3rd party streaming software such as SparkoCam. You'll really enjoy using a DSR as a webcam because you can adjust exposure and ISO.
Pros and Cons of Using DSLR As Opposed To In-Built Webcams
Although lots of desktops and laptops have in-built webcams and USB external webcams are relatively cheap; they have one thing in common; they are limited. So let's look at some of the Pros and Cons of using DSLRs to in-built webcams and vice versa.
Audio Quality
Here DSLRs win; you'll get better audio quality when you use a DSLR camera as opposed to an in-built or external webcam. If you have an external mic, things get even better. You can use a USB mic to enhance the audio quality of your inbuilt or external webcam.
Battery Life
Here webcams win because they are either directly powered via USB or in-built, so you really don't have to worry about battery life. On the other hand, DSLR cameras are not easily rechargeable while filming.
Therefore you'll need to have a couple of charged batteries. Depending on your DSLR, you can expect about 50 to 90 minutes of filming time.
Extended Filming Sessions
When it comes to extended filming sessions, webcams win. So if you plan to shoot a long session such as an hour or two, you should use a webcam. DSLR batteries run out quickly and need to be charged. What's more, they tend to heat up when used extensively.
Image Adjustment
DSLR cameras win when it comes to image quality because webcams have an extremely limited number of changeable settings. So if you really want to adjust aspects such as aperture, composition, exposure, and ISO, you need a DSLR camera.
Image Quality
DSLR cameras win when it comes to image quality because even the most basic DSLR camera will still dwarf even the best-built internal or external webcam.
Price
Here webcams win, but actually, this depends on what you already have. And if you have a DSLR camera, the capture card cost might set you back. But the notion is if you want to use a DSLR camera as a webcam, price comes second to image quality.
Method 1: Using SparkoCam
Download and install SparkoCam; Download the installation package and then run the SparkoCamInstaller.exe. File on your desktop or laptop.
Next, follow all the installation steps carefully until the setup is finished.
Next, connect your DSLR to your laptop using a USB cable.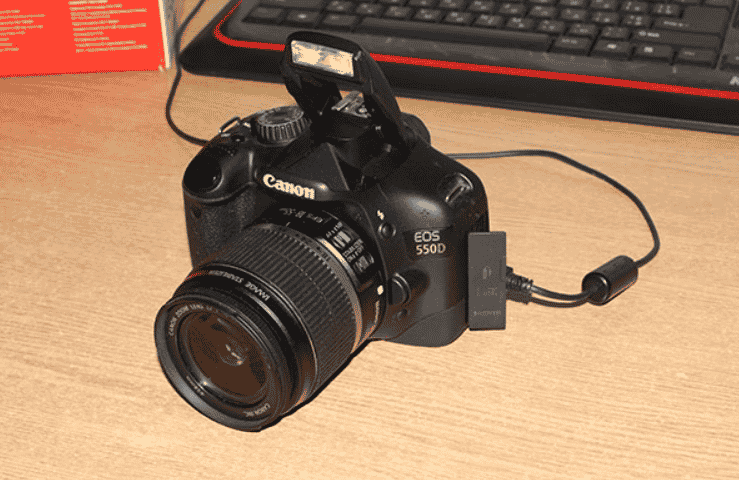 Then connect the camera's USB cable to your PC.
Turn on the camera. Once Windows OS recognizes the camera, you will see an alert or a pop-up window about a newly available device.
If you don't see the notification, nothing's wrong; just follow the next steps.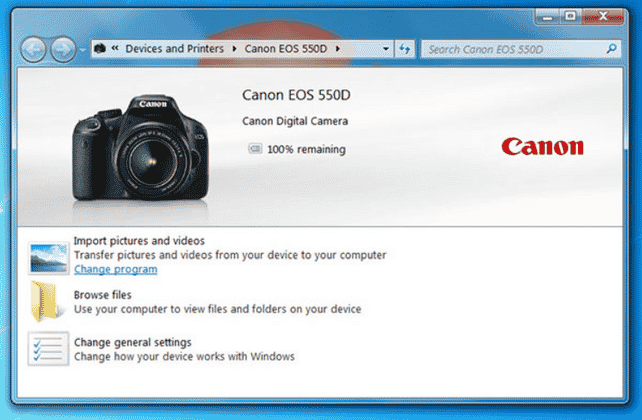 Also, if you have installed the software on the CD that came with the camera, the utility software might start up. However, SparkoCam doesn't rely on utility software to function, so just shut down the utility software and go to the next steps.
Next, launch the SparkoCam software and go to the 'Device' tab.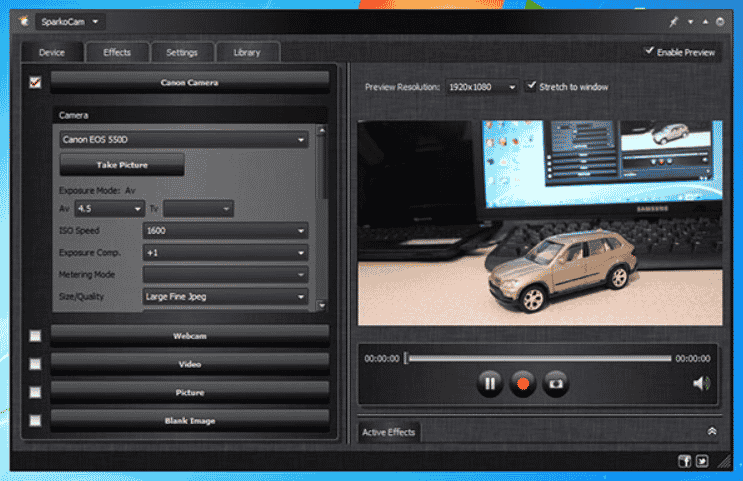 Select the checkbox camera you've connected, for instance, 'Canon Camera.'
If you have connected only one camera to your PC, SparkoCam will automatically recognize it; otherwise, choose the required camera from the list.
Next, select 'SparkoCam Virtual Webcam' as the source camera in your chat app.
You need to configure the target app to use SparkoCam as the video source. For instance, to configure Skype, you need to launch the 'Options' dialogue and choose 'SparkoCam Virtual Webcam in the select camera list.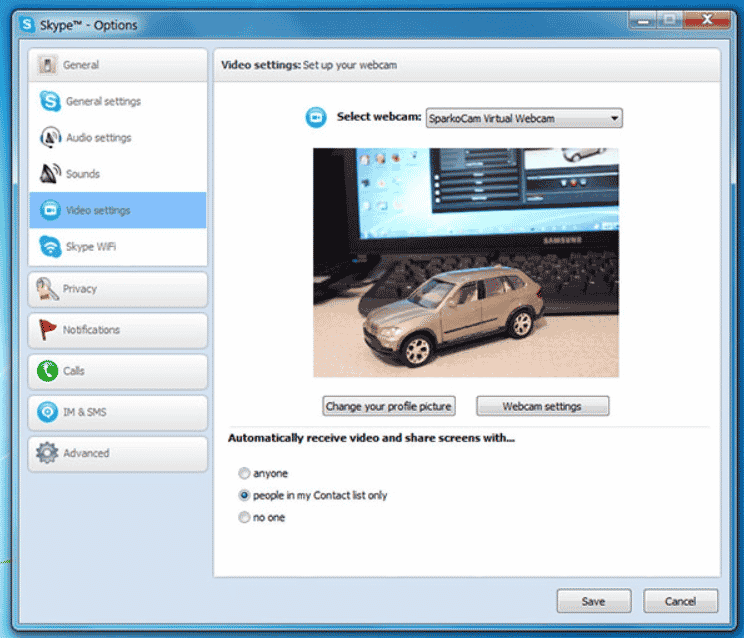 Note that DSLRs such as Canon and Nikon cameras don't provide functionality for their mics for audio capturing. Therefore it won't be possible for you to use your camera's in-built mic to generate sound; thus, you need to have an external mic to capture voice.
What Are The Benefits Of SparkoCam?
Decent Video Quality
While SparkoCam won't give you the same quality as video capturing components, the quality is good enough and still will be better than your in-built webcam.
Email Support
If you come across any bugs or run into problems that your information can't solve, don't hesitate to shoot the SparkoCam support team an email, and they will be able to sort out any queries you might have.
SparkoCam is Free!
Who doesn't like free stuff? SparkoCam's standard version needs no monthly subscription, and it allows you to still use a variety of features and functions without spending anything. If you get SparkoCam, the option to upgrade is always there.
User-Friendly
Unlike some other software, SparkoCam is user-friendly, and if you get stuck, there is lots of info online for you to use if you have exhausted all other options.
What Are The Drawbacks Of SparkoCam?
No Audio Recording for Canon and Nikon Cameras
SparkoCam doesn't allow the internal mic to function when streaming; therefore, you'll need to invest in an external mic to create content or make video calls on Skype and Zoom. Fortunately, external mics aren't too pricey and still provide impressive audio quality.
Still, SparkoCam has more benefits than drawbacks to using SparkoCam. If you're just venturing into recording or streaming video using a webcam. This might be a suitable approach to ease yourself into doing so until you realize whether it's right for you.
SparkoCam Adds Watermarks to Your Streams
SparkoCam's will add watermarks to all your streams, which might be less than ideal for most people, especially those creating online content. However, deciding to upgrade to the premium version will do away with these watermarks.
Method 2: Using a Capture Card
This is the preferred method because it doesn't have audio and operating systems restrictions. Depending on the capture card you have, it costs almost the same as using streaming software, although you can spend a bit more.
Why do you need a capture device? Buying a capture device gives you a kind of functionality that DSLRs don't have out of the box. Typically, DSLRs aren't meant to be webcams, but you evolve the camera when you add a capture card.
What does a capture device do? Capture devices convert your DSLR signal into a usable format for your PC. Then you can either stream the feed online or save it to a hard drive.
Setting up Elgato Cam Link with a DSLR
The Elgato Cam Link is a USB capture card that easily records and streams video from a DSLR camera via USB 3.0. In addition, Cam Link works with both macOS and Windows 10 OS.
To set up the Elgato Cam Link:
Connect one end of your HDMI cable to your DSLR and the other to the capture card.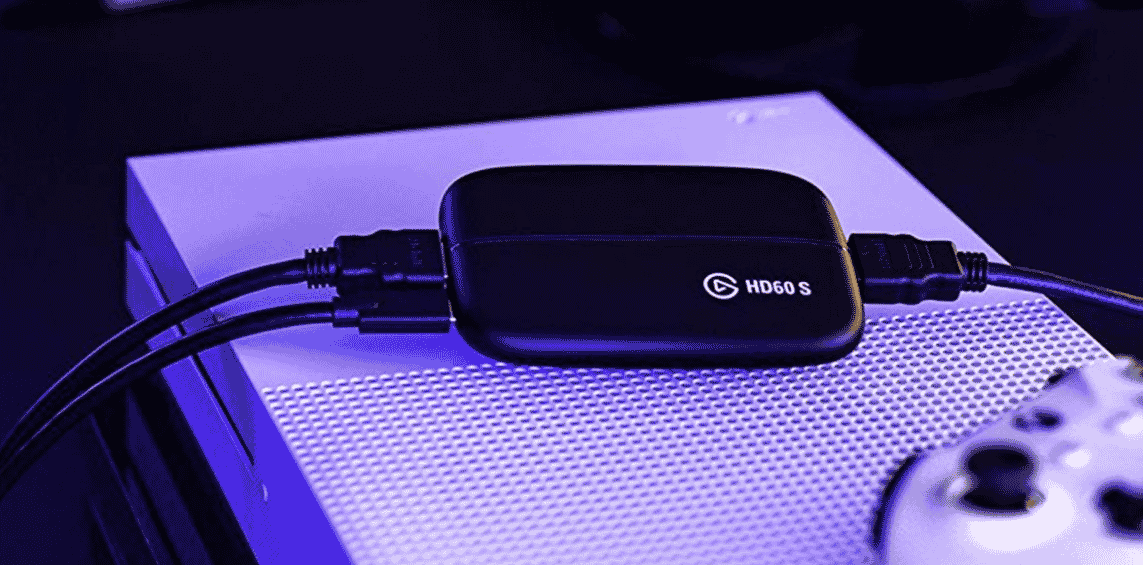 Next, turn on the camera.
Launch your video conferencing app. Next, go to 'Options' or 'Settings' and choose your DSLR camera, depending on the application.
Now you're ready to stream. Again, Elgato's plug-and-play setup is very productive.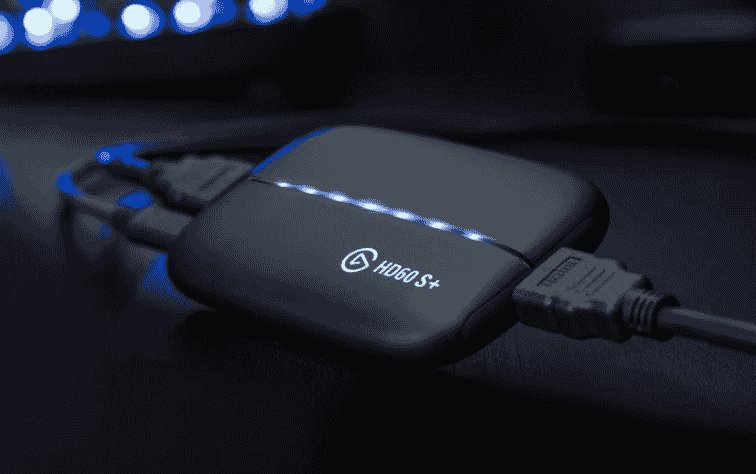 Which Elgato Cam Link Model Is The Best?
Elgato has a couple of devices with different resolutions, such as 4K (2160p) and Full HD (1080p). If you're broadcasting and live streaming, the 1080p model is more than enough. However, if you want to film and record to a hard drive, go for the 4K model.
The setup is super simple. Their Plug 'n' Produce setup is an attractive option.
Which Cam Link model is best? Cam Link comes in a couple of different settings – 1080P60 and 4K resolution. For broadcasting and live streaming, the 1080P resolution is more than enough.
How to Setup Other Capture Cards with A DSLR
You can get other capture devices, such as the Aja U-Tap HDMI Converter, which works with Linux, macOS, and Windows OS. To put this system altogether, you'll need software to capture the incoming video feed, although it will be different for all operating systems.
It's best to avoid capture cards that require a more hands-on setup since most options out there are plug-and-play. The good thing with low-cost options such as the Aja U-Tap HDMI Converter is that they are cheap and typically easier to set up.
Now that we've covered capture devices, let's look at how to use camera web utilities.
Method 3: Use Camera Web Utility
The good news is that the big camera brands have developed software to bridge the streaming gap. So regardless of whether you have a macOS or Windows OS PC, you can get software for Canon, Fujifilm, Nikon, Olympus, and Sony, allowing you to use the cameras as webcams.
However, if you're a Mac OS user, you might need to use Chrome as your browser because Safari doesn't allow you to use anything apart from your laptop's inbuilt webcam.
Canon Eos Utility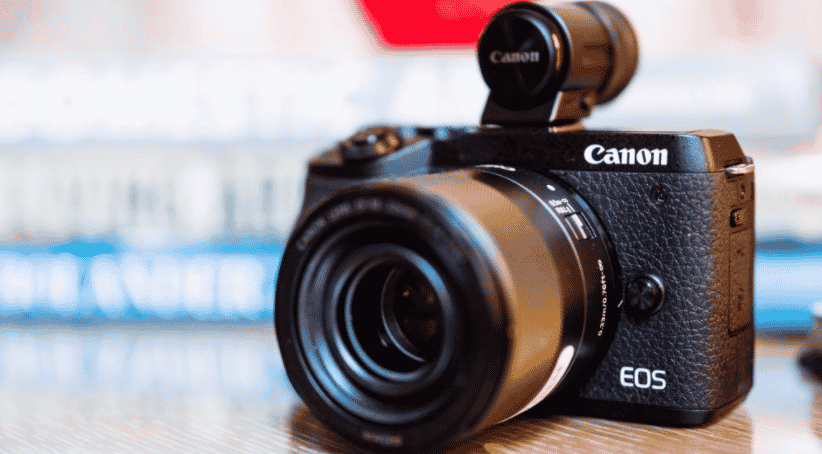 Canon's webcam utility software is available for both macOS and Windows OS. It works with select DSLR, fixed-lens, and mirrorless cameras. In addition, Canon has released an official application apart from the beta app, which was released a while back.
You'll need a desktop or laptop with macOS Catalina, High Sierra or Mojave, or a Windows 10 and higher to run the application. Most supported cameras are DSLR or mirrorless cameras, so don't expect your old PowerShot Elph to work with the software.
However, Canon has done a fantastic job supporting cameras that are a couple of years old. So if you have a Canon Camera with an interchangeable lens that you recently bought, there's a good chance it will work with the utility software.
Canon has a list of supported models on its website. Once the software is up and running on your PC, you just need to connect your DSLR and pick the correct source in the video chat app.
Fujifilm X Webcam Utility
Fujifilm's webcam utility software is cross-platform with support for desktops or laptops with MacOS Catalina, High Sierra or Mojave, or Windows 10 and higher.
This software only works with higher-end GFX and X system Fujifilm cameras with support dating back a couple of generations.
For entry-level support, there are two recent models which function as USB webcams without needing extra software. You can connect the Fujifilm X-A7 or X-T200 to your PC and then use it as a webcam for Google Meet, Microsoft Teams, Skype for Business, and Zoom.
Nikon Utility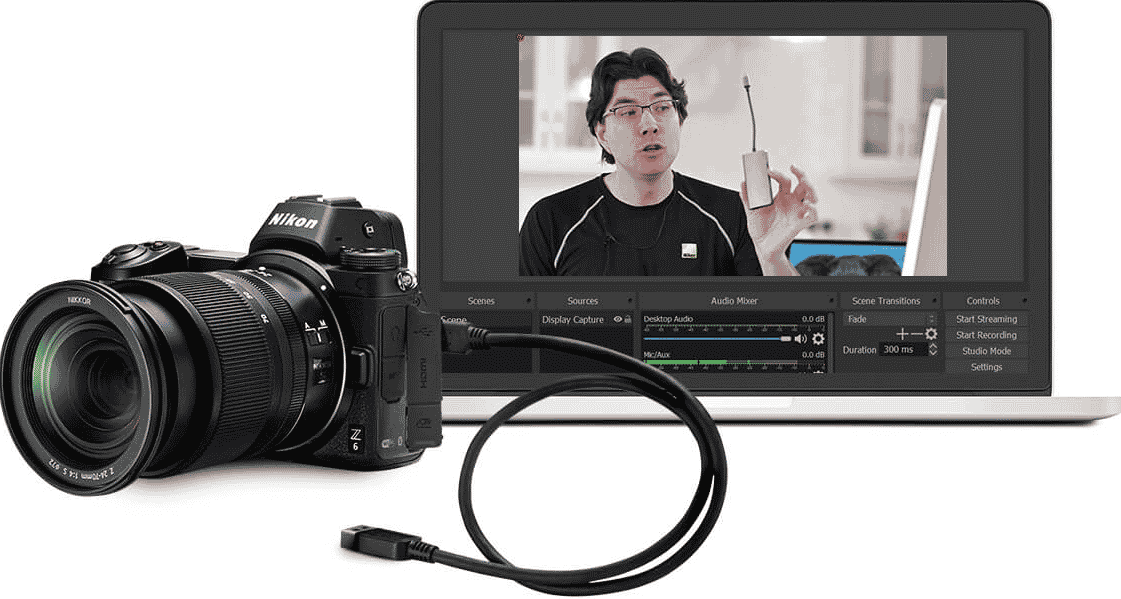 Nikon's utility software has cross-platform compatibility. However, this software only works with PCs running macOS Catalina, High Sierra or Sierra, and 64-bit Windows 10 PCs. Webcam support is restricted to recent releases, so you're unlucky if you have an older DSLR.
Olympus Utility
The Olympus OM-D Webcam Beta utility software is available for PCs running macOS Catalina, High Sierra or Sierra, and 32-bit and 64-bit Windows 10 PCs.
Note: For all DSLRs there are a couple of things you can do to improve image quality when using them as webcams including using the widest lens attachment you have, using the lowest aperture and switching off face detect AF.
Final Thought
Regardless of what you plan to do with your DSLR camera as a webcam, you expect pro-quality footage. So whether you're chatting with friends, creating YouTube videos, or live streaming on Twitch, you can say goodbye to glitching, grainy film, and lagging.
Best DSLR Cameras for Beginners
How to Use External Webcam on MAC