How to Screen Record on Chromebook – Overview
Google is rolling out a native screen recording feature to all Chromebooks. This new feature will allow you to capture footage of your PC's screen without needing any external hardware.
Screen recording is a handy feature for various reasons. For instance, you can utilize it to demonstrate a workflow in a presentation or to teach someone how to use a certain app.
With the native Chromebook screen recorder, you can record what's happening on your whole screen or a part of it. In addition, you can use it to record your voice alongside the recording.
Google says the new native screen recorder will prove useful to all users and that they added the screen for educational purposes. Now teachers can use Chromebooks to prepare a presentation, and students can use them to record lectures. That said, let's look at a couple of ways to screen record on Chromebook and how to troubleshoot common issues.
How Can You Natively Screen Record On Chromebook?
Presently it's very easy to screen record on a Chromebook now that Google has rolled out Chrome OS 89 to everyone. Before Chrome OS 89, Chromebook owners had to rely on 3rd party apps and extensions to record their screens; now, the feature is natively built-in.
The process of screen recording on Chromebook is as follows:
Click on the 'Time' button in the lower-right corner of your screen.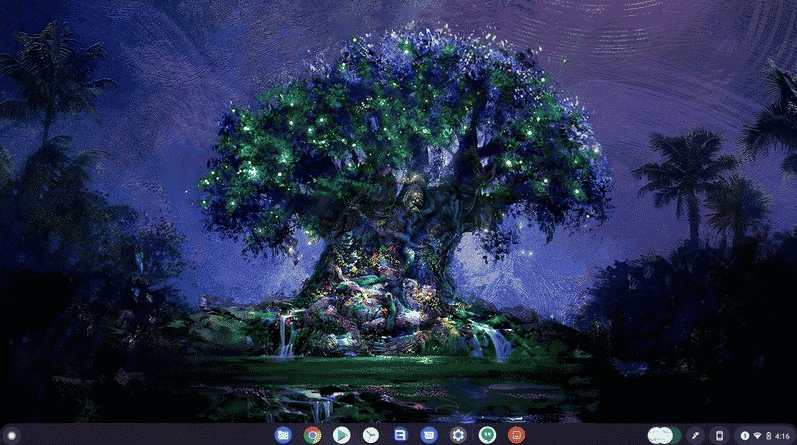 Click on 'Screen Capture' in quick settings. You can also press Ctrl + Alt + Overview.
Next, click on the toggle next to 'Camera' on the left-hand side of the screen record bar.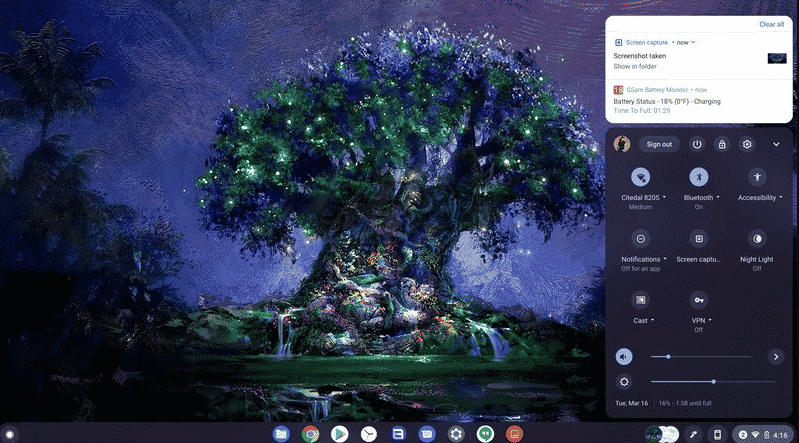 Now to capture the entire screen, click on the plain rectangle next to the camera toggle.
Wait for about three seconds and click on anywhere on the screen to start recording.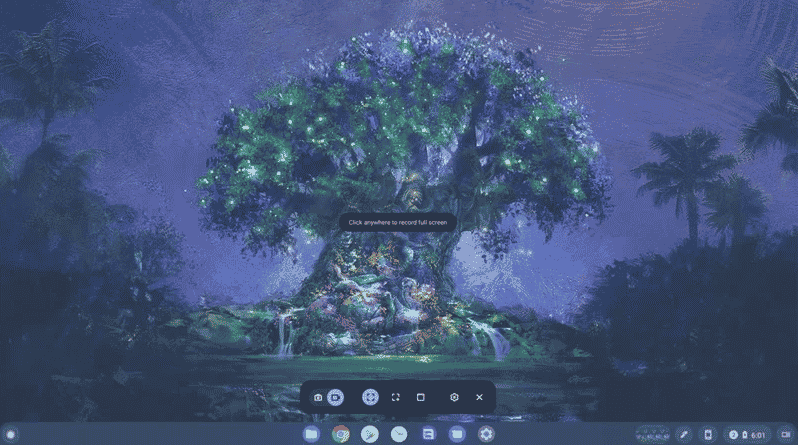 To stop recording, click on the red stop icon in the dock.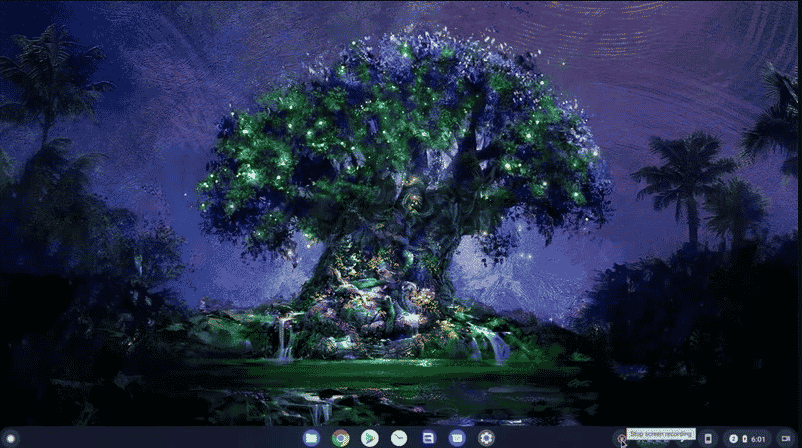 A pop-up will appear confirming the recording is saved in the 'Downloads' folder. What's more, you will get a quick action to delete the recording if you started it by mistake.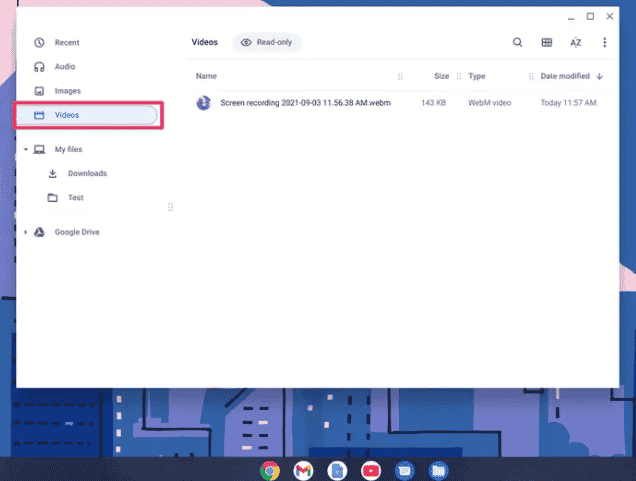 How Can You Screen Record on Chromebook without Audio?
Before you press the record button, click on the 'Settings' icon on the snipping tool and toggle the button next to the microphone. The snipping tool will save the changes so that you don't have to manually activate the microphone for future recordings.
To record without audio, repeat the above steps and toggle the button next to the microphone in order to turn it off the microphone.
Troubleshooting Chromebook Screen Recording Issues
It's possible that you'll run into several issues or difficulties when trying to screen record on a Chromebook. In this section, let's look at some of these issues and their potential solutions.
Can't Find Chromebook Screen Recording Tool
As illustrated above, Google added the screen recording feature to Chrome OS 89. If you can't access the screen recording tool via the status bar or using the keyboard shortcuts, ensure that your Chromebook is running the latest version of Chrome OS: Chrome OS 89.
To check for updates, follow these steps
Go to 'Settings'
Click on 'About Chrome OS.'
Click on 'Check for Updates.' If there are any pending updates, restart your device.
Chromebook Not Recording Audio during Screen Record
So you've clicked on the 'Record Microphone' option, but still, your screen recordings don't have sound. What could be the issue? Well, the screen recording tool might fail to record sound if the microphone is muted. Prior to recording, ensure that you check the audio setting and substantiate that audio input is activated.
Open the status bar and click on the bullet icon next to the volume slider.
In the 'Input' area, shift the microphone slider to the right side to increase the volume of your computer's in-built microphone.
If you've connected an external audio device to your Chromebook, you'll find the device's mic in the section as well. Suppose the problem continues even after increasing the audio input volume? In that case, restart your Chromebook and try again.
Chromebook Not Saving Screen Recordings
Chrome OS saves screen recordings in your 'Download's folder by default. If you can't find the recordings in your 'Downloads' folder, your computer might be low on storage.
To fix this issue:
Go to 'Settings,' then 'Device,' and finally 'Storage Management' to see storage status.
Try and free up some space, record the screen and see if the video has been saved.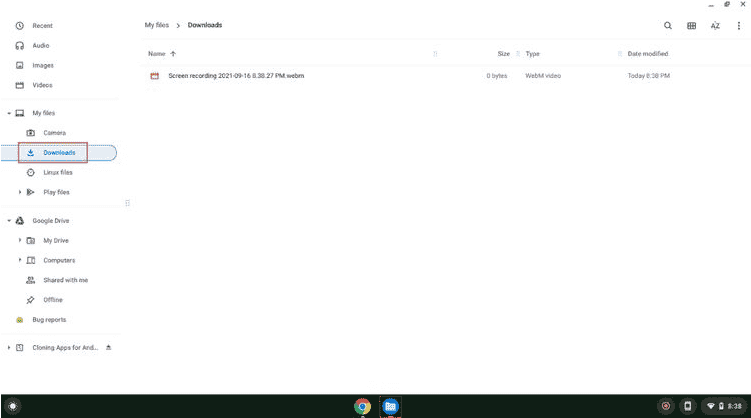 Note: The native Chromebook screen recorder is awesome, however, it records your screen in WEBM format. So if you want to share the recording you'll need to convert it to popular video formats such as MP4 and MKV. You can do so using an online video converter.
Final Thought
To sum it all up, now you know how to screen record on Chromebook. This feature should be enough for you if you just need to do basic recording. However, if you need something with more features and options, consider an app such as Screencastify.
How to Copy and Paste on a Chromebook
How to Delete History on Chromebook