How to Play Apple Music On Google Home? – Overview
There was a time when Apple Music only worked on devices in the Apple ecosystem. Fortunately, those days are long gone, and Apple has decided to extend its music streaming platform to the Amazon Echo and recently to the Google Home range of devices.
This means regardless of whether you have an old Google Home or the newer Google speakers branded 'Nest,' it's now possible to stream Apple Music. Today Google Home also works with other music streaming platforms such as Spotify, Deezer, Pandora, and YouTube Music.
If you are situated in a country where the Apple Music update hasn't been rolled out on Google Home speakers, you can still link your smart speaker to your tablet or phone and stream from Apple Music via Wi-Fi or Bluetooth.
Now that Apple's 70 million music catalog is available on Google Home, how do you set it up? Not to worry, this will be a detailed review with all the steps on how to configure your Google Home with Apple Music. Also, we will see how to play any Apple Music tracks without limits.
How Do You Configure Apple Music On the Google Home App?
Begin by downloading the Google Home App from Play Store if you use an Android phone or from the App Store if you are using an iPhone or iPad.
Sign in to your Google Account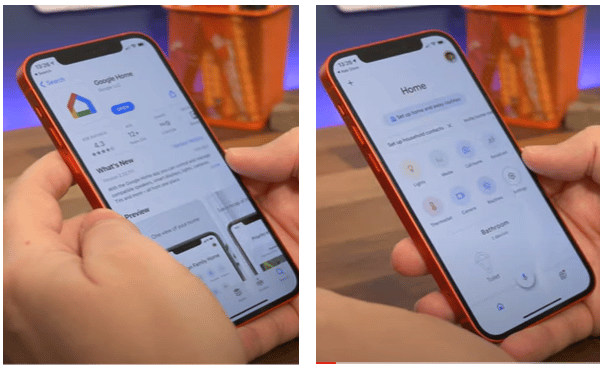 Assuming you have completed setting up your Google Home, Go to the home page of the Google Home App and click on the plus (+) sign in the top right corner.
Scroll down to the 'add services' button, click on it.
You will see the 'music' button; click on it.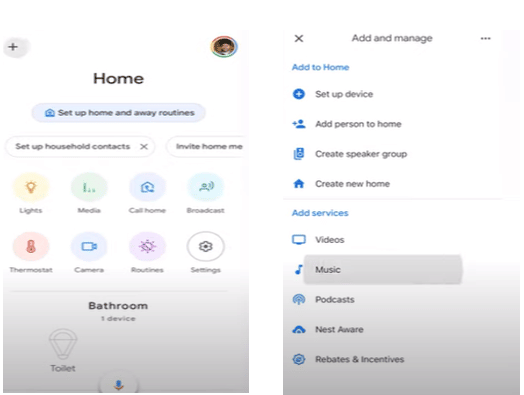 Scroll down, and you will see the 'more music services' button
Here you should see Apple Music and other music platforms as well. Click on the small icon next to Apple Music; it should prompt you to 'Link Account' on the following popup window.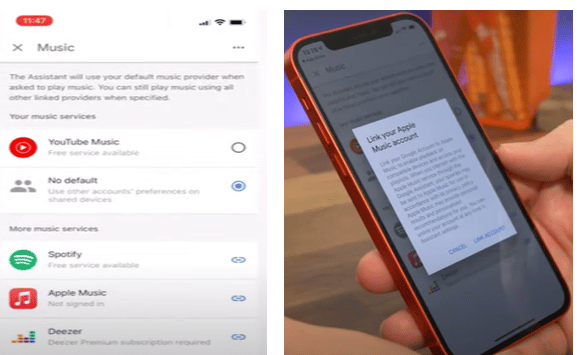 At this point, you will need to log in to Apple Music using your Apple ID. Ensure that you log in with the Apple ID you use in your iPhone or iPad for Apple Music, iTunes, and the App Store. This may be a different account from the one used in ICloud.
Once you have logged in and selected to enable access in Google Home, Apple Music will climb up to the list of your active music platforms. You can even set Apple Music as your default music service. If no other music service is recognized, it will become the default music service.
How to Play Apple Music On Google Home
How Do You Get the Music to Play?
As soon as you're done setting everything up and all accounts are linked, you need to give a voice command to your Google Home. For instance, you could say So, 'Hey, Google, play my workout playlist. The speaker will play your Apple Music workout playlist.
Although there is a slight pause between the speaker processing your command and starting to play your tracks, it's practically seamless. In addition, once a track begins to play, you can manually control it with the Google Home App.
Simply launch the app and on the home screen, click the media button and then you can opt to play, pause, stop, fast forward or skip a track. In addition, you can adjust the volume or direct the music to play on another Google Home speaker or any Chromecast-enabled device.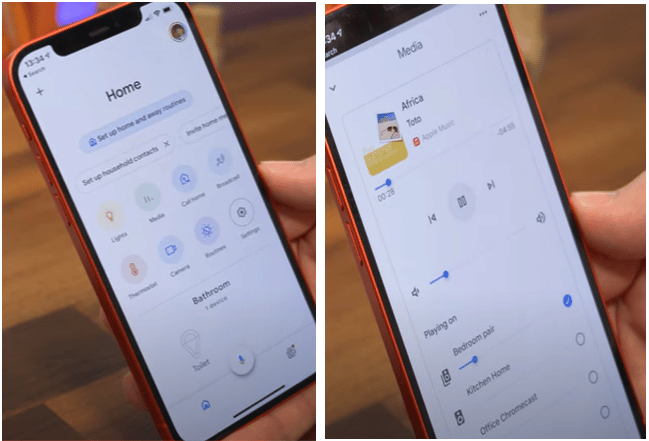 How Do You Set Apple Music as Your Default Music Platform On Google Home?
If you don't want to specify tracks to be played on Apple Music each time you want to play music, you can configure Apple Music to be the default music platform on your Google Home. After doing this, any music you prompt the speaker to play will be from Apple Music.
If you want your Google Home to play music from other streaming platforms such as Deezer and Spotify when Apple Music is the default, you need to specify this as you give the command on which track you want to be played.
The process of setting Apple Music as the default music platform on Google Home includes:
Launch the Google Home App on your Android device, Ipad, or iPhone
Click on settings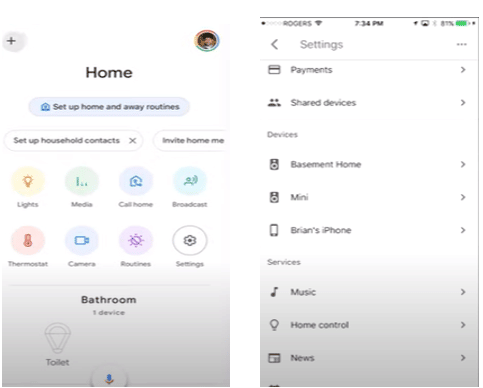 Click on music
Then Tap on the Apple Music icon
Now Apple Music has become your default music streaming service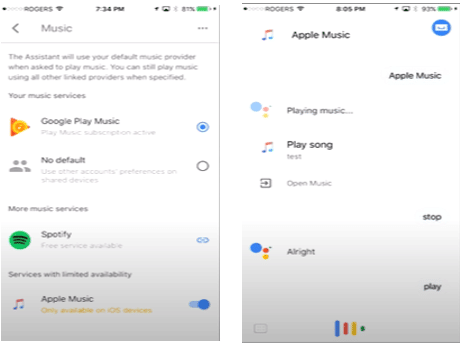 Note: If the above process of configuring Apple Music to Google Home fails for some reason, you can still play Apple music tracks on your Google Home. You just need to switch on Bluetooth on your smartphone and pair it to Google Home.
Final Thought
To sum it all up, streaming Apple Music on Google Home is a relatively new feature. The process is quite simple, as illustrated above. People who have been using Apple Music for a long will benefit most since they can now stream Apple music on various platforms.
See Also
How to connect Ring Doorbell to Google Home
How to Fix "Could Not Communicate with Your Google Home Mini"
How to change wifi on Google Home