Connecting MacBook to TV Wirelessly
Connecting a MacBook to a TV is a lot easier than you might think. With an Apple TV box, the right cables, or a smart TV with AirPlay built-in, you can mirror your MacBook to a TV screen.
You can play your favorite movies and TV shows from your MacBook on your smart TV and stream show from streaming services such as Amazon's Prime Video, Apple's New Apple TV+, and Netflix. In addition, you can show off your gaming skills on your TV.
A lot of companies now use massive TV screens in conference rooms as opposed to projectors, so this is a useful tip for people who need to give presentations at work. It's easy to connect a MacBook wirelessly to a TV, but there are a couple of methods to choose from.
In this review, we will look at these methods or techniques one after the other, from how to use the Apple TV box to mirror your MacBook's screen to using 3rd party apps such as LetsView to hook up your MacBook to your smart TV.
In addition, with several TV manufacturers announcing that they will be incorporating AirPlay 2 in their models, as well as Amazon Fire TV and Roku TV is about to become easier to share a MacBook's screen wirelessly with a TV.
Connecting MacBook to TV Wirelessly using AirPlay
Before you start attempting to hook up your MacBook to your Smart TV, ensure that both your MacBook and Smart TV are switched on and connected to the same network.
Click on the Apple logo in the upper-left corner of your screen.
Next, click on 'System Preferences.
Then click on 'Displays.'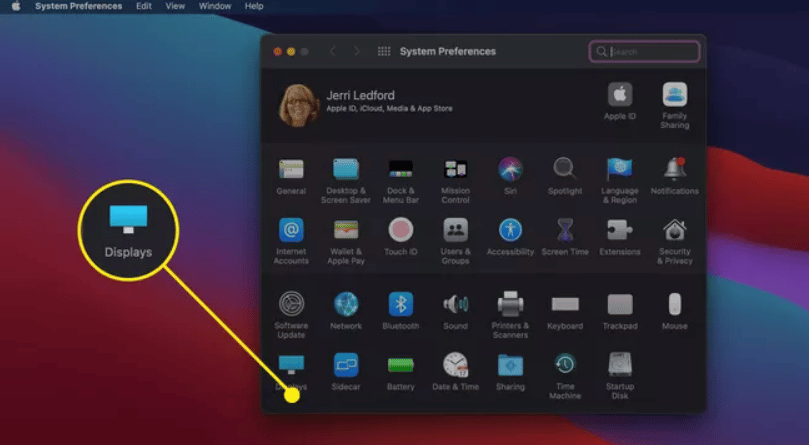 Next, click on 'AirPlay Display' in the dropdown menu.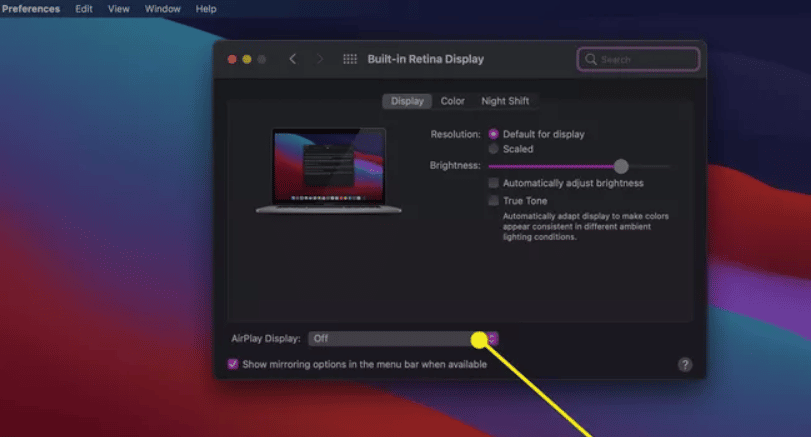 Then select the Smart TV you want to hook up to your MacBook.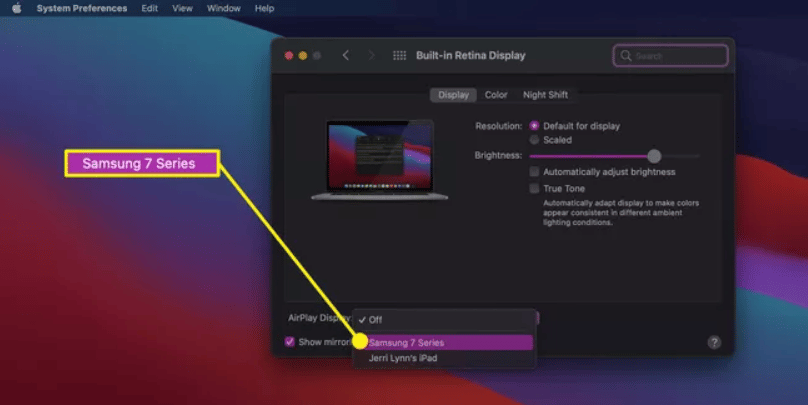 Once you've made the connection, a small window might appear on your TV. If you'd like to use your TV as a second display for your MacBook, click on 'Gather Windows' on your MacBook's display to gather all your windows and extend your screen.
If you'd like to mirror your MacBook's display to your smart TV, click on the 'Arrangement' option in your MacBook's 'Display Settings.'
Next, click on 'Mirror Display.'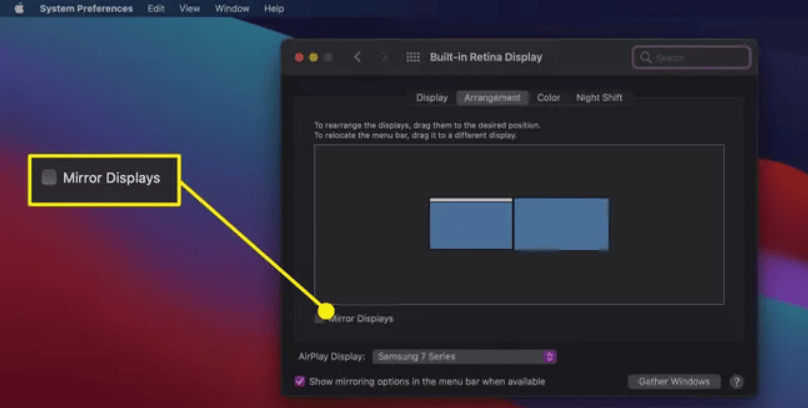 Once you're done and you want to disconnect your TV, you will use the instructions illustrated above and in the 3rd step, click on 'Off.'
Alternatively, you can click on the 'Control Center' in your menu bar
Then click on 'Screen mirroring.'
Next, click on the TV you'd like to mirror your MacBook's screen too.
Once the connection is made, you can select the option to extend or mirror your display. When you're done, launch 'Screen Mirroring' once more and click on the name of the television you've hooked up to terminate the connection.
Miracast
Connecting a MacBook to a smart TV using Miracast isn't that complicated because Miracast has now been incorporated in macOS X.
The first thing you need to do is join the hotspot wireless signal being broadcasted by your smart TV. To do this, click on Wi-Fi and then click on 'MiraScreen.'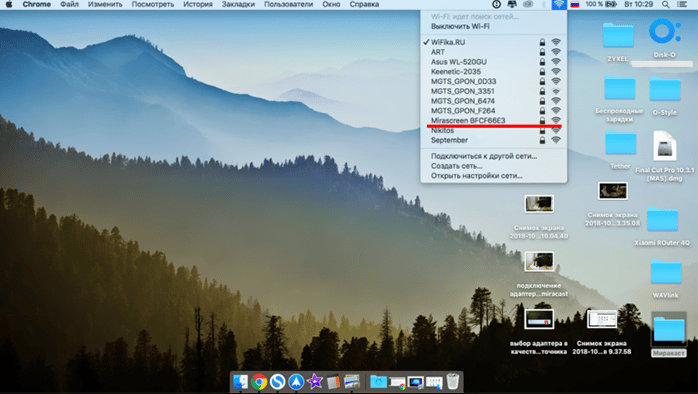 Now your MacBook's screen will appear on your TV.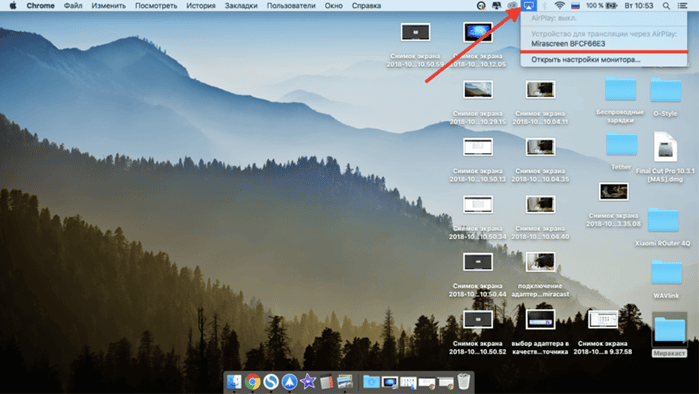 However, that's not all; if you click on the AirPlay icon, you'll see a feature saying, 'Use as a separate monitor.' If you activate this feature, your TV will become a second display, basically a virtual desktop extension where you can drag an open app's window.
Finally, to configure the picture resolution on your TV, click on 'Open Monitor Settings.'
3rd Party Option – LetsView
If you'd like to connect your MacBook to a TV without the native options, LetsView is perhaps your best bet. LetsView is a wireless screen mirroring tool for MacBooks. It's free, and it allows you to mirror everything on your MacBook display to your smart TV.
Start by ensuring that your MacBook and TV are connected to the same Wi-Fi network.
Then download the application and install it on your MacBook and TV.
Next, launch the LetsView app on your MacBook and your TV.
Now you'll see a PIN code on your TV's display.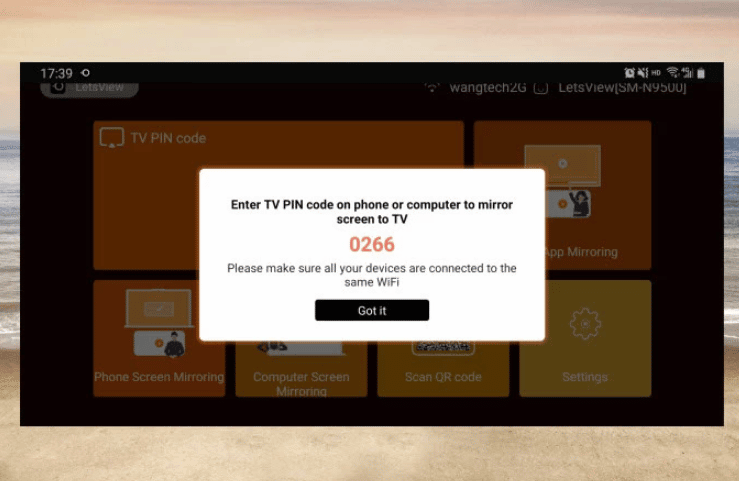 Next, switch to 'Computer Screen Mirroring' on your MacBook by entering the PIN code on your TV in the text box on the LetsView application interface.
Finally, click on 'Start' to immediately mirror your MacBook to your TV.
Final Thought
Illustrated above are the best and most practical methods of connecting a MacBook to a TV wirelessly. All methods are quite handy with regard to the screen mirroring process. Therefore whichever method you go for, you won't be disappointed.
See Also
How to Connect MacBook to Printer