How to Connect Apple Music to Alexa – Quick Start
There are various music streaming platforms such as Spotify, Deezer, Pandora, Apple Music, and YouTube Music. However, if you have an Alexa device like the Echo dot, chances are that you usually use Amazon music because this is the default music platform on Alexa devices.
Fortunately, if you subscribe to Apple Music or simply just want to switch your music streaming platform, you can connect Apple Music to your Alexa device and use it as the default to play single tracks and playlists as well.
Once connected, you can stream tracks from your Apple Music account on any of your Alexa-enabled devices. Unfortunately, Apple Music for Alexa is only available in North and South America: United States, Canada, Mexico and Brazil, Europe: United Kingdom, Spain, France, Germany, Italy and Ireland, The rest of the world: Australia, India, and New Zealand.
The following steps will show you how to set up Apple Music on your Alexa device, such as the Echo Dot. Read on to understand how you do this.
How Do You Play Apple Music On Your Alexa Device?
Launch the Amazon Alexa App on your device. If you don't have the app, you can get it on the Apple App Store for iPhone users and Google Play for Android users.
On the home screen, you will see "More" in the right end corner of your screen.
Then click on the three-line icon and then click on "Settings."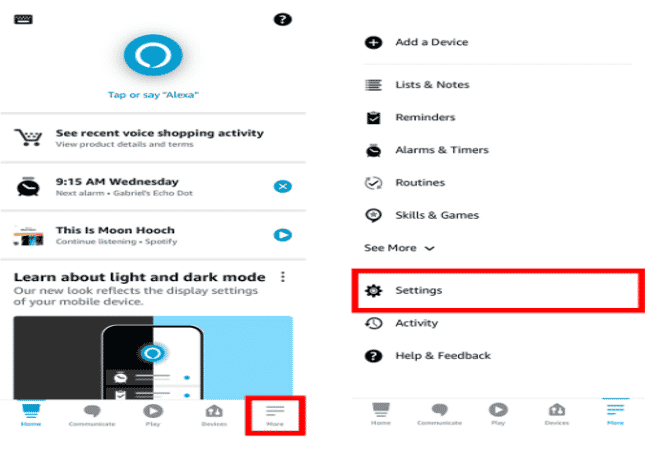 Scroll down the menu, and you then "Alexa Preferences." Click on "Music and Podcasts"
Next, click on "New Service."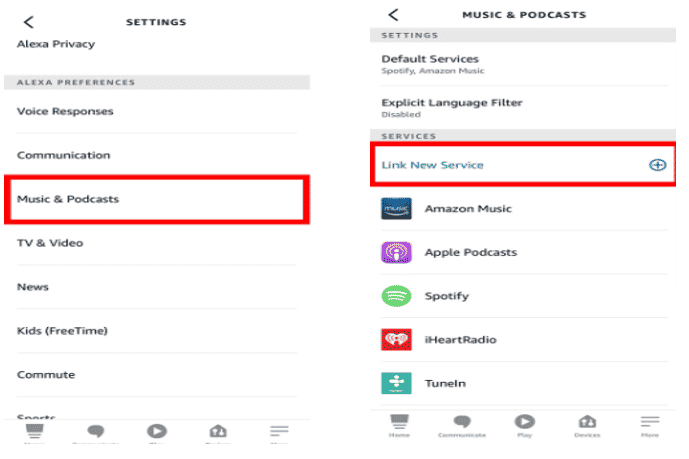 Then pick Apple Music from the list of music platforms. If you can't see Apple Music, go back and click on "Default Services" on the upper part of your screen.
Next, click on "Enable to Use."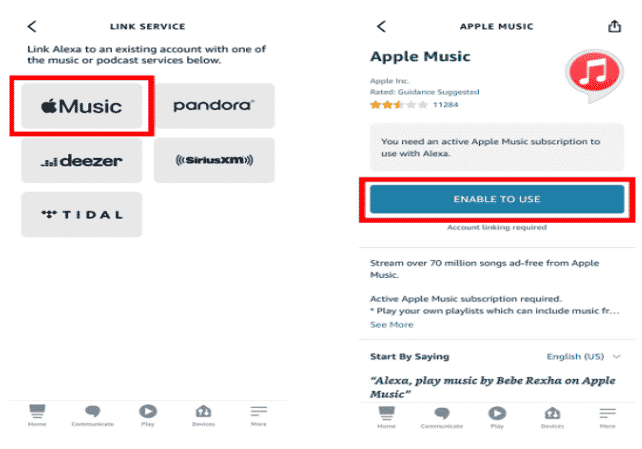 After, you need to sign in to your Apple account with your Apple ID and passcode. If you can't remember your password, there are prompts to change it below. Also, you might be prompted to enter a two-factor verification code which will be sent to your phone.
After logging in, click "Allow."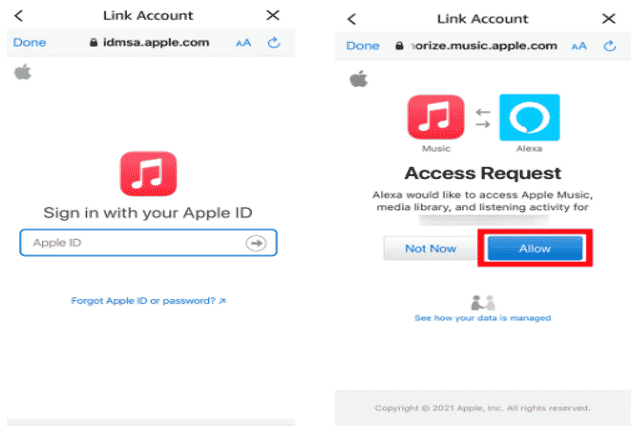 Next, click "Close."
Then click on "Open Music Settings."
Lastly, click on "Change" and choose Apple music as the default music platform. You can make Apple Music the default music platform for genre stations, tracks, and artists. You can also make Apple Podcasts your default podcast streaming platform.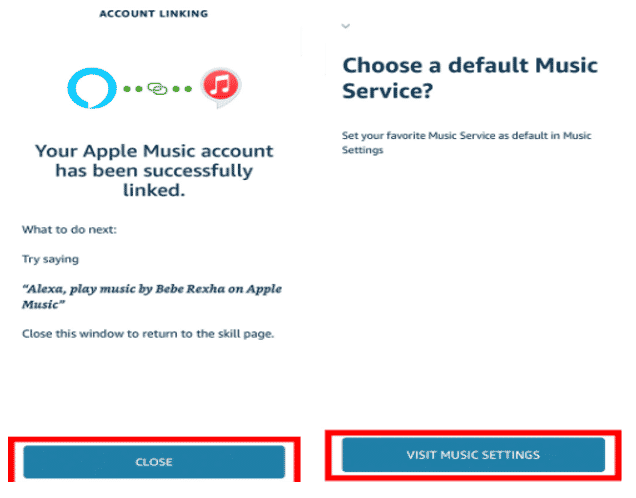 How Can You Make Apple Music the Default Music Streaming Service On Alexa?
If Apple Music isn't the default music streaming platform, you can't command Alexa to play specific tracks or identify a track for you. If you try to give Alexa one of these commands, it will break the link to your phone and instead play tracks on Amazon Music or any other music platform that you've set as the default.
Suppose you don't want to keep saying "on Apple Music" when you command your Alexa to play something from Apple Music. Then you can make the streaming platform the default.
So how can you do this?
Start by launching the Amazon Alexa App on your device.
On the home screen, you will see three-line on the top left corner of your screen
Next, click on "Settings.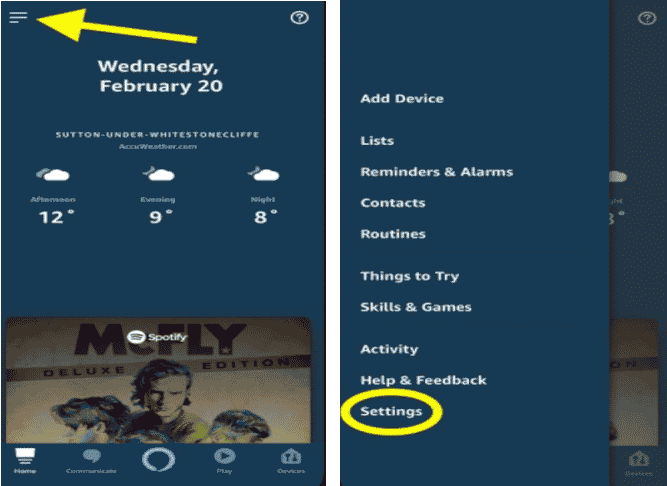 Scroll down and click on "Music and Podcasts."
Click on "Default Services"
Then under the "Music button," select "Apple Music."
Asking Alexa to Play Tracks On Your Apple Music Playlist
If you wish to confirm that your Apple Music account can play songs on your Alexa device, you need to include "on Apple Music" in the list of your verbal commands. For instance, you can say, "Alexa, play Michael Jackson on Apple Music," or "Alexa, play Tune radio on Apple Music."
If you'd like to listen to Apple Music in stereo or in various rooms, you can create "Multi Room Music" on the Amazon Alexa App. After this configuration, you can play tracks via Apple Music on two or more Alexa devices concurrently.
You can even verbally command your Alexa device to raise or lower the volume, skip tracks, go back to a track, and play, pause, or stop tracks on Apple Music.
Tip: For every Apple Music account, you can only have a single stream. What does this mean? For instance, if you're playing a song on your iPhone and someone asks Alexa to play a song, your smartphone stream will pause and be played on your Alexa speaker.
Also you can't natively use Apple AirPlay on Amazon Alexa. But you can pair your Alexa to iPhone as a Bluetooth device albeit you'll need to keep on switching devices if you have other Bluetooth devices such as AirPods or a Bluetooth speaker.
Final Thought
All in all, you could be an Apple Music and Amazon Alexa speaker die-hard, and you don't know how to sync Apple Music with Alexa. No need to panic; the steps listed above will precisely show you how to do this. For more info, click on the Apple website.
See Also
How to Play Apple Music on Google Home?